On a sticky summer morning, Jorge Garcia is waiting in a Northwest Side park.
He's hoping to hear a distinctive chirp or spy a flicker of wings just in time to capture the beautiful, fleeting moment in a photo.
"Birding helps ease my mind. It helps me kind of just calm down and center myself a little bit," Garica said. "For me birding was very solitary for a long time. It was a peaceful experience, a mindful experience for me. Mindful exercise."
Jorge Garcia wasn't always a bird paparazzo – in fact, he's only been at it for a couple of years, after a gear upgrade for his job as a technologist took an unexpected turn.
"It was when I purchased this camera, I had bought it in the pandemic. I wanted to improve the video output of my Zoom calls. So I started trying to purposely shoot more photos with this and get more acclimated with this camera," he said. "I started buying old lenses to just try to experiment and I started trying to find subjects to shoot with that. I wasn't quite sure what that would be. And that ended up being birds."
The fledgling interest soon hatched into a full-blown hobby.
A downy woodpecker turns upside down. (Credit: Jorge Garcia)
"Suddenly I was learning about birds. I was listening for birds, learning their behavior and calls, their names," Garcia said.
He also began printing and selling postcards of his bird portraits to support the U.S. Post Office.
"Around the time when the postal service was under attack, where they started stripping down the machines, I thought, well I want to make postcards now — whatever I can do to support the post office, maybe this is one little way that I can do it," he said.
And as his new interest took flight, he began branching out and seeking community – though as a young Latino, he is a bit of a rare bird himself in those circles.
"The first group that I found was a North Park Village Nature Center. I started to make a lot of friends out of that space and bird with them frequently. Now that is a regular for Saturdays for me," Garcia said. "Every once in a while there will be other Latinx individuals there, but I do skew on the younger side for sure."
Though Garcia says he always felt welcome in birding groups, his presence taking photographs has drawn unwelcome attention in some communities.
"I once had a police officer stop me while driving and search me for guns and all I had was a camera," he recalls. "I started carrying around this bag that sort of advertised that I was shooting birds."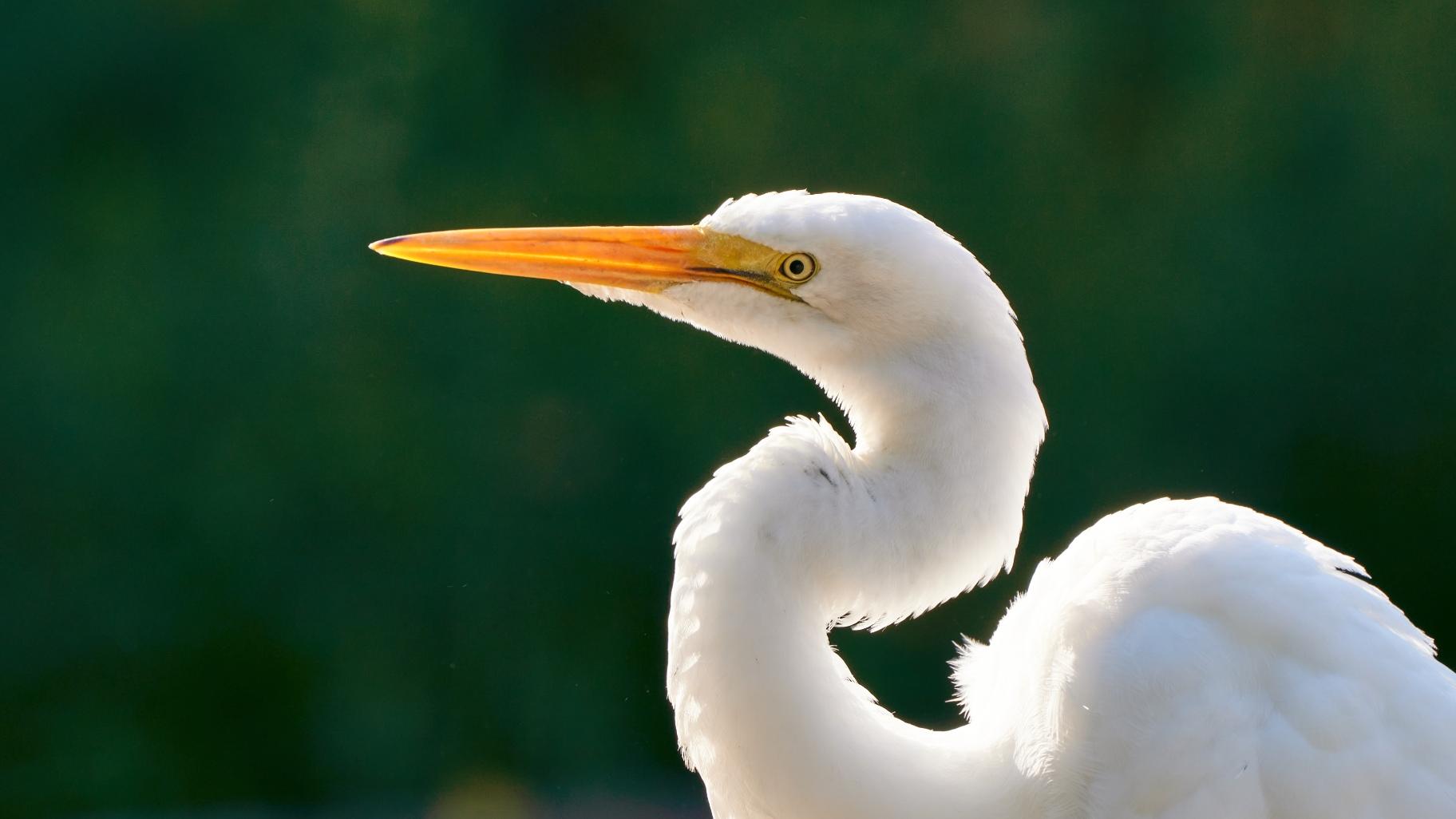 A great egret. (Credit: Jorge Garcia)
Still, he says birding is a pastime anyone can and should pick up – even in the city.
"It's not always about the looking but it's about listening. Your backyard is the perfect place to start, in your alley," Garcia said. "There's plenty of birds just everywhere. When I left this morning to come meet you outside my tree was a goldfinch and a chickadee. There's a junco over the winter that I absolutely love seeing and following when they arrive and when they leave the city."
And, Garcia says, with time and patience, perhaps you too can capture a beautiful, fleeting moment. 
"Every once in a while there will just be this one bird gives me this really nice experience who shows like exceptional behavior, unusual behavior that I haven't seen," he said. "That kind of moment where the bird, it felt like almost like the bird allowed me to take a picture of it. It was a moment for me to remember."
---