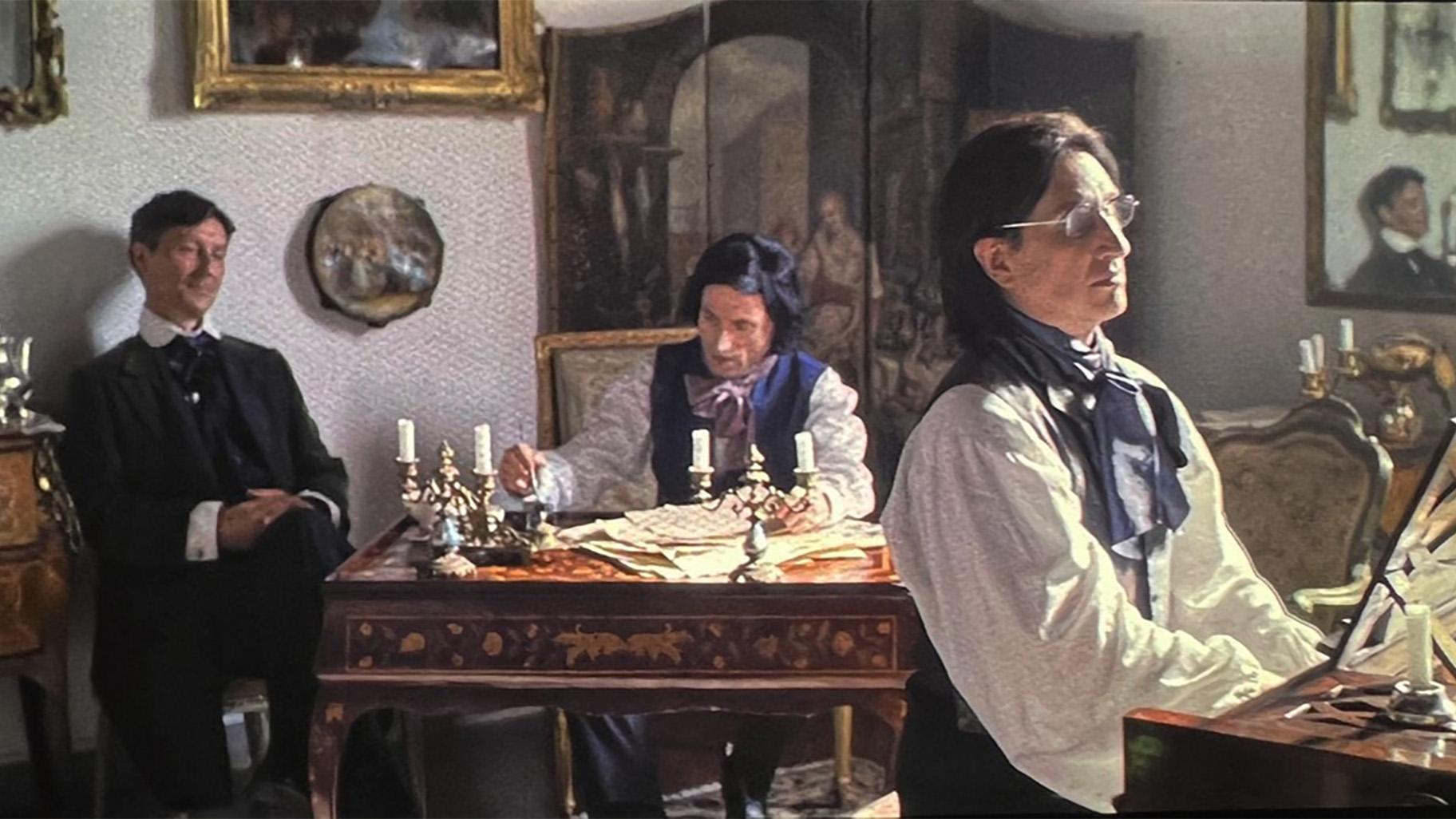 Antonio Lysy as Franchomme, Boris Giltburg as Chopin, Hershey Felder as Liszt. (Courtesy: Hershey Felder Presents)
They were both brilliant musicians and contemporaries who became defining talents at the center of the great Romantic era that spanned much of the mid-19th century. They also were men of dramatically different temperaments, both virtuoso pianists and composers who met in Paris in 1832 and developed something of an intense, uneasy, but immensely important friendship that was deeply rooted in an understanding that music is a profound form of poetry.
It is this, and a great deal more, that drives "Chopin & Liszt in Paris." It's the latest "musical film" created by Hershey Felder, the remarkably prolific writer, director, actor, producer and virtuosic pianist widely known to Chicago audiences for his years of live performances in the city.
Felder, who now lives in Italy, has for the most part (though not entirely) stepped away from live performance. But during the past several years he has developed a vast catalog of original, richly theatrical films. They are works that are deeply rooted in both music and theater and delve into the history, romance and complex lives of artists.
In his latest winningly theatrical musical film Felder portrays the flamboyant Liszt. But he performs a great deal of Chopin's music as he spins the story of his complex artistic relationship with that composer, paying homage to an artist he both admired and envied, and even wrote a book about. This film also serves as a splendid showcase for Felder's exceptional musicianship (and a fine sense of how Liszt might have tried to capture Chopin's dreamy sound). Boris Giltburg, an exceptional Israeli pianist, deftly captures Chopin's reserved but exquisite approach. (Much of the music in the film is played on one of Chopin's own pianos.)
Born in 1810 in a small town outside of Warsaw, Poland — the son of a Polish mother and French father — Chopin moved to Paris in 1830. But his soul never quite left his homeland, and his work drew heavily on Polish folk music as exemplified in his renowned mazurkas, nocturnes, polonaises, waltzes and sonatas, and visualized in this film by brief clips of Polish dancers in emblematic costumes. Unlike the showman Liszt (with whom he even played a number of concerts), he was a reluctant performer who preferred the intimacy of salons rather than grand concert halls.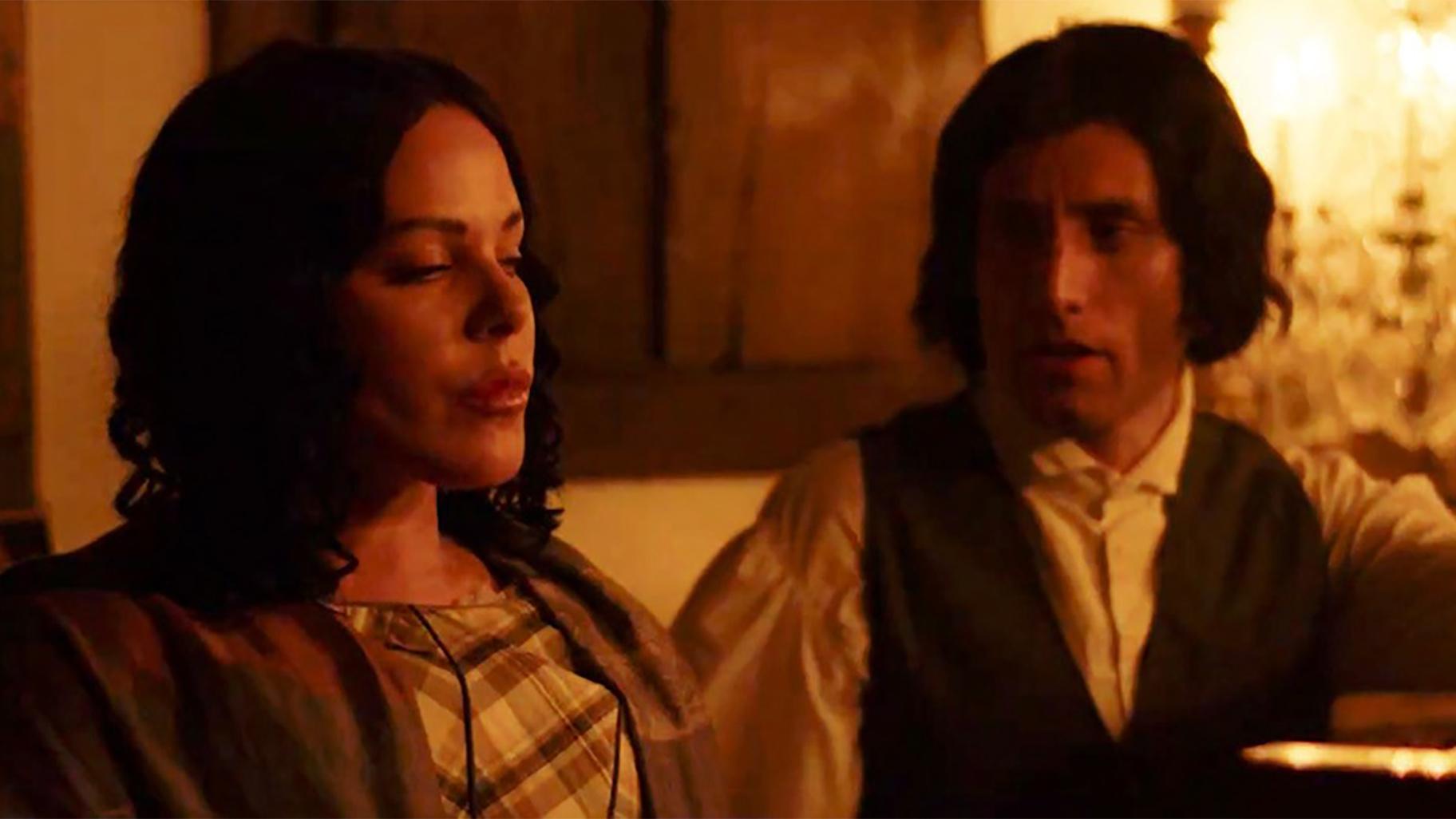 Debi Mazar as George Sand, Boris Giltburg as Chopin. (Courtesy: Hershey Felder Presents)
As Liszt notes, Chopin was far more than a pianist; he was a poet who wanted the piano to sing and made it do so. He also had a chaotic love life that at moments overlapped with Liszt's.
Unable to marry his first great love, Maria Wodzinska, for close to a decade he was romantically involved in an often difficult relationship with George Sand (deftly played by Debi Mazar), the female French writer best known by that male pen name. At some point Chopin stepped away from performing and, plagued by poor health, he died in 1849, at the age of 38, with his beloved sister, Ludwika (played by Eleanor Reissa), by his side.
Liszt was born in Austria in 1811, moved with his family to Paris in 1823, and became a sensation on stages throughout Europe. A brilliant composer in his own right, he was a flamboyant performer despite being in awe of Chopin's more haunting poetic genius. And although the friendship between the two men was fraught by musical tension and dramatically different personalities — and by what might well have been daliances with the respective women in each of their lives — Liszt (among whose lovers was the writer Countess Marie d'Agoult, played by Francesca Cellin) outlived Chopin by several decades. He would later write a book, "Life of Chopin," with the formidable help of Princess Carolyn von Wittgenstein (in a fine turn by Sally George), a woman he loved, but who was unable to marry.
Also playing a notable role along the way in this story is the French painter, Eugene Delacroix (in an expert performance by Jonathan Silvestri), who painted a portrait of Chopin and Sand that, like the pair's relationship, was eventually cut in half.
In addition to starring as Liszt, and once again deploying the seemingly effortless beauty of both his and Chopin's pianism, the impossibly prolific Felder not only penned the script for this film, and gathered a formidable cast and crew, but also co-directed it with Stefano DeCarli.
For tickets to "Chopin & Liszt," and Felder's many other "musical films" visit hersheyfelder.net.
Follow Hedy Weiss on Twitter: @HedyWeissCritic
---