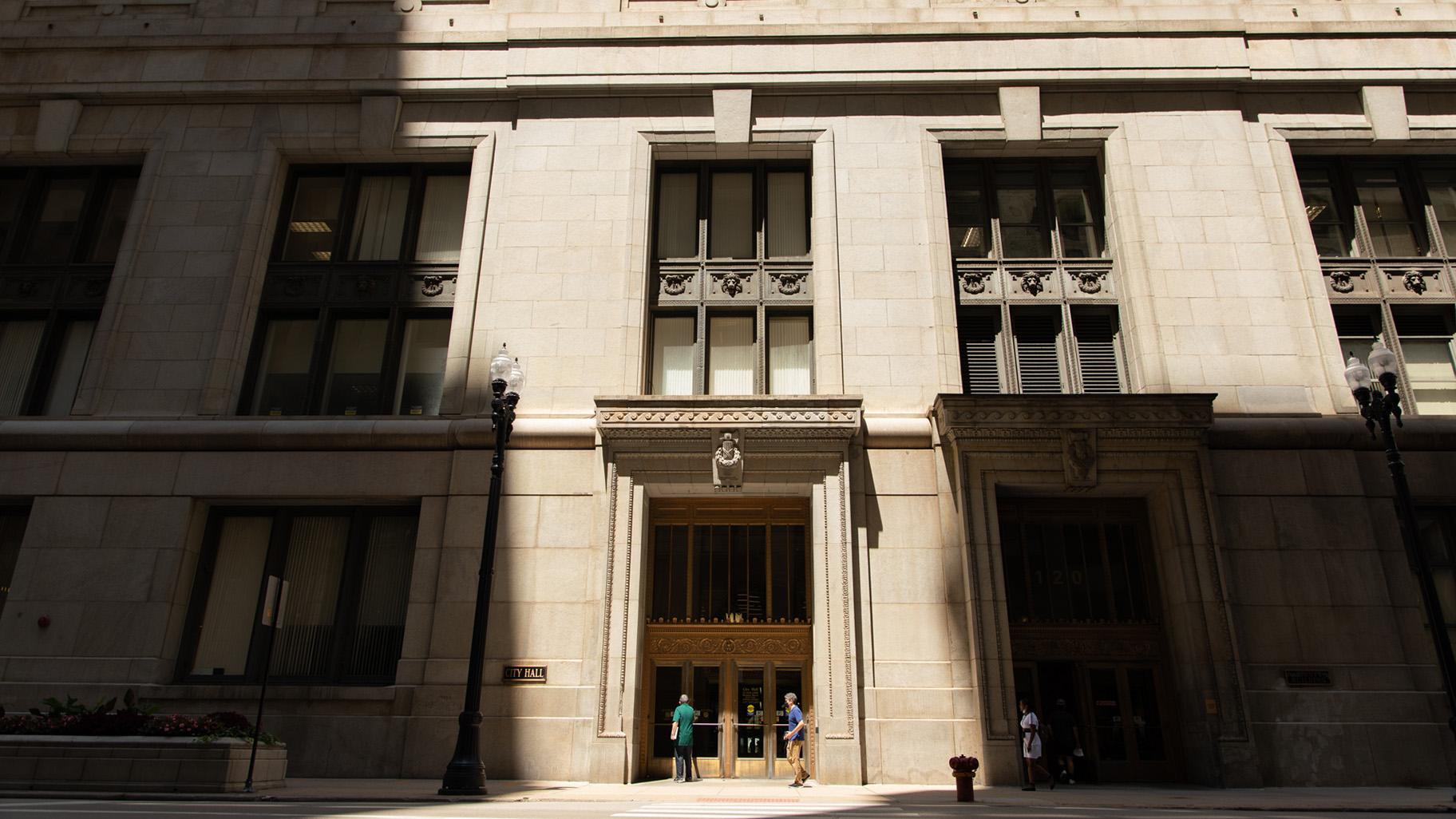 Chicago City Hall. (Michael Izquierdo / WTTW News)
Before he left office, former Mayor Rahm Emanuel warned that Chicago was facing a financial abyss.
The city could not afford to pay the escalating costs of its pension bills and keep providing crucial services to Chicagoans, including police and fire protection, Emanuel said. 
After decades of putting off the day of reckoning, the city's payments to its four retirement funds were set to dramatically increase starting in 2020 to ensure that funds can pay benefits to employees as they retire. 
Emanuel's solution: borrow $10 billion at a low-interest rate and lock in decades of savings. Emanuel likened it to refinancing your mortgage at a lower rate and a cost-effective way to comply with the terms of a state law is designed to force the city's pensions to be funded at a 90% level by 2045.
But the proposal from the lame-duck mayor went nowhere — especially after federal agents raided the office of 14th Ward Ald. Ed Burke, who was then chair of the Finance Committee, forcing him to step down. 
Mayor Lori Lightfoot has often recounted the shock she felt when she took office in 2019 and got a complete look at the city's budget, which included a deficit of $838 million. The city's financial stability — already precarious — suffered a significant blow when the COVID-19 pandemic triggered an economic collapse that the city is still struggling to recover from.
More than a year ago, Lightfoot warned that that the two crises could feed on each other and prevent her from achieving her goal of making Chicago a more attractive place to live, work and play for residents and visitors alike by increasing equity and opportunity.
Now running for re-election, Lightfoot sees only blue skies ahead for Chicago's finances. Not only is Chicago set to fulfill her promise that the city will have the "best economic recovery of any big city in the nation" from the COVID-19 pandemic — it will do so after climbing the so-called pension ramp — without adding billions to the city's already massive debt burden or cutting services, the mayor said.
"This means that we're paying back what we owe," Lightfoot said last week, unveiling the city's budget forecast for 2023, 2024 and 2025. "This is huge."
The ramp has been steep — but climbing it avoided fulfilling predictions made in 2011 that two of the city's four pension funds would go bankrupt by 2026.
In 2019, Chicago paid more than $1.31 billion to its four pension funds benefitting police officers, firefighters, municipal employees and laborers. 
In 2023, Chicago will pay more than $2.34 billion to the same four funds — more than an additional $1 billion directly from the city taxpayers than it paid just three years earlier.
The city's 2023 pension bill is $92.3 million more than Chicago's 2022 pension bill. That might seem like a significant increase — but it is dwarfed by the nearly $461 million that the city's pension bill jumped between 2021 and 2022, the final year for the state law to take full effect.
That is an indication that Chicago has begun to get its arms around its pension debt and will not have to cope with massive increases in its pension bills, Chief Financial Officer Jennie Huang Bennett said.
Despite that, the city's pensions will remain a major expense for its corporate fund, which officials use to pay for discretionary expenses. That $478.5 million bill — up $149.3 million from 2021 — will be covered in part by the $40 million from Bally's in return for the City Council's approval of their plan to build a casino and resort in River North the green light and a temporary casino set to open at the Medinah Temple next summer.
Lightfoot has also proposed a $42.7 million property tax hike to offset the surging cost of inflation, and earmarked it for the city's pensions.
In all, Chicago owes $33.7 billion to its four employee pension funds representing police officers, firefighters, municipal employees and laborers, according to the 2021 Annual Comprehensive Financial Report.
That is an increase of 2.2% from 2020, the smallest jump in three years, according to the report.
Lightfoot said she was particularly proud that 2021 was the first year that the assets of all four of the city's pension funds grew in approximately 25 years.
But all four funds remain significantly underfunded, according to the city's annual financial report. 
The firefighters' fund has the lowest funded level of the four, at 21%; the laborers' fund has the highest funded level, at 46%, according to the city's annual financial report. 
For more than a year, Lightfoot has not mentioned what she has called the biggest issue facing Chicago's pension funds: the annual 3% cost-of-living increases built into the city's pension payments 
In 2019 — when interest was near historic lows — Lightfoot called those increases "unsustainable" and faced a firestorm of criticism from organized labor. In May 2021, Lightfoot said the city's pension system was "unsustainable in its current state" and the promises made to generations of city employees were threatened.
Lightfoot's tone was very different this year, calling Chicago's pension obligations "sacrosanct."
"It's important to remember that we made promises to our now pensioners over the years that must be kept," Lightfoot said.
With inflation hitting 9.1% in June, according to federal data, 3% cost-of-living increases are much less painful than they were just a few years ago.
Despite the risks posed by high inflation, the city's 2021 annual financial report and the city's budget forecast for the next three years reflects evidence that the city is in a much better financial condition than at any time since Lightfoot took over for Emanuel, climbed the pension ramp and weathered the COVID-19 pandemic and economic catastrophe.
That has brought Chicago closer to eliminating its longstanding imbalance between revenues and expenditures and reaching structural balance, Huang Bennett said.
A key focus of that effort has been on the city's long-term debt, which totaled $24.1 billion in 2021, according to the city's annual financial report. Annually, the city pays $2.1 billion in interest on that debt.
Lightfoot credited "better cash flow management" with reducing the city's debt by $340 million, and said the total debt savings would reach $866 million by the end of 2023 — which would allow the city to fund its infrastructure program and social safety net expansion without borrowing additional funds.
Contact Heather Cherone: @HeatherCherone | (773) 569-1863 | [email protected]
---