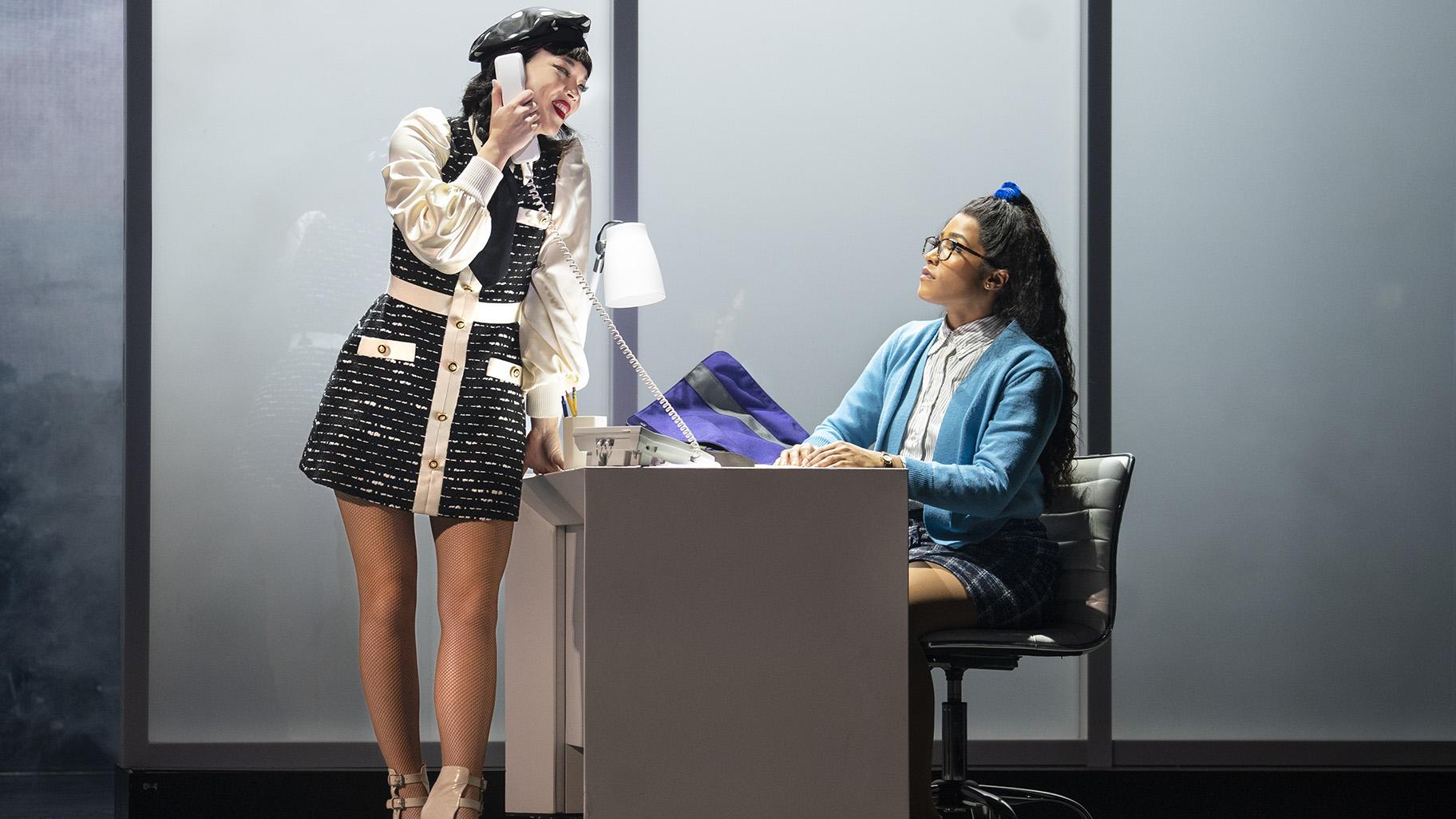 Megan Masako Haley and Taylor Iman Jones in the musical version of "The Devil Wears Prada" now playing in Chicago. (Credit: Joan Marcus)
To get straight to the point: If you've been considering splurging on tickets to "The Devil Wears Prada," the new musical based on the immensely popular book by Lauren Weisberger published in 2003, and the 2006 film starring Meryl Streep, you might think again before heading to the Nederlander Theatre where the show's planned Broadway production is having its world premiere tryout.
In fact, you might just have a whole lot more fun indulging in a shopping spree at the decidedly down-market Old Navy store located on the very same block as the theater, and in the process forget about both the increasingly bizarre designer outfits that have been filling the pages of Vogue in recent years, and this production's miscalculated costume design for a show that is all about fashion.
In part, the problem is a matter of bad timing. With the world in chaos, and after more than two years of a pandemic during which time jogging pants and tank tops became the standard work outfit in home offices, this obviously high-budget production seems as irrelevant as New York's annual Metropolitan Museum of Art Gala and its showcase of haute couture excess.
What's more, the attempt by the show's creators to update the story and bring it into the world of 2022 not only undercuts the time period so essential to both the book and film, but also feels out of touch with the current state of the fashion industry and its magazine coverage. And to some degree, it seems like a rather clumsy statement about women in today's workplace.
The show's score, with music by Elton John that often lacks the magic of his unforgettable songs for "The Lion King" and "Billy Elliot," is paired with Shaina Taub's uneven mix of character-shaping lyrics on the one hand and easily forgettable lines on the other. Only rarely does the show's score really soar. (And for some strange reason there was no song list included in the show's Playbill.)
The musical's book, by Kate Wetherhead, is serviceable but lacks a certain distinctive New York bite, as does veteran Steppenwolf director Anna D. Shapiro's staging. The transitions from one scene to the next are rather choppy. And aside from a clever opening sequence, when the curtain rises to reveal nothing more than the rhythmic feet of models parading runway-style in glittery red shoes, there is not a whole lot of choreography by James Alsop.
The musical is, of course, a riff on what life was like for those working in the offices of Vogue magazine (here called Runway) when Editor-in-Chief Anna Wintour (here called Miranda Priestly, and played by Beth Leavel), was at her most tyrannical, and who, like most tyrants, was also profoundly insecure. (Now 72, the real Wintour has held onto her job since 1988.)
But most importantly, the show traces the transformation of Andy Sachs (an immensely demanding role expertly played by Taylor Iman Jones), a brainy and ambitious recent college grad from North Carolina who possesses absolutely no sense of fashion or flair. Andy has just moved to New York where she is determined to earn enough money to pay her rent, and she hopes that by nailing a job with a prestigious magazine she will boost her career as a writer.
As it happens, Andy's first job of choice was at City Dweller, a more serious-minded publication than Vogue. But as fate would have it, Priestly, in desperate need of a "second assistant," hires Andy, who is just smart and determined enough to take care of business. She somehow manages to tolerate Miranda, and is just ambitious enough to follow the advice put forward in the song "Dress Your Way Up" and subject herself to a wardrobe makeover.
Andy is taken under the wing of Nigel Owens (expertly played by Javier Munoz), a gay man who serves as Runway's important art and editorial director. But she is deeply resented by Emily Charlton (played by Megan Masako Haley), Miranda's more experienced "first assistant" who is hellbent on having her boss take her to a big fashion event in Paris.
Andy also has several roommates, including a young chef, Nate Angstrom (in a notably natural turn by Michael Tacconi), who loves her but cannot deal with the profound changes triggered in her by Miranda. Along the way she also indulges in a flirtation with a more established journalist who senses her writing talent.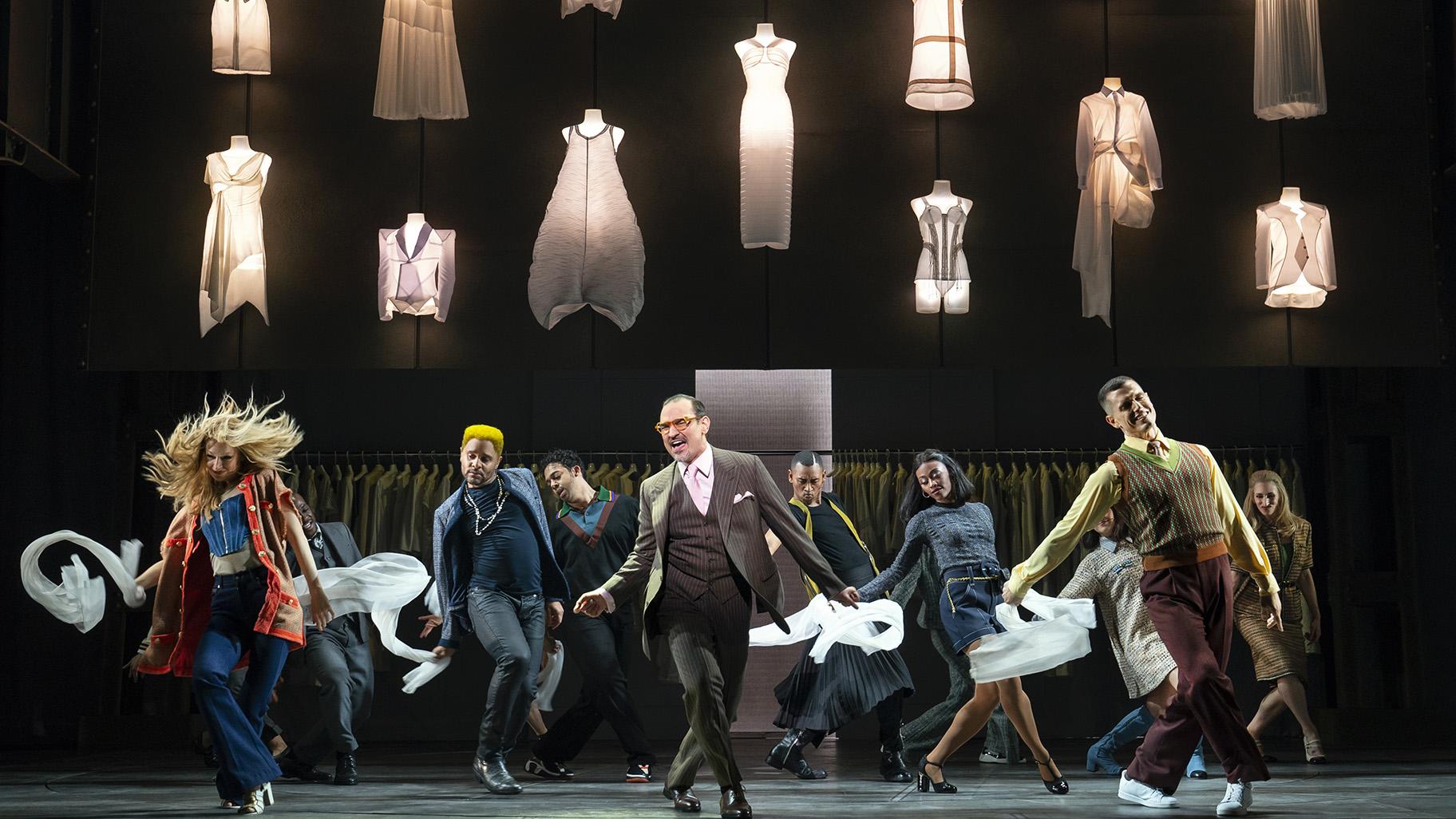 Javier Muñoz and the cast of the musical version "The Devil Wears Prada" now playing in Chicago. (Credit: Joan Marcus)
One of the principal intentions of this production was to make life at Vogue feel more contemporary than the period of two decades ago that was captured in Weisberger's book. (The book, it should be noted, was written shortly after Weisberger left Vogue just 10 months after she was hired for the job.) But for much of the time the show just feels caught between the past and present. Its creators might have considered adding a character modeled after Andre Leon Talley, the flamboyant writer who Wintour appointed as the magazine's first Black creative director and editor-at-large, and who she both embraced and later dismissed.
For a show that is all about the glamorous look, Arianne Phillips' costumes are somewhat disappointing and, like the show itself, fail to suggest the particular period they are meant to evoke. The sets and media design of Christine Jones and Brett Banakis are better, most notably when the story takes us beneath the Eiffel Tower.
In addition to all this, the one abiding question this musical left me asking was: Is Vogue even all that relevant these days, and has it lost its influence on fashion and beyond? For a probing answer to that question I suggest you read a July 28 essay by New York Times fashion editor Vanessa Friedman on the controversy of a cover appearance by Olena Zelenska, the wife of Ukraine's embattled president Volodymyr Zelenskyy.
And one final note: In many ways the most dramatic moment of this show's opening night was when, after curtain calls, producer Kevin McCollum came on stage and paid tribute to the cast, crew and understudies who persevered amid the chaos of COVID, supply chain problems and all the rest during its creation. To be sure, they all have a great deal of work to do before opening on Broadway.
"The Devil Wears Prada" runs through Aug. 21 at the Nederlander Theatre, 24 W. Randolph.
For tickets visit BroadwayInChicago.com.
Follow Hedy Weiss on Twitter: @HedyWeissCritic
---