A Chicago artist creates images that are as frightening as they are fascinating.
Eric Edward Esper paints accurate historical depictions of terrifying tragedies – fires, tornadoes and nautical disasters that took place in Chicago and elsewhere.
A railway disaster in Ohio in 1867. A circus fire in Connecticut in 1944. The sinking of the Lady Elgin in Lake Michigan in 1860.
Depictions of those calamities were all created by Esper, whose work has been featured on WTTW's "Chicago Stories" with his recreation of the Iroquois Theater fire of 1903.
It makes sense that his work ended up on PBS.
"I originally became interested in history from reading war history, which is, you know, very disastrous itself and then I became interested in historical disasters from watching documentaries on Channel 11, WTTW," Esper said. "The first one was the Eastland disaster which inspired me to make a painting of it, and I painted that and it sold right away and decided that that'd be a good body of work to continue with."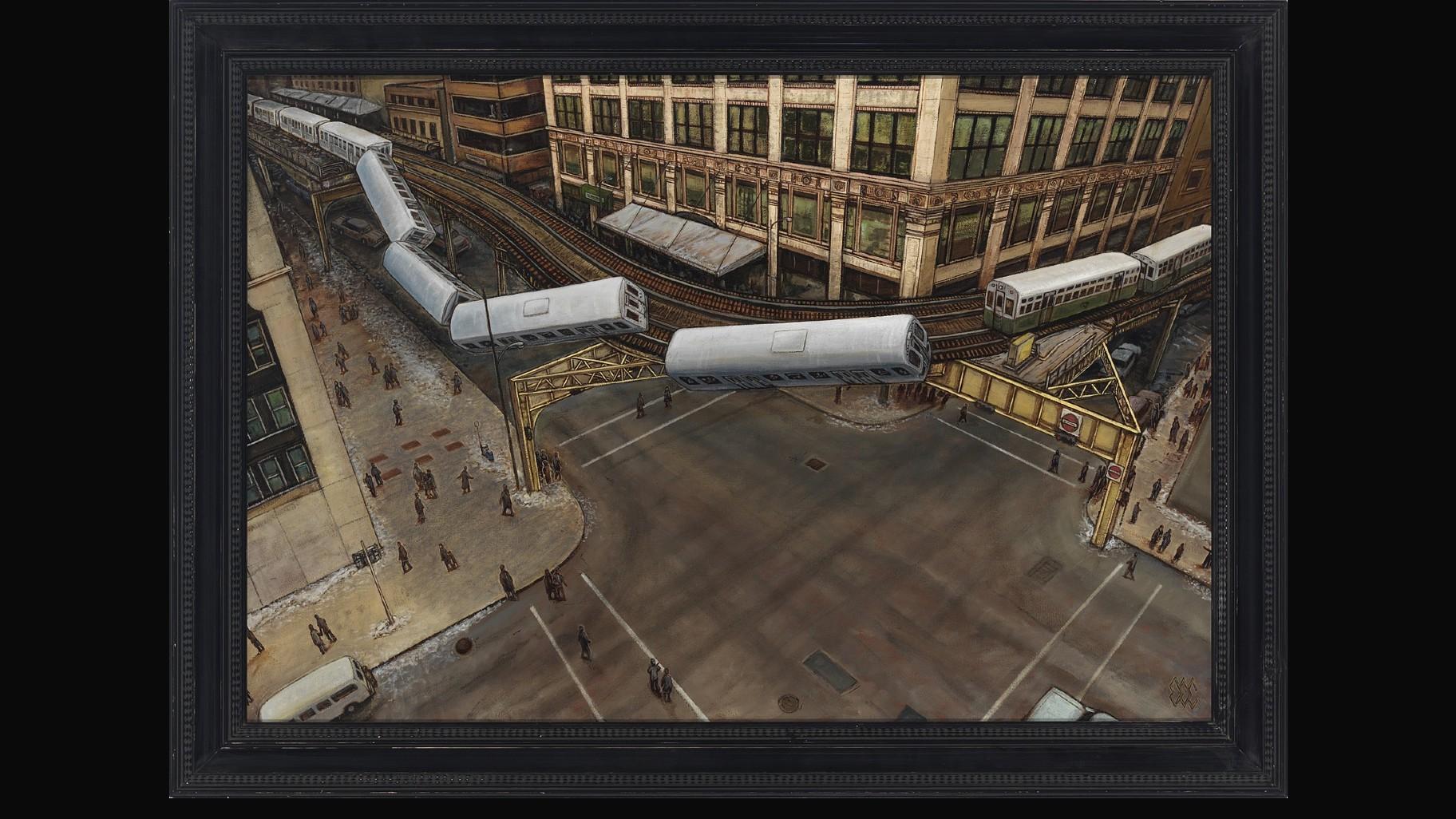 A painting of the Feb. 1977, derailment of a train during rush hour at Lake and Wabash. (Credit: Eric Edward Esper)
The paintings range from well-known – the Loop "L" train derailment in 1977 – to lesser known – the 1909 Chicago water crib fire, which took place two miles offshore.
In much of his work there's an emphasis on the Midwest. Take the 1896 tornado that struck downtown St. Louis or the firestorm in Peshtigo, Wisconsin that occurred the same day as the Great Chicago Fire.
Long before he applies oil paint to canvas, Esper does his homework
"I watch as much information on TV as I can find, lots of internet searches for photographs, lots of that, and I read two or three books if I can find that many on the event," he said. "That's important to me, to try and get the details right."
It usually takes about six months to a year for a painting, Esper said.
"My objective was to show as much as I could, to not just zoom in on one portion of this," he said. "I like to capture the whole scene to put it in perspective and the bird's eye view has that kind of early American illustration quality to it."
Sometimes Esper paints landscapes of places related to notorious moments – the Spahn Ranch in California, headquarters to Charles Manson and his family, for example.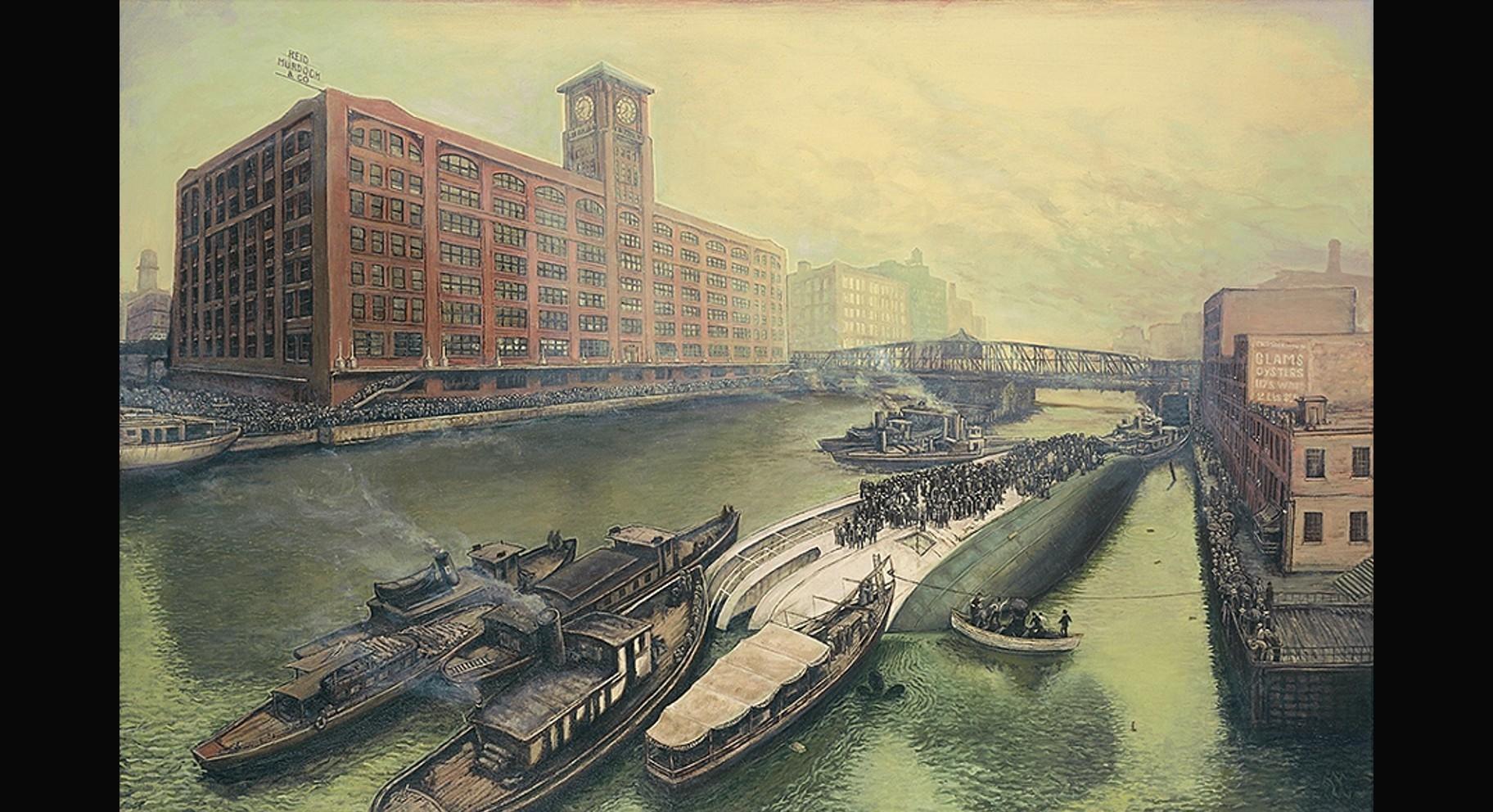 A painting of the 1903 Eastland Disaster in the Chicago River. (Credit: Eric Edward Esper)
Other dark days depicted in Chicago history include the fire at Our Lady of Angels and the ill-fated Flight 191.
"I always try and keep it a little tasteful, without trying to depict death," Esper said. "It's more realizing that that's happening then it is depicting it."
He said many things inspired his focus on the scenes.
"I used to do antique poster restoration so I was into old illustration posters ...," he said. "Then I got into the history from watching documentaries and that inspired me to paint the most dramatic scenes I could imagine, you know. There's not a sunny day at the beach in any of these, so I thought it was an interesting story behind every one of these incidents that would draw people in to think a little bit more about what they're looking at. It's something to try to remember."
To view more of this work, visit ericesper.com.
---