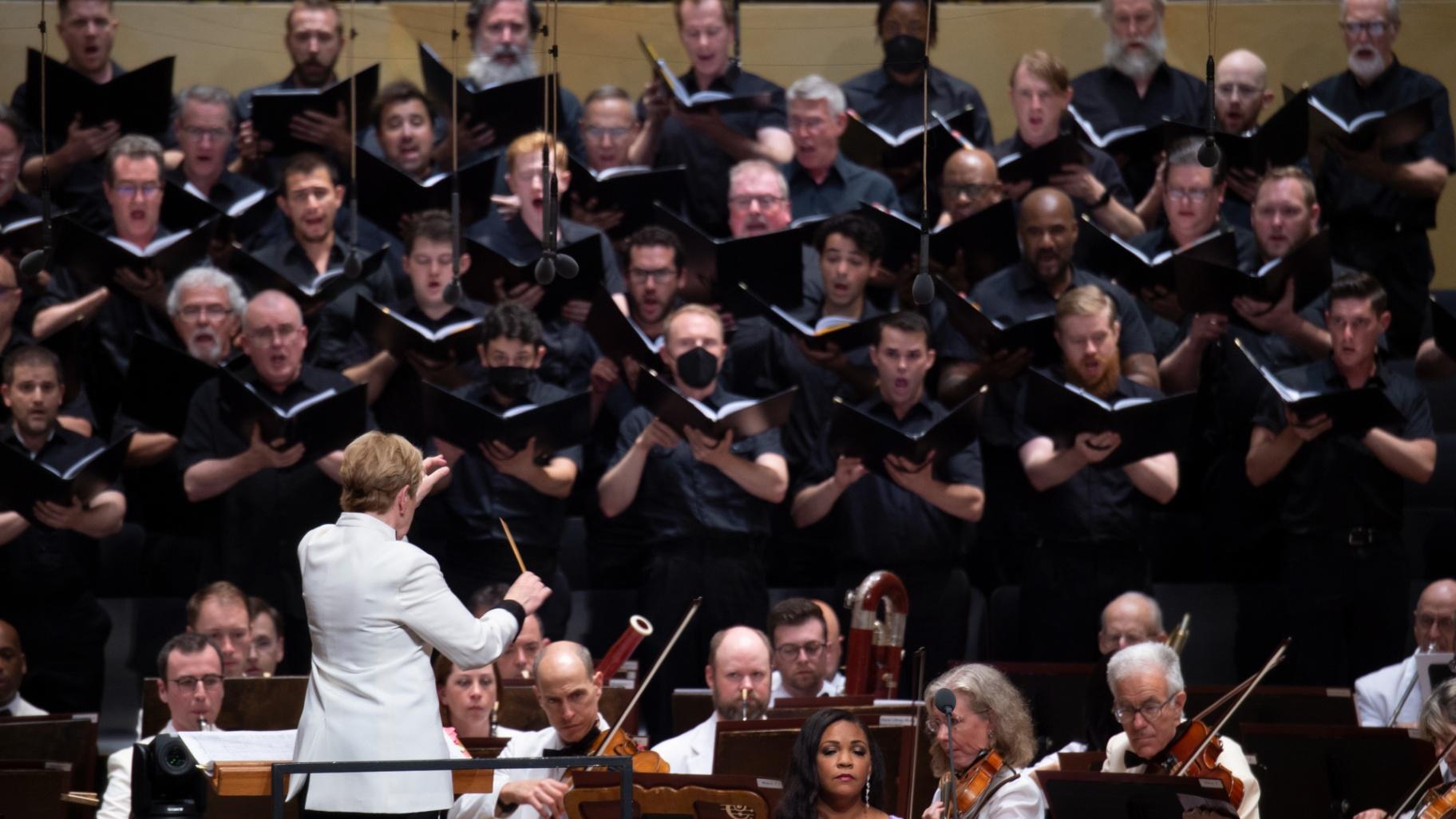 The Chicago Symphony Orchestra and Chorus performs under the direction of Marin Alsop, Ravinia's chief conductor, on July 30, 2022. (Courtesy of Ravinia)
It was a one-time-only event at the Ravinia Festival on Saturday evening. And those fortunate enough to hear the two astounding masterworks on the program — Osvaldo Golijov's "Rose of the Winds," and Leonard Bernstein's "Symphony No. 3 (Kaddish)" — had what might very well be dubbed a once-in-a- lifetime experience.
Performed to breathtaking effect by the Chicago Symphony Orchestra and Chorus, along with the Chicago Children's Choir, and a brilliant assemblage of instrumental and vocal soloists, the concert was superbly led by Marin Alsop, Ravinia's chief conductor. And in many ways it was a remarkable synthesis of a great spectrum of international influences and stories of religious faith and pain.
Just consider the range of guest instrumentalists who joined the CSO for Golijov's thrilling 2007 work with its five distinctive yet intriguingly hybrid movements. They included virtuosic turns by David Krakauer on klezmer clarinet, Cristina Pato on gaita (Galician bagpipes), Kayhan Kalhour on the kamanchen (an Iranian bowed instrument), and Michael Ward-Bergeman on accordion.
And that is not all.
Joining them from Highland Park and the nearby Glencoe community were players of several different shofars, the instrument made from rams' horns that is traditionally sounded on Rosh Hashanah, the Jewish New Year, and Yom Kippur, the Day of Atonement.
I cannot think of another score that so brilliantly interweaves religious and cultural themes. And clearly Golijov, the son of Romanian Jewish immigrants who settled in the predominantly Catholic (and tango-infused) country of Argentina, studied in Israel and the U.S., and possesses a knowledge of Middle Eastern tonalities, can magically weave all these influences into classical music forms as well.
Quite the enthralling musical hybrid, Golijov's piece moved thrillingly from a wild klezmer dance, to a lyrical riff on the harp, to a rousing bagpipe interlude, to a brief xylophone sequence, to a murmuring, prayer-like chant, to wild drumming, to the rich use of strings, winds and horns, and more. A mesmerizing mix.
And to top it all off, amid the thunderous applause that greeted the performance of this piece, Golijov (who was named Ravinia's first composer-in-residence in 2002, and was the CSO's Mead Composer-in-Residence from 2006-2008), arrived on stage to take his much-deserved bows.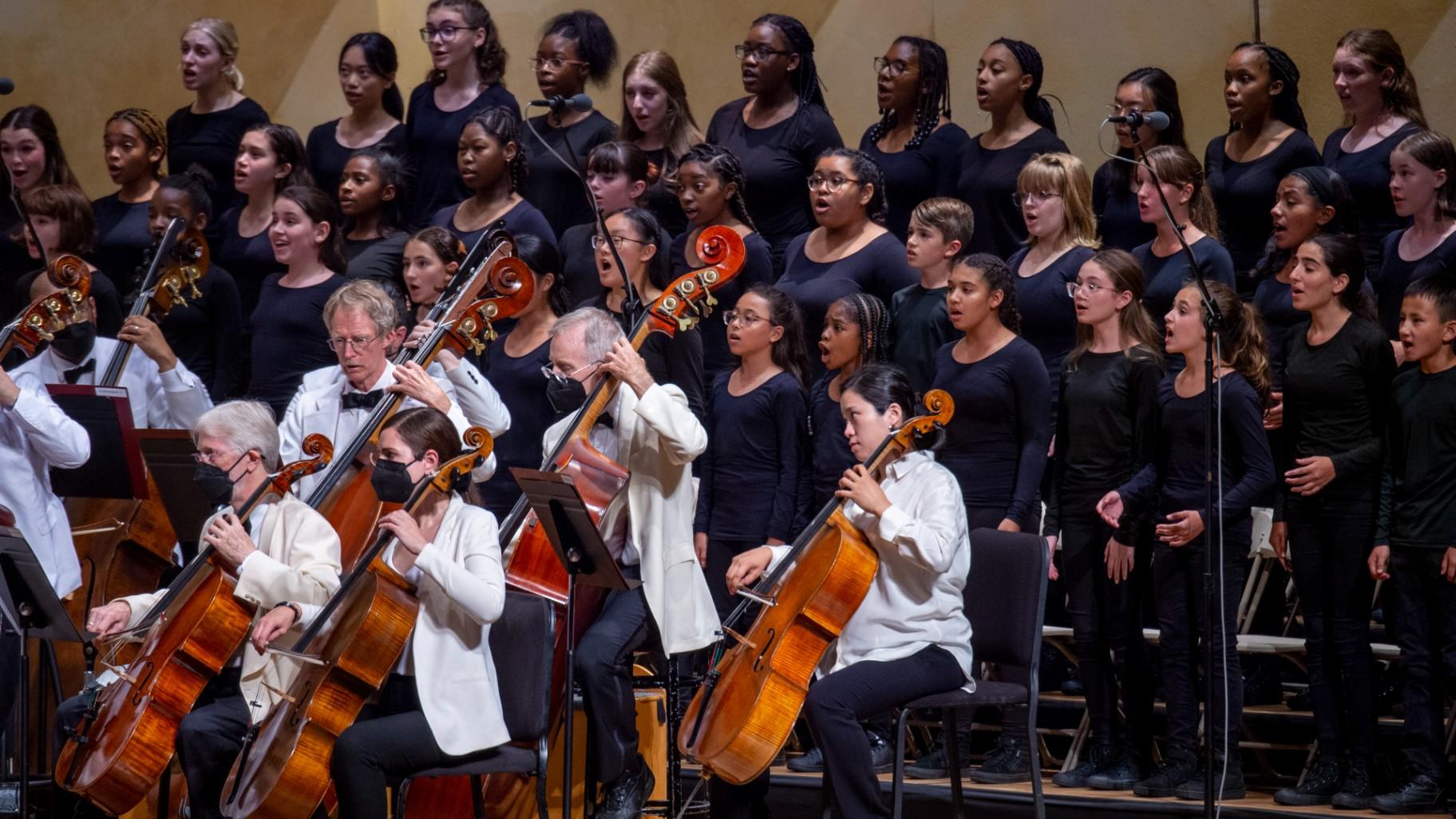 The musicians of the CSO were joined by members of the Chicago Children's Choir in a performance of Leonard Bernstein's "Symphony No. 3 (Kaddish) on July 30, 2022. (Courtesy of Ravinia)
The second half of the evening was devoted to Bernstein's "Kaddish" symphony, with a score and libretto created by the composer that involved a full orchestra and chorus, a heavenly-voiced children's choir and two soloists.
A crucial component of this work is its many narrative segments, which were ideally performed by the mellifluous-voiced Jaye Ladymore, the Chicago-based TV, film and theater actress who just completed a run in Chicago Shakespeare Theater's production of "It Came from Outer Space." Adding to the rich tones of the piece was soprano Janai Brugger, who has performed on the stages of Lyric Opera, the Metropolitan Opera and many more.
Kaddish is the hymn praising God that is recited during Jewish prayer services, and is of crucial importance as it is chanted as part of funerals and mourning rituals. But in many ways, in addition to extolling a heavenly power, Bernstein clearly used this work to argue with himself as he explored the complicated nature of a higher power who oversees mortality and the often painful destruction of life on Earth. Ultimately, however, he also manages to finesse a loving reconciliation with the "fatherly" figure with these words: "Together we suffer, together exist. And forever will recreate each other."
Throughout the evening's two fiendishly difficult works Alsop (who was mentored by Bernstein), oversaw an impeccable, wonderfully dramatic rendering of the music of both grandly theatrical composers.
One final note: If you regret having missed this concert be consoled by the fact that it was filmed live by PBS. Its air date is still to be announced.
Follow Hedy Weiss on Twitter: @HedyWeissCritic
---