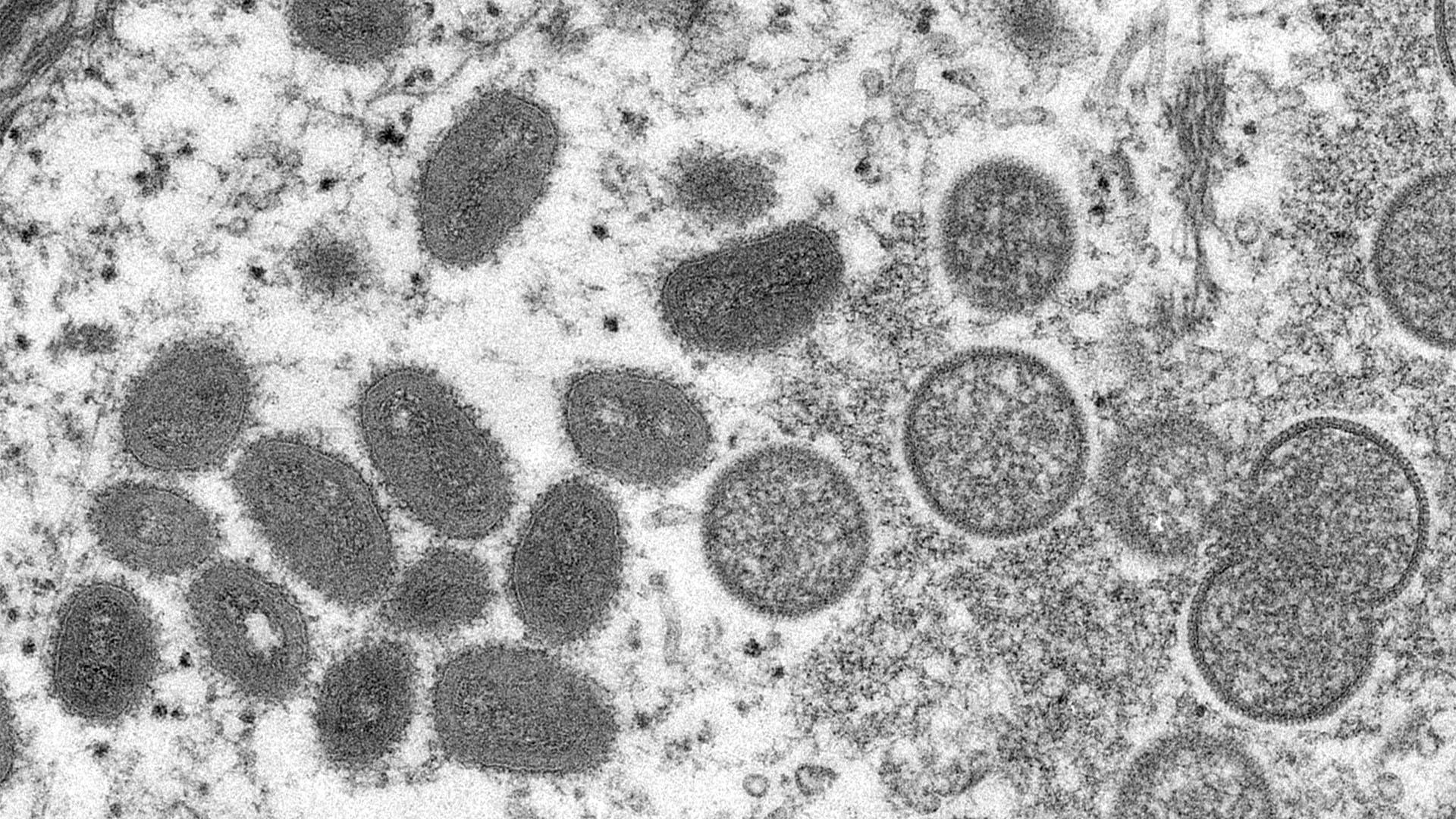 This electron microscope image shows mature, oval-shaped monkeypox virions, left, and spherical immature virions, right, from a human skin sample associated with a 2003 prairie dog outbreak. (Cynthia S. Goldsmith, Russell Regnery / CDC)
Gov. J.B. Pritzker on Monday declared the monkeypox virus a public health emergency in Illinois.
By declaring the state a disaster area for the disease, the Illinois Department of Public Health (IDPH) will be able to more quickly coordinate the agency's response to the spread of the virus and distribute vaccines more efficiently, according to a statement from the governor's office.
Calling the virus a "rare, but potentially serious disease," Pritzker's statement says the move will increase agencies' abilities to more quickly treat and prevent the disease.
"We have seen this virus disproportionately impact the LGBTQ+ community in its initial spread," Pritzker's statement reads. "Here in Illinois we will ensure our LGBTQ+ community has the resources they need to stay safe while ensuring members are not stigmatized as they access critical health care."
The declaration, which is in place immediately and will last for at least 30 days, will also allow emergency procurements as part of the state's response, according to the news release.
"A comprehensive and swift response is key when containing a disease outbreak," said IDPH Director Dr. Sameer Vohra, in a statement. "These measures will allow the state to deploy all our resources in fighting this disease and will open efficient lines of communication and cooperation across state lines, an essential step in tracking monkeypox and improving tools and processes to prevent and address it."
Illinois has seen 520 reported or presumptive cases of monkeypox, according to state data.
The Chicago Department of Public Health announced July 27 that 326 Chicagoans had tested positive. The city's first case of the virus was diagnosed on June 3.
"(Monkeypox virus) is not a 'gay disease'," said CDPH Commissioner Dr. Allison Arwady, in a statement last week. "There's nothing inherent in the biology of the virus that limits it to men who have sex with men. The virus spreads through tight-knit social networks; it does not discriminate."
Symptoms of monkeypox include a rash or sores that look like pimples or blisters that can appear anywhere on the body, fever, chills, fatigue and swollen lymph nodes.
The virus is primarily spread from person-to-person through direct contact with a rash or sore, or intimate activities, including sex or kissing. It can also spread through respiratory droplets following prolonged face-to-face contact, as well as items that have been contaminated with fluids or sores, such as bedding.
There is no test available for people without symptoms, according to officials who say the test is done by taking a swab of the rash or lesion at a doctor's office or clinic.
The monkeypox vaccine is a two-dose regimen and is in limited supply, according to officials who are prioritizing first doses to those at highest risk
More information about the virus can be found at www.cdc.gov/poxvirus/monkeypox.
Kristen Thometz contributed to this report. 
---