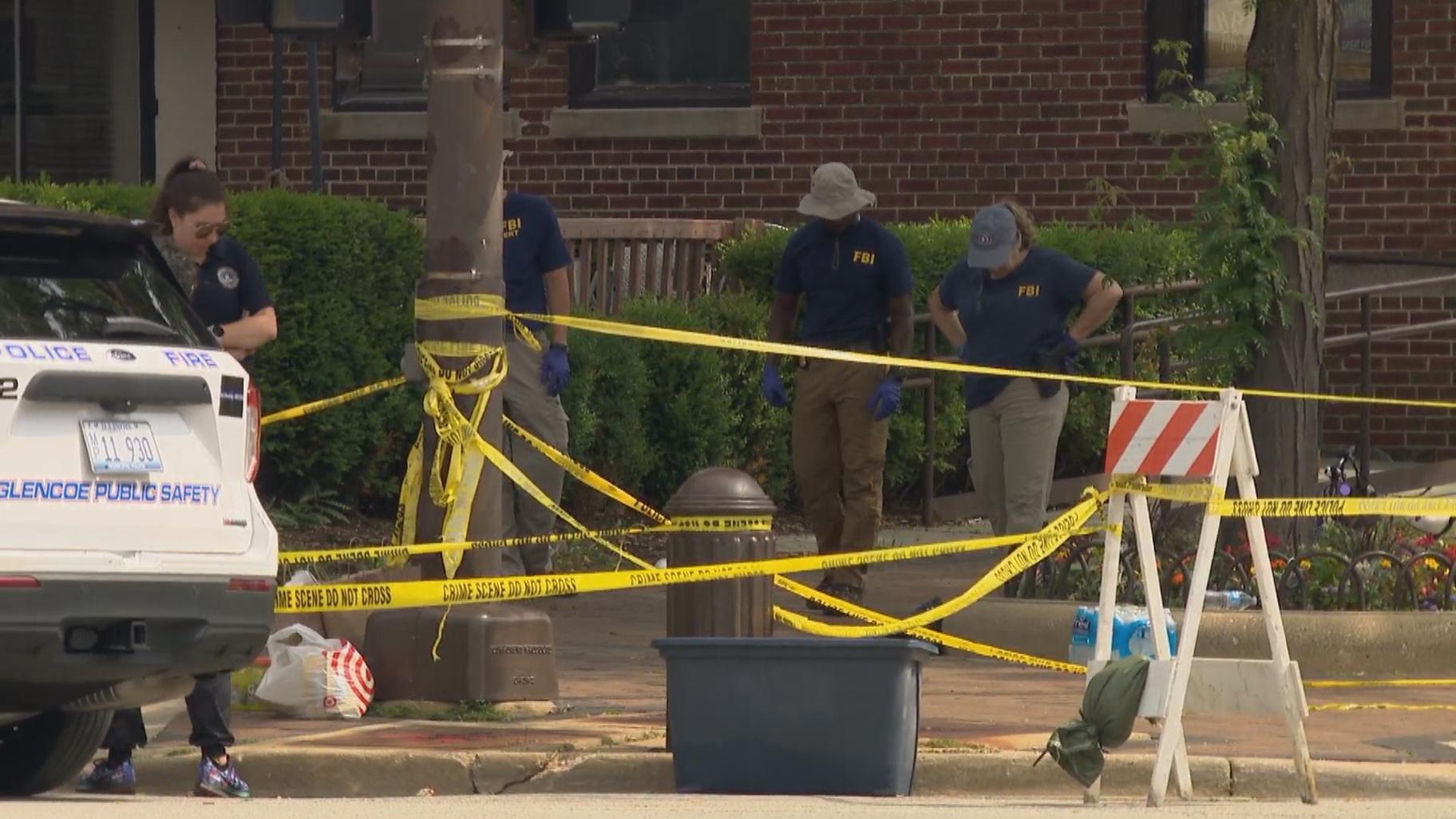 FBI investigators examine the scene in downtown Highland Park on July 5, 2022, a day after a mass shooting occurred at the Fourth of July parade. (WTTW News)
The 21-year-old man charged with killing seven people at Highland Park's Fourth of July parade was indicted Wednesday on 117 counts, including 21 counts of first-degree murder, Lake County State's Attorney Eric Rinehart announced Wednesday.
Robert Crimo III, who was arrested hours after the massacre after a manhunt, is being held without bond. Crimo is scheduled to make his first in-person court appearance at 11 a.m. Aug. 3.
Rinehart said the investigation is ongoing.
Crimo faces life in prison if convicted. He is represented by the Lake County Public Defender's office, which did not immediately respond to a request for comment from WTTW News.
Crimo has been charged with three counts of first-degree murder for each person who was killed. In Illinois, an individual can be charged with first-degree murder three ways: having the intent to kill, committing an act that caused death or great bodily harm and committing an act that has strong probability of death or great bodily harm, according to the state's attorney's office.
Crimo is also charged with 48 counts of attempted murder and 48 counts of aggravated battery with a firearm for each victim who was struck by a bullet, bullet fragment or piece of shrapnel.   
Crimo, who was arrested after an extensive manhunt, fired more than 80 rounds from a Smith & Wesson M&P 15 semi-automatic rifle during the attack and disguised himself in women's clothing in order to conceal distinctive face and neck tattoos and blend into the crowd as he made his escape, prosecutors alleged during his first court hearing on July 6.
The seven people killed in the shooting were Katherine Goldstein, 64, of Highland Park; Irina McCarthy, 35, and her husband Kevin McCarthy, 37, both of Highland Park; Jacquelyn Sundheim, 63, of Highland Park; Stephen Straus, 88, of Highland Park; Nicolas Toledo-Zaragoza, 78, of Morelos, Mexico; and Eduardo Uvaldo, 69, of Waukegan.
Prosecutors said Crimo climbed on to a rooftop at the corner of Central Avenue and 2nd Street via a fire escape and began firing down on people watching the parade and marching in it at 10:14 a.m. July 4.
A witness told investigators Crimo was "scanning the crowd" just before they saw muzzle flashes coming from the rifle, prosecutors said. Investigators recovered numerous surveillance and cell phone videos from the scene, one of which allegedly showed Crimo running from an alley near the business and dropping an object wrapped in cloth, prosecutors said.
Police later recovered a Smith & Wesson M&P 15 semi-automatic rifle that still had a round in the chamber from the alley and discovered that it had been purchased by Crimo at a local gun store in 2020, prosecutors said.
Crimo made voluntary statements to investigators, telling them he had dressed in women's clothing and wore makeup to cover his tattoos because he believed he would be recognized, prosecutors said.
Crimo also said he had "looked down his sights, aimed and opened fire" at people across the street from the rooftop where he was located, according to prosecutors. During this interview Crimo allegedly stated he fired a full 30-round magazine, reloaded with a second 30-round magazine that he emptied, and then reloaded a second time with a third 30-round magazine.
Investigators later recovered those three magazines and 83 spent shell casings from the rooftop, prosecutors said. 
Crimo also allegedly identified both himself and his rifle in still images taken from surveillance footage, prosecutors said.
Contact Heather Cherone: @HeatherCherone | [email protected] | (773) 569-1863
---