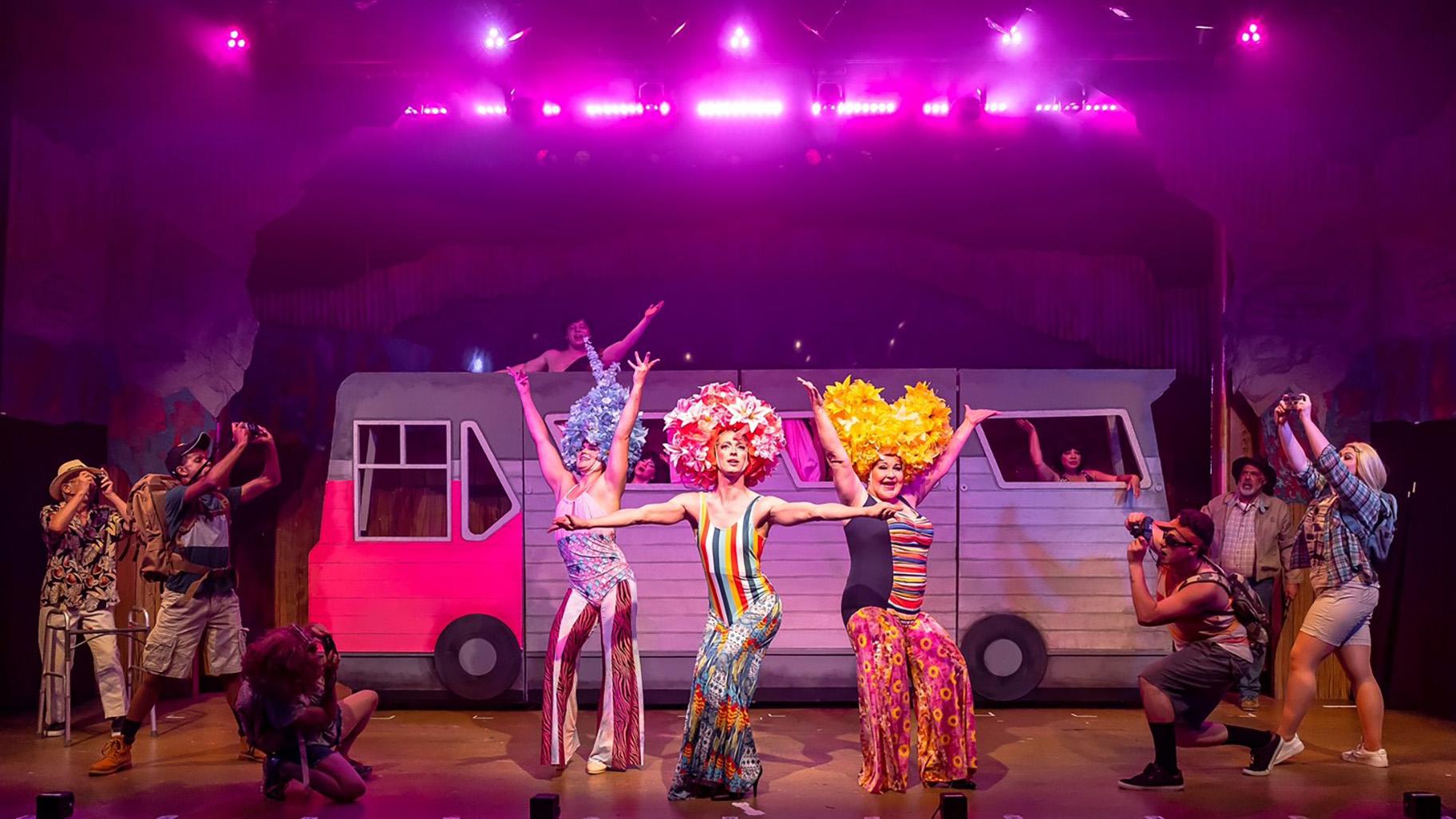 From left to right, Shaun White as Adam, Josh Houghton as Tick, and Honey West as Bernadette in "Priscilla Queen of the Desert" at Mercury Theater. (Credit: Brett Beiner)
The 1994 release of Stephan Elliott's film "The Adventures of Priscilla, Queen of the Desert" was a surprising box office hit and groundbreaker as it spun the story of two drag queens and a recently widowed transgender woman who travel by bus to perform in a club in a remote central Australia desert town. The movie has even been credited as bringing LGBT life into the pop culture mainstream.
The story was later transformed into a jukebox musical by Elliott and Allan Scott with a debut in Sydney in 2006, a London production in 2009, and then an opening on Broadway in 2011. Now, a wildly exuberant, ideally performed, fabulously designed production of the show — superbly directed and choreographed by the ever formidable Christopher Chase Carter — has come to the stage of Chicago's Mercury Theater.
And most crucially, in addition to all its drag tropes, glitzy outfits and ideally flashy riffs on about two dozen songs (pop classics, country classics, and even a bit of Broadway and opera), the show also turns out to be a very moving father-son love story.
It all begins with a rousing nightclub act featuring The Divas (the glitzy, power-voiced trio of Lydia Burke, Heather J. Beck and Jessica Burke Seals), who sing and dance up a storm to "It's Raining Men." They are joined by Miss Understanding (Darren Patin as a high energy dancing queen), for a knockout performance of the cynical hit song, "What's Love Got to Do With It?"
Enter the most crucial member of the cast, Tick (played by Josh Houghton, a tall, rail-thin actor who plays the drag queen with a big heart). Tick is still on good terms with his estranged wife, Marion (in a fine turn by Brittany D. Parker), and has yet to meet their 8-year-old son, Benji (in a brief but most winning performance by Gabriel Solis). And when Marion calls and asks him to do her a great favor and bring an act to her resort in the remote desert town called Alice Springs, things are set into full motion.
Tick is joined by Bernadette (deftly played by Honey West), a newly widowed trans showgirl of days gone by, and by Adam (sharp-edged work by Shaun White), an aggressively macho queen. And in order to get to their destination they buy an old bus that they paint an attention-getting pink and divide into dressing rooms.
Along the way, the bus is marked by hate-filled graffiti, but an even greater problem occurs when it breaks down in the middle of nowhere. Coming to the rescue is Bob (Michael Kingston), a local mechanic in late middle age who still remembers Bernadette's performance from years ago. He is now married to Cynthia (Ayana Strutz, a phenomenal dancer-acrobat who brings the house down) a sassy, rebellious young woman who might very well be his "mail order bride."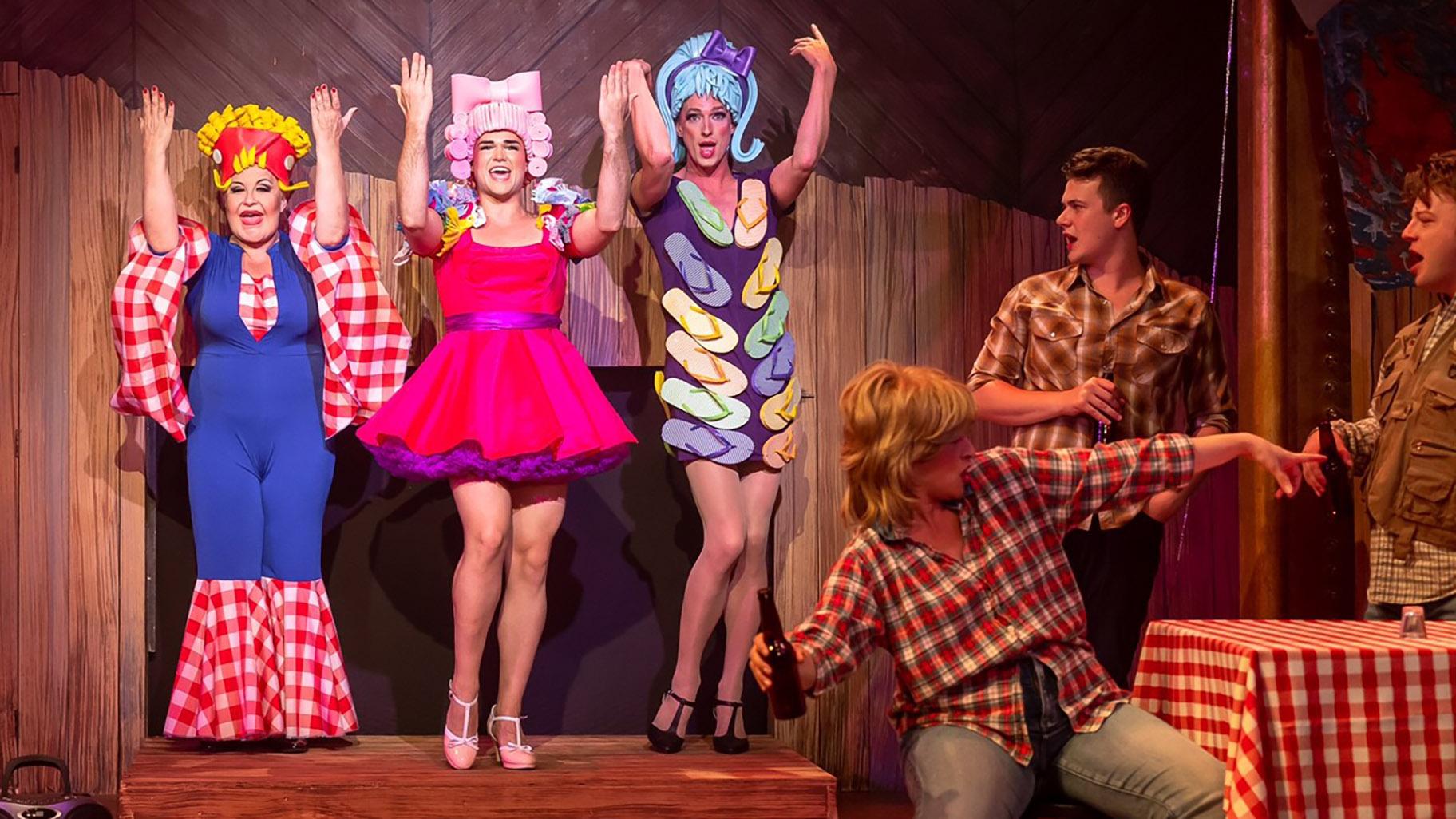 From left to right, Honey West as Bernadette, Shaun White as Adam and Josh Houghton as Tick in "Priscilla Queen of the Desert." (Credit: Brett Beiner)
Before the performers arrive at their destination, at almost the very last minute they run into trouble at a local bar, too. That's where Adam, ever the flamboyant tease in sexy outfits, is recognized for who he really is and is badly beaten by the local thugs.
The show's endlessly energetic cast is ideal. Designer Robert Kuhn's costumes are a dazzling show all on their own, right down to the collection of stiletto heels. So are the countless wigs by Keith Ryan. And Jonathan Berg-Einhorn's set design (especially the movable bus), along with G. "Max" Maxin IV's lighting, cleverly suggest multiple sites.
As for the music, while there is no live orchestra for the show you can easily be fooled into thinking its pre-recorded sound is simply coming from offstage musicians. Music director Eugene Dizon (along with sound designer Carl Wahlstrom) have done a terrific job of making every note ring true. And the power voices of the cast are ideal throughout, ranging from Tick's rendering of "I Say a Little Prayer," to the hilarious cake-wielding staging of "MacArthur Park," to Adam's brilliantly comical lip-synching of "Sempre libera (Forever free)," an aria from Verdi's "La Traviata." And there is far more.
But in the end what really takes the cake is Tik's heartbreaking words after bonding with his young son: "You are the best mistake I ever made."
"Priscilla" runs through Sept. 11 at the Mercury Theater Chicago, 3745 N. Southport. For tickets visit mercurytheaterchicago.
Follow Hedy Weiss on Twitter: @HedyWeissCritic
---