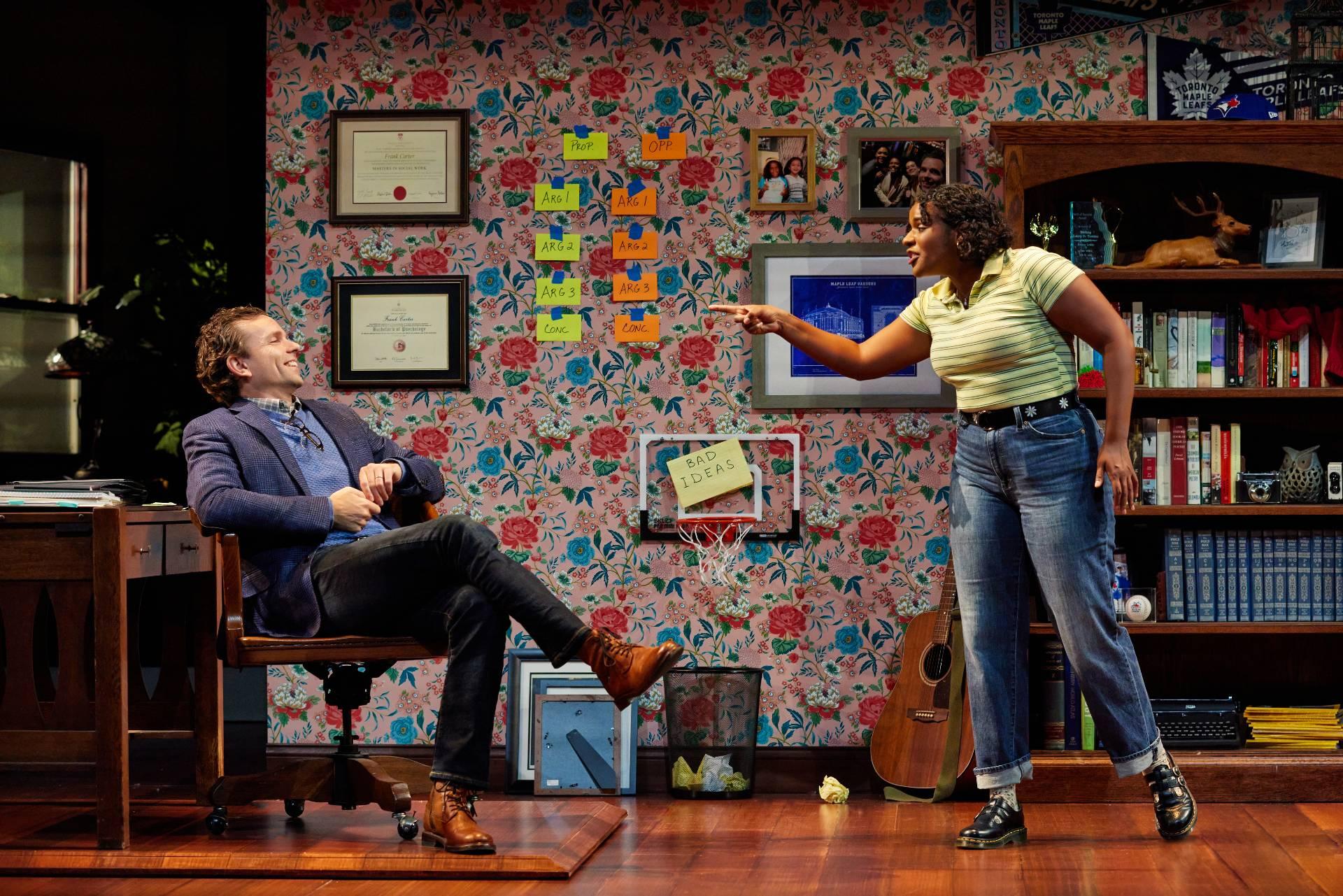 Paul Alexander Nolan and Samantha Williams in Britta Johnson's "Life After." (Photo by Jeremy Daniel)
What happens when an adolescent girl who adores her father discovers that he is not quite the man she believed him to be, and that the same is true of some of the other adults in her life who she thought she knew? And what happens when a face-to-face reckoning with that father is impossible because he dies in a car accident that she believes might have even been her fault?
That combination of admiration, disillusionment, guilt and pain drives "Life After," the musical with a book, music and lyrics by the young Canadian-bred Britta Johnson. The 90-minute show, which debuted in Canada and had its U.S. premiere at San Diego's Old Globe, is now running at the Goodman Theatre.
Without question the cast of nine have strong acting skills and powerful voices, with Samantha Williams full of intensity as Alice, the 16-year old high school student at its center, and the notably charming Paul Alexander Nolan as her father, Frank, a charismatic author and successful speaker who is celebrated for his pseudo-philosophical self-help theory dubbed "Trans-Formotion" (a riff on "transformation").
But the Goodman production, directed by Annie Tippe, is so high-pitched and consistently shrill that the potentially moving story at its core is often undermined. It is unrelentingly loud to the point where a numbing effect sets in. And while the show's seven-piece orchestra, led by music director and keyboardist Chris Kong, also has a powerful "voice" (with orchestrations by Lynne Shankel) it, too, is relentlessly loud.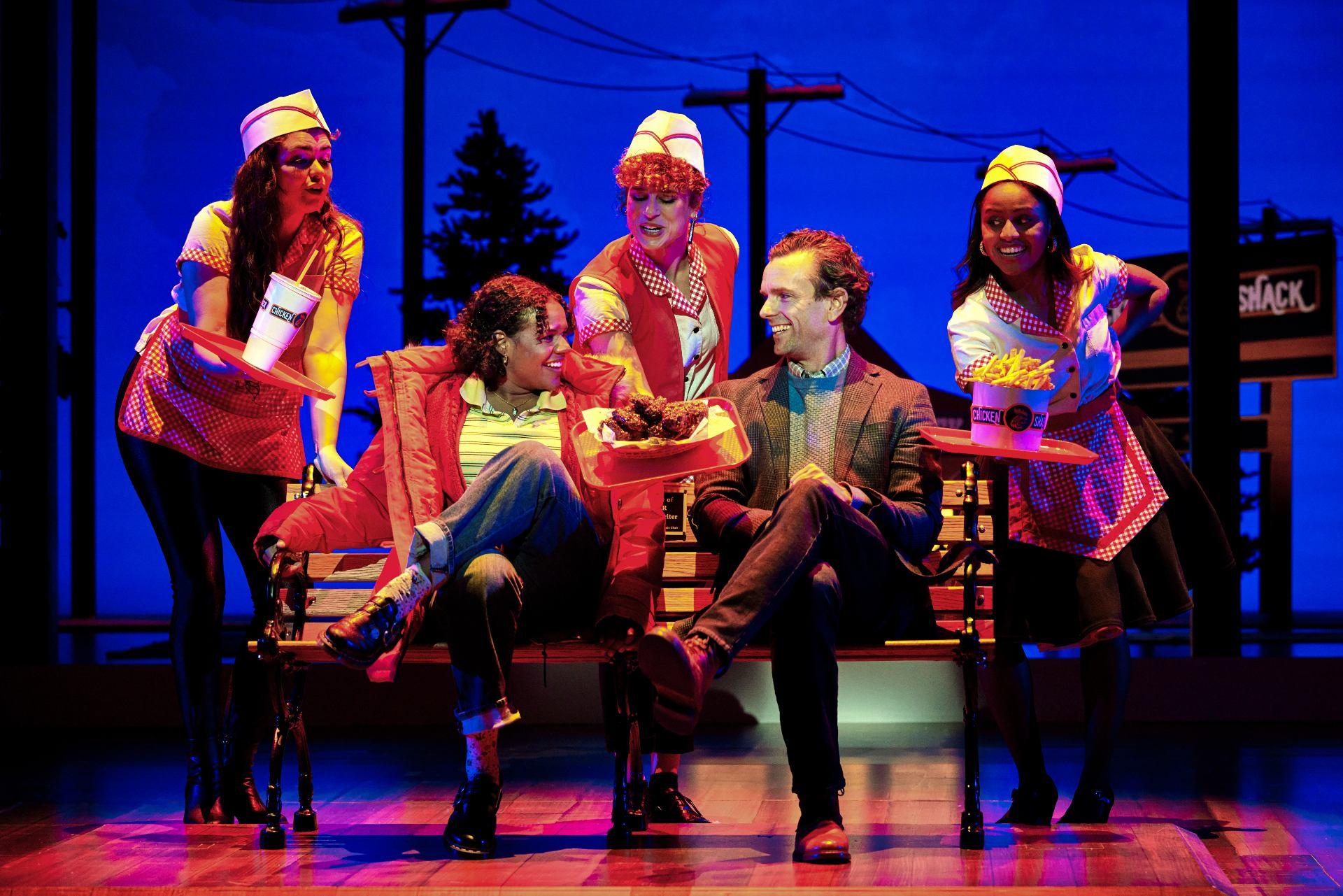 Ashley Pérez Flanagan (left to right), Samantha Williams, Chelsea Williams, Paul Alexander Nolan and Lauryn Hobbs in Britta Johnson's "Life After." (Photo by Jeremy Daniel)
The story begins as Alice's father, who is more often than not away from home to promote his book, speak at conferences and revel in his success, makes a last-minute effort to say a brief goodbye to Alice, the younger and most adoring of his two daughters, before driving to the airport for a flight to his next destination. But it is Alice's 16th birthday and she has already made plans. And though this is somewhat out of character she is not in the mood to cancel them at the last minute. In fact, something suggests she is growing up and beginning to create a life of her own. This unexpected dismissal of her father erupts into a rare, unpleasant argument between the two. And then he claims he must head off to the airport.
Without divulging too much more of the story (in fact, you should take this as a spoiler alert), not long after her father is supposedly driving to catch his plane, Alice, her mother, Beth (Bryonha Marie Parham), and her older sister, Kate (Skyler Volpe), a college student with less of an attachment to her father, get the news that Frank has died in a car accident on a suburban road. And, as it happens, that road did not lead to the airport and did not coincide with what he had told Alice was his flight time.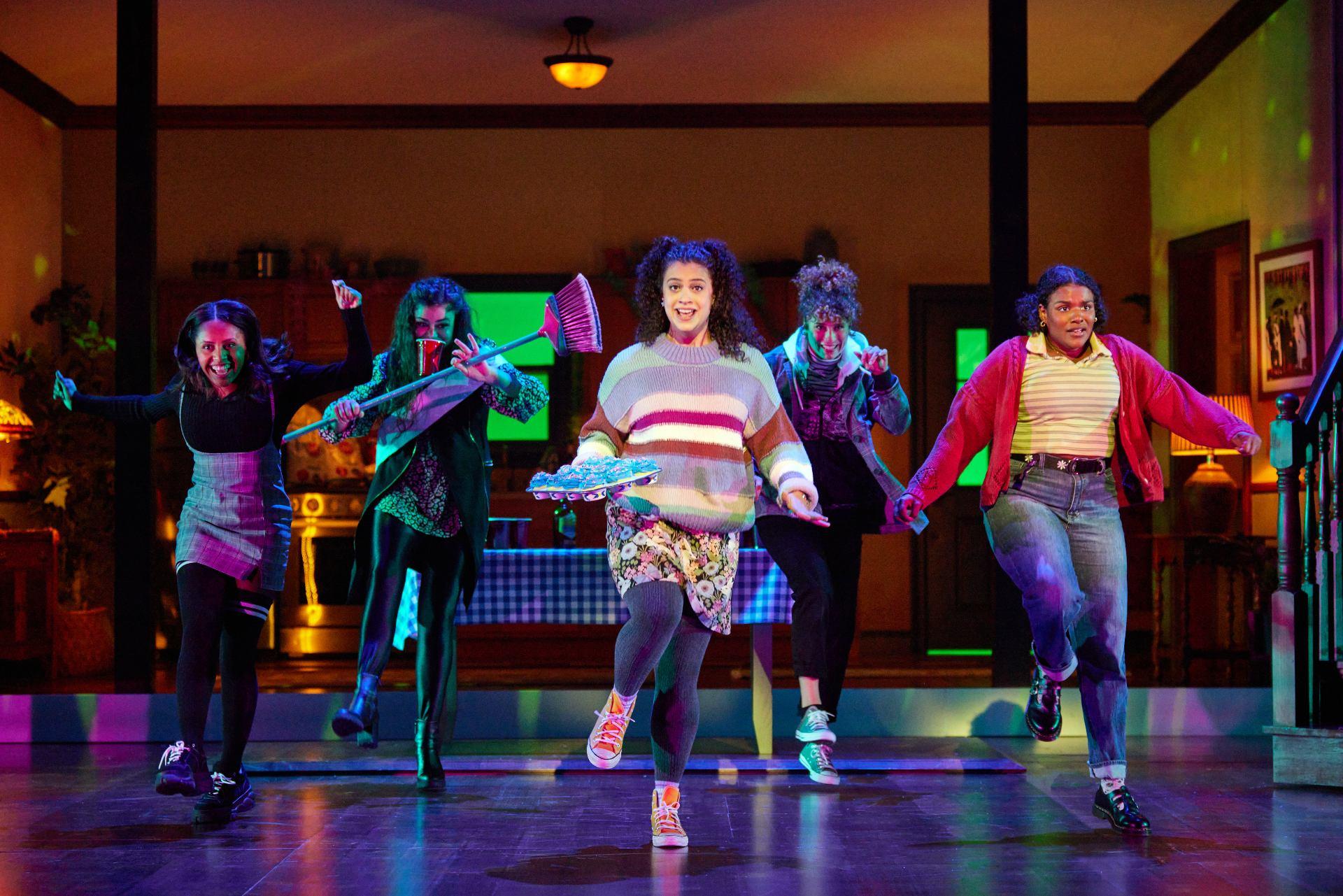 Lauryn Hobbs (left to right), Ashley Pérez Flanagan, Lucy Panush, Chelsea Williams, Samantha Williams in Britta Johnson's "Life After." (Photo by Jeremy Daniel)
Alice immediately blames herself for the disaster and is obsessed with the fact that her last encounter with her beloved father was an unpleasant one. Riddled with guilt, she can only repeat his last words to her: "This is a horrible way to say goodbye." But as it happens, her sense of guilt is misplaced. Her father, as she will learn later, was visiting another woman before heading to the airport.
Neither Alice's sister, nor the girls' mother, seem quite as devastated by Frank's death as Alice. And while friends arrive bearing consoling casseroles and gather around to offer Alice and her family solace, they also offer her advice in the song "Forgive Yourself." It is the sung by the full cast, including a chorus of three women dubbed The Furies, along with Alice's best friend, Hannah (Lucy Panush), and her smart, self-assured teacher, Ms. Hopkins (Jen Sese), who happened to be quite the admirer of Alice's father. Frank is there, too, for he remains a consistent presence to his daughter, if now a ghostly one.
While the musical spins primarily around Alice's loss of innocence, a scene later in the show also suggests her mother's bitterness about the sacrifices she has made for her frequently absent husband. She had a career, too, but it was always on hold as she raised her daughters. And as she paints over the wallpaper in the room Frank had used as an office - and never wanted her to change - she declares her freedom and sings the show's most powerful song, "Wallpaper." Like Alice, Beth also realizes that the person she had loved might not have been quite the person she thought he was, and that knowledge comes with a painful liberation.
"Life After" runs through July 17 at the Goodman Theatre, 170 N. Dearborn St. For tickets, visit GoodmanTheatre.org or call (312) 443-3800.
Follow Hedy Weiss on Twitter: @HedyWeissCritic
---