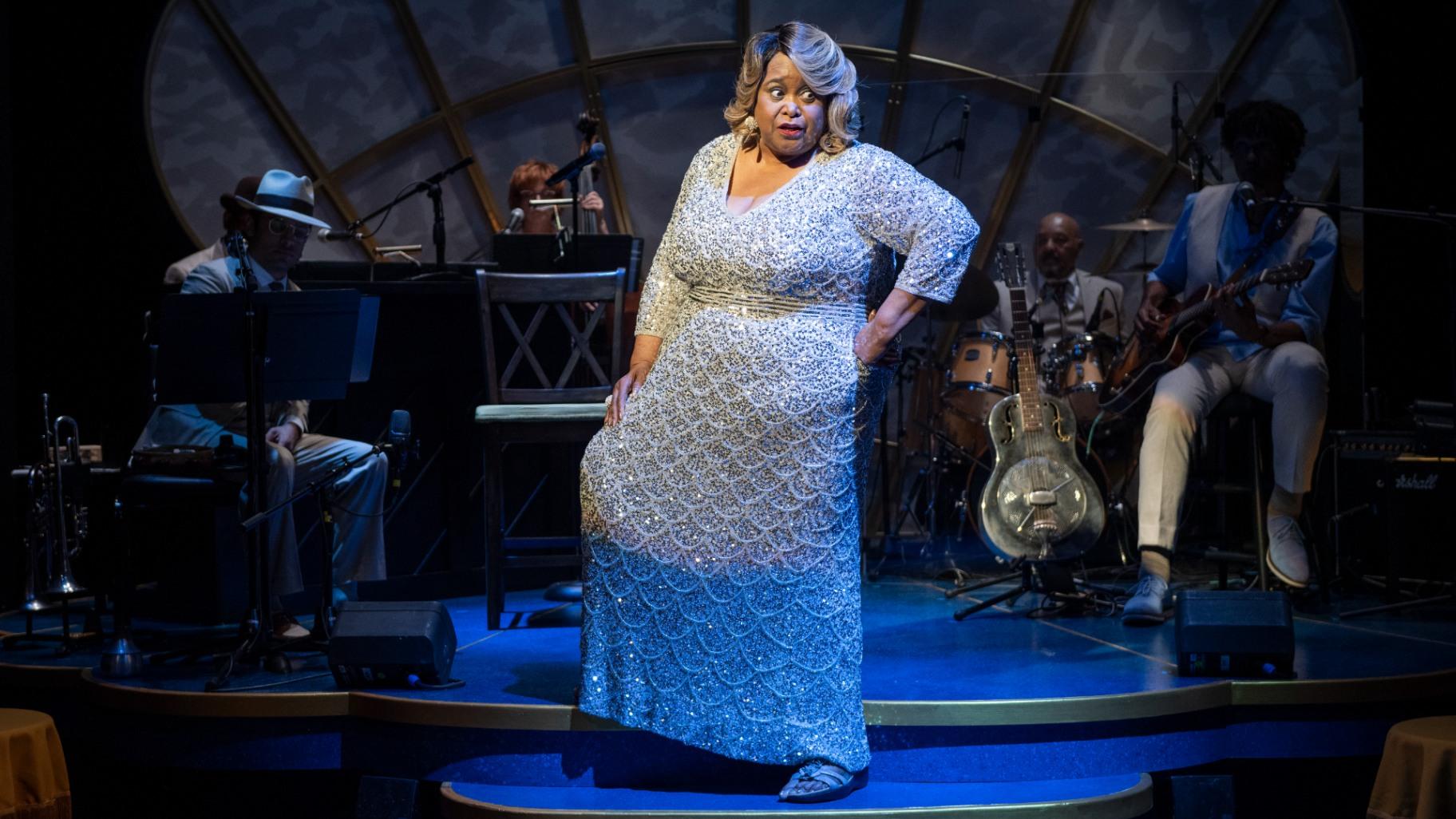 Felicia Fields in "Pearl's Rollin' with the Blues" at the Writers Theatre in Glencoe. (Credit: Michael Brosilow)
From the moment Felicia Fields walks onto the stage to perform "Pearl's Rollin' with the Blues" — the rip-roaring world premiere cabaret-style show she has created in collaboration with the stellar director Ronald OJ Parson — a sense of absolute joy fills the air.
Fields, the Chicago-based actress who was nominated for a Tony Award for her work in the Broadway production of "The Color Purple," radiates joy and a good bit of mischief and innuendo, too. And her instantaneous connection with the audience (and with her bravura five-person onstage band that backs her every step of the way) is at once genuine and playful.
And while this is a show that explores the many aspects of the blues, it leaves you feeling anything but blue. In fact, it would be difficult to think of a more ideal, mostly laugh-inducing tonic for this moment when the world seems truly out of control.
The beautiful set for the show, designed by Jack Magaw (ever the master), lit by Jared Gooding, and with expert sound design by Eric Backus, has a cabaret-style configuration with a long, glossy, sapphire blue ramp leading into the audience and surrounded by a number of small tables set up in front of the theater's standard seating sections. And in one expertly staged interlude, Fields gets up close and personal with the couples seated in that area, and generates a good bit of funny business in the process.
But for the most part Fields, dressed in a grandly glittery gown designed by Rueben Echoles, works from the stage, performing about 15 songs. She starts with a slew of sexy, sassy, teasingly suggestive classics including "Wang Dang Doodle," "Built for Comfort," "My Stove's in Good Condition," "Rough and Ready Man," "Got My Mojo Working," "Mess of a Man" and "You Can Have My Husband (but not my man)."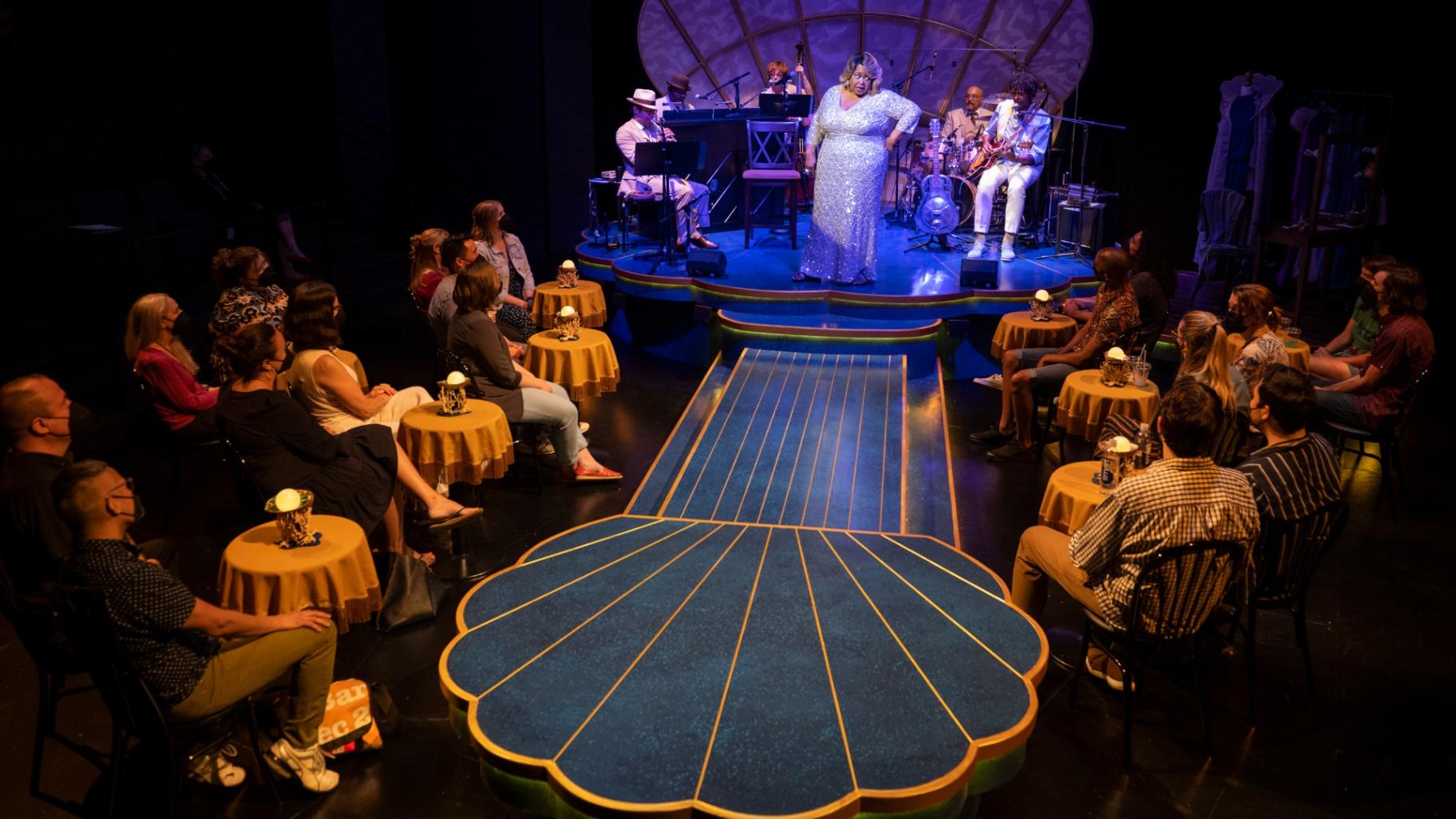 Felicia Fields in "Pearl's Rollin' with the Blues" at the Writers Theatre in Glencoe. (Credit: Michael Brosilow)
Then, in the latter part of this joy-inducing 90-minute show, she digs deeper, singing blues songs that capture the spirit of her family, bouts of racism, her positive experience in a purposefully integrated school, and of life in general — all captured in superb renderings of such songs as "Skin Deep," "Lord I Tried, "Everyday I Have the Blues," and finally, "Blues Is All Right."
The truth is, nobody can make the blues sound more "all right" than Fields, whether the songs she is singing are designed to generate laughter, endurance, love, pain, faith and more. And she takes you with her whether she is being knowingly naughty or achingly honest.
Fields shares the stage with the man who goes by the name of Chic Street Man, who doubles as music director, guitarist and actor/singer in performances of songs that follow much the same trajectory as Fields,' with "C'mon in My Kitchen," "Hey, Hey, Baby, Hey," "Hypocritical Woman," "Fly Away," "Beautiful," and "Lord I Tried,"  which is about trying to reach perfection but never managing to be free from sinning.
Each of the other four musicians in the band are wonderfully entertaining and versatile, including Frank Menzies (conductor, keyboardist, singer and big personality); Ricardo Jimenez (a sensational trumpet player); Harold Morrison (on drums and percussion) and Julie Ponce (on bass).
The show's penultimate song finds Fields singing "Everyday I Have the Blues," but be assured that by the time you leave the theater any blues you might have entered with will be completely swept away. And you will surely nod your head in agreement as she sings "Blues Is All Right."
"Pearl's Rollin' With the Blues" runs through July 24 at Writers Theatre, 325 Tudor Court, Glencoe. For tickets visit writerstheatre.org or call (847) 242-6000.
Follow Hedy Weiss on Twitter: @HedyWeissCritic
---