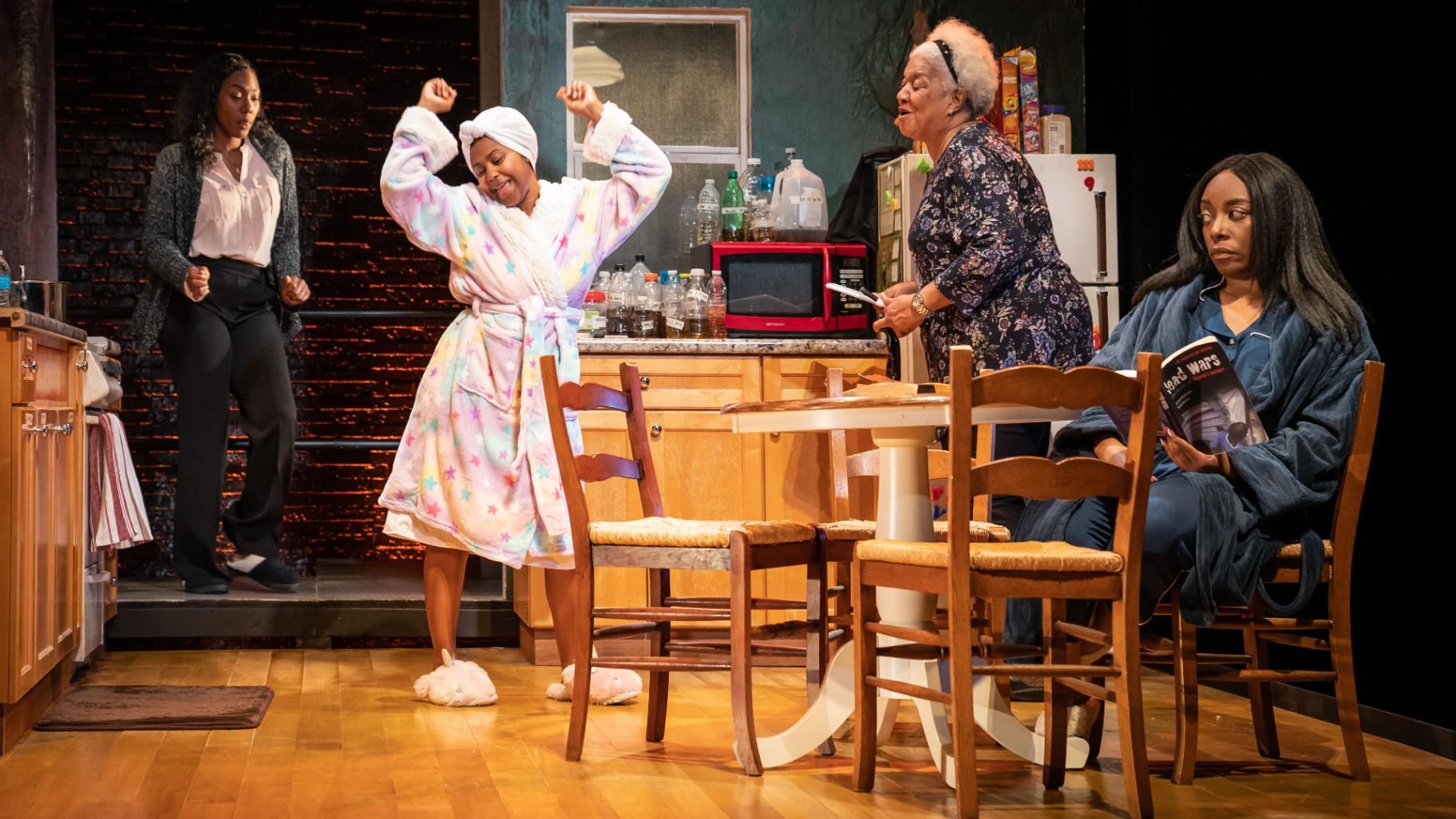 Brianna Buckley, Demetra Dee, Renee Lockett and Sydney Charles in "cullad wattah" at the Victory Gardens Theatre. (Credit: Liz Lauren)
Water is unquestionably the most essential element of life. And those of us fortunate enough to live in a highly developed country tend to take it for granted that when we turn on our faucets the water flowing out of them will be safe to drink, cook with and bathe in.
But then there was all that unfolded in Flint, Michigan in 2011, seriously threatening the physical and mental health of many and taking far too many years to correct. In fact, it was one of the most egregious cases of government inaction in the face of the unequivocal knowledge that a potentially deadly problem involving toxic waste in the city's water supply was causing immense damage and was not being dealt with in any way, shape or form.
It is this environmental catastrophe, with its strong racial overtones, that is at the core of "cullud watta," the expertly limned play by Erika Dickerson-Despenza (a winner of the prestigious Susan Smith Blackburn Award). Her powerful story of three generations of Black women, now receiving a fiercely emotional regional premiere at Victory Gardens Theater, is a model for how to fully humanize a social and political crisis.
Before going any further, a brief history of what happened in Flint will set the stage. The hometown of General Motors, Flint was a thriving industrial city in the mid-20th century but began to see its downfall in the 1980s as the auto industry faced greater foreign competition. Many jobs were lost and a major exodus left a predominantly poor Black population to face the economic fallout.
For years before the full environmental calamity, the Flint River had served as an unofficial waste disposal site awash in toxins. Then, in 2011, the city, which was facing a huge deficit, came under the control of the state government, with Michigan Gov. Rick Snyder appointed emergency manager.
About two years later he made the disastrous, money-saving decision to end the long-standing practice of piping treated water from Detroit to Flint. Instead, the highly polluted, untreated water of the Flint River was used for years, with the promise of a new pipeline far off. And water with heavy amounts of lead that was leached from rotting pipes was sent into thousands of homes for which the cost of filters and bottled water was often prohibitive.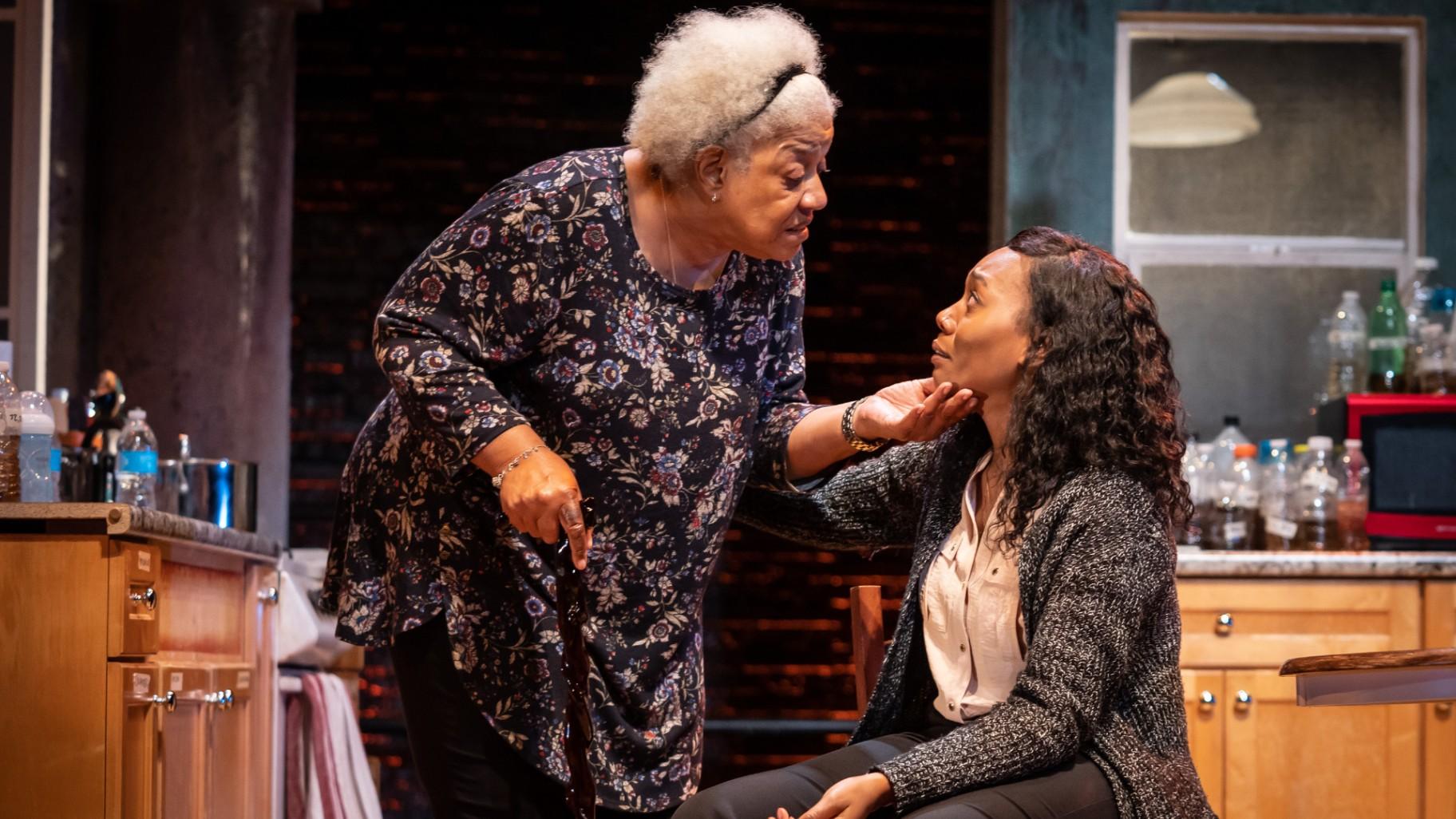 Renee Lockett and Brianna Buckley in "cullad wattah" at the Victory Gardens Theater. (Credit: Liz Lauren)
The five women in Dickerson-Despenza's play live under one roof. There is Big Ma (Renee Lockett), who holds fast to her Bible and tries to keep the family together as best she can. There is her daughter, Marion (Brianna Buckley), who is the sole breadwinner in the family, and, like earlier generations, works at General Motors. Marion is the mother of two daughters: Reesee (Ireon Roach), an alienated adolescent drawn to the spiritual world of her African ancestry, and 9-year-old Plum (played by a young adult, Demetra Dee), who has recovered from cancer very likely the result of poisonous water, and wears a wig to hide her hair loss from chemotherapy.
And then there is Marion's sister, Ainee (Sydney Charles), the most troubled member of the family — not only pregnant and penniless, and with no man in sight, but recovering from drug addiction. Yet surprisingly, as Flint residents file a class action suit against the corrupt and negligent government and industrial powers behind the water crisis, it is Ainee who becomes an activist, despite the fact that this might jeopardize Marion's job. Ainee has nothing to lose, and while there is great tension between the two sisters, there also is an indestructible bond.
Each member of the production's expert cast ideally nails her character under the superb direction of Lili-Anne Brown. And Sydney Lynne's set — a ranch style house with scenes played out in its kitchen, bathroom, bedroom and living room, with giant pipes (and/or industrial chimneys) towering in the background, and with empty plastic water bottles littering the ground outside — captures the sense of a poisonous environment, with Christine Pacual's costumes suggesting an economically squeezed family.
In one notably inspired touch, the play's opening music is a clever riff on the African American spiritual "Wade in the Water" — music that will be particularly familiar to anyone who has seen Alvin Ailey's dance classic, "Revelations."
The lyric heard here is now "Lead in the Water." And that says it all.
One final note, I saw this production at a preview performance during which some of the dialogue was nearly inaudible. I have been assured that the sonic problems have since been fixed.
"cullad wattah" runs through July 17 at the Victory Gardens Theater, 2433  N. Lincoln Ave. For tickets visit victorygardens.org or call (773) 871-3000.
Follow Hedy Weiss on Twitter: @HedyWeissCritic
---