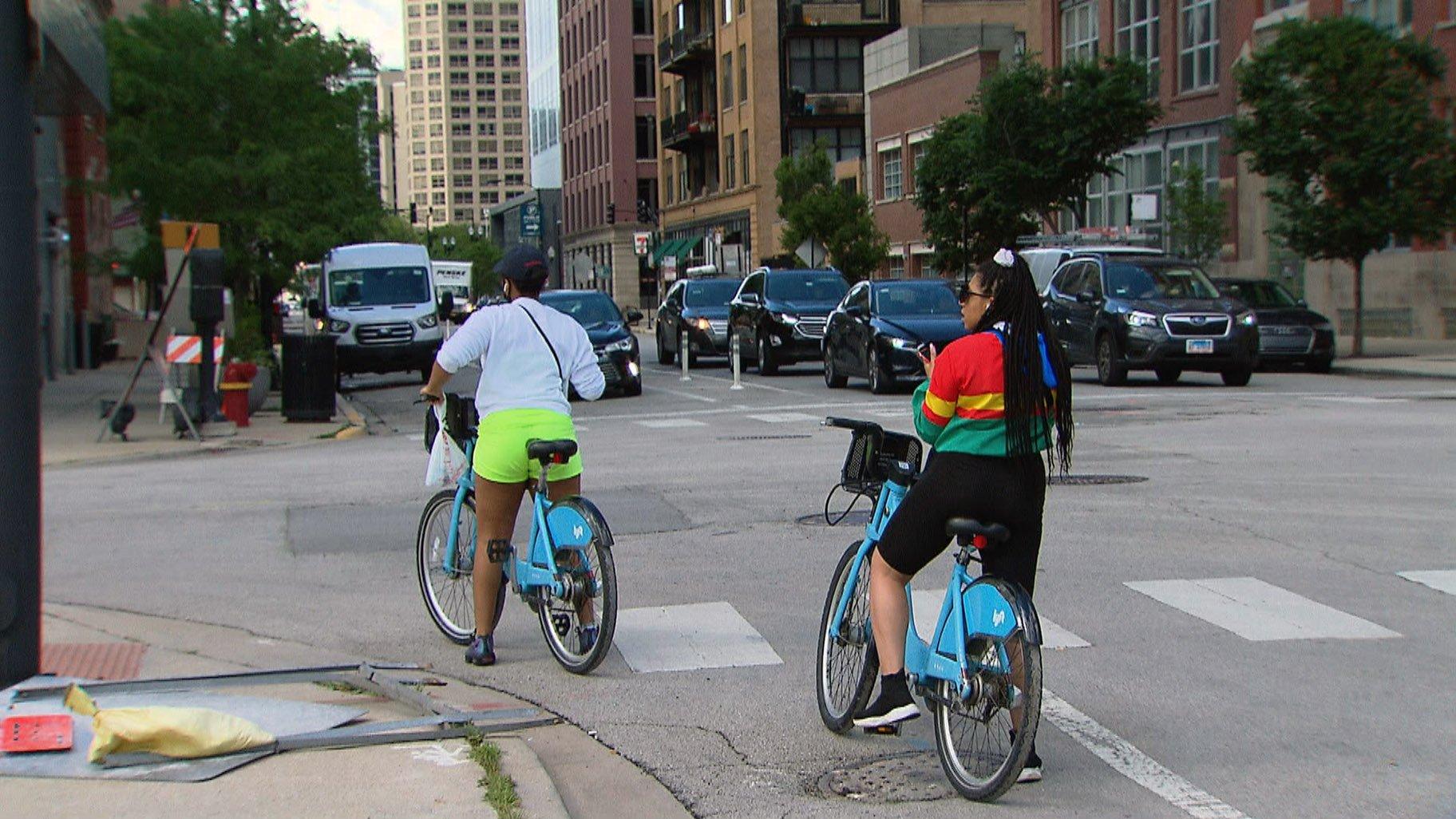 (WTTW News)
Chicagoans who see drivers parked in designated bike lanes should snap photos of the offending vehicle and submit them as part of a 311 request so the city can pursue a citation, 1st Ward Ald. Daniel La Spata tweeted Wednesday morning.
My office has been investigating the best way to submit Bike Lane Parking Violations for enforcement to the City of Chicago. Here is the best way to submit violations for ticketing:

— Alderman Daniel La Spata (@AldermanLaSpata) June 15, 2022
But by the afternoon, a Chicago Department of Transportation spokesperson told WTTW News that while it encourages residents who see someone illegally parked in or blocking a bike lane to submit a complaint to 311, "(t)his information is used by the City to guide enforcement and identify hotspots to improve public safety."
"Requests sent to 311 are not sent to Administrative Hearings for ticketing," the CDOT statement said.
That contradicts La Spata's Wednesday morning tweet in which he said that CDOT Commissioner Gia Biagi "directly confirmed with me that these 311 requests, which include photo documentation of the violation, will be sent directly to Administrative Hearings for tickets."
La Spata told residents to submit a 311 request using the "Vehicle Parked in Bike Lane Complaint" category, and to include the time of violation and a photo of both the front and rear license plate of the car.
Chicagoans can send in 311 requests virtually at 311.chicago.gov and using the city's CHI311 app.
For years, cyclists have complained that the city has fallen down on the job when it comes to enforcing people who drive or park their cars in bike lanes. The obstruction forces cyclists to enter mixed traffic, which can be potentially dangerous.
The issue of blocked bike lanes has gotten widespread attention over the past week after the death of 3-year-old Lily Shambrook. She was riding in a carrier on her mother's bike when a ComEd truck parked in a bike lane forced her mother to go around the vehicle. A semi truck struck the bike, killing the toddler.
In response to complaints about blocked bicycle lanes, Ald. Brendan Reilly (42nd Ward) tweeted in April that he was interested in allowing residents to submit video evidence of offenders so the city could pursue tickets. He has not responded to a request from WTTW News sent on Monday asking for an update on the status of that ordinance.
"CDOT is committed to protecting our residents and visitors who use (bike lanes) to get around our city," the department said in its statement to WTTW News. "We continue to engage with aldermen and other stakeholders about ways to use 311 to enforce bike lane obstructions and parking violations."
---