Chicago isn't likely to break the 35-year-old record high of 99 degrees set for June 14 back in 1987, even though the heat index is expected to top 105 degrees. 
Which begs the question: What is the heat index?
The heat index is determined by two factors: the air temperature and the relative humidity (which is not the same as absolute humidity). The short story is, the less moisture the air can hold, the slower perspiration evaporates. And because perspiration evaporation is the way the body cools itself, when that evaporation isn't happening, people feel warmer.
That's what the heat index measures: What the temperature feels like to the body when it's not only objectively hot, but also when there's high relative humidity. A temperature of 93 degrees can translate to a heat index of 106 degrees on a swampy day. By contrast, 100 degrees can actually feel cooler than the air temperature if relative humidity is low.
Here are some of the 2 PM temperatures & heat indices across the region:
Chicago O'hare: 96°/104°
Chicago Midway: 98°/106°
Rockford: 97°/105°
Joliet: 96°/107°
Pontiac: 95°/103°
Valparaiso: 93°/104°

Take it easy & drink plenty of fluids if you spend time outdoors this afternoon!

— NWS Chicago (@NWSChicago) June 14, 2022
---
The National Weather Service has a helpful heat index chart that converts air temperature to "feels like" temperature based on relative humidity. For people who want to run the numbers themselves, the weather service has calculators for relative humidity (you'll need to know the dew point first, which can be found online) and heat index. 
One caveat to heat index measurements: The calculations and values assume a location is in shade. Direct sunlight can add as many as 15 degrees onto the heat index.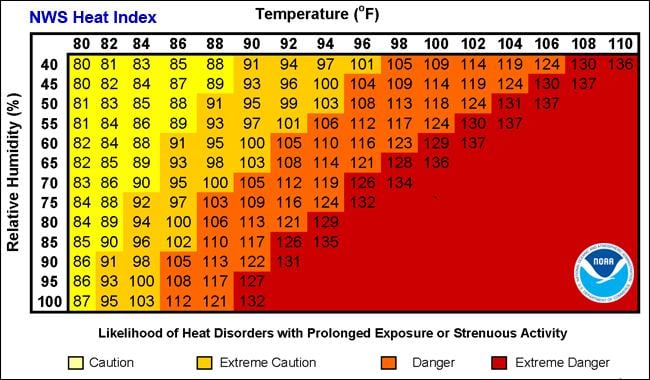 (National Weather Service)
Here's why the heat index matters: It paints a more accurate picture of dangerous conditions than temperature alone.
The difference in how people respond to temperatures when the heat index is a factor can be dramatic. The summer of 1988 saw blistering heat, more sustained than what Chicago experienced in the summer of 1995. Yet in 1995, more than 750 people died of heat-related causes. What set 1995 apart, according to WGN meteorologist Tom Skilling, was the relative humidity, which caused the heat index to soar to 125 degrees in '95. 
The National Weather Service issues excessive heat warnings when heat indices are forecast to reach levels likely to result in heat exhaustion or heatstroke. People are encouraged to stay hydrated; limit strenuous outdoor activity and sun exposure; and to check on relatives and neighbors, particularly elderly adults and vulnerable individuals. 
The current heat warning is in effect until 8 p.m. Wednesday.
Contact Patty Wetli: @pattywetli | (773) 509-5623 |  [email protected]
---