Chicago needs a mayor who will lead by collaborating with residents and other elected officials — not confronting them, Ald. Roderick Sawyer (6th Ward) said during an interview with "Chicago Tonight" Tuesday.
Sawyer, who announced his bid for mayor Thursday, said Chicago needs to take an "all hands on deck" approach to the issues facing Chicago, including efforts to reduce crime, improve schools and boost business districts.
"It is not complicated," Sawyer said. "But that's what we are missing right now."
Sawyer is the fifth major candidate to challenge Lightfoot's bid, which she made official Tuesday, to be the first woman to be re-elected as Chicago mayor. He joins CPS CEO Paul Vallas, state Rep. Kam Buckner, business owner and philanthropist Willie Wilson and Ald. Raymond Lopez (15th Ward) in the mayoral race.
Lightfoot has taken a "top down, authoritarian" approach as mayor of Chicago, which has not served Chicagoans well, Sawyer said.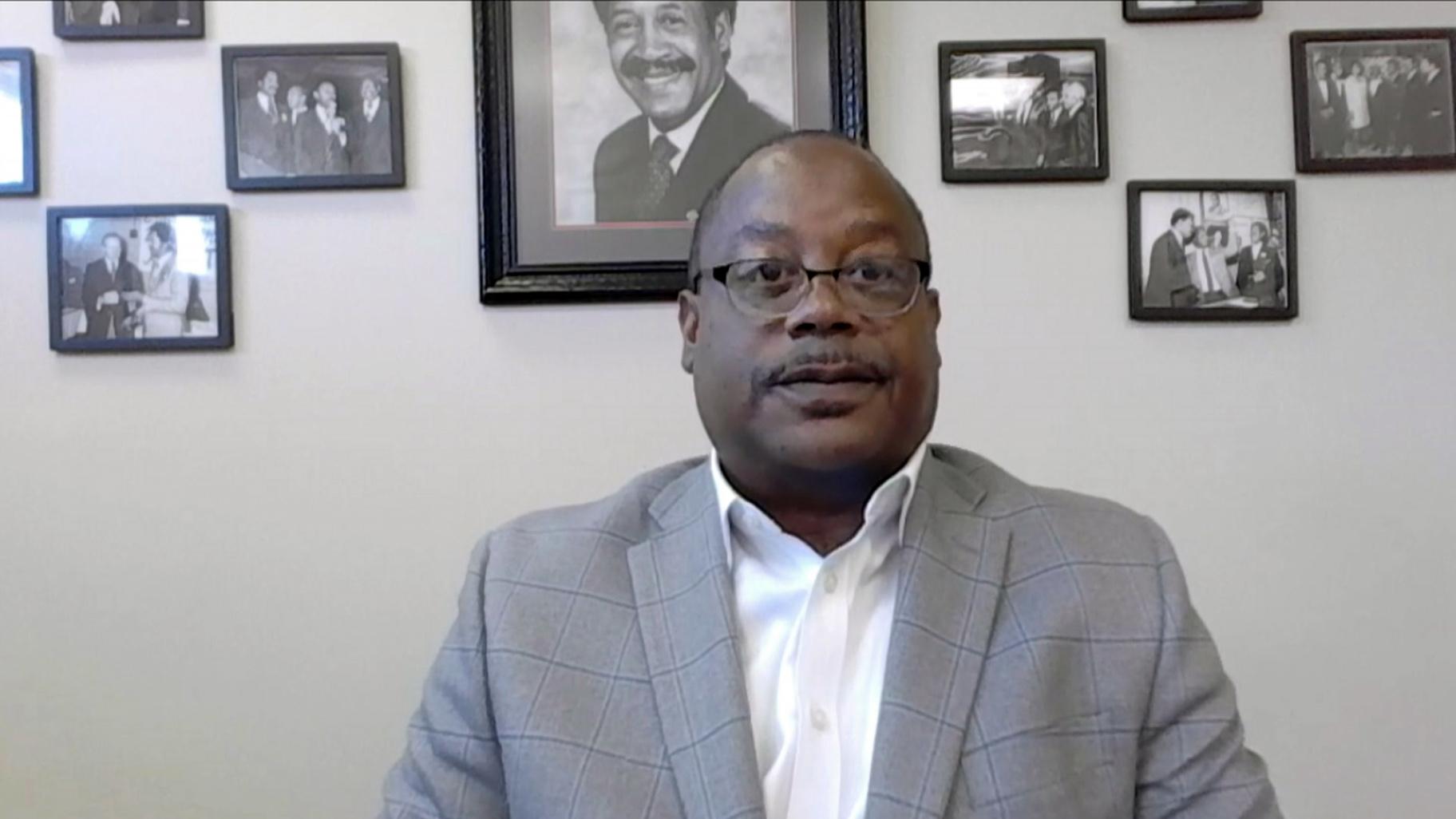 Ald. Roderick Sawyer appears on "Chicago Tonight" via Zoom following his announcement that he is entering Chicago's mayoral race. (WTTW News)
Lightfoot tapped Sawyer to serve as the chair of the City Council's Health and Human Relations Committee, and his candidacy is a stunning rebuke of Lightfoot and her leadership. Sawyer was first elected to the City Council in 2011.
Sawyer served as the chair of the Black Caucus under former Mayor Rahm Emanuel, and charted a moderate path during his administration. In 2019, Sawyer was forced into a runoff, but retained his seat, winning nearly 54% of the vote.
Sawyer's father, Eugene Sawyer, served as 6th Ward alderperson from 1971–87 and as Chicago mayor from 1987-89 after the death of Mayor Harold Washington.
The alderperson said he learned the art of political compromise from his father.
"It is about addition, not division," Sawyer said. "He always told me most importantly, don't be nasty. Stay positive, stay upbeat and talk about what you can do with other people, collaboratively."
Sawyer and Lightfoot clashed over a number of issues during the past three years, including efforts to create an oversight board of Chicagoans to oversee the beleaguered Chicago Police Department as well as a push to study whether and how the city should pay reparations to Chicagoans who are the descendants of enslaved African Americans.
In the face of opposition from the mayor, Sawyer dropped his push to create a commission, and agreed to form a subcommittee of the Health Committee. That body met only once, and Sawyer regretted bowing to the mayor's wishes, telling WTTW News she had "stonewalled" his efforts.
Sawyer said his record shows that he can work well with others, and his deep knowledge of how the city works will enable him to make significant changes.
2021 was the most violent year in Chicago in approximately 25 years, putting Lightfoot and Chicago Police Supt. David Brown, her hand-picked choice to lead the department, on the defensive.
Sawyer said Chicago needed a top cop who is empowered to run the police department and has the backing of the rank-and-file officers.
"We need that type of superintendent," Sawyer said.
The new oversight board Sawyer helped craft will search for a new superintendent if Brown is terminated or leaves his position.
Contact Heather Cherone: @HeatherCherone | (773) 569-1863 | [email protected]
---