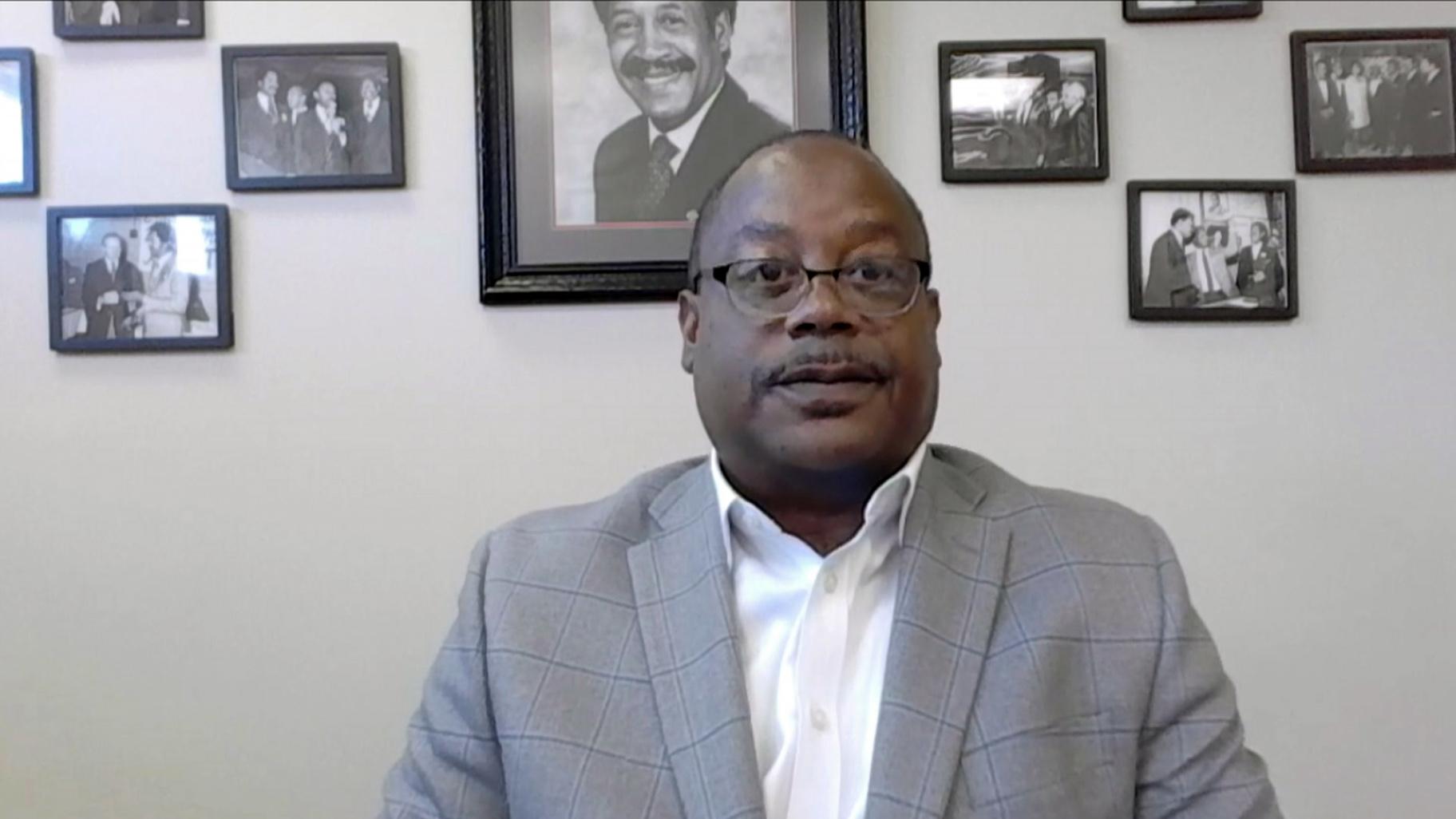 Ald. Roderick Sawyer appears on "Chicago Tonight" via Zoom following his announcement that he is entering Chicago's mayoral race. (WTTW News)
Ald. Roderick Sawyer will stay on the ballot for Chicago mayor after a Willie Wilson campaign consultant dropped his petition challenge.
Former state Sen. Rickey Hendon challenged the 6th Ward alderperson's petitions earlier this month. The dropped challenge means the field of mayoral contenders will likely feature nine candidates.
The Sawyer campaign issued a statement reacting to the dropped challenge and touting his credentials as a 12-year member of the Chicago City Council.
"I am looking forward to having the time and resources to connect with Chicago voters and tell them what my #ResetChicago plan means for this great city now that the objection to my petitions has been dropped and I will be on the ballot," Sawyer said in the statement. "I also thank all of my supporters and volunteers who stuck with us through this challenge knowing we would prevail."
Hendon, in an interview with the Chicago Tribune, said it was Wilson's decision to drop the challenge.
The Wednesday decision to drop the challenge arrived after an hours-long hearing before election officials about Sawyer's petitions and Hendon's lengthy list of signature challenges.
A decision was expected next week.
Hendon last week dropped his challenge to the petitions of Ja'Mal Green. The activist in turn dropped his own challenge to Wilson's petition.
It was Hendon's 2019 challenge that kept Green, 27, off of the ballot in the last mayoral election.
Consultant Johnny Logalbo was removed from the ballot Dec. 22 after two challenges to the number of valid signatures he collected. 
A decision is expected Friday from the Chicago Electoral Board on a challenge to Chicago police officer Frederick Collins' nominating petitions.
The mayor's race field now stands at Sawyer, Wilson, Green, incumbent Mayor Lori Lightfoot, U.S. Rep. Jesús "Chuy" García, Cook County Commissioner Brandon Johnson, state Rep. Kam Buckner, former Chicago Public Schools CEO Paul Vallas and Ald. Sophia King (4th Ward).
Early voting is currently set to start Jan. 19, with Election Day set for Feb. 28. If no candidate gets more than 50%, the winner will be determined by a runoff election on April 4.
Heather Cherone contributed.
---