The Lincoln Park community area lies just west of its namesake park which makes up more than 1,200 acres of land. Smaller parks dot the area too, including Fire Station Park off of Armitage Avenue that's tended to by the Lincoln Central Association.
Volunteers, including Girl Scouts have planted flowers, chives and lettuce; folks are invited to clip and eat the rainbow chard, and spring greens.
On Wednesday, the association will host its first summer social at the park.
It's a new initiative for the group's engagement committee chaired by Anne Moore. She says everyone's been holed up at home throughout the pandemic, but this is a way to bring people together.
"We need to see each other, we need to say, 'hi.' We need to connect," Moore said. "It's good because bad things happen all over the city, including this neighborhood."
Moore has lived in Lincoln Park for more than 30 years and says it's gotten livelier, more built up within that span.
Among other changes in the area: Lincoln Yards. It's a former industrial area along the North Branch corridor that developer Sterling Bay has cleaned up, and plans to make a "city within a city."
Critics fear the project will cause traffic jams between Lincoln Park and Bucktown.
"I sat in on some of those planning meetings and I really urge that our communities be wed, and I'm not sure that's what the plans presently call for. And I would hope so," Moore said. "We have two 19th century neighborhoods. They're walkable, they're successful, they've been successful for more than 100 years as communities and I would hope that Lincoln Yards would be a community that unites Wicker Park and Lincoln Park physically, so we could walk to each other."
Interactive map: More from our community reporting series
Brian Comer, president of the Sheffield Neighborhood Association, says a shooting recently occurred a few blocks away from where he lives in the Sheffield neighborhood of Lincoln Park.
In early May, 23-year-old culinary student Dakotah Earley was shot in the 1300 block of Webster Avenue by a 19-year-old who's been charged with attempted murder and armed robbery.
"We had neighbors that ran out there as soon as they could to be with him, to call 911, to hold his hand, to make sure that he knew he wasn't alone." Comer said. "I'm just happy he's still alive and we keep praying for him every day."
Earley spent his birthday on Tuesday in the hospital.
Comer says crime has gotten increasingly more violent in the last six to nine months.
"We had over 130 people four days later for a beat meeting that was already on schedule to talk about safety and the incident with Dakotah," Comer said.
Video: Watch our full interview with Brian Comer.
---
As Moore hinted, Lincoln Park has a reputation as a successful community, and it is one of Chicago's most affluent and tony.
Nearly 40% of residents have an income over $150,000. Even so, violence is a concern here too.
"I think it's a misconception about Lincoln Park. There's carjackings, there's muggings. We're part of the city," Moore said. "Yes, there's money and there's funding and there's funding for a community garden like this. But we're also very generous. When our alderman asked for donations to another  – during at the beginning of the pandemic – a ward far, far on the South Side, people stepped up."
Parts of Lincoln Park have taken a proactive, albeit controversial, approach: Hiring their own private security service to do neighborhood patrols.
It's not all of Lincoln Park – rather, pockets – where residents privately take up a collection to pay companies like Downers Grove-based P4 to have officers do rounds.
"We do patrols here in Lincoln Park," said Paul Ohm, the company's vice president and principal. "This is an ongoing program that's been going on for years. And conceptually, it's been there for decades. The neighborhood watch concept has always been there. This is a professionalization of the neighborhood watch concept.
Before Ohm was interviewed by WTTW News, a woman who recognized him from a neighborhood association meeting walked by.
She didn't want to be on camera, but told WTTW News that she's glad for the program and believes it is helping to deter crime.
---
Lincoln Park has a lot of tourist attractions: the namesake zoo, North Pond, The Peggy Notebaert Nature Museum, and conservatory. But also: Chicago Pizza and Oven Grinder Company.
In 1929, the Valentine's Day Massacre took place across the street.
Upstairs of what's now the pizza place was supposedly a seedy hotel that served as a lookout for Al Capone and his crew.
An unsavory crew and time. But since 1972, it's the opposite.
Chicago Pizza and Oven Grinder serves up homemade comfort food in the form of carbs and cheese.
"This is the pizza pot-pie," long-time server Ken Collins said. "It's baked in a ceramic bowl…we add both layers of cheese…it's cooked for about nine hours from start to finish."
That's 50 years of homemade crust, sauce and gooey Wisconsin brick cheese.
General Manager Cathy Gallanis said that in a town big on deep dish and tavern-style pizza, this place has carved out its own, now nostalgic, niche.
"With every whim and craze, we didn't change. We always tried to stay the same," Gallanis said. "I think people ultimately really liked the fact that they could come in here and they came in like 10 years ago, and they come in tomorrow, everything's the same…the food, decor, booths. A lot of people have worked here for 20 to 30 years."
She herself has worked there for 40 years. There are also salads with homemade meatballs and dressing.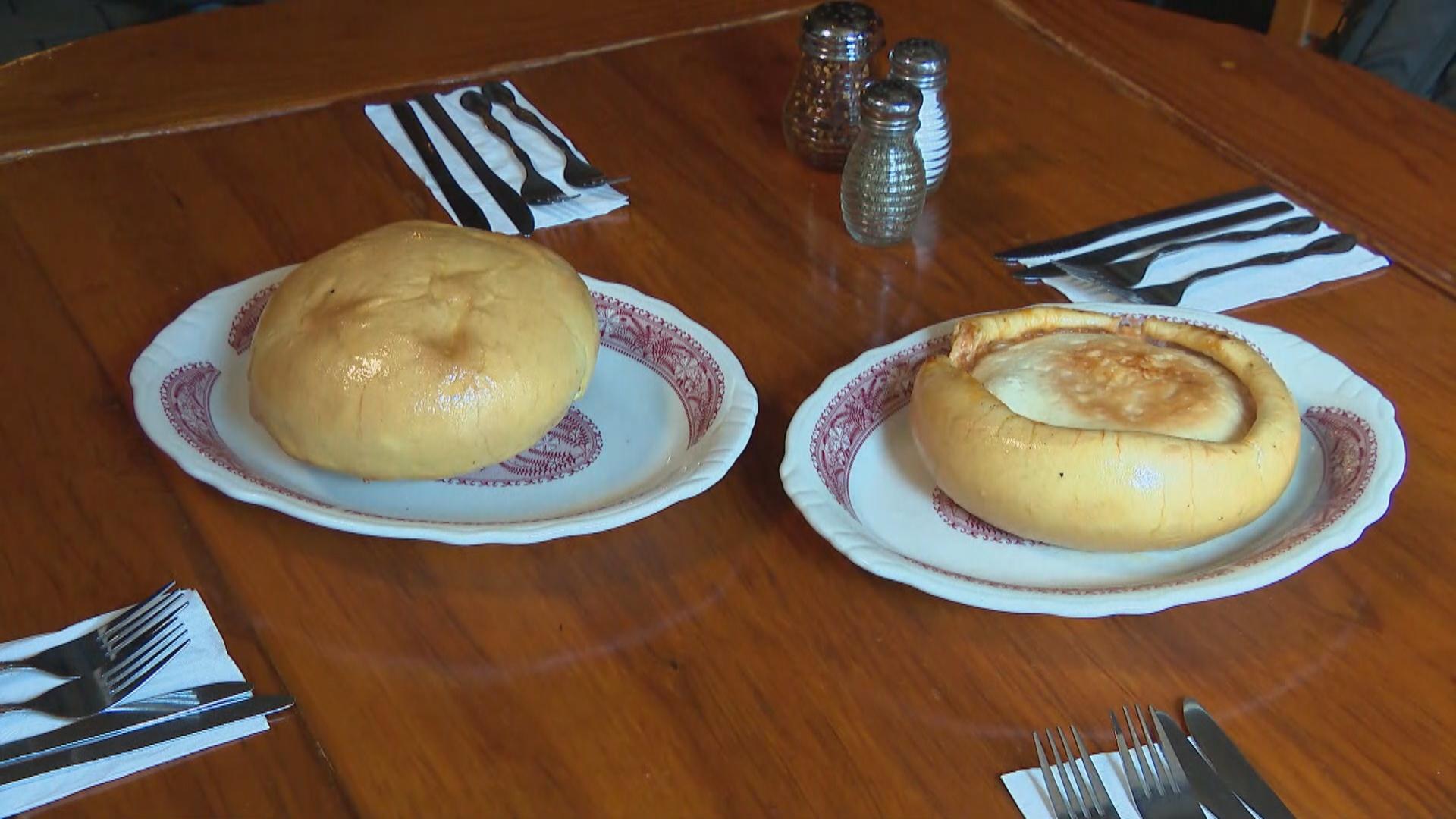 Chicago Pizza and Oven Grinder Co. is known for its famous pizza pot-pie. (WTTW News)
Lincoln Park also hosts the Green City Market every Wednesday and Saturday morning.
Tiffany Mitchenor, a resident of Lincoln Park, is new to working the market. Until a couple weeks ago, she was just a fan. 
"This is such a beautiful neighborhood and I just love the greenery and the beach," Mitchenor said. "I would see this market all the time and just marvel at the amount of people that come out here and the beautiful produce…I looked it up and wanted to be a part of it."
She now works for Jacobson Family Farms, a vendor at the market, who brings their produce from Antioch.
"We have micro-greens, lilies, gourmet mushrooms…. eggs, chicken, and oftentimes, people are interested in the duck eggs we sell," Mitchenor said. "That's something new for a lot of folks."
All of the vendors at the not-for-profit Green City Market are third-party certified as organic or sustainable, according to the market's director. People who use SNAP can stretch their benefits: if they spend $25, the market will match it twice over so shoppers can buy $75 worth of goods.
Because they're local, she says they're not contending with global supply chain issues causing issues elsewhere in the economy, the bigger battles are with mother nature.
"A rainy day or extreme heat is more of what they're battling," executive director Mandy Moody said in reference to the farmers. "We've had some of our vendors who sell honey share with us that something as simple as a glass jar to bottle that honey has been an issue so you may see some varying things on the table…in terms of the produce and the protein you'll find, they're growing it right her so that supply chain is much shorter. It's coming right from the farm, to the market, right to your plate."
Lincoln Park is the main Green City Market outpost, but it also runs a Saturday morning market in the West Loop.
---
Community Reporting Series
"Chicago Tonight" is expanding its community reporting. We're hitting the streets to speak with your neighbors, local businesses, agencies and leaders about COVID-19, the economy, racial justice, education and more. See where we've been and what we've learned by using the map below. Or select a community using the drop-down menu. Points in red represent our series COVID-19 Across Chicago; blue marks our series "Chicago Tonight" in Your Neighborhood.
---