"Chicago Tonight" is hitting the streets to speak with your neighbors, local businesses, agencies and leaders.
---
A redevelopment project that's been nearly 10 years in the works took a step forward Thursday with a hearing before the Chicago Plan Commission.
A team of grassroot organizations in Englewood wants to repurpose the former Granville Woods Academy into a community clinic and 48-unit housing facility for people who struggle to find a place to live, including formerly incarcerated folks.
Interactive map: More from our community reporting series
But advocate Asiaha Butler of Resident Association of Greater Englewood, known as R.A.G.E, said there's still a lot of work to be done — and that the building has been heavily vandalized with valuable material like copper stolen out of the walls.
"It's sad and traumatic to walk through these walls and to think about the life that was in these schools," Butler said. "It's been a journey for us to learn to do development from the ground up with an institution as large as this. We're adding another floor so it'll be an extension. But as I'm learning with this $21 million project, this isn't easy work and you have to be in it for the long run. It may take 10 years, and I don't think a lot of folks have the patience to do that, but when you live here and love it in your community, we have nothing but time."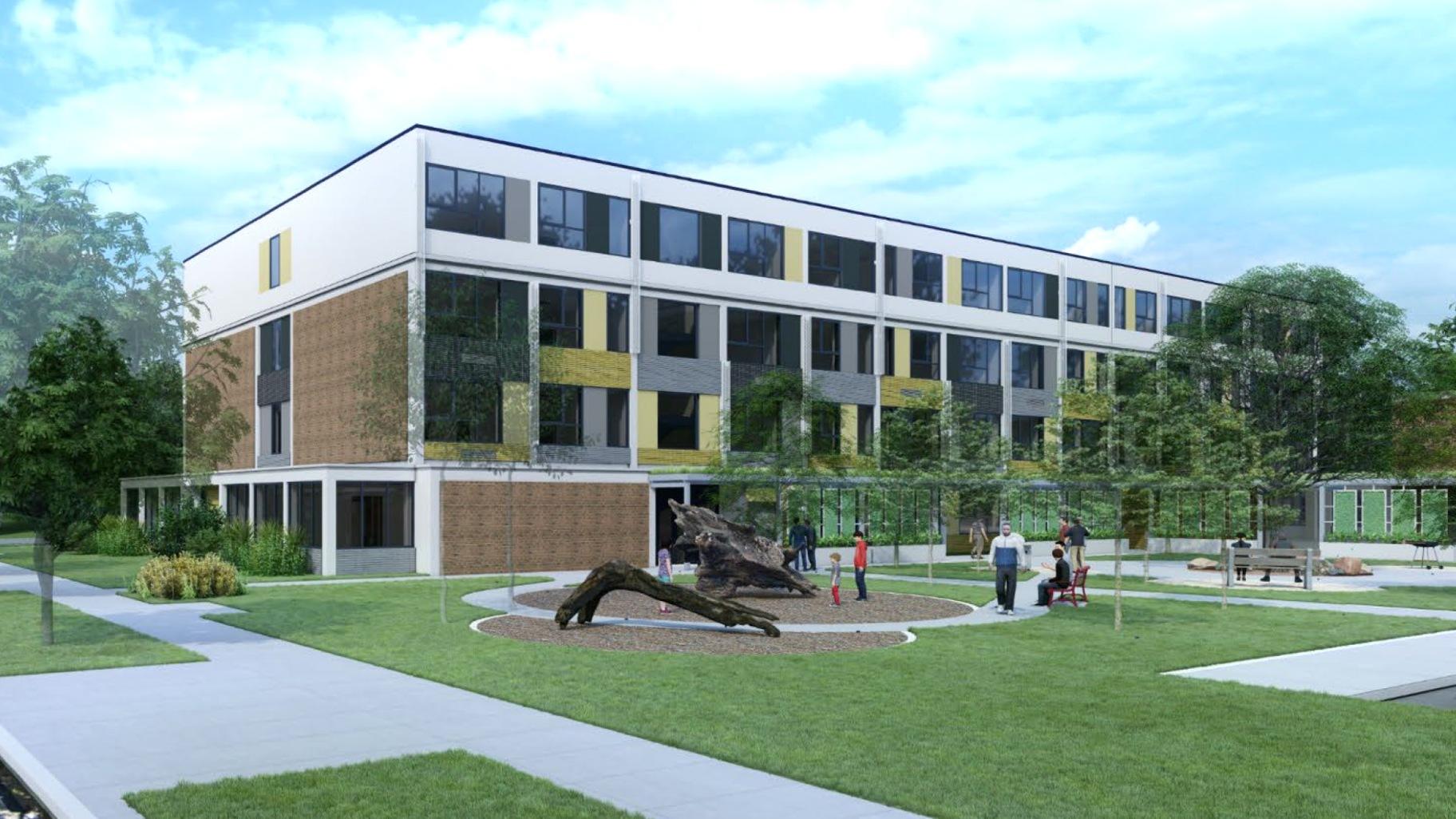 A rendering of the proposed transformation at Granville Woods Academy. (Courtesy Nia Architects, Inc.)
Right now, only one of the closed Englewood schools has found a new purpose: the former Benjamin Mays Elementary, now serving as a community hub. But when the school itself shut down permanently 10 years ago, many longtime residents were devastated.
"The community was horrified; we were upset," said Dr. Shelia Martin, a longtime Englewood resident. "We were feeling so much of the disadvantage that other communities don't have that impact and don't have to experience. So we kind of had to walk away wounded. We felt that we weren't being heard. We felt our children weren't being taken care of."
Englewood had six elementary schools close in 2013 — the most in any community that year.
But in the years since that upheaval, Martin found new ways to care for children in her community.
Shepherd's Hope started out just as a food pantry. Now, it has partnered with other organizations to transform the shuttered Mays school into what's called The Center of Englewood.
"Where we are right now is a little piece of heaven," said Martin, who has run a medical clinic out of The Center for nearly four years. "We have a tidbit of everything that our community may need."
More than 6,000 people walk through The Center's doors every week — receiving health care at Martin's medical clinic, hot cooked meals, fresh groceries and much more.
"It's client choice. It's like shopping at a grocery store," said Brian Anderson, founder and executive director of Shepherd's Hope. "We put limits on certain foods and others they can take as many as they want. We always have meat, eggs, milk."
Some Englewood residents have made it a part of their daily routine.
"I came by for lunch and you know, just heading back on out enjoying the rest of the day. … It's really actually a part of my daily schedule," Englewood resident Crystal Matthews said.
Anderson placed a bid on the former school in 2018 with this one-stop-shop vision in mind. But with the building having sat vacant for five years, he said it didn't come easy.
"When I came here after we closed, I was here with CPS because they were changing the locks, and I walked through the building and there were ceiling tiles down all over the place," Anderson said. "We found out there was 9,000 feet of copper cable stolen out of here and another 2,000 feet of two-inch copper pipe. That cost us close to $300,000 to replace."
Now for the last few years, he and others have been working to fill the health care and food deserts in Englewood amid a pandemic.
"The last three years, it has superimposed the responsibility of people like myself to take care of people that look like me," Martin said. "… For any community that has already been dispositioned, that has already been deemed a vulnerable population, it's to empower them, to know they can be better, they can have better."
According to Anderson, about 20% of the population served is homeless. Seventeen other organizations now operate out of the 27-classroom facility.
Brother Henry Timothy, who manages operations at The Center and knows most visitors by name, said it's become a place of refuge.
"This has been the best-kept secret in Chicago," Timothy said. "It's a safe haven. There's a lot of shootings around the area. Hundreds of people can come here a day and not worry about no shooting and no fighting."
The moratorium on closing any additional schools is set to expire in January 2025.
"Seeing it (the Mays building) repurposed is a beautiful thing," Matthews said. "I just feel like as long as it's helping out the area of the community. I see kids coming in and out, so it's like nothing ever left."
A decade later, CPS is still facing problems with under-enrolled public schools. But with a former educator and former Chicago Teachers Union organizer now serving as the city's mayor, many advocates are hopeful there won't be a mass shutdown like the city saw a decade ago.
---
Community Reporting Series
"Chicago Tonight" is expanding its community reporting. We're hitting the streets to speak with your neighbors, local businesses, agencies and leaders about COVID-19, the economy, racial justice, education and more. See where we've been and what we've learned by using the map below. Or select a community using the drop-down menu. Points in red represent our series COVID-19 Across Chicago; blue marks our series "Chicago Tonight" in Your Neighborhood.
---