Mayor Lori Lightfoot's decision to tap Bally's to build a casino in River West won the approval of 27 members of the Chicago City Council on Monday, setting the $1.73 billion proposal up for a final vote on Wednesday.
Only three members of the special City Council committee created by Lightfoot to consider the casino proposal voted against the plan: Ald. Brian Hopkins (2nd Ward), Ald. Michelle Smith (43rd Ward) and Ald. Brendan Reilly (42nd Ward). All three represent the North Side, where residents have warned the casino will lower their property values, snarl traffic and increase crime. 
"This is worse than the process for the parking meter deal," Reilly said.
Hopkins said he did not believe that the casino would help stabilize Chicago's finances, while Smith objected to the changes the casino is sure to bring to the ecologically sensitive Chicago River.
Reilly agreed with Hopkins, calling the financial projections offered by city officials "fuzzy math" that assumed the Chicago casino would be the most profitable gaming palace in Illinois — on "super steroids."
Ald. Walter Burnett, whose 27th Ward is set to be home to the casino and resort, urged his colleagues to act fast.
"If we postpone this, will we miss the boat?" Burnett asked.
The Chicago City Council is expected to give its final stamp of approval to the Bally's plan on Wednesday, sending the proposal to the Illinois Gaming Board, which must license Bally's to operate the Chicago casino set to be built along the Chicago River near Chicago Avenue and Halsted Street.
The casino and resort would replace what is now the Chicago Tribune printing plant and newsroom, forcing the newspaper to relocate its operations. 
After the meeting, Reilly told WTTW News he believed his colleagues would regret allowing Lightfoot push through the approval of a casino on a unprecedentedly expedited timeline.
"I think this was a big mistake," Reilly said. "We gave away all of our leverage."
Before Wednesday's crucial vote, City Council members heard impassioned pleas from representatives of Chicago's powerful hospitality unions, who said the 3,000 construction jobs the casino is expected to create every year and the 3,000 permanent jobs were desperately needed in an industry that has yet to recover from the economic catastrophe triggered by the COVID-19 pandemic.
Chicago's top financial officials urged alderpeople to act quickly, and allow revenue to start flowing from a temporary casino at the Medinah Temple in River North as soon as next year. A permanent casino could open as soon as early 2026.
Lightfoot is expected to run for re-election, and will no doubt emphasize that she succeeded in bringing a casino to Chicago in three years after former Mayors Richard M. Daley and Rahm Emanuel failed for 30 years. Lightfoot was able to convince state lawmakers to revise the tax structure for a Chicago casino in May 2020.
Bally's was one of three firms to submit a proposal to build a casino in Chicago in November, and appeared to have the inside track in the winner-take-all contest after a study from the city's gaming consultant found the Bally's casino would be the most lucrative for the city and its sister agencies, ringing up $191.7 million in its sixth year of operations.
Bally's is the only one of the three finalists that does not operate another nearby casino, giving the firm an incentive to maximize efforts to drive gamblers and revelers to their Chicago casino and resort — boosting the city's share of its revenue, according to that study.
Bally's will also offer the city an upfront payment of $40 million for the license, and $4 million annually, the mayor's office announced. Initially, Bally's offered the city an upfront payment of $25 million.
Bally's also inked an agreement with the Chicago Federation of Labor to ensure construction and casino workers are allowed to unionize. In addition, the casino firm promised that 60% of the jobs created by the casino will be filled by Black, Latino or Asian workers.
Bally's will also create a jobs program specifically targeting Chicago neighborhoods with the highest levels of unemployment and lowest income, according to the mayor's office.  
Lightfoot is counting on a casino to boost the city's economy and funnel approximately $200 million into its police and fire pension funds, significantly easing the pressure on the city's finances, while creating thousands of jobs and drawing tourists — and their fat wallets.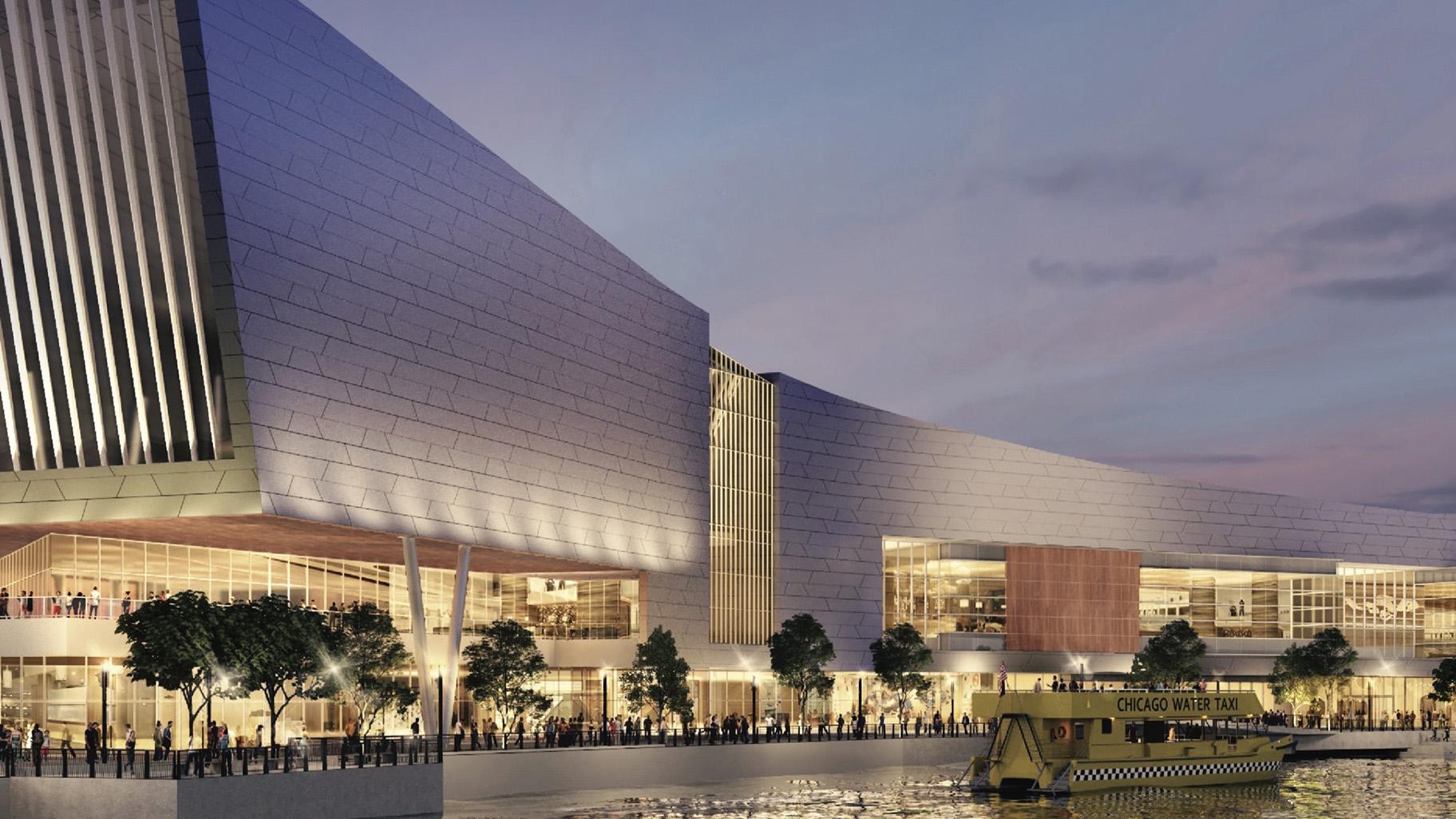 Bally's casino and resort would be built on what is now the Chicago Tribune printing plant and newsroom near Chicago Avenue and Halsted Street. (Provided)
Bally's $1.73 billion casino would have 3,400 slots and 173 table games. The resort would have six restaurants and cafes in addition to a food hall and three bars and lounges. It would also feature a 3,000-seat, 70,000-square-foot concert venue and a 20,000 square-foot event venue in addition to outdoor bars, lounges and pools along the Chicago River.
Bally's has put together a consortium — the Chicago Community Builder's Collective — of design and construction firms owned by Black, Latino and female Chicagoans to work on the project.
Bally's has told city officials they will meet the requirements imposed by city officials that 25% of the facility be owned by Black, Latino or Asian shareholders, 50% of its employees be from Chicago and at least 26% of the construction contracts go to firms owned by women or Black, Latino or Asian Chicagoans. 
Contact Heather Cherone: @HeatherCherone | (773) 569-1863 | [email protected]
---