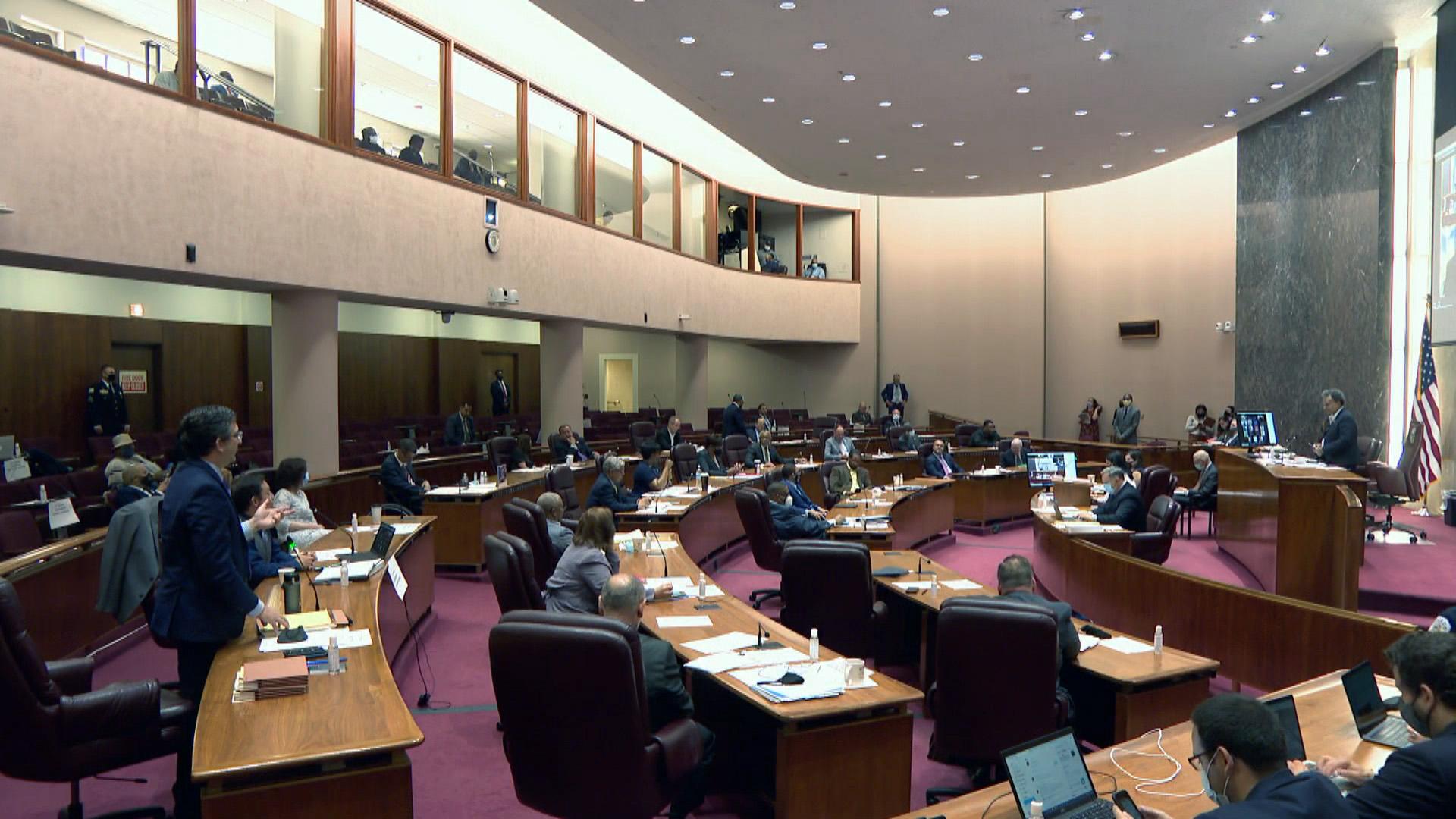 Members of the Chicago City Council meet on Wednesday, May 26, 2021. (WTTW News)
Thirty members of the Chicago City Council invoked a rarely used provision of state law to call a special meeting of the public body for 3 p.m. Wednesday.
The session will be used to pressure Mayor Lori Lightfoot, Chicago Police Supt. David Brown, Chicago Public Schools CEO Pedro Martinez and Chicago Park District Supt. Rosa Escareño to step up efforts to reduce violent crime.
"We understand the fears, concerns and demands for sustainable solutions addressing the violence and criminality that is increasing exponentially throughout our diverse communities," according to the letter filed by Ald. Raymond Lopez (15th Ward) with the City Clerk's Office. "It is our hope that this public forum, in the absence of customary hearings, will address the people's concerns."
Crime in Chicago usually peaks during the summer months, when hot temperatures force people outside and fray tempers. In recent years, the Memorial Day holiday weekend has been extremely violent.
Members of the City Council last demanded that Brown brief them on his plans to address summer violence just before the Fourth of July holiday in 2021. That meeting was contentious, with Brown accusing the City Council of reducing the time he had to strategize with his top commanders on how best to stop violence. 
Lightfoot has repeatedly accused members of the City Council who have called special meetings of "grandstanding."
Through the end of April, 178 people have been killed in Chicago in 2022, according to Chicago Police Department data. That marks a 7% decline over the same time last year. However, it is still higher than in 2020 and 2019, according to police data.
The number of shootings is also down approximately 14% through April, as compared with the same period in 2021. However, the pace of shootings in 2022 is still higher than in 2020 and 2019, according to police data.
In April, there were 49 homicides — the fewest of any April since 2018 — and 207 shootings in Chicago, according to police data.
Contact Heather Cherone: @HeatherCherone | (773) 569-1863 | [email protected]
---