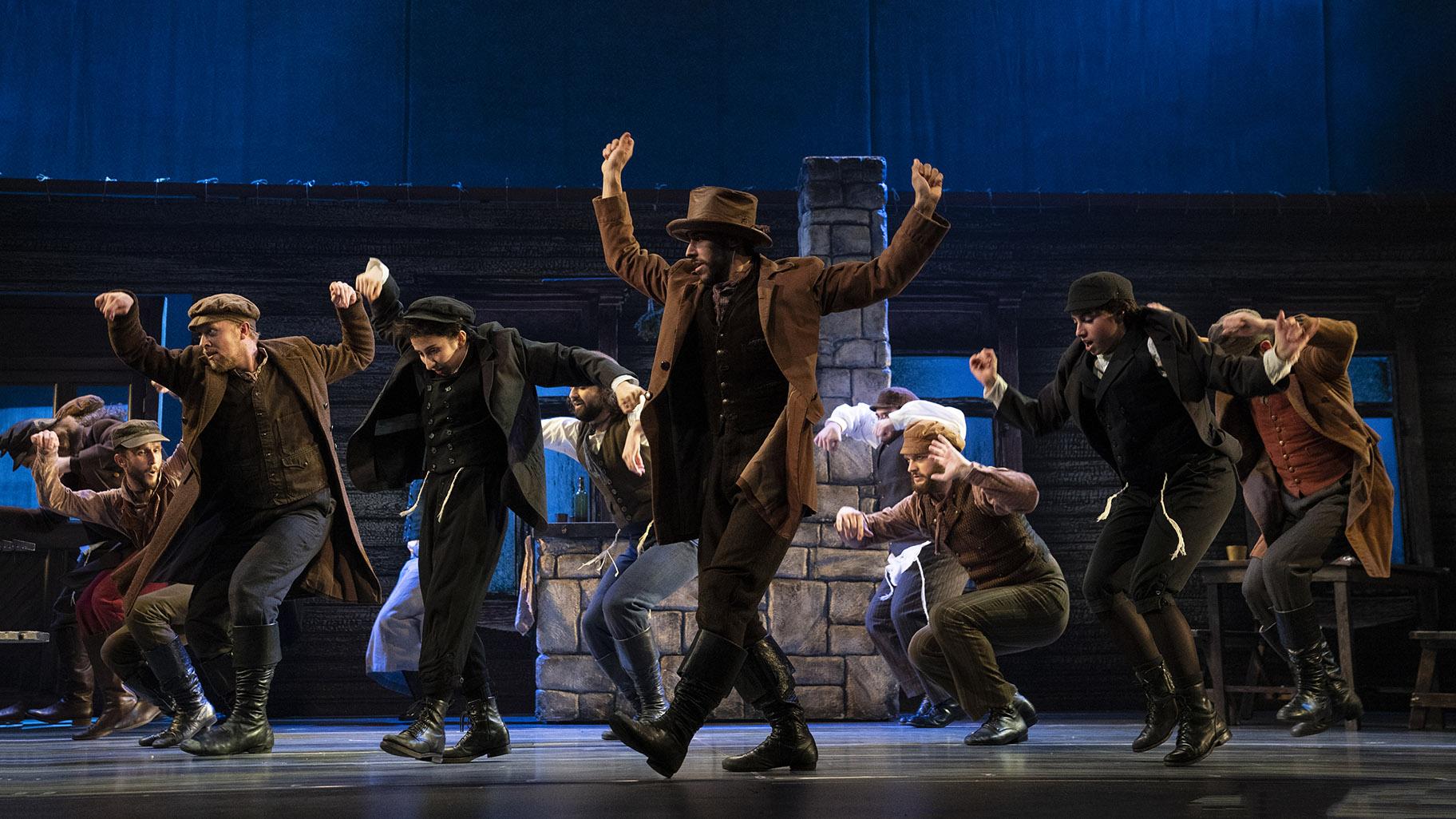 A North American touring production of "Fiddler on the Roof" is playing at the Cadillac Palace Theatre in Chicago through May 22. (Credit: Joan Marcus)
The current touring production of "Fiddler on the Roof," which has been booked for a surprisingly short, one-week-only run at Chicago's Cadillac Palace Theatre, could not be more timely.
And it is an ideal example of how "a classic" — in this case both the stories of Yiddish writer Sholem Aleichem dating from 1894, and the ever-remarkable 1964 musical they inspired, with a score by Jerry Bock and Sheldon Harnick, and book by Joseph Stein — can have a whole new resonance at this very moment.
In fact, as the curtain calls for Tuesday's opening night performance drew to an end, Yehezkel Lazarov, the Israeli actor playing Tevya (the milkman with five daughters who ekes out a living in Anatevka, a shtetl in the Pale of Settlement, and who periodically talks to God with a winning sardonic streak) addressed the audience and offered a note of solidarity for the millions forced into exile by the war now raging in the very area around Ukraine where the musical is set.
Of course the details are different. In 1905 it was the Russian czar who had permitted Jews to live in the area for a period of time, but who then announced they were to leave their homes at once, and sent them into exile. Yet the dynamics of that upheaval are not all that different.
As all those familiar with "Fiddler" know, the word (and song) that drives this story from the very start is "tradition." But it is the unstoppable companion concept of "change" that begins to dominate, with all the profound pain (as well as a certain freedom) that can accompany it.
At the center of "Fiddler" is Tevye, a poor, hardworking man in a macho society who has been married for years to his irritable but devoted wife, Golda (Maite Uzal), and is the father of five daughters, several of whom are now of marriageable age. And while he believes it is his duty to choose (or at the very least approve of) the men who are to wed his daughters, it is this matter that is about to profoundly challenge him and decidedly alter his life.
Tzeitel (Kelly Gabrielle Murphy) is the oldest daughter, and although she is in love with Motel (ideally played by Daniel Kushner), Tevye tries to exert his fatherly "rights" by keeping her from marrying this shy, penniless tailor. He makes a deal with Lazar Wolf (the fiery Andrew Hendrick), the much older, widowed, and well-to-do butcher in town. But in this case love conquers all, Tzeitel rebels in her particular way, and her devotion to Motel — and his awakening — is about to signal yet more change to come.
Hodel (the second oldest daughter, winningly played by Ruthy Froch), emerges as the surprisingly independent and romantic-minded daughter who falls for Perchik (expertly portrayed by Solomon Reynolds), a university student and radical political activist from Kiev who senses that a revolution is in the air. The two become powerfully attracted to each other, but when Perchik returns to Kiev he is arrested, jailed and sent to Siberia. And despite all Tevye's fears, Hodel eventually boards a train and follows the man she loves.
And then there is Chava (in a winning turn by Noa Luz Barenblat), the cautious bookworm who does that most unthinkable of things by falling for a fellow book-lover, Fyedka (a fine performance by Jack O'Brien), a young gentile man with a love of books. Tevye is so outraged by their marriage, and so stripped of his paternal power, that he disowns Chava. As a result, the family and the notion of "tradition" are both fractured.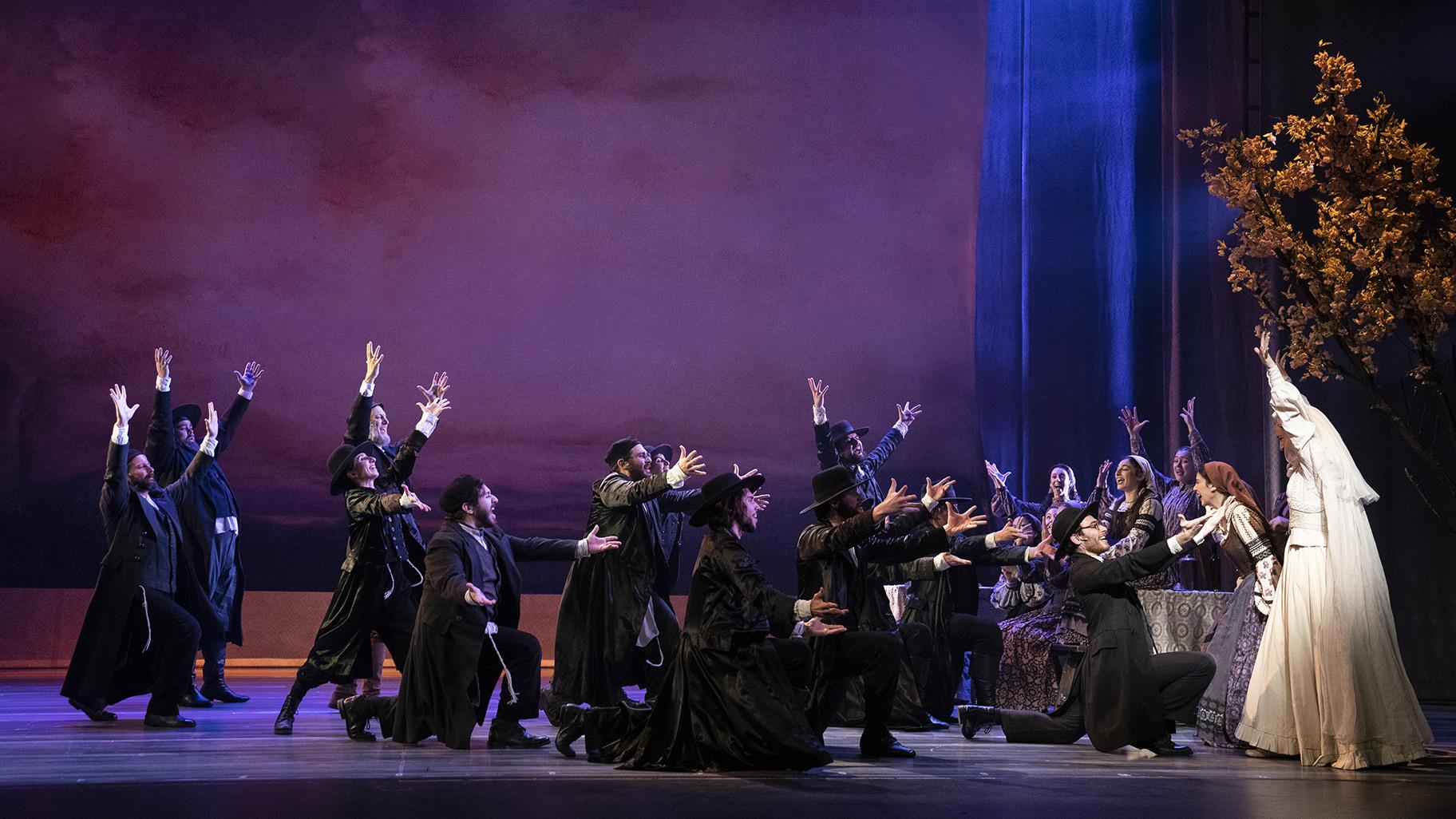 A North American touring production of "Fiddler on the Roof" is playing at the Cadillac Palace Theatre in Chicago through May 22. (Credit: Joan Marcus)
But this is only part of the upheaval in this story, as the wedding celebration for Tzeitel and Motel (replete with male dancers performing the show's iconic bottle-in-the-hat dance) is upended when local Russian thugs ransack the place. And as it happens, that is just a prelude to what is to come, for soon afterward the Czar decrees that all Jews must evacuate the country.
What follows is a great exodus and diaspora, with Tevye, Golda and their two youngest daughters heading to America; Hodel and Perchik already living in Siberia; Tzeitel and Motel, and Chava and Fyedka, heading to Poland; and Yente, the irrepressible matchmaker (winningly played by the petite but powerful Brooke Wetterhahn) headed to Jerusalem. As for the Fiddler (the subtle yet winning Ali Arian Molaei), he will no doubt continue to float among all of them, much like a figure in a Marc Chagall painting.
Directed by Bartlett Sher and choreographed by Hofesh Schecter (in much of the original Jerome Robbins tradition), the production is ideally designed by Michael Yeargan (again, with a hint of the airborn Chagall), with lighting by Donald Holder and costumes by Catherine Zuber.
The 10-piece orchestra, led by Jonathan Marro, is first-rate. Although, given the magic of this show's score and its powerful story, it really should be larger.
One note, one problem with this production — and it has been a weakness in a number of recent shows — is that the dialogue at times became muffled or even inaudible. Better sound checks are very much needed.
"Fiddler on the Roof" runs through May 22 at the Cadillac Palace Theatre, 151 W. Randolph. For tickets visit broadwayinchicago.com.
Follow Hedy Weiss on Twitter: @HedyWeissCritic
---