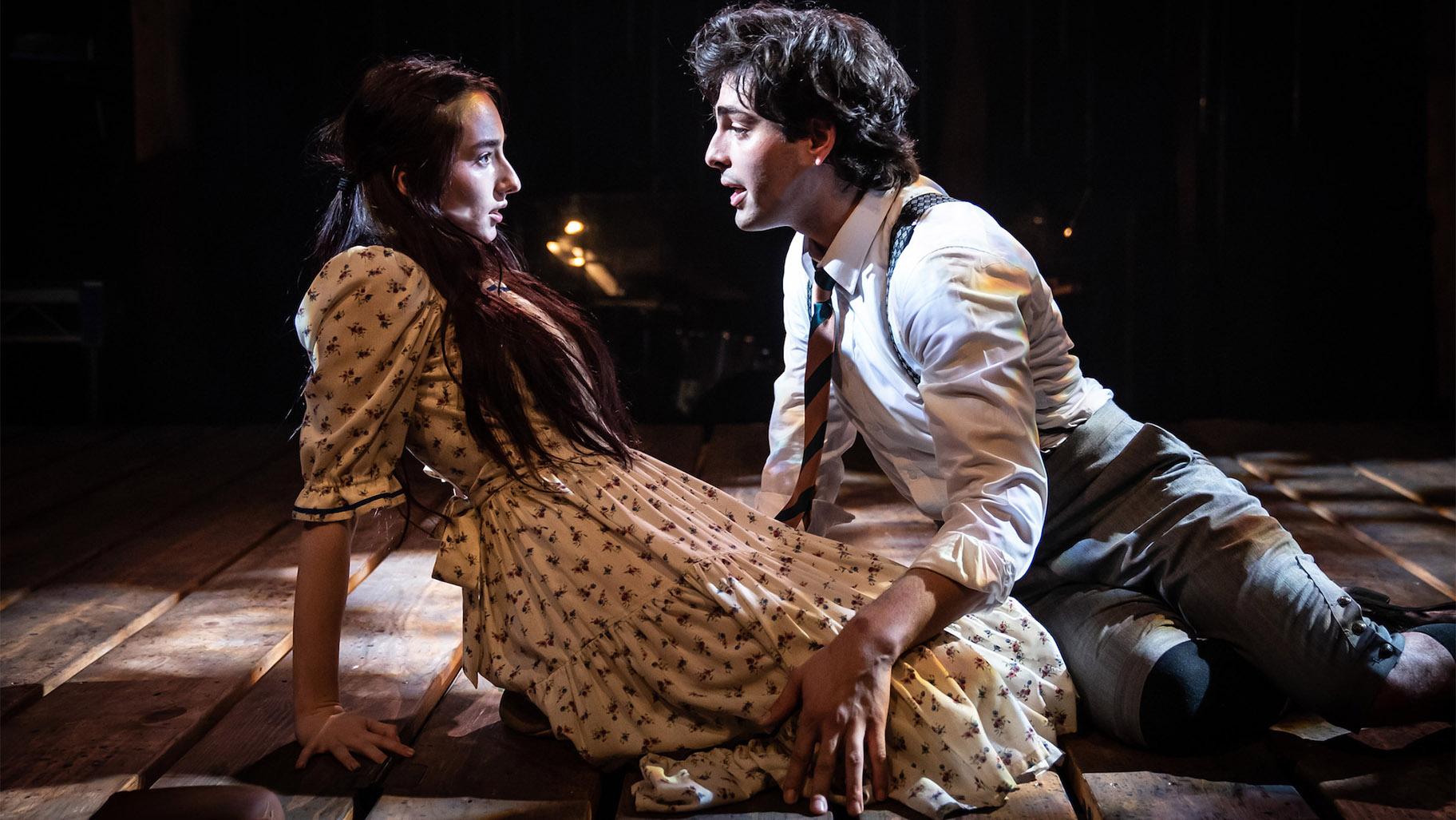 (L to R) Maya Lou Hlava and Jack DeCesare in "Spring Awakening" from Porchlight Music Theatre now playing at The Ruth Page Center through June 2. (Credit: Liz Lauren)
In the vast and varied archive of great American musicals there are many whose charm is rooted in nostalgia. But then there are those recent musicals that may be set in the past but speak with extraordinary eloquence and emotional heat to the present moment. 
An ideal case in point is "Spring Awakening," the musical based on German playwright Frank Wedekind's daring 1891 drama that was brilliantly transformed into a Tony Award-winning musical in 2006, with a beautiful score by Duncan Sheik that is alternately searingly lyrical and hard rock, and a feverish book and lyrics by Steven Sater. Its scorching, heart-breaking revival by Porchlight Music Theatre is brilliantly directed and choreographed by the fearless Brenda Didier and performed by a phenomenally gifted young cast.
The show is more than a tragic tale of adolescent sex, parental repression and the terrible outcome of illegal abortions. Arriving at the very moment the Supreme Court (and many states) appear to be hellbent on overturning the Roe v. Wade decision of a half-century ago, this haunting musical is infused with an intensity and a cry for help in the very midst of a retroactive movement. (In fact, a good number of the current Justices should be brought to Chicago and made to see this show, and to be reminded of what the tragic consequences of their votes can be.)
"Spring Awakening" opens with the achingly beautiful and piercingly honest song, "Mama Who Bore Me," sung by Wendla Bergmann, the teenage girl at the center of the story. Wendla is wholly innocent about sexual matters yet she is intensely aware that she is lacking some profound knowledge, including how a baby is created, and that this essential information is being withheld from her by her seemingly proper (and hypocritical) mother. At once a searing indictment and a desperate plea for honesty, the song is performed by Maya Lou Hlava, an exceptional young actor with a strong, wonderfully expressive voice whose fearless portrayal is at once incredibly brave and absolutely riveting.
Wendla clearly is attracted to Melchior, the handsome, deeply intelligent renegade and freethinker who is a student at an all-boys school. He is not only well-versed in the facts of life but dares to challenge his teacher on many social and philosophical matters. (He is superbly played by Jack DeCesare, who also has a terrific voice.) Melchior tries to enlighten and liberate his naive classmate, Moritz (ideally captured by Quinn Kelch), who is at once clueless and so sex-crazed to distraction that he is unable to concentrate on his schoolwork.
Every song and every ideally realized scene in this musical is extraordinary, and it drives the story to its tragic conclusion to perfection. Just listen to the simultaneously poetic and angry titles of some of the songs alone and you will understand the tone of this show and both the pain and excitement of the adolescent characters who drive it: "All That's Known" "The Bitch of Living," "My Junk," "Touch Me," "The Word of Your Body," "The Dark I Know Well," "And Then There Were None," "The Mirror-Blue Night," "I Believe," "The Guilty Ones," "Don't Do Sadness," "Left Behind," "Totally F...ed," "Whispering," "Those You've Known," and "The Song of Purple Summer."
All the adult characters, each with a somewhat different approach to sex and discipline, are deftly played by McKinley Carter and Michael Joseph Mitchell. But it is the ensemble of clarion-voiced young actors, who play the friends and classmates of Wendla, Melchior, and Moritz, who generate a palpable sense of the hunger and confusion of adolescent existence that can lead to ecstasy, tragedy or both. They include: Ariana Burks, Isis Elizabeth, Desiree Gonzales, Ryan Michael Hamman, Maddy Kelly, Drew Mitchell, Juwon Tyrel Perry, Kevin James Sievert, Sydney Monet Swanson, Kelan M. Smith and Tiffany T. Taylor.
Be advised: There is one notably explicit scene in the show, ideally staged by Didier and intimacy choreographer Kristina Fluty, and it is bravely and powerfully enacted with precisely the right level of vulnerability, desire, fear, anguish and believability by Hlava and DeCesare.
Sheik's intense and beautiful score is expertly performed on the spare but atmospheric wood plank stage designed by Christopher Rhoden and lit by Patrick Chan, with conductor Justin Akira Kono leading a superb onstage band of six that includes Hillary Bayley, Sara Morrow, Lewis Rawlinson, Owen Cooper, Marcel Bonfim and Lior Shragg.
"Spring Awakening" is a triumphant production on every level. It tops off a Porchlight season that has featured sterling revivals of "Pump Boys & Dinettes" and "Blues in the Night," and it should herald the arrival of its 2022-23 season that will feature "Rent," "Cabaret," and the Chicago premiere of a quirky love story titled "Ernest Shackleton Loves Me."
"Spring Awakening" runs through June 2 at the Ruth Page Center for the Arts, 1016 N. Dearborn. For tickets visit porchlightmusictheatre.org or call (773) 777-9884.
Follow Hedy Weiss on Twitter: @HedyWeissCritic
---