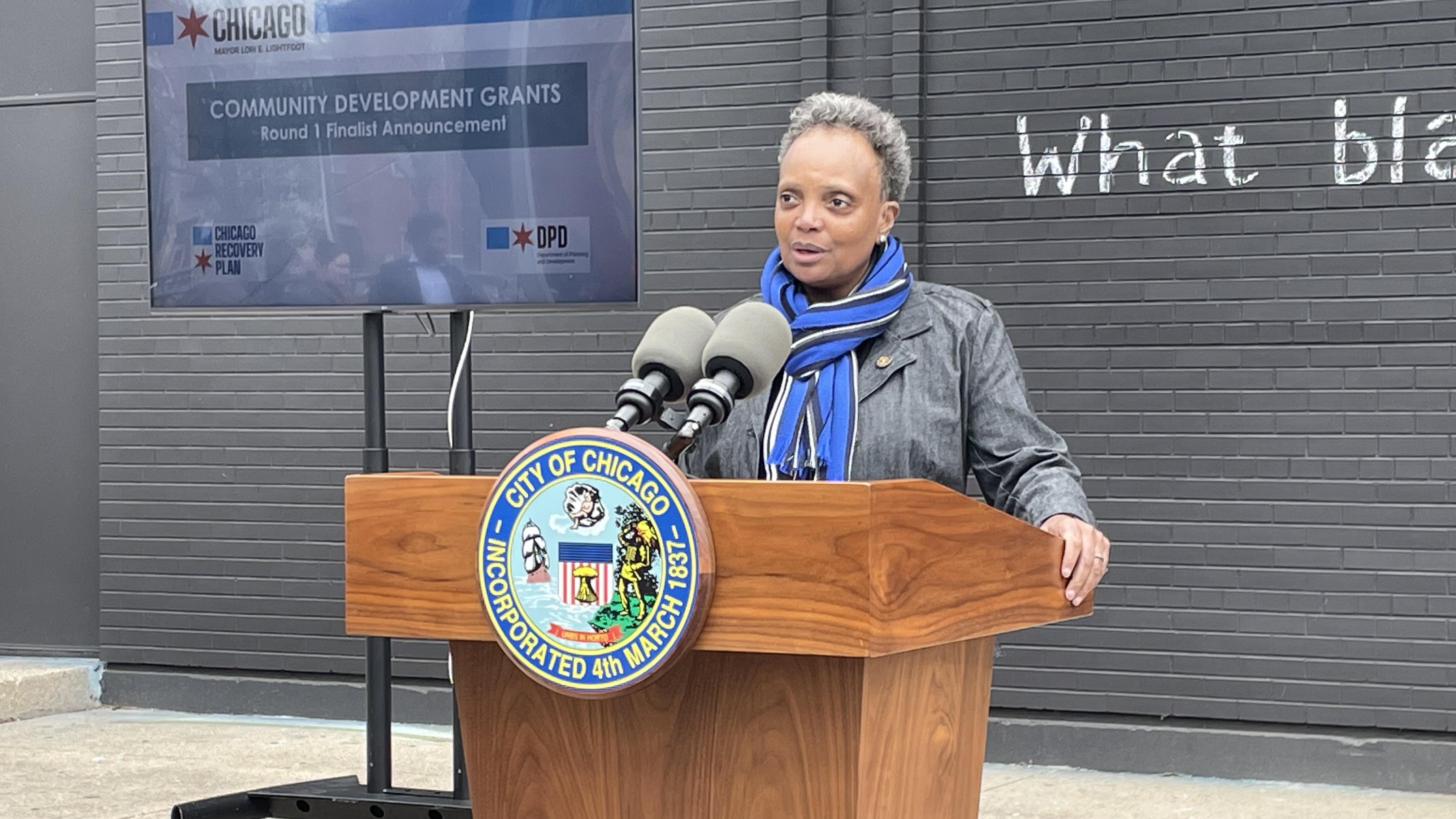 Mayor Lori Lightfoot addresses the news media Monday, May 2. (Heather Cherone/WTTW)
Mayor Lori Lightfoot vowed Monday to take on anyone who may seek to deny her a second term in office.
The comments come as a spate of violent incidents downtown threatened to overshadow the mayor's effort to encourage workers and tourists to return to the Loop and Michigan Avenue and emerge from the COVID-19 pandemic.
After two people were shot behind the Chicago Theatre just after 5 p.m., Sunday night's performance of the musical "Moulin Rouge" was canceled, a high-profile embarrassment to the mayor who has begun making her case for re-election to Chicago voters rattled by persistently high violent crime rates and COVID-19 cases that are once again rising.
"We're working our tails off every single day," Lightfoot said. "Obviously not happy about this weekend."
Bristling at the focus on her nascent bid for a second term, Lightfoot vowed to focus on her day job, which on Monday included heading to Bronzeville to announce the winners of $33.5 million worth of grants to be awarded as part of the Chicago Recovery Plan, which includes $1.9 billion in projects and programs designed to help the city fully emerge from the COVID-19 pandemic.
"I'll run on my record," Lightfoot said. "I'll present that to the voters. I feel very good about the accomplishments that we are making today. We are bringing equity and inclusion in real ways with real dollars and commitments all across the city. I think people are starting to see it. We've got work to do to make sure that people know everything we've done over these almost three years, almost not quite three years. So, I feel very, very comfortable about where we are."
Lightfoot has not yet formally announced her bid for a second term, but is widely expected to run for re-election.
U.S. Rep. Mike Quigley (D-Chicago) announced Thursday he would not run for mayor, and released a poll he conducted that showed he would force Lightfoot into a runoff and beat her by 10 percentage points.
At first, Lightfoot dismissed Quigley's poll but returned to the subject when asked why she hasn't formally launched her campaign and put an end to the speculation to reject suggestions that she is "afraid" of challengers.
If someone thinks they can beat her, Lightfoot said they should "get in."
"I'll take on all comers," Lightfoot said. "I fear no one."
Lightfoot said that should not be seen as "bravado" but as a testament to her commitment to the people of Chicago, and her pride in her work during the past three years.
The poll, commissioned by Quigley, found three out of five Chicago voters disapprove of Lightfoot's job performance, and 56% of Chicagoans have a negative view of Lightfoot personally.
Crime is the most important issue in Chicago, and only 7% of respondents said Lightfoot was effectively addressing the problem, according to the poll.
Contact Heather Cherone: @HeatherCherone | (773) 569-1863 | [email protected]
---