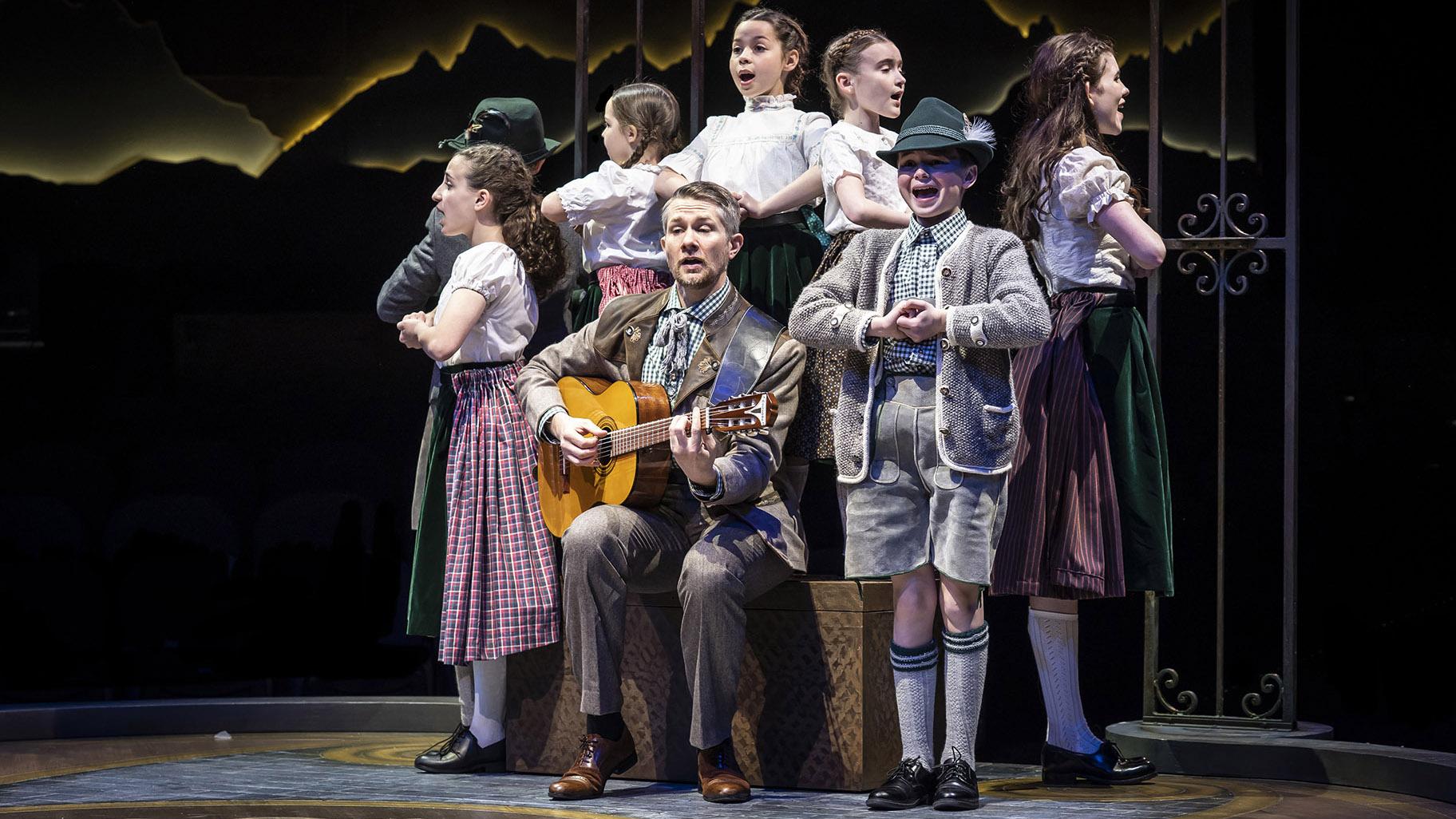 The cast of Mariott Theater's "The Sound of Music" (Courtesy: Liz Lauren)
From the moment it opened on Broadway in 1959 with Mary Martin in the starring role, to its monumentally popular film version in 1964 starring Julie Andrews, to its revivals on stages around the globe, there have been countless productions of the Rodgers and Hammerstein musical "The Sound of Music."
Some people understandably roll their eyes at the very thought of seeing the show again. But here is a great surprise: the production that opened Wednesday night at the Marriott Theatre will easily inspire love for the show. It is just that good. It features wonderfully fresh direction of Nick Bowling, a cast that brings his vision of the show to life in the most natural, wholly refreshing ways.
The show's historical backdrop is the Nazi "Anschluss" declared in Austria in 1938, with that German word (which translates as "Union") now bearing an ironic taint given how Russia is framing its current nightmarish action in Ukraine in a somewhat similar way. The beauty of this take on the show is evident from the moment it begins. The clarion voices of the nuns of the Nonnburg Abbey, located amid the mountains of Salzburg, are led by the Mother Abbess (Daniella Dalli, a splendid actress with a golden operatic voice) in a glorious rendering of the Dixit Dominus song of praise.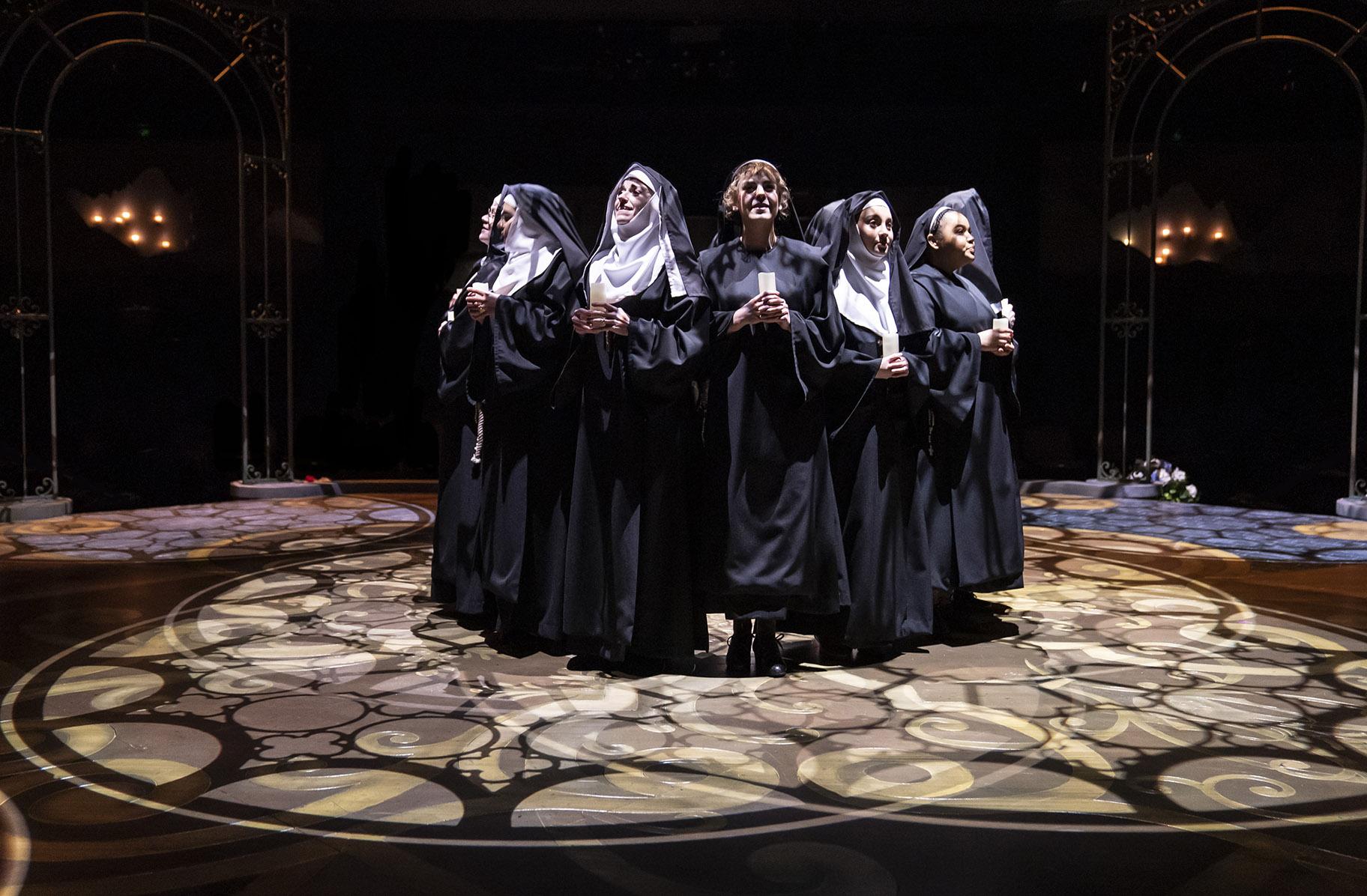 The cast of Mariott Theater's "The Sound of Music" (Courtesy: Liz Lauren)
Missing from their midst for the day is the young postulant, Maria (Addie Morales, whose notably natural acting, lovely spirit, and beautiful voice winningly set the overall tone for the show). Her love of nature, and music, and a certain sense of freedom suggest she clearly is not cut out to lead a cloistered life. And when she is sent to serve as a governess for the seven children in the well-to-do family of Captain Georg von Trapp (Erik Hellman), an emotionally frozen widower, she easily unfreezes their lives with her irrepressible heart and energy.
And about those children: They are astonishing. No, they are not the typical show biz child actors. They are remarkably real. Yet Bowling, along with his gifted choreographer, William Carlos Angulo, put them through some exceptionally complex acting, singing and dancing routines in the Marriott's in-the-round space. And they not only never miss a beat, but they never make anything feel mechanical. Their wonderfully individual and spontaneous personalities emerge easily, and their split-second timing (particularly in "Do-Re-Mi," as well as in other songs and dramatic moments), echoes the ease and freshness that Morales brings to her role of Maria, whose innate spirit liberates them all.
The seven siblings include Campbell Krausen as Liesl, the "Sixteen Going On Seventeen" oldest girl in the family who engages in a first-time flirtation with Rolf Gruber (ideally played by Emmet Smith, the telegram boy), along with Brody Tyner, Milla Liss, Archer Geye, Olivia O'Sullivan and Reese Bella. And then there is the irresistible little Omi Lichtenstein, a true standout as Brigitta, the wonderfully precocious and clear-sighted grade-school imp of the family.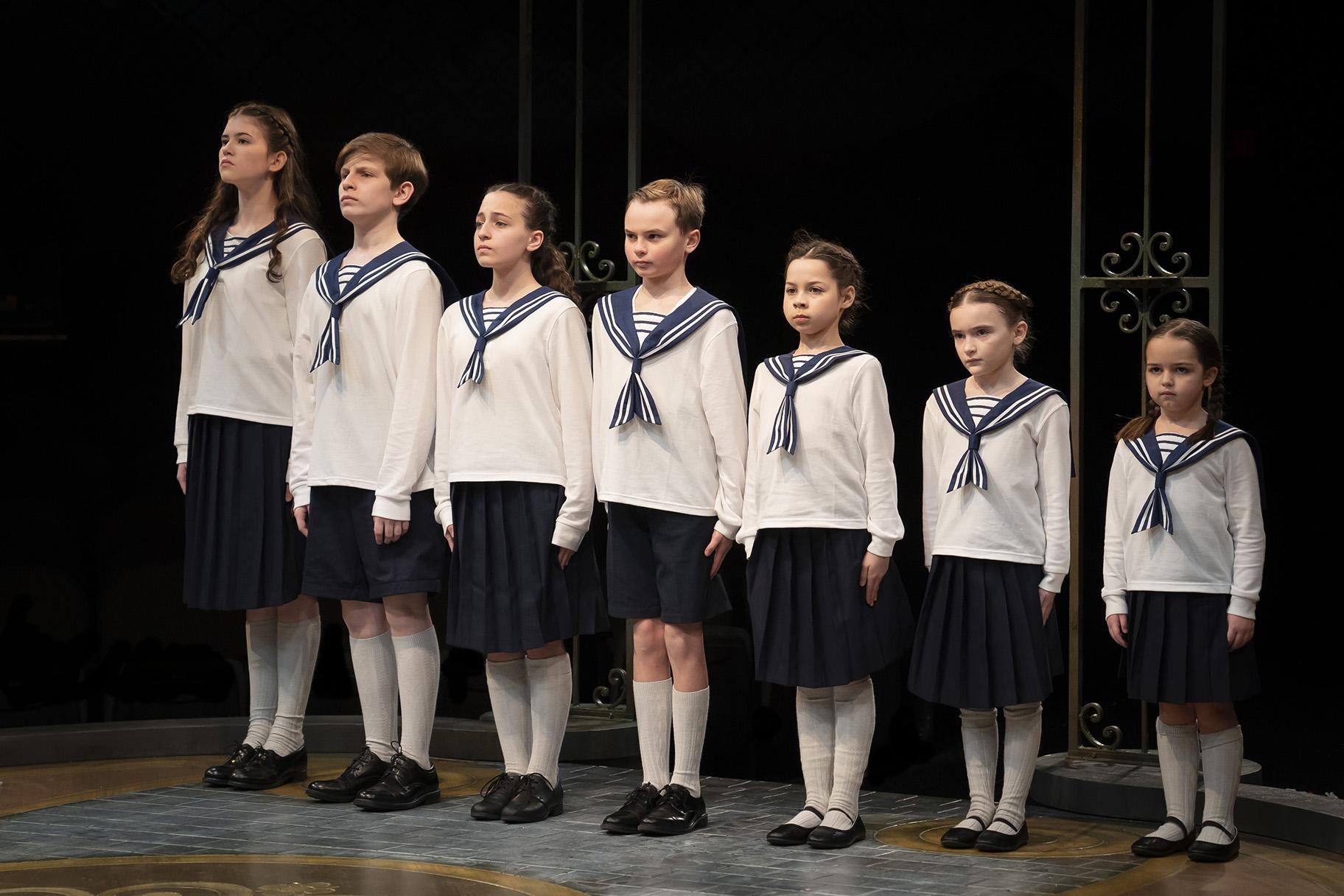 The cast of Mariott Theater's "The Sound of Music" (Courtesy: Liz Lauren)
Heidi Kettenring brings precisely the right mix of privilege and elegance to the role of Elsa Schraeder, the status-conscious Viennese socialite and businesswoman who clearly plans to marry Captain von Trapp (Hellman, who brings a deftly stoic quality to the man who refuses to deal with those who shout "Heil Hitler," even if his resistance is based primarily on Austrian nationalism). And like several other characters in the show (and the real world), Schraeder goes along with the forces of evil to preserve her wealth and position, just as the nervous cultural impresario Max Detweiler (expertly played by Rob Lindley) sees the musical von Trapp family as a potential key to his business.
In other words, it's all a matter of personal convenience versus conscience.
Throughout there are fine supporting performances by Susan Moniz, Lydia Burke, Laura T. Fisher, Mark Ulrich and the ensemble.
Collette Pollard's set design (four elegant bronze archways), along with projections of a mountainous landscape by Anthony Churchill, lighting by Jesse Klug, razor sharp sound by Michael Daly, and costumes by Sally Delembo are in perfect synch with Bowling's direction of this show with its book by Howard Lindsay and Russell Crouse (based on "The Trapp Family Singers," by Maria Augusta Trapp).
Last but by no means least, there is the superb work of the Marriott's ever invaluable conductor/keyboardist Patti Garwood, and her eight terrific musicians: Kevin Reeks, Brian Shannon, Emily Beisel, Zack Thomas, Steve Duncan, Dave Belden, Jocelyn Butler-Shoulders and Trevor Jones. Their booth above the stage may obscure them, but their sound never fails to drive the emotion of the show.
The cast of Mariott Theater's "The Sound of Music" (Courtesy: Liz Lauren)
To put it succinctly, this production's naturalistic yet fully theatrical quality, along with its subtle sense of dramatic rhythm, creates a level of profound emotion that too often is lost in revivals of this show. Bravo.
One final note: Earlier this year, the Marriott announced that both Terry James, its Executive Producer with a 40-year association with the theater, and Aaron Thielen, Artistic Director, who has a 27-year history at the Marriott, will be stepping down from their jobs at the end of this season. Based on decades of watching Nick Bowling's outstanding work as a director of both plays and musicals, I would say he is the man for the job of Artistic Director. Of course, I have absolutely no say in the matter, but he seems like an ideal choice to me.
"The Sound of Music" runs through June 5 at the Marriott Theatre, 10 Marriott Dr. in Lincolnshire. For tickets visit MarriottTheatre.com or phone (847) 634-0200.
Follow Hedy Weiss on Twitter: @HedyWeissCritic
---