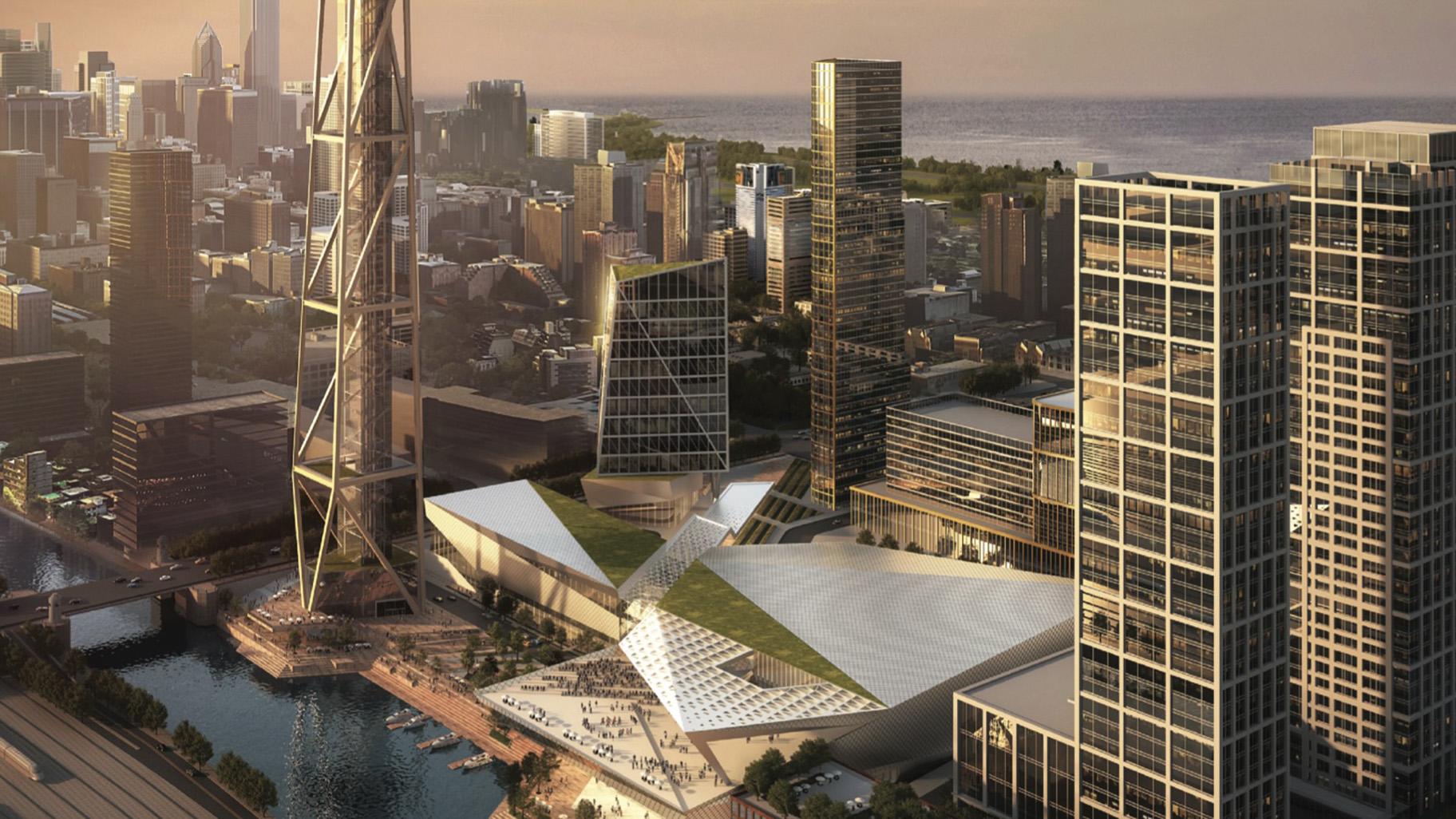 Rush Street has proposed a Rivers Casino as part of the under-construction 78 development on vacant land between the South Loop and Chinatown along the Chicago River. (Provided)
If Mayor Lori Lightfoot decides Chicago's casino should be built on vacant land between the South Loop and Chinatown along the Chicago River, she will do so over the objections of state Rep. Theresa Mah, the first Asian American to be elected to the Illinois General Assembly.
A casino does not belong so close to Chinatown, Mah told WTTW News on Thursday. Mah was elected in 2017 to represent the 2nd District in the Illinois House, which includes Chinatown and the area just south of the Related Midwest development known as The 78.
A proposal from Neil Bluhm's Rush Street Gaming to build the Rivers 78 Casino as part of that megadevelopment is one of three finalists jockeying to construct the long-awaited gaming palace and entertainment district officials contend is key to the city's financial future.
Residents of Chinatown would be "particularly vulnerable" because of the Chinese American community's extensive history with problem gaming, increasing the risk of residents falling victim to predatory advertisements, Mah said.
In addition, the proposed Rivers 78 casino would pose a "threat to the growth and resilience" of Chicago's Chinatown, which is the only Chinatown in the United States that is growing in population, according to the 2020 census.
A spokesperson for Lightfoot did not respond to questions from WTTW News about Mah's remarks.
The casino would have a vested interest in keeping tourists and other deep-pocketed visitors in the casino or in the entertainment complex, making it less likely that those who venture to the Near West Side of Chicago would travel into Chinatown to shop and mom-and-pop stores and eat at restaurants operated by immigrant families, Mah said.
While Related Midwest officials assured residents that the casino could coexist at The 78 with the Discovery Partners Institute, which would be part of the University of Illinois system and an effort to boost tech innovation and company growth, Mah said it would be inconsistent to build a gaming palace and entertainment mecca as part of a new neighborhood of 10,000 homes.
"It really doesn't seem to fit with residents' desire for a livable community," Mah said. "There are human costs."
A decision by Lightfoot to endorse the plan to put the casino next to Chinatown would violate a promise Mah said Lightfoot made to her in the spring of 2020, when the mayor called state lawmakers to a meeting at City Hall to urge them to pass a measure that reduced the effective tax rate on the Chicago casino from 72% to approximately 40%.
Mah told WTTW News she pulled Lightfoot aside at that meeting and implored the mayor not to put the casino near Chinatown.
"She nodded her head as if to convey, 'I hear you,'" Mah said. "If she chooses that site, she didn't hear me."
But Mah said she has no hope of convincing Lightfoot to pick another location for the casino because of the harm it could cause to Chinatown, its residents and businesses. Instead, Mah said she will lobby Lightfoot and other city officials — including Ald. Nicole Lee (11th Ward) who has not taken a position on any of the casino finalists — that the Rivers 78 casino is not the best deal for Chicago taxpayers.
Video: WTTW News reporters Heather Cherone and Patty Wetli appeared on "Chicago Tonight" April 12, 2022, to discuss community reaction to the casino proposals.
---
Bally's proposal to build a casino on what is now the home of the Chicago Tribune would be the most lucrative for the city and its sister agencies, according to a report released Tuesday by the mayor's office from Union Gaming, the city's gaming consultant. 
A Bally's casino with 3,400 slots and 173 table games as well as a 500-room hotel west of River North would generate $191.7 million in its sixth year of operations, according to the study. 
The Rush Street casino at the 78, which includes 2,600 slots and 190 table games, would generate $174 million for the city and its sister agencies, the least amount of the three remaining casino proposals, according to the study.
That should prompt Lightfoot — and the City Council — to pick the Bally's proposal, which is in Ald. Walter Burnett's 27th Ward, Mah said. While Burnett told WTTW News Thursday he is not enthusiastic about the proposal to build the casino in his ward, he has not yet made up his mind on whether he will support the plan.
If Lightfoot's top concern is the amount of money the casino will generate for the city's coffers, she should pick Bally's proposal, Mah said.
Mah said she decided to join Ald. Byron Sigcho Lopez, whose 25th Ward includes The 78 development, in opposing the Rush Street Gaming proposal after Lightfoot told reporters Tuesday she would not allow criticism from those who live and work near the proposed casino sites to derail the overall effort.
Any mega-development always generates some "level of NIMBY-ism," Lightfoot said, referring to the acronym for not in my backyard.
"This has got to be a decision that's made for the future of our city and not specific to a particular neighborhood," Lightfoot said. "We need to take those neighborhood considerations in mind, to be sure. But this is something that's going to benefit the entire city."
 Lightfoot said she had a question for those organizing against the casino proposals: "Would you rather that your taxes go up?"
"In a municipality we have very few tools to use to shore up police pensions, labor pensions, municipal pensions other than raising property taxes," Lightfoot said. "Nobody wants to do that. Least of all, me."
As part of her 2021 budget proposal, Lightfoot backed a property tax hike of $93.9 million. As part of her 2022 budget proposal, Lightfoot backed a property tax hike of $76.5 million.
Contact Heather Cherone: @HeatherCherone | (773) 569-1863 | [email protected]
---