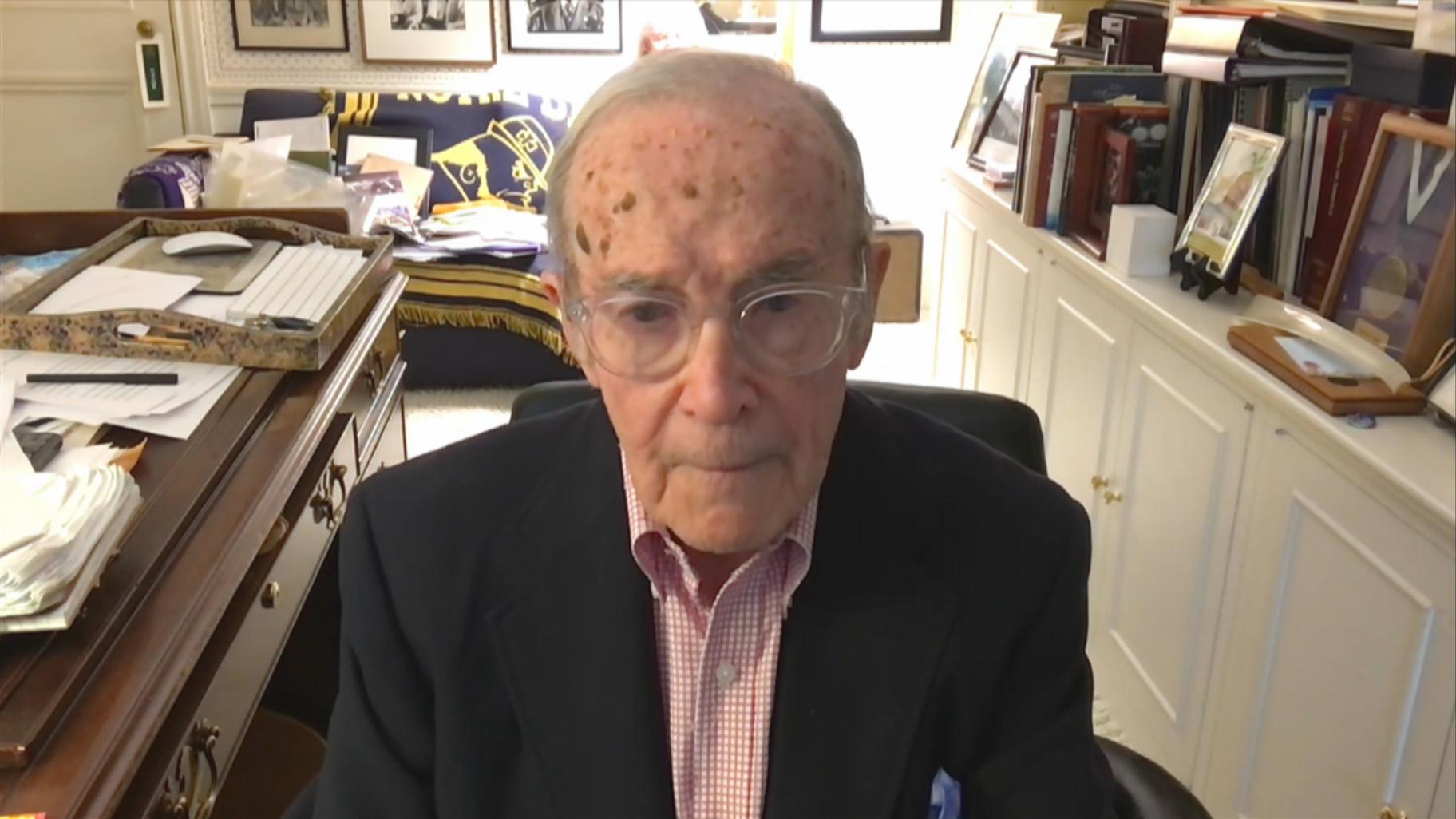 Newton Minow appears on "Chicago Tonight" via Zoon on April 18, 2022. (WTTW News)
Ariel Investments' John Rogers should run for mayor in 2023, former Federal Communications Commission chair Newton Minow told "Chicago Tonight" on Monday.
The nomination of Rogers, who co-founded the Chicago-based investment firm, came at the end of an interview about the Republican National Committee's decision to no longer participate in the presidential debates. 
"I want to nominate a candidate for mayor of Chicago," Minow said. "John Rogers, the head of Ariel Investments. The problem is going to be to get him to run."
Minow founded the debates, and is the director emeritus of the commission overseeing the three-debate series that helped shape presidential elections since 1988. Minow, 96, has long been an advocate for educational television and a champion of public service media who is senior counsel at Sidley Austin and a member emeritus of the WTTW board of trustees.
A Chicago native, Rogers is a longtime friend of former President Barack Obama, whose first job after graduating from law school was at Sidley Austin, under Minow, where he met Michelle Robinson, his future wife. Rogers went to Princeton with Craig Robinson, the future first lady's brother.
After his apperance on "Chicago Tonight," Minow said in an email he did not speak with Rogers before he nominated him to run for mayor.
"I proposed John because he is an exceptionally talented, inspiring and courageous leader," Minow said. "He is what Chicago needs to restore our city's safety, confidence, economy and spirit. John will not want to run and I will do my best to get him to reflect on what he could give Chicago."
Rogers could not be immediately reached for comment by WTTW News.
Mayor Lori Lightfoot has yet to announce her re-election bid, but is widely expected to run for a second tem. Her campaign did not respond to a request for comment from WTTW News about Minow's nomination. 
Businessman and philanthropist Willie Wilson and Ald. Raymond Lopez (15th Ward) have launched bids for mayor, while Fraternal Order of Police President John Catanzara has said he plans to run for mayor. U.S. Rep. Mike Quigley, who represents a North Side district, and former Chicago Public Schools CEO Paul Vallas are considering whether to run against Lightfoot. 
Contact Heather Cherone: @HeatherCherone | (773) 569-1863 | [email protected]
---