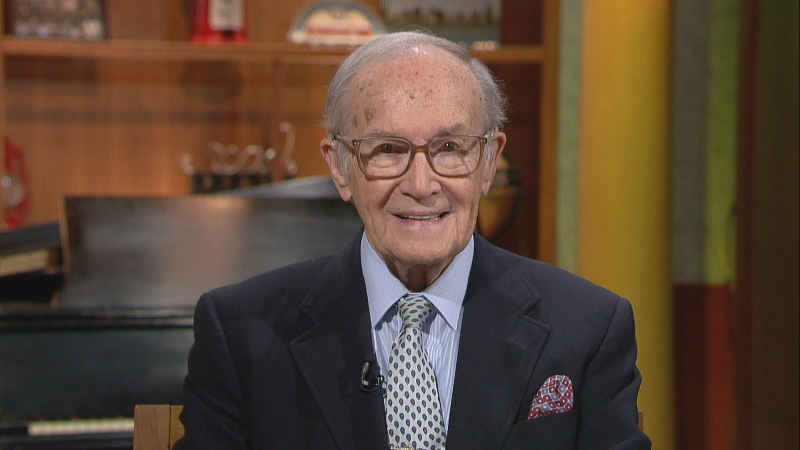 Newton Minow appears on "Chicago Tonight" in an episode that aired July 23, 2015.
Newton N. Minow, the 1960s Federal Communications Commission chief whose proclamation that network television was a "vast wasteland" led to the creation of public television and WTTW, died at age 97.
Minow died Saturday at home in Chicago surrounded by loved ones, said his daughter, Nell Minow.
"He wanted to be at home," she told The Associated Press. "He had a good life."
Minow's short tenure at the FCC left a lasting legacy that is still felt today. But it was his outspoken and persistent belief that the quality of television in the U.S. should be improved that is perhaps his most towering legacy. In 2016, Minow received the Presidential Medal of Freedom from President Barack Obama, who once worked as an intern at Minow's Chicago law firm. 
That infamous 1961 speech to television executives led to the creation of a public broadcasting system in the U.S.
In Chicago, Minow was also a crucial figure in the growth of WTTW and a supporter of WTTW News as a former chairman and longtime member of the Board of Trustees.
Minow joined the WTTW Board of Trustees as chairman in 1967. During his tenure, WTTW held its first membership drive and won its first Emmy Award.
In 1971, he appointed Bill McCarter as WTTW's president and CEO, and the station went on to become the most-watched public television station in the United States. In an effort to ensure the future of news and public affairs, the annual Minow Fellowship was established, which gives aspiring young journalists hands-on experience, mentored by the producers and staff of "Chicago Tonight."
"Newt was an advocate for the essential role that trusted, independent news and information play in civil society, and he believed that an informed and engaged citizenry is foundational to a well-functioning democracy," said Sandra Cordova Micek, president and CEO of WTTW and WFMT. "Newt was a mentor, friend, philanthropist, leader and an inspiration to all who knew him throughout his many years of service in the public and private sectors. His legacy will continue to have an impact for generations to come."
Obama posted a tribute to Minow Saturday evening. 
"Newt Minow was a dear friend, mentor and early supporter of mine," the former president wrote on Twitter. "He also embodied the ideal of public service – helping launch the satellites that made nationwide broadcasts possible, cementing presidential debates as a national institution, helping usher in public television, and reminding the media of its obligation to foster a well-informed citizenry." 
---
Watch: Newton Minow: An American Story
---
Journalists at WTTW recall Minow's committment to an informed, fair and open public discourse.  
"Newt Minow was an icon, a pioneer when it came to quality in television," said journalist Carol Marin, a former contributor to "Chicago Tonight." "He was the first chairman of the FCC under JFK who took broadcasters to task for squandering the jewel that television could be, and should be, by telling them that they were presiding over a 'vast wasteland' and it could be so much more."
Minow was a Renaissance man who served at least seven presidents "in one capacity or another, who inspired journalists for decades — myself included, Phil Ponce included," Marin said. "And on top of it all, he was just a wonderful and decent man."
Marin said she and Ponce, former "Chicago Tonight" host, last week attended a dinner party Minow threw at his Chicago home in honor of Judy Woodruff, who received a Distinguished Journalist Award from DePaul University's Center for Journalism Integrity & Excellence.
"He was, at 97, as alive and as intellectually curious as he was when he was in his 20s," Marin said. "It seems impossible to me that he could be dead because he was more alive than any of the rest of us in that room."
Ponce recalls Minow's unwavering belief in fairness and the importance he placed on an informed and civically engaged country.
"I think of Newt as someone who was the ultimate grownup," Phil Ponce said. "He had perspective, he had wisdom, he was open-minded. He hated unfairness. He was dedicated to the inherent dignity of every human being. Newt was still a vibrant, living, insightful citizen.
"I think he really loved two things when it came right down to it," Ponce continued. "The first thing that he loved was his family, and he was proud of them. … The second thing that he loved, and I believe this in my heart, he loved democracy. He loved the institutions that made democracy work. He realized that not everyone was going to agree with him, and he was fine with that. He could have profound friendships with people who held different political views."
Ponce reflected on Minow's long career and endless supply of stories. The S.S. Minnow in "Gilligan's Island," for example, was named after Minow as a slight following his famous "vast wasteland" speech.
"He loved that," Ponce said. "He thought it was hilarious. He's gotten a lot of awards. That one was kind of a backhanded one, and I think he got endless amusement from it."
Minow's lasting legacy can be felt across initiatives that contribute to civic life in this country, Ponce said.
"It's a huge loss to the city, and it's a huge loss to the country, and it's a huge loss to those of us that loved him."
Newton Minow, chairman of the Federal Communications Commission, testifies before the Senate Small Business Subcommittee at a hearing on communication satellites in Washington on Nov. 9, 1961. Minow, who as Federal Communications Commission chief in the early 1960s famously proclaimed that network television was a "vast wasteland," died Saturday, May 6, 2023. He was 97 (AP Photo, File)
Minow was appointed as FCC chief by President John F. Kennedy in early 1961. Minow had initially come to know the Kennedys in the 1950s as an aide to Illinois Gov. Adlai Stevenson, the Democrats' presidential nominee in 1952 and 1956.
Minow laid down his famous challenge to TV executives on May 9, 1961, in a speech to the National Association of Broadcasters, urging them to sit down and watch their station for a full day, "without a book, magazine, newspaper, profit-and-loss sheet or rating book to distract you."
"I can assure you that you will observe a vast wasteland," he told them. "You will see a procession of game shows, formula comedies about totally unbelievable families, blood and thunder, mayhem, violence, sadism, murder, Western bad men, Western good men, private eyes, gangsters, more violence and cartoons. And, endlessly, commercials — many screaming, cajoling and offending."
As he spoke, three networks were just about all most viewers had to choose from. Pay television was barely in the planning stage, PBS and "Sesame Street" were several years away, and HBO and niche channels such as Animal Planet were far in the future.
The speech caused a sensation. "Vast wasteland" became a catchphrase.
Minow became the first government official to get a George Foster Peabody award for excellence in broadcasting. The New York Times critic Jack Gould (himself a Peabody winner) wrote, "At long last there is a man in Washington who proposes to champion the interests of the public in TV matters and is not timid about ruffling the industry's most august feathers. Tonight some broadcasters were trying to find dark explanations for Mr. Minow's attitude. In this matter the viewer possibly can be a little helpful; Mr. Minow has been watching television."
CBS President Frank Stanton strongly disagreed, calling Minow's comments a "sensationalized and oversimplified approach" that could lead to ill-advised reforms "on the ground that any change is a change for the better."
For the criticism over his speech, Minow said he didn't support censorship, preferring exhortation and measures to broaden public choices. But he also said a broadcasting license was "an enormous gift" from the government that brought with it a responsibility to the public.
His daughter, Nell Minow, told The Associated Press in 2011 that her father loved television and wished he would have been remembered for championing the public interest in television programming, rather than just a few words in his much broader speech.
"His No. 1 goal was to give people choice," she said.
Among the new laws during his tenure were the All-Channel Receiver Act of 1962, that required that TV sets pick up UHF as well as VHF broadcasts, which opened up TV channels numbered above 13 for widespread viewing. Congress also passed a bill that provided funds for educational television, and measures to foster communications satellites.
In a September 2006 interview on National Public Radio, Minow recalled telling Kennedy that such satellites were "more important than sending a man into space. ... Communications satellites will send ideas into space, and ideas live longer than people." On July 10, 1962, Minow was one of the officials making statements on the first live trans-Atlantic television program, a demonstration of AT&T's Telstar satellite.
Children's programming was a particular interest of Minow, a father of three, who told broadcasters the few good children's shows were "drowned out in the massive doses of cartoons, violence and more violence. ... Search your consciences and see if you cannot offer more to your young beneficiaries whose future you guide so many hours each and every day."
Minow resigned in May 1963 to become executive vice president and general counsel for Encyclopedia Britannica Inc. in Chicago.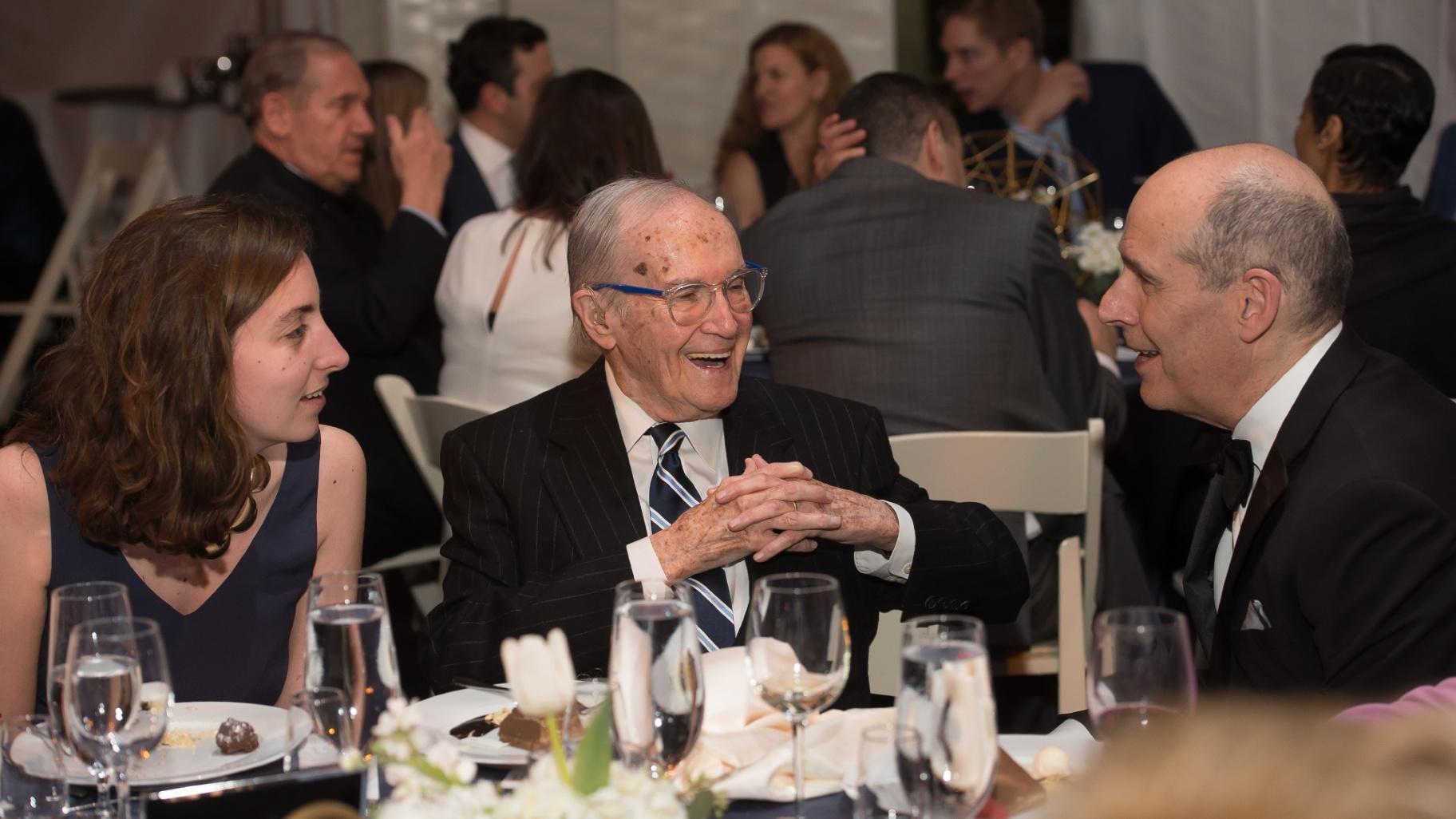 Newton Minow (center) speaks to WTTW's Geoffrey Baer (right). (WTTW)
Minow stayed engaged and active in his work on fairness in broadcasting. In a May 10, 2021, appearance on "Chicago Tonight" he spoke of what he saw as the growing challenges for news media concerning disagreement on facts and opinions in the news media.
"I think the issues for the next generation are the government's role in social media," Minow told Brandis Friedman.
"I think keeping broadcasters serving the public interest, being fair in reporting the news, deciding what is a fact — that's the most important thing, not mixing fact with opinion. Those questions remain," Minow said.
In addition to his influence in public broadcasting, Minow was also a driving force in the creation and continuance of televised presidential debates, beginning with Kennedy and Richard Nixon.
Minow was a member of the board of the nonpartisan Commission on Presidential Debates for decades, helping to oversee 49 presidential and vice presidential debates until retiring in 2022.
In an April 18, 2022, appearance on "Chicago Tonight," Minow spoke of his work with the group after the Republican National Committee voted to withdraw from the commission.
"They are one of the few nonpartisan events that has lasted and contributed to voter education for decades … it is a very essential part of the democratic process and the candidates should all participate in order to get the American people the information they need," Minow told host Paris Schutz.
---
Read More: On the occasion of his 90th birthday, WTTW News compiled 10 Things You Might Not Know About Newt Minow
---
In 1965, Minow returned to his law practice in Chicago, and later served as board member at PBS, CBS Inc. and the advertising company Foote Cone & Belding Communications Inc. He was director of the Annenberg Washington Program in Communications Policy Studies of Northwestern University.
He also gave Barack Obama a summer job at the law firm, where the future president met his wife, Michelle Robinson. Minow also was one of Obama's earliest supporters when the then-Illinois senator considered running for president, Nell Minow said.
Obama noted the connection in his remembrance. 
"I will always owe a great debt to Newt, most of all because he helped introduce me to Michelle when we were both young lawyers in Chicago," Obama wrote in a tweet. "We will miss him dearly, just as we miss his beloved wife, Jo, who passed away last year, and send our love and thoughts to their family."
"There was nobody like him," said John Levi, senior counsel at Sidley, where Minow served as senior counsel and was a partner from 1965-1991. "He was remarkably wise. He had just extraordinary judgement, and to his last breath really, the breadth and depth of his knowledge was just incredible. He was current on everything."
Levi said he was blessed to have Minow as a mentor his entire professional life.
"We need more Newt Minows right now," Levi said. "He understood what this country and its values were all about, and he understood that they don't just happen. They require each generation to make their own commitment, and he was always encouraging that."
The Associated Press contributed to this report.
---