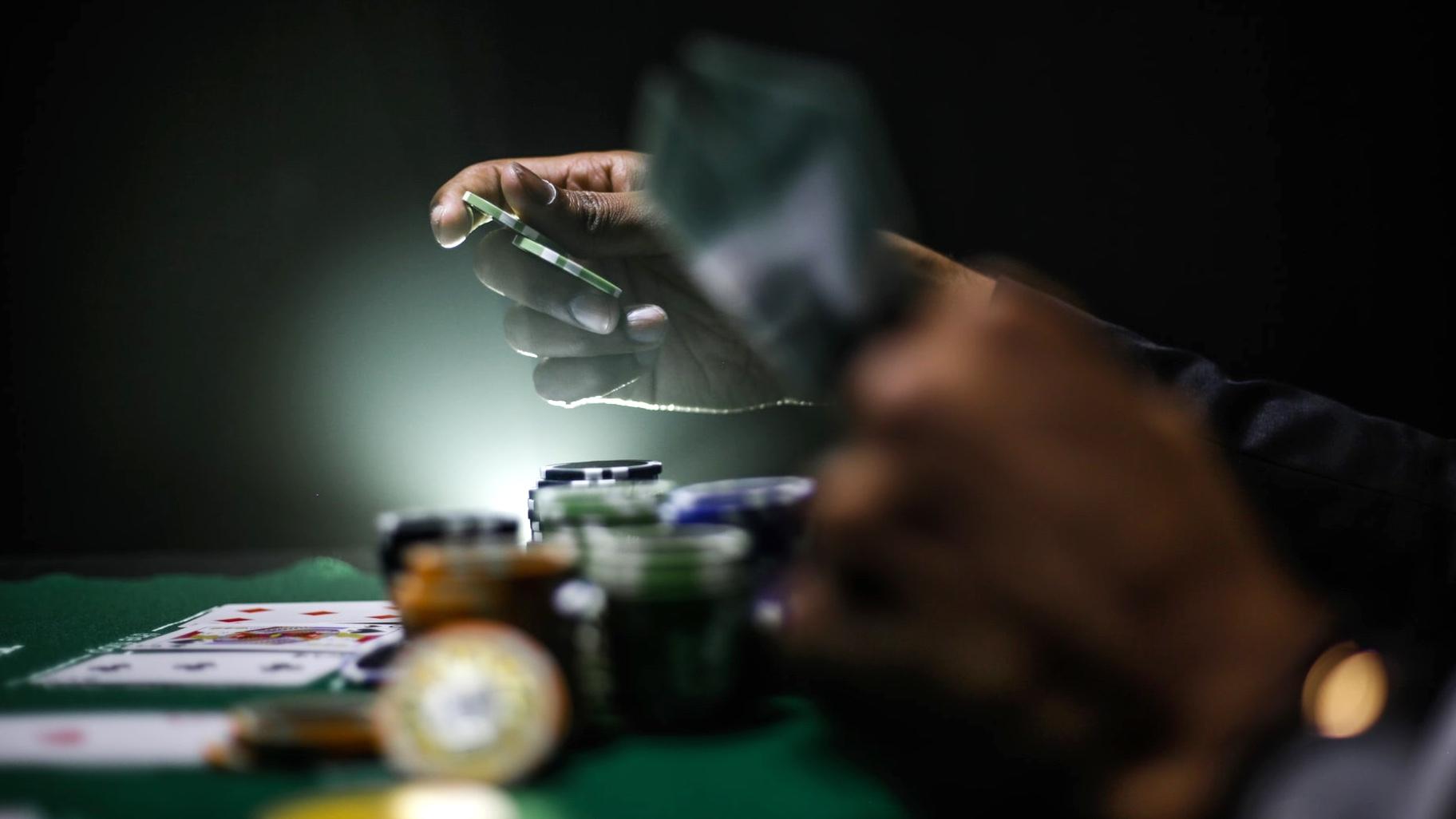 (Keenan Constance / Unsplash)
Chicagoans had the opportunity to weigh in on the three finalist proposals for the city's casino and entertainment district at a series of community engagement meetings last week. While the majority of feedback was focused on the ways the development will affect people's quality of life, the question of the casino's impact on Chicago's feathered friends was also raised. 
The topic drew incredulous snickers from the crowd during at least one of the presentations, but the issue of bird collisions with the city's buildings is deadly serious.
Chicago has in recent years become known as the most dangerous city in the nation for migratory birds. The hazards it poses are two-fold: Positioned along a major migratory flyway, the city's lakeshore and waterways, as well as parks and forest preserves, provide birds with an appealing stop-over point on their journeys, offering food and habitat. But the bright lights can disorient birds and the preponderance of glass — whether reflective or transparent — can play tricks of the eye that fool birds into seeing landscape where a barrier actually exists.
With all of the casino finalists located near the lakefront or on the banks of the Chicago River, the threat factor posed by these developments is likely elevated. McCormick Place Lakeside Center alone has been documented to kill thousands of birds annually. The Apple Store's glass box on the river is another problem building, according to Annette Prince, director of Chicago Bird Collision Monitors, as is Northwestern University's Kellogg School of Management Global Hub, a virtual mirror of Lake Michigan that required a costly retrofit with a bird-friendly pattern. 
If concerns about bird strikes, and arguments for bird-friendly design, have previously been viewed as fringe issues, climate change and the loss of biodiversity have brought the discussion closer to the mainstream. 
Environmentalists, conservationists and members of the birding community joined forces in late 2021 to oppose the glass Carvana tower proposed for Skokie, across from a forest preserve along the North Branch of the Chicago River. Though they didn't succeed in quashing the building's construction outright, the group did manage to win a number of bird-friendly concessions from Carvana.
Chicago's casino and resort represents development on a scale an order of magnitude greater than Carvana's lone tower. "Transformational" is the word most often used to describe the impact the project will have on Chicago's built environment (and its finances). The stakes for the casino can scarcely be exaggerated, and that extends to its architecture: This is a significant, showy project that will attract national, even international, attention.
Advocates for bird-friendly design are pushing the developers to take advantage of a bird-friendly credit as they pursue the mandated LEED certification. Here's an opportunity to set a new standard for excellence in bird-friendly design, its proponents have argued.
During the community engagement sessions, the teams behind each casino proposal were asked how they plan to incorporate bird-friendly elements into their architecture. 
Some tipped their hand, others kept their cards close to their vest.
Hard Rock/One Central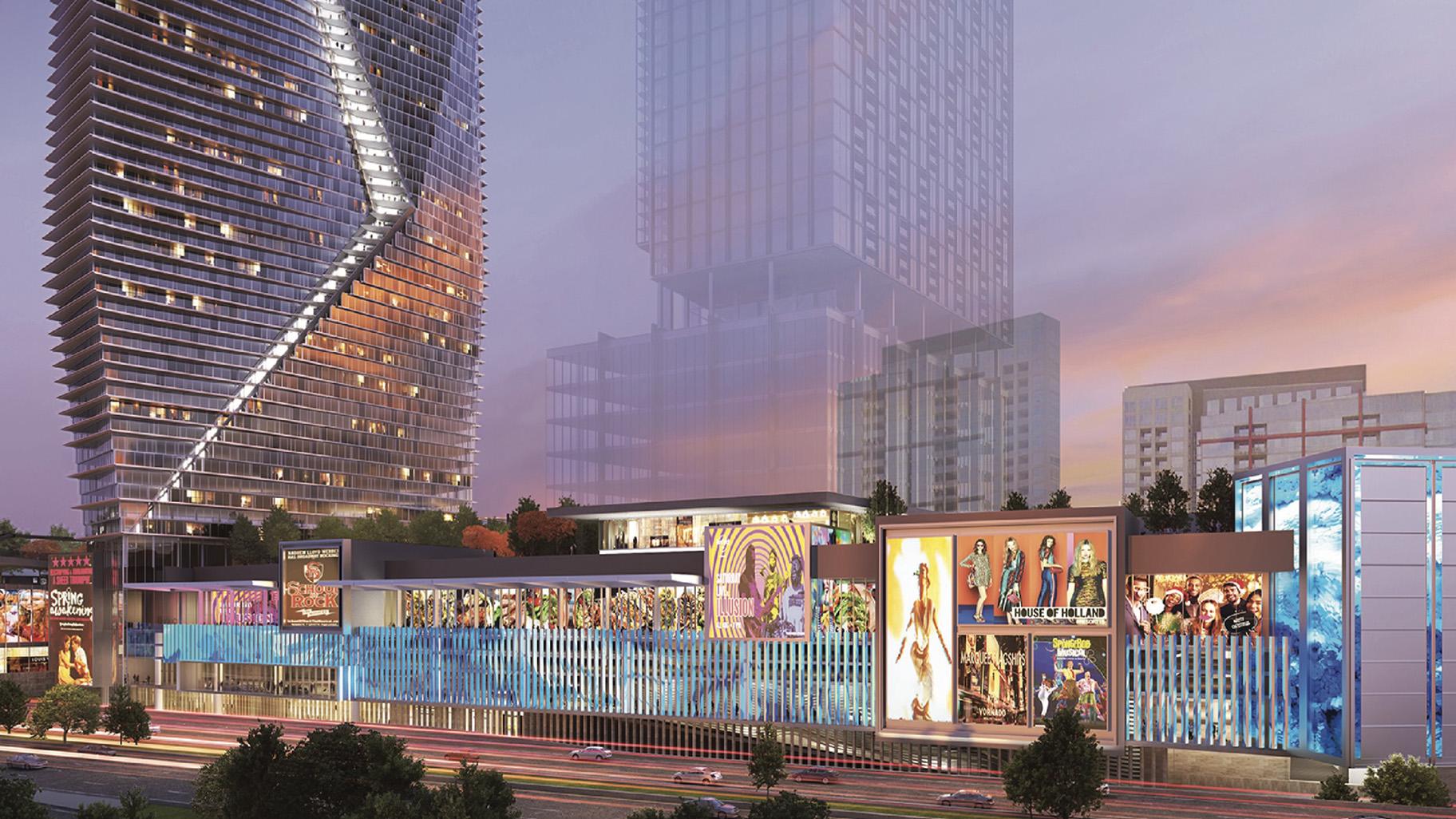 Hard Rock wants to build its casino and resort as part of the proposed One Central development, across DuSable Lake Shore Drive from Soldier Field. (Provided)
The $1.74 billion Hard Rock Chicago casino would include a 3,500-seat music venue, a 500-room hotel and a food hall in addition to a casino with 3,000 slot machines and 166 table games. The proposed site technically doesn't exist: It's part of the still theoretical One Central development, which would be built on the air rights above a rail yard west of Soldier Field.
Though slightly set back from the shoreline's edge, the Hard Rock location is still relatively close to the lakefront, where the combination of lights and glass could be deadly to birds.
Presented with the question about bird-friendly design, Jim Allen, chairman of Hard Rock International and CEO of Seminole Gaming, admitted, in the spirit of being "honest and transparent," that he wasn't familiar with the issue of bird collisions, but said he was willing to learn more.
His partner in the project, Bob Dunn, head of Landmark Development, which is overseeing the One Central site, does have experience with the problem of bird strikes. He encountered it in his capacity as president of the real estate development firm Hammes Co., while involved with the construction of US Bank Stadium in Minneapolis, home of the Minnesota Vikings. The stadium has since come to be known as a "bird-killing machine."
"We did a study and identified mitigating factors that could help reduce the impact of birds colliding with the glass," Dunn said during Hard Rock's community engagement forum. "That was done after the fact. I think in this case (of the casino) we need to be looking at those things as part of the initial design and looking for ways and opportunities in which design and engineering can mitigate that type of impact."
In truth, multiple groups had warned the Vikings and the Minnesota Sports Facility Authority of US Bank's potential for bird collisions before the building was even approved for construction, but recommendations for mitigations were dismissed, members of the Audubon Chapter of Minneapolis told WTTW News. 
The study referenced by Dunn, conducted after US Bank opened, "confirmed that the stadium is one of the most dangerous in the city, and outlined steps that should be taken, along with treatment options," said Stephen Greenfield, who's a member of the Stadium Retrofit Committee.
The facility authority has yet to take any action, he said, despite ongoing calls to retrofit the glass. "Most recently, they announced a trial with chemicals that were designed to deter birds from large roosts; they quickly retracted that after uniformly negative response," Greenfield said.
Video: Hard Rock Chicago casino representatives discuss their approach to the issue of bird collisions during a community meeting. (City of Chicago)
---
Ironically, an example of a bird-friendly stadium stands right across DuSable Lake Shore Drive from One Central: Soldier Field, which accidentally earned the designation.
"We were convinced it would kill birds," Doug Stotz, senior conservation ecologist at the Field Museum, said of the stadium's glass "spaceship" addition. "But it didn't."
Stotz spent a year monitoring the area around Soldier Field after the addition was complete, looking for injured or dead birds, but they didn't materialize. It turns out the stadium's curved, banded glass provides birds with enough visual cues for them to avoid collisions, Stotz said.
Bally's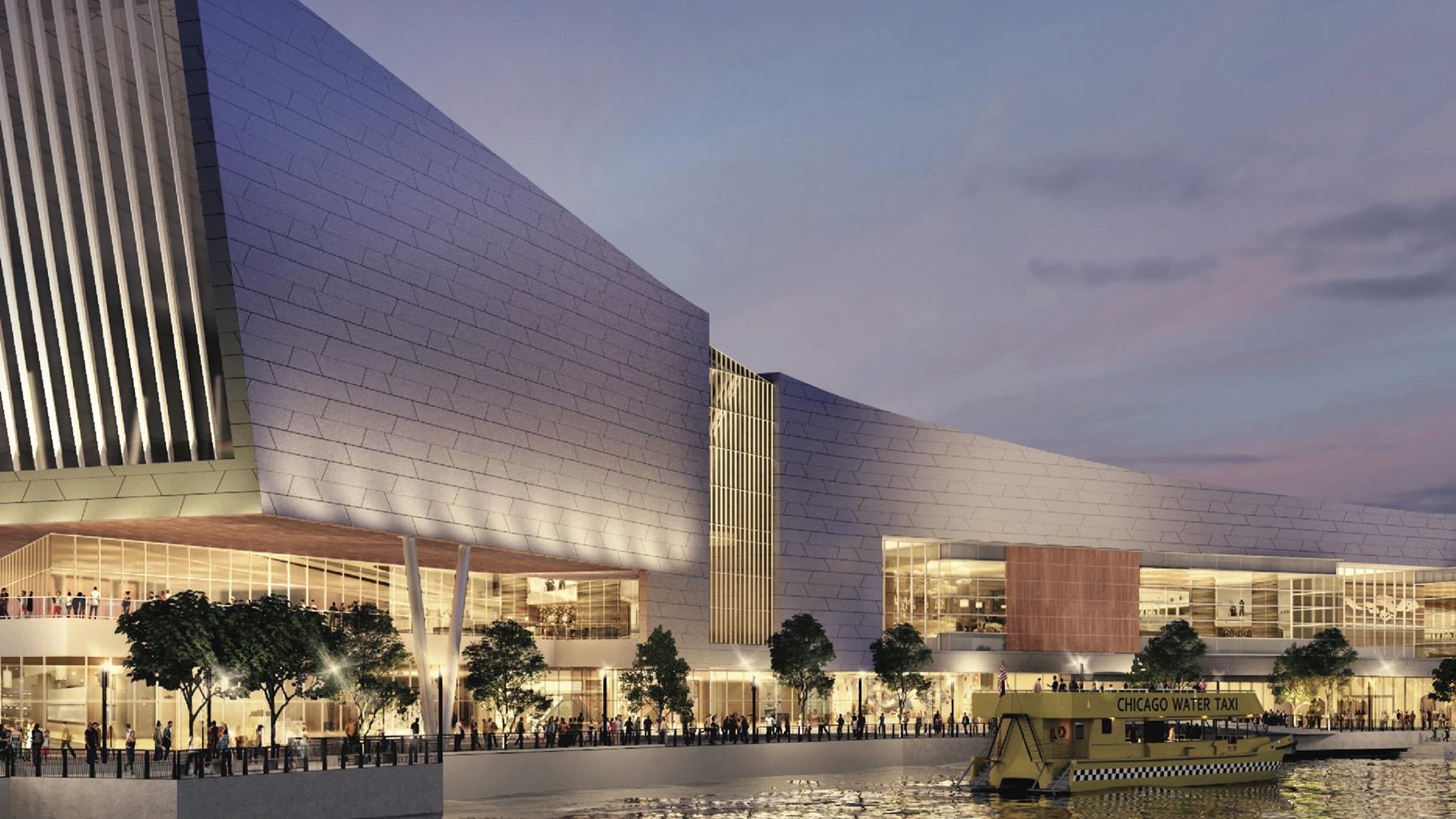 Bally's is proposing to build a casino and resort along the Chicago River on what is now the Chicago Tribune printing plant and newsroom near Chicago Avenue and Halsted Street. (Provided)
The $1.74 billion proposal from Bally's is to build a casino and resort with 3,400 slots and 173 table games as well as a 500-room hotel on what is now the Chicago Tribune printing plant and newsroom near Chicago Avenue and Halsted Street.
The 30-acre site, one-third of which would be occupied by the casino/resort, sits along the Chicago River in an area that's known to be popular with and dangerous for birds. A building across the river from the Tribune property kills hundreds of birds a year, according to Prince. 
Bally's proposal would put another large glass, brightly-lit tower in birds' path, a tower the company didn't initially intend to build, Soo Kim, chairman of Rhode Island-based Bally's, revealed during the community forums.
Video: Bally's casino representatives discuss their approach to the issue of bird collisions during a community meeting. (City of Chicago)
---
"Our original design was much more of a low-slung building. But frankly the city's architects looked at it and said, 'Hey, this is Chicago, you've got to build something more exciting than this. We have 60 million tourists that we want to come check this new building out. You better spice this thing up,'" Kim said.
"So we actually didn't have this bird magnet prior to that comment and now we do. Now we have to figure out a way to address that," he said.
Low-profile buildings can in actuality be as deadly as skyscrapers, as evidenced by McCormick Place. "Every building has its own pathology," said Prince, and there's no one-size-fits-all solution. 
Kim promised to "look to see what's possible" in terms of bird-friendly glass, but added, "not everything that we do is going to please everyone."
Rivers 78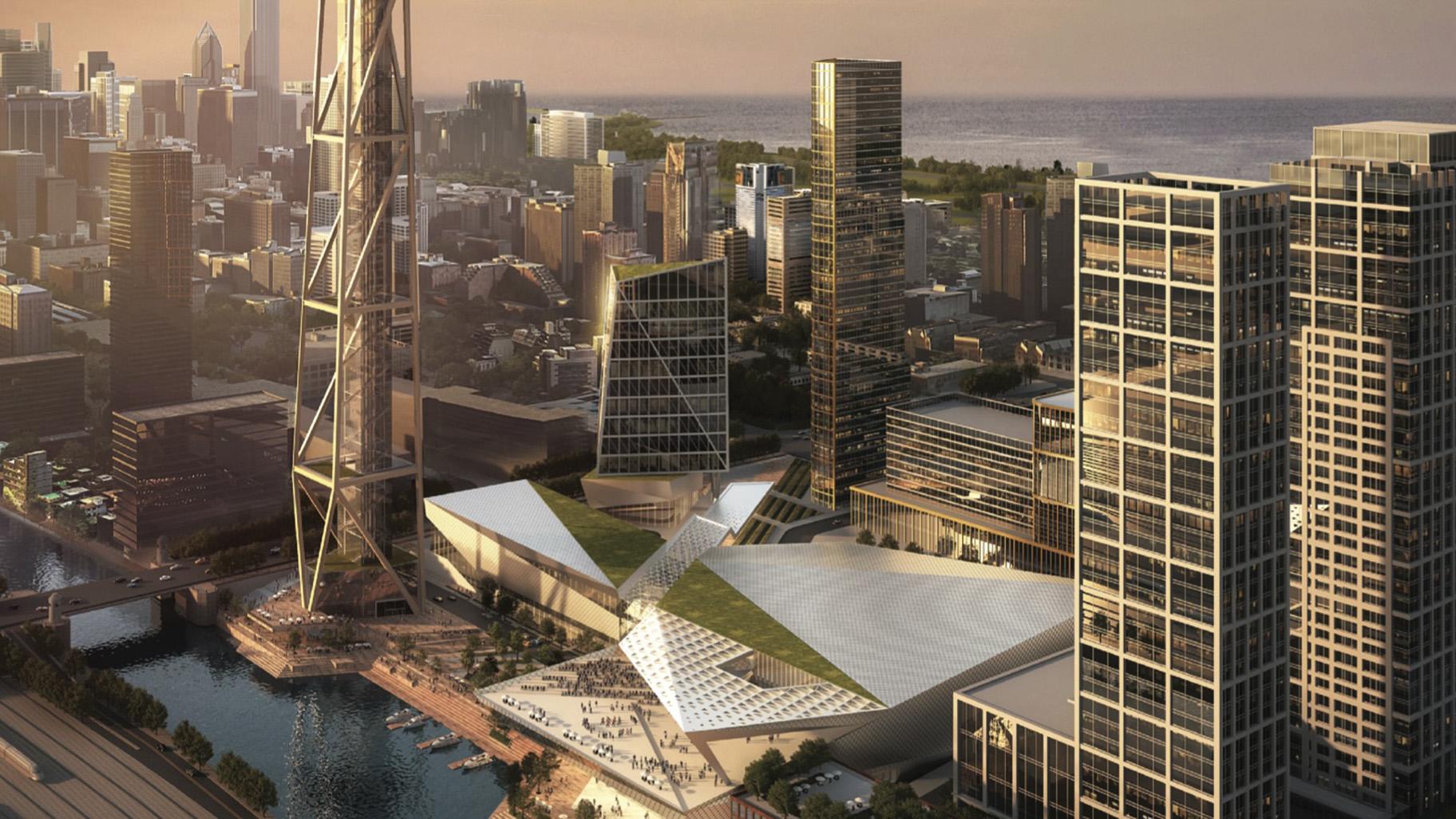 Rush Street has proposed a Rivers Casino as part of the under-construction 78 development on vacant land between the South Loop and Chinatown along the Chicago River. (Provided)
The $1.62 billion proposal from Rush Street Gaming, including 2,600 slots and 190 table games, would anchor The 78 — a 62-acre site under development by Related Midwest.
Situated between the South Loop and Chinatown along the Chicago River just north of Ping Tom Park, the currently vacant land isn't particularly attractive to birds, but "they may landscape the hell out of it and birds will come," said Prince.
Indeed, Related Midwest's overall plan for The 78 includes the creation of an 11-acre park alongside a 1,000-foot observation tower.
Video: Representatives of Related Midwest, the developers of The 78, discuss their response to bird collision concerns during a community meeting. (City of Chicago)
---
Addressing worries about bird collisions, Ann Thomson, executive vice president of architecture and design for Related Midwest, said the firm had already held seminars about bird-friendly design.
"We're aware that glass selection and lighting are two of the key components, but there's a lot of other small decisions that have to be made to reduce the impact, particularly on the migratory bird environment," Thomson said.
"To make sure we do it the way it needs to be done," she said, the team is partnering with experts including Carol Ross Barney — the Chicago architect whose firm reimagined the Chicago Riverwalk — and Phil Enquist, a consulting partner at Skidmore, Owings & Merrill, who has long championed harmony between urban and natural systems.
"We're very aware of the issue" of birds strikes, Thomson said, "and we take it seriously."
Contact Patty Wetli: @pattywetli | (773) 509-5623 |  [email protected]
---