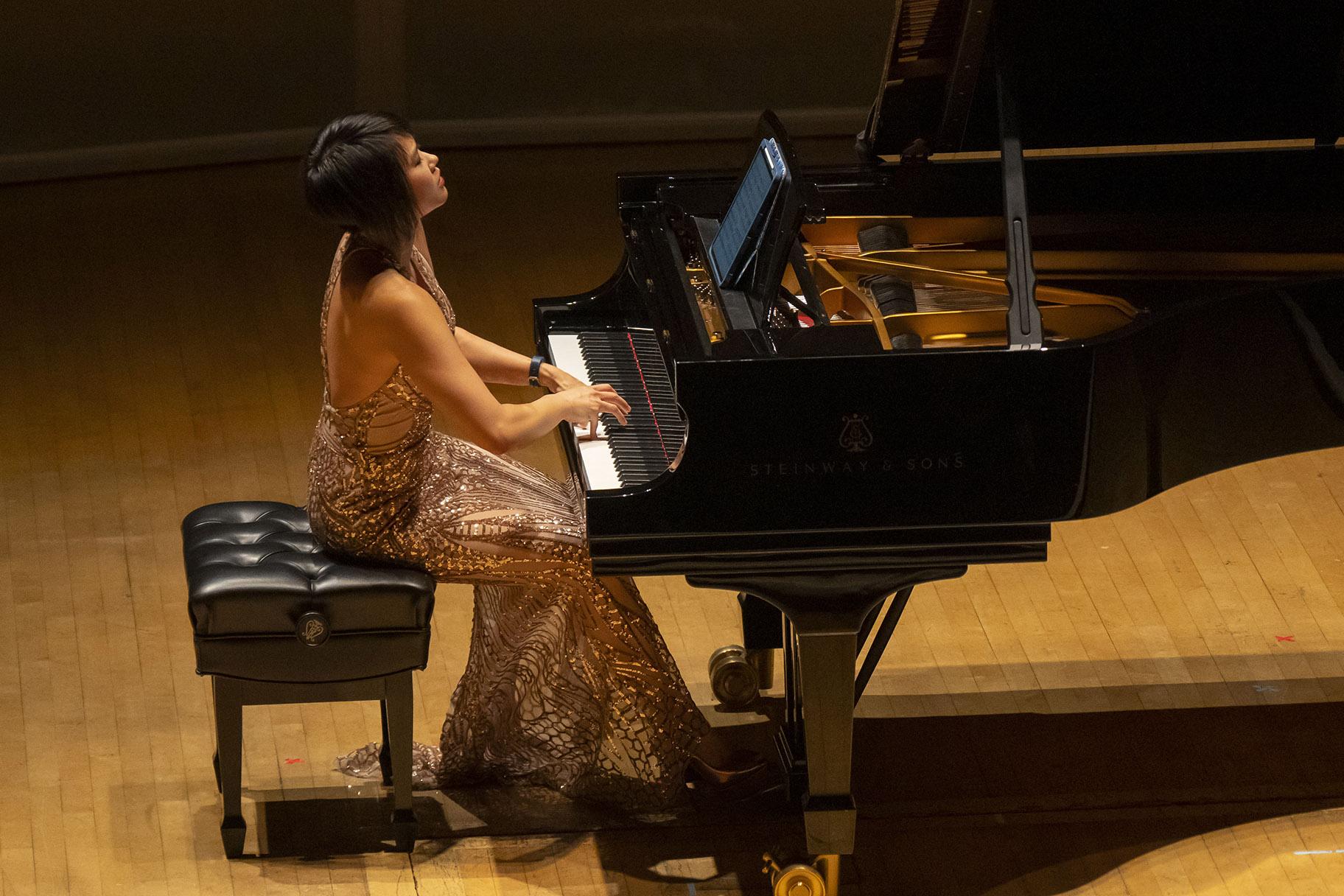 Yuja Wang performs a program with works by Bach, Beethoven, and Schoenberg, April 10, 2022. (Credit: Todd Rosenberg photography)
Yuja Wang is ever the virtuosic and unpredictable mistress of the keyboard. And her astonishing concert at Orchestra Hall Sunday afternoon could easily serve as the ultimate proof.
To begin with, Wang's program was a fascinating, fireworks-charged mix of styles comprised of works six composers: Beethoven; as well as the Viennese-born atonal modernist Arnold Schoenberg; Hungarian-born expressionist Gyorgi Ligeti; Russian-born modernist Alexander Scriabin; Spanish-born Isaac Albeniz; and Ukrainian-born jazz enthusiast Nikolai Kapustin. The widely shifting moods and styles of these composers' fiendishly difficult and stylistically different pieces made for a wonderfully eclectic program.
But there was a great deal more to come in what might very well go down as the longest and most diverse encore segment on record! Wang, cheered by thunderous applause, returned to the piano time after time and performed eight devilishly difficult encores by a veritable encyclopedia of composers: Philip Glass, Bach, Arturo Marquez, Moritz Moskowski, Prokofiev, Mendelssohn, Tchaikovsky and Bizet (in an arrangement of a theme from "Carmen" devised by no less than the fabled pianist Vladimir Horowitz). The audience — and it was a full house — grew increasingly giddy with each return, just as Wang grew increasingly fired up at the piano.
There was more drama, too, as during the concert's intermission piano technician Christa Andrepont arrived onstage to finesse an emergency repair of what Wang had clearly recognized was a broken string. She took a well-deserved bow for what was unquestionably a high pressure, time-sensitive job.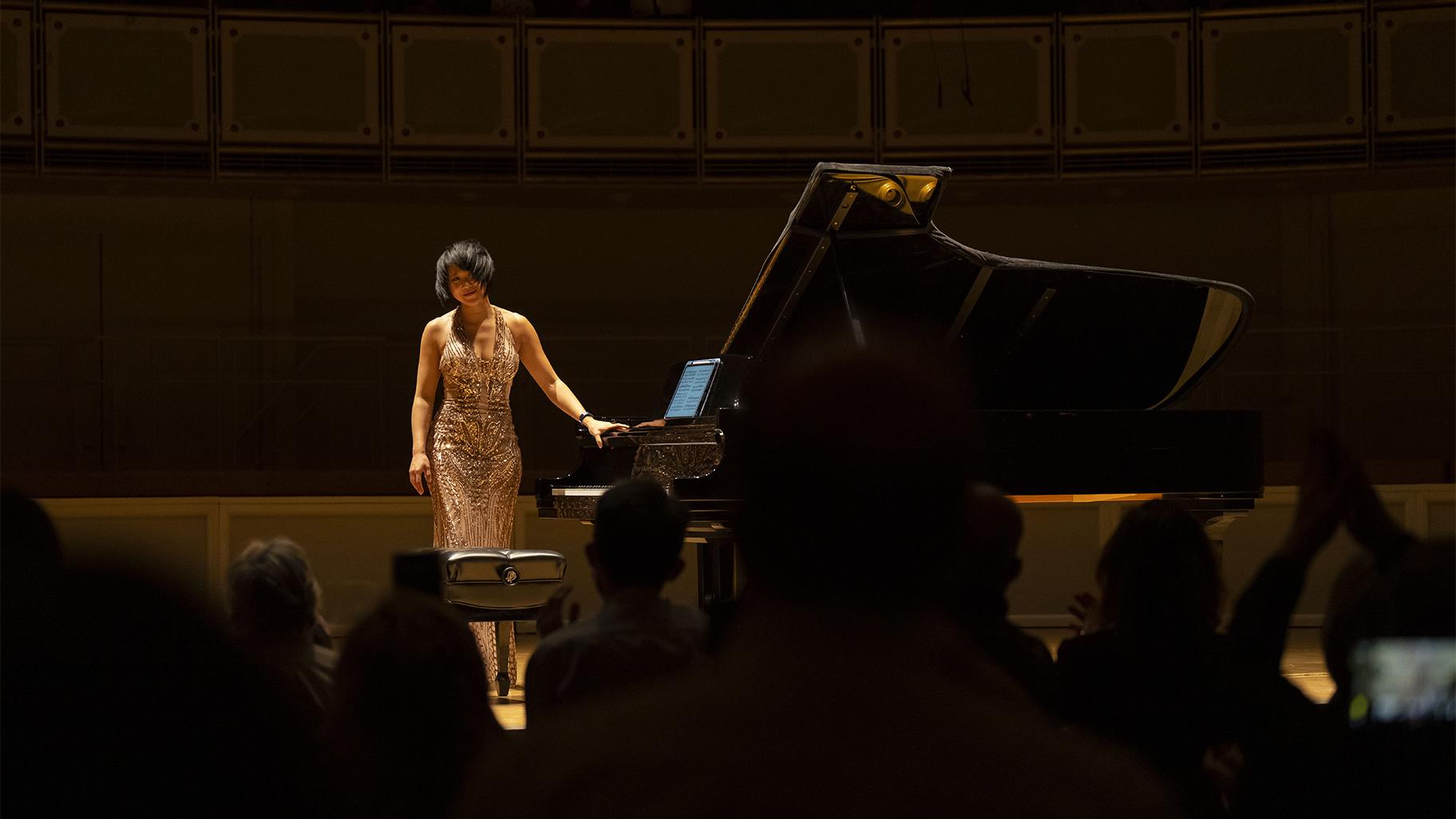 Yuja Wang acknowledges the audience following a program with works by Bach, Beethoven, and Schoenberg April 10, 2022. (Credit: Todd Rosenberg photography)
But now to the music itself.
With its quixotic rhythms, its rapid-fire, rippling fingering, and its frequent mood shifts, Beethoven's "Piano Sonata No. 18 in E-Flat Major," set the Olympian standard of difficulty for all that followed. Wang, who in addition to everything else possesses great physical power, took full charge. Then, like a quick-change artist, she dove into the crazy, often frenzied, high-speed rhythms of Schoenberg's "Suite for Piano." Its dramatic modern variations on formal dances (the gavotte, minuet, gigue) took on a whole new dimension and sense of speed. Then bringing the first half of the concert to a close were two of Ligeti's 18 Etudes, with "Autumn in Warsaw" almost cinematic in its flow, and "The Devil's Staircase," driven by wild speed and a pounding sense of mental breakdown.
The second half of the concert opened with Scriabin's lushly romantic "Piano Sonata No. 3 in F-Sharp Minor," initially suggesting a certain fluid calm, then moving with feverish intensity and a sense of grand drama before returning to a delicate sense of dreaminess, and then on to a dramatic ending.
From there it was on to Albeniz's Lavapiés (the name of a working-class neighborhood in Madrid) from "Iberia," a richly rhythmic piano suite awash in Spanish dance melodies. And finally, selections from "Twenty-Four Preludes in Jazz Style," Kapustin's wonderful piece dating from 1989 that begins in a seductively Gershwinesque bluesy/jazzy syncopated mode and culminates in a high-speed power turn awash in "fascinating rhythm."
As for the eight encores, they included a grandly passionate excerpt from Glass's "Etude No. 6"; the wonderfully rhythmic, light-hearted Badinerie from Bach's "Orchestral Suite No. 2"; Marquez's seductive, tango-like "Danzon No. 2"; Prokofiev's demonically challenging Precipitato from his "Sonata No. 7"; Mendelssohn's lyrical "Song Without Words"; Tchaikovsky's widely familiar "Dance of the Four Swans" from his "Swan Lake" ballet; and Horowitz's take on a theme from Bizet's "Carmen."
Who could ask for anything more?
On top of everything else, Wang is the quintessential fashionista. For the first half of her concert, she wore an elegant black chiffon gown. For the second half she donned a sleek, glittery gold gown that clearly earned applause — beyond her remarkable musical talent — as she came onstage.
Follow Hedy Weiss on Twitter: @HedyWeissCritic
---