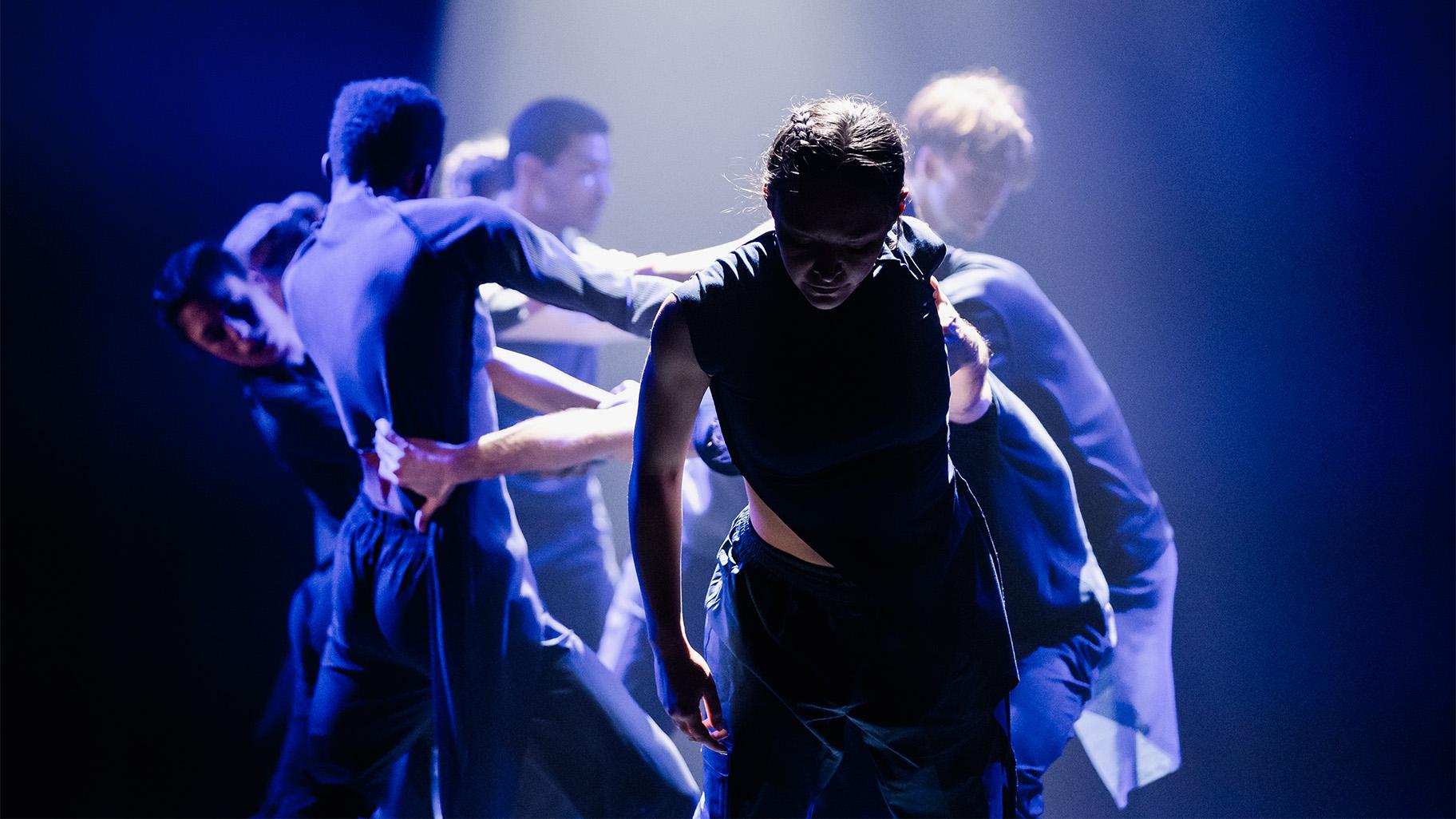 "Awake," is performed by the full Visceral Dance Theater company, and includes a program note bearing these words: "Sometimes you have to go through it to get out of it." (Credit: KT Miller Photography)
The new Visceral Dance Center is an ultra-modern, elegant, rectangular structure in tones of gray and black. It contains six state-of-the-art studios ideal for a full range of movement classes and rehearsal and performance spaces.
A stunningly performed program by Visceral Dance Theater is now inaugurating the building's Ann Barzel Theater. The vast studio space pays homage to the late dance critic and archivist and is designed so that it can be transformed into a 100-seat performance space with excellent sightlines.
This mightily impressive contemporary dance company, now in its ninth year and led by founder and artistic director Nick Pupillo, deserves just such a home.
The program, under the collective title of "SpringNine," features the work of three different choreographers including Mike Tyus, Marguerite Donlon and Pupillo. And it serves as a vivid showcase of the company's ten dancers who are remarkable for both their technical polish and partnering skills, as well as for their emotional intensity.
Opening the program is Los Angeles-based Tyus's "Madre," created in 2021, and set to a mix of mood-enhancing music by the Venezuelan composer Arca, German electronic musician Apparat, Sharra Nova and Alfred Brown, with a poem by Kacie Hertz voiced by Joy Isabella Brown. The atmospheric lighting is by Collin Helou.
Tyus, who has dedicated this piece to his mother, uses a great deal of floor work, including a suggestion of prayer. His seamless choreography, with many interlocking forms and embraces, suggests aspects of love, control and loss. It is an ideal fit for its nine dancers including Braedon Barnes, Meagan Cubides, Meredith Harrill, Tyler Kerbel, Morgan McDaniel, Michelle Meltzer, Brandon Talbott, Samantha Weeks and Morgan Williams.
Next is Marguerite Dolan's "Ruff Celts" (created in 2016), a wild and wonderful work that might best be described as an homage to Irish dancing on steroids, with the men in black kilt-like skirts. A wild romp that involves a slew of different moods, formations and high velocity movement, it culminates in a line featuring the company members already named, along with Bennett Cullen. The music is by Sam Auinger, De Dannan, Luke Kelly, Kila, Sinead O'Connor and Claas Willeke, and the lighting by Nathan Tomlinson.
The second half of the program is devoted to two works choreographed by Pupillo.
First up is the Chicago premiere of his "Mad Skin," set to the music of Mac Quayle. A high-power duet, at once lyrical and full of daringly acrobatic lifts, it was danced to breathtaking effect by Morgan Williams and Meredith Harrill.
Finally, the world premiere of "Awake," performed by the full company, and with a program note bearing these words: "Sometimes you have to go through it to get out of it," a thought that might well be applied to the pandemic years.
Set to the indie rock and richly atmospheric music of Christian Loffler, Tiger Lou, Fort Romeau, Empty Set and Tourist (and artfully lit by Tomlinson, with costumes by Luis Razo) Pupillo's signature mix of fluid motion and complex partnering is in top form. At a couple of points during the work the dancers move upstage as a curtain opens and they face an exposed bare brick wall - a powerfully theatrical suggestion of being "up against it."
The remaining performances of the program are March 31-April 3 at the Visceral Dance Center, 3121 N. Rockwell. For tickets visit visceraldance.com.
Follow Hedy Weiss on Twitter: @HedyWeissCritic
---