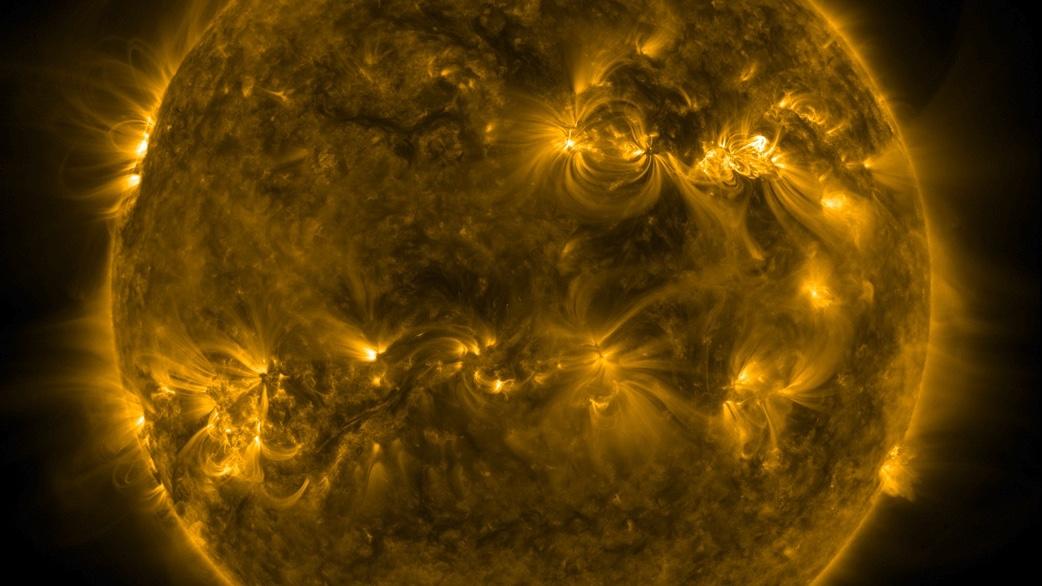 A still image of Wednesday's solar flare, March 30, 2022. (NASA)
You'd never know it from Chicago's gray skies, but the Sun put on a spectacular show Wednesday, emitting a "significant solar flare," according to NASA.
Now scientists are bracing to see what the resulting space weather will have in store for Earth.
Sun, we need to talk about your flare.

The Sun emitted a significant solar flare on March 30, peaking at 1:35 p.m. ET (17:35 UTC). Our orbiting @NASASun Solar Dynamics Observatory captured the action: https://t.co/8nIuyoSmOH pic.twitter.com/JmtB8PuBvM

— NASA (@NASA) March 30, 2022
The Sun's actually been acting up all week, with previous, more moderate flares already raising expectations of a geomagnetic storm that could deliver views of aurora (aka, Northern Lights) in parts of the U.S. where the phenomenon isn't typically seen. The Chicago region is on the southernmost latitude of where the aurora might be visible, but in classic Chicago fashion, the light pollution puts the possibility at nil.
Here's what we know about Wednesday's flare.
When did it happen? NASA's Solar Dynamics Observatory captured an image of the event on Wednesday, which peaked shortly after noon, Central time.
What exactly is a solar flare? Flares are powerful bursts of radiation. Wednesday's was classified as an "X-Class" flare, which is the most intense.
What's the big deal? Did you see the image? Apart from just looking cool, flares can cause what are known as "coronal mass ejections," in which billions of tons of plasma, carrying an embedded magnetic field, are expelled from the Sun. These ejections can travel anywhere from 250 to 3,000 kilometers per second. If they're directed toward Earth, the fastest can arrive in 15-18 hours; the slower ones take days.
Is this the end of the world? No. According to NASA: "Harmful radiation from a flare cannot pass through Earth's atmosphere to physically affect humans on the ground." But flares do create "space weather," or geomagnetic storms, which can mess with GPS and satellite signals, as well as electric power grids and radio communications. 
The Sun emitted a significant solar flare on March 30, 2022, peaking at 1:35 p.m. ET. NASA's Solar Dynamics Observatory captured an image of the event, which was classified as an X-Class flare. https://t.co/oH58uGT9hb pic.twitter.com/LTaO68tnPz

— NASA Sun & Space (@NASASun) March 30, 2022
Major X1.38 flare from sunspot region 12975
Follow live on https://t.co/3Xxrvc3cpA pic.twitter.com/UIZd0sLjcE

— SpaceWeatherLive (@_SpaceWeather_) March 30, 2022
Here's the southward extent of aurora for a Kp=7 storm, which is possible Wednesday night into Thursday morning. Clouds will play a factor from Minnesota all the way into the Northeast (of course!), but the upper Missouri Valley looks to be clearing out, especially the Dakotas! pic.twitter.com/mIPY3wpIaV

— Space Weather Watch (@spacewxwatch) March 29, 2022
---
Contact Patty Wetli: @pattywetli | (773) 509-5623 |  [email protected]