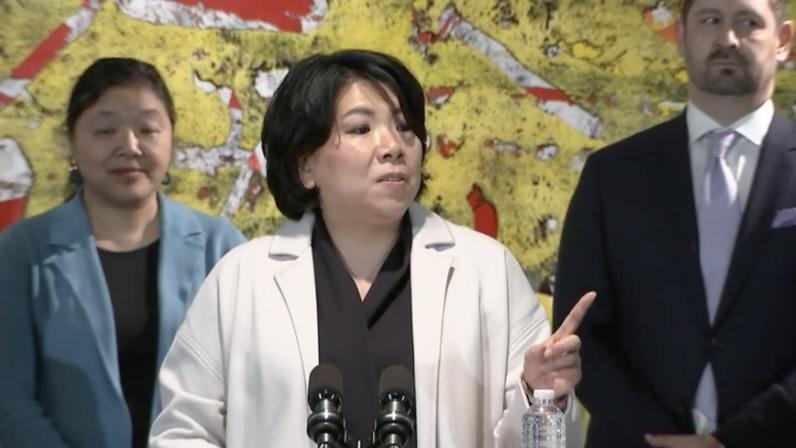 Nicole Lee addresses supporters and members of the news media after being tapped by Mayor Lori Lightfoot to serve as 11th Ward alderperson. (Chicago Mayor's Office)
Mayor Lori Lightfoot tapped a Chinatown native whose family has deep roots in the Daley political machine to fill the vacant 11th Ward seat on the Chicago City Council on Thursday.
If confirmed on Monday, Nicole Lee will be the first Chinese American to serve as an alderperson.
Lee is poised to replace former Ald. Patrick Daley Thompson, who was convicted Feb. 14 on seven counts of lying to federal bank regulators and filing false tax returns, removing him from the Chicago City Council.
Lightfoot said Lee was "the only choice" to serve as 11th Ward alderperson until after the 2023 municipal election.
"Nicole represents what's good and best about our city," Lightfoot said at a hastily announced event unveiling her pick.
If confirmed, Lee would be the only Asian American member of the Chicago City Council, and the first Asian American woman to serve as alderperson. Former Ald. Ameya Pawar was the first Asian American to be elected to the Chicago City Council, representing the North Side's 47th Ward for two terms from 2011 to 2019.
In her remarks, Lee vowed to "unite the 11th Ward" and redouble efforts to improve public safety while catching up on the backlog of work left undone Daley Thompson's conviction.
Lee declined to say whether she plans to run for a full term in February 2023. If Lee does run, she will have a leg up on the competition to represent what is likely to be a very different 11th Ward once a new ward map is adopted.
Lee works as the director of social impact and community engagement at Chicago-based United Airlines. A graduate of Whitney Young High School and the University of Chicago, Lee has served on the Chinese Mutual Aid Association, Haines Elementary School Local School Council and is a member of Chicago chapter of the Organization of Chinese Americans.
"I felt a call to serve," Lee said.
Nicole Lee said she was inspired to enter public service by her father, Gene Lee. Gene Lee served as a deputy chief of staff for Mayor Richard M. Daley. In 2014, Gene Lee was convicted of stealing more than $90,000 from a charity that worked to help children and teens in Chinatown. The charges he faced did not involve his duties as one of Daley's top aides.
"Nicole is her own person," said Lightfoot, who stepped in to admonish a reporter from the Chicago Tribune who asked about her father's criminal record. "She stands on her own two feet."
Lee should not be asked any questions about her father that would prompt a response other than "I love you dad," Lightfoot said.
Lee said her father served the 11th Ward community tirelessly for 30 years.
The City Council's Rules Committee will consider Lee's nomination at an in-person meeting set for 12:30 p.m. Monday. The City Council is set to meet an hour later to confirm the nomination.
Lee was one of 27 people to apply to replace Daley Thompson. 
Rules Committee Chair Ald. Michelle Harris (8th Ward) led the search committee that included Salvador Cicero, principal of the Cicero Law Group; Grace Chan McKibben, executive director of the Coalition for a Better Chinese Community; and Jamie Trecker, producer and co-host of Lumpen Radio, officials said.
The committee whittled down the applicant list to eight people and recommended two finalists to Lightfoot.
Lightfoot missed her self-imposed deadline of Wednesday to fill the seat left vacant by Daley Thompson's conviction. The mayor told reporters Tuesday evening she needed "more time" to make a decision, without answering questions about what caused the delay.
It is unclear what caused the delay if Lee was the "only choice" as Lightfoot told reporters.
"We wanted to make sure we took the time to do our vetting," Lightfoot said, noting that this is her first appointment to the City Council.
All of the alderpeople appointed to the City Council by former Mayor Rahm Emanuel won a full term.
Other applicants included Denise McBroom, who served as Daley Thompson's chief of staff from September 2021 until his forced resignation from the City Council, and Patrick Murray, who worked as a Chicago Police officer for 30 years and served as first vice president of the Fraternal Order of Police from 2017-19. 
It is likely that the 11th Ward will be significantly different in less than a year. Both proposed ward maps backed by the Black Caucus and the Latino Caucus would redraw the 11th Ward to include a majority of Asian voters, which would be the first of its kind in Chicago, and comes as Chicago's Asian population surged by 31%, according to the 2020 census.
Lee asked for "a little bit of grace" as she gets up to speed on the debate over the ward maps and declined to endorse the proposal to make the 11th Ward the first — and only — ward in Chicago to have a majority of Asian American voters.
"Our community, Chicago, the Asian American community, we're at a precipice," Lee said, adding that it was not a "guarantee" that an Asian American would be elected to a full term to represent the 11th Ward.
Contact Heather Cherone: @HeatherCherone | (773) 569-1863 | [email protected]
---