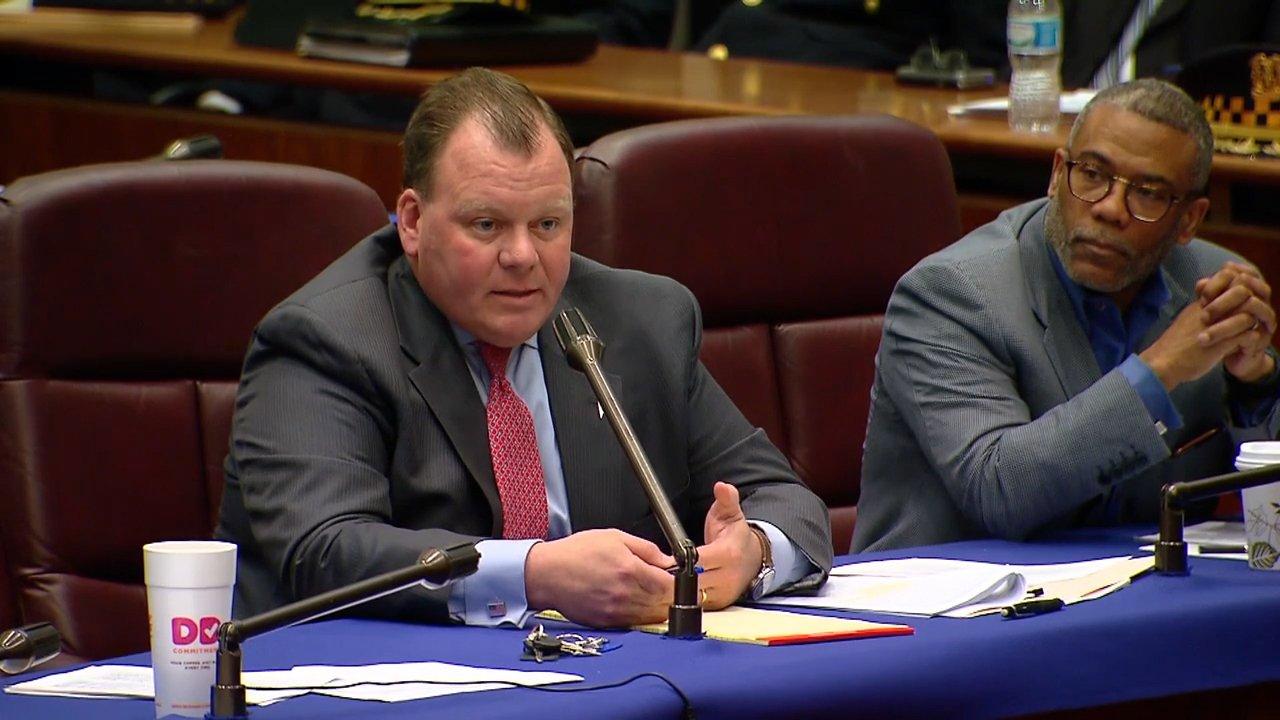 A file photo shows Ald. Patrick Daley Thompson (11th Ward) at a Chicago City Council hearing on April 12, 2016. (WTTW News)
Former Ald. Patrick Daley Thompson (11th Ward) should not be sent to jail for lying to federal bank regulators and filing false tax returns because he has been punished enough, the former City Council member's attorneys told a judge Monday.
Daley Thompson is set to be sentenced July 6 by U.S. District Judge Franklin Valderrama, who rejected on Friday the former alderperson's bid for a new trial or an outright acquittal. 
Once considered the heir to the political empire built by his grandfather, former Mayor Richard J. Daley, and his uncle, former Mayor Richard M. Daley, Daley Thompson's conviction meant he was longer eligible to serve as a member of the Chicago City Council under state law. He was replaced by Ald. Nicole Lee (11th Ward).
Chris Gair, representing Daley Thompson, told the judge it would not serve any purpose to send the former alderperson to prison.
"He has suffered tremendous public humiliation as a result of his conviction," Gair wrote. "He has had to give up his law license and his position in public service. He has lost his job and his career. He has lost most of his life savings defending himself. He has lost his cherished right to vote. He has lost his right to possess a firearm. And he will suffer significant restrictions on his liberty as a result of being on probation. There is no risk, having suffered these consequences, of recidivism."
Each false statement count Daley Thompson faces is punishable by a maximum sentence of 30 years in federal prison, while each tax count is punishable by up to three years. However, even if the judge declines to sentence Daley Thompson to probation, he is likely to serve less time in prison based on sentencing guidelines.
Prosecutors argued that Daley Thompson repeatedly lied to get out of repaying the $219,000 he borrowed from Washington Federal Bank for Savings. The Bridgeport bank failed in 2017, and federal bank regulators began working to collect that debt from the alderperson.
Gair told the jury that while Daley Thompson was "disorganized," "frazzled" and "sloppy" when it came to filing his annual tax returns and keeping track of his debts, he did not purposefully file false tax returns or lie to bank officials.
In his plea for one year of probation, Gair does not admit Daley Thompson's guilt but instead argues that the false statements were not made, but if they were "at the very least [they] were made unknowingly and without intention to deceive."
Valderrama should take into consideration that Daley Thompson repaid the full debt and refiled his taxes and paid the $15,589 he owed, Gair said.
Before his conviction, Daley Thompson "devoted his life to his family, his faith, his real estate law career, and to his role as a public servant," according to his attorneys.
Daley Thompson's attorneys submitted 130 letters detailing the former alderperson's high character, including letters from two of his former City Council colleagues, Ald. Nicholas Sposato (38th Ward) and Ald. Susan Sadlowski Garza (10th Ward).
Sposato said Daley Thompson "loves this city and always worked hard for the betterment of his constituents."
Sadlowski Garza said she "could always count on [Daley Thompson] honoring his word, something that is surprisingly rare these days."
Daley Thompson's plea for probation included a letter from Carlos Yanez, Sr., a former Chicago Police officer whose son, Police Officer Carlos Yanez, Jr., was critically injured on Aug. 14 in the shooting that killed Chicago Police Officer Ella French.
Yanez, Sr., was highly critical of Mayor Lori Lightfoot in the wake of French's death and Yanez's injury.
"Alderman Patrick Thompson and his family came to show support to our family in a time of need with prayers, visits to our home and providing police protection ... In the true fashion of selflessness [he] had come to my and my son's residence with a show of support," Yanez, Sr. wrote.
Contact Heather Cherone: @HeatherCherone | (773) 569-1863 | [email protected]
---