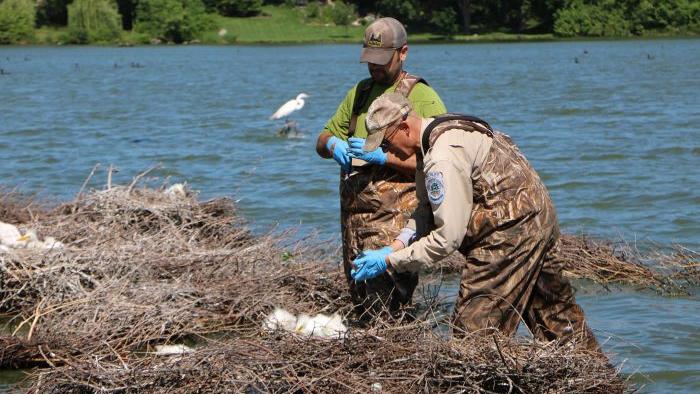 Wildlife biologists band egrets at Baker's Lake. (Forest Preserve District of Cook County)
Cook County's forest preserves are much loved for their picnic groves and trails. Not as well known: The forest preserve district's role as a research hub and early warning system of sorts against zoonotic diseases.
Rabies, ebola and swine flu are just a few examples of the diseases that pass from an animal or insect to humans. As guardians of 70,000 acres of wildlife habitat, district biologists are well positioned to collect the samples needed to monitor for any signs of contagion.  
"West Nile, Lyme disease, Rocky Mountain spotted fever — we provided some of the first samples going to public health officials," said Chris Anchor, longtime wildlife biologist with the district.
Two to four days a week, Anchor and his team (if he has a team; some budget years, Anchor has worked solo) head into the preserves to band birds — some 400 a year. In addition to attaching small metal ID bands to any bird captured, Anchor conducts a health workup.
"It's hands on and it takes a lot of time, but we try to glean as much information as we can," he said.
It's easy enough to tell if a bird is well-fed versus emaciated, but to learn more about the subject's condition, biologists also gather tissue and blood samples, a process that's become less and less invasive over the years.
"The technology is fantastic. A lab can tell me 20 to 30 different things from a single drop of blood," said Anchor. "Back in the 1980s, it took an entire milliliter of blood to run a single test" — too much to extract from smaller species.
If the bird is a migrant, biologists are looking for what parasites or diseases they might be carrying from other states or countries. A newly created interactive map, showing where some of the birds banded in Cook County forest preserves have been found, demonstrates the way wildlife connect Chicago to other habitats, he said.
Birds that live in the area year-round can provide insights into environmental toxins, which also has implications for humans, because "we're living in the environment too," Anchor said. "We've been disappointed to see that some pesticide levels have not decreased. They are really persistent and hardy — they just don't break down."
This information also can be used to assess the success of restoration and conservation efforts and to direct future habitat management projects.
Anchor joined the forest preserve back in 1987 and over the decades has built up a library of thousands of samples and data that allows him to observe changes over time and also to establish baselines that help identify anomalies.
"It's an invaluable resource," he said, and one that's the envy of his counterparts around the country.
"Boston, LA, Washington D.C., Atlanta, they've all tried to do it," said Anchor, but none have had the same success.
He credits an "alignment of the stars" in Cook County: For starters, there's the foresight people had 100-plus years ago to create the forest preserves in the midst of the nation's third largest metropolis. "Plus, we're adjacent to the Great Lakes, with all these resources and habitat types."
The preserves' secret sauce also includes proximity to world-class universities and research hospitals, he said, as well as partnerships with institutions like Brookfield Zoo and the Max McGraw Foundation, which houses interns and researchers.
"Other municipalities bring in researchers for one to three years. We're able to maintain studies for decades," Anchor said. "The questions you can conceive of, you can ask so much more."
Thirty-five years later, Anchor still recalls that he was the preserves' fourth choice for the biologist job. 
"No one wanted it," he said. "One guy was driving up from Carbondale for his interview, got stopped in (Chicago) traffic and turned around."
Whatever the job description was at the time, Anchor has long since expanded it, with support from the higher-ups, to pursue opportunities for inquiry as they present themselves. Projects studying urban coyotes and now urban river otters both came about on his initiative.
"Yes, people are surprised that the forest preserve district is doing this work," he said.
In the hopper is a plan to install an array of Motus antenna towers across the preserve system. Motus is a wildlife tracking system that relies on a specialized type of antenna to pick up radio signals emitted by tags attached to increasingly tiny creatures, including birds, bats and butterflies.
"We're hoping to get a lot more information, especially on bats," Anchor said.
Transmitters have come in handy in the past, he explained, like the time when the preserves partnered with the Army Corps of Engineers to follow the movement of cormorants, specifically to see where they were going to obtain food. Surprisingly, some of the birds were hunting as far afield from Cook County as Canada and the Mississippi River.
This crucial bit of information was vital to solving a troubling mystery: the discovery of the environmental DNA of invasive Asian carp in Lake Michigan. Researchers and governmental agencies blanketed the lake in search of the carp, which has the potential to destroy the Great Lakes ecosystem, but came up empty-handed.
So where'd the DNA come from? The cormorants' waste, after eating the invasive fish plucked from the Mississippi and then flying back over the lake.
These are the kinds of findings that get Anchor out of bed in the morning, and he has no plans to slow down.
"I've got so many ideas floating in my head," he said. "I'm doing as much as I can." 
Contact Patty Wetli: @pattywetli | (773) 509-5623 |  [email protected]
---