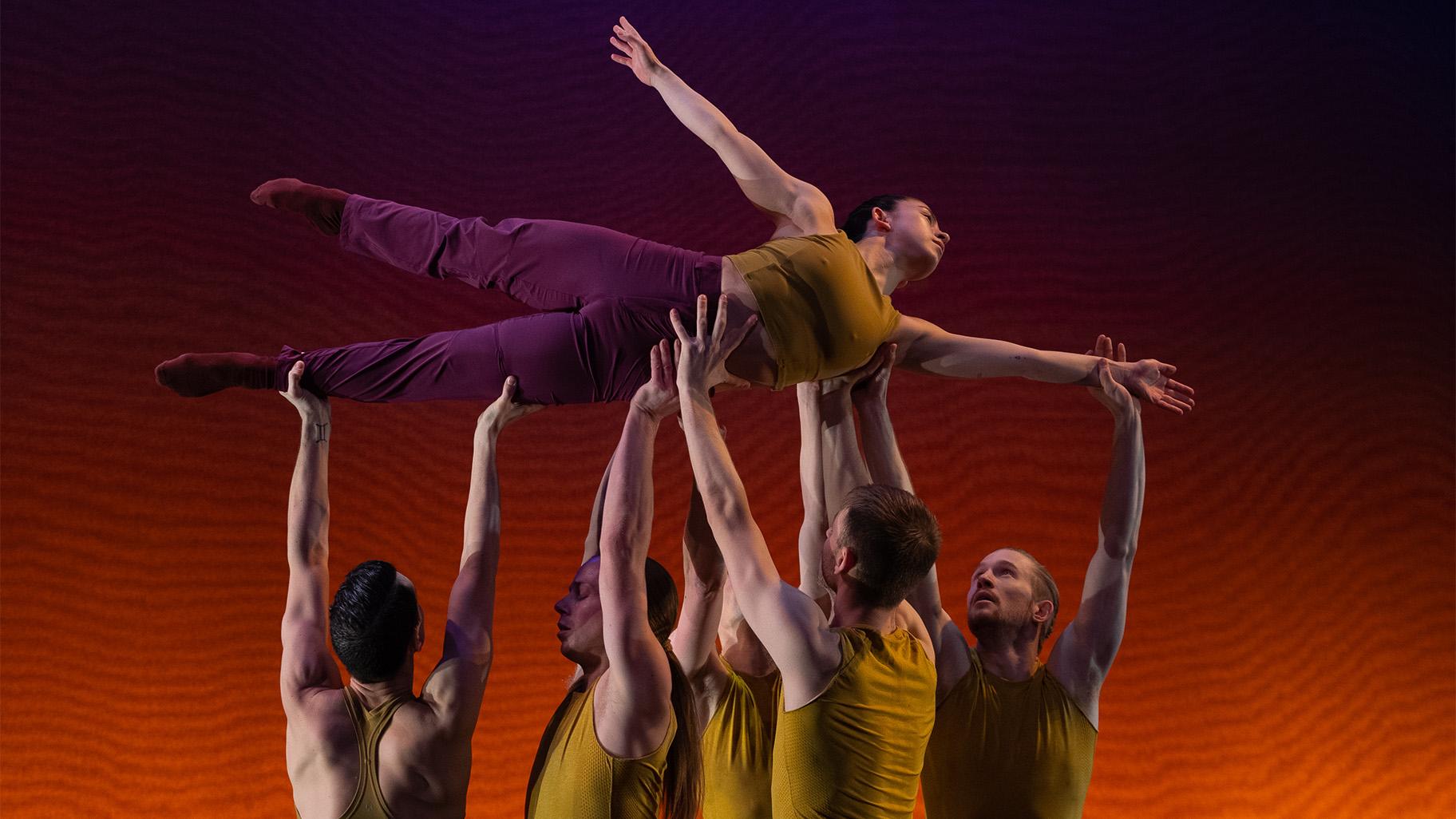 Hubbard Street Dance Chicago performing "As the Wind Blows" by Amy Hall Garner. (Credit: Michelle Reid)
"Re/Connect" is a word Hubbard Street Dance Chicago's Artistic Director, Linda-Denise Fisher-Harrell delights in using. And it is serving as the guiding principle for the company's pandemic era return to live performance that began this past November when the company performed live at the Harris Theater for Music and Dance. Now that theme is being expanded as HSDC presents two different programs ("A" and "B") at the more intimate Edlis Neeson Theater of Chicago's Museum of Contemporary Art.
The 14-person company has retained a number of its most superb and experienced dancers including the ever-extraordinary Jacqueline Burnett, David Schultz, Kevin J. Shannon, Craig D. Black Jr., Andrew Murdock and Elliot Hammans. At the same time, it has incorporated a good deal of new talent that clearly can carry off the many challenging and stylistically varied works that are part of its ever-expanding repertoire. Its "Program A," featured two world premieres along with two existing pieces, all of them tremendously demanding in terms of both technique and theatricality, and in their very different ways riffing on themes of isolation, loneliness and connection in both "normal" and pandemic-era life. It served as a vivid demonstration that HSDC remains fully "connected."
The program's new opening work, "As the Wind Blows," is choreographed by Amy Hall Garner, and set to an eclectic mix of music by Laura Nashman, Carl Craig, Aaron Copland and Francesco Tristano. It begins with a beautiful scene set against an orange screen. As the dancers arrive, they move into a series of beautiful sculptural poses that are periodically animated by windmill-like arms. What follows is a variety of "scenes," some agitated solos, some duets, some with several couples, some in which a pair is joined by a third person, another in which five men circle around a single girl, and another in which three girls dance together. Yes, connections. And all are expertly suggested by Burnett, Schultz, Shannon, Black, Murdock and Hammans as well as by Alyssa Allen, Alexandria Best, Michele Dooley, Michael Garcia, Alysia Johnson, Adam McGaw, Abdiel Figueroa Reyes and Simone Stevens.
Next came two pieces, very different in style, but programmed so that they play on the theme of both connection and disconnection in intriguing ways.
First was "B/olero," created by Ohad Naharin, the sensationally innovative Israeli choreographer whose work has long played a formidable role in the company's history. It is set to the widely familiar Maurice Ravel score, but as its slightly altered title suggests, that score is in an exceptionally unusual arrangement by the late Japanese composer Isao Tomita, a pioneer of electronic music, and it is both somewhat faster and briefer than the original. Dressed in black tunics, it featured two women, Burnett and Allen, each dancing in a precise, quasi-robotic style that was in sync at many moments, but at times also suggested their somewhat different personalities and antagonisms. Fascinating to watch, and expertly danced.
Another variation came by way of Lar Lubovitch's "Little Rhapsodies," a challenging male trio staged by Jonathan E. Alsberry, the company's rehearsal director. Lubovitch has strong ballet roots, and his semi-balletic movement vocabulary, along with his choice of the music of Robert Schumann, the German Romantic composer, were essential elements in this piece in which three men in white shirts — Black, Garcia and McGaw — variously bond enthusiastically, yearn for a connection, or go off on their own. All three dancers were at the top of their games, with McGaw a standout in a solo segment of the work.
Drawing the program to a close was "Dichotomy of a Journey," a formidable new work in seven "scenes." Choreographed by Darrell Grand Moultrie, it shifts easily between his use of gospel and classical music with composers ranging from Ezio Bosso and Dmitri Shostakovich to V. Michael McKay, Nils Oliver Frahm and Donald Lawrence. "Vitality" was the opening section for a large ensemble. The "Interlude" was a winningly danced solo by Alyssa Allen. And "Connection," was a vivid duet stunningly danced by Burnett and Schultz, who just happen to be a couple in real life, too.
Then came "Interlude," a solo turn for McGaw and "Vision," by the exemplary Johnson, followed by the rousing ensemble pieces, "Community" and "Resilience" that brought the company together in thrilling circles and, finally, in a vivid horizontal line stretching across the stage that brought all the dancers together yet individual. And what came to mind was the famous quote from an E.M. Forster novel: "Only connect the prose and the passion, and both will be exalted, and human love will be seen at its height. Live in fragments no longer."
More on this story
The final performances of HSDC's "Program A" at the MCA Chicago, 220 E. Chicago, are Sat. March 5 at 8 p.m. and Sun. March 6 at 3 p.m.
"Program B" will run March 9-13 at the MCA, and will include a repeat of Moultrie's new work, a reprise of Jermaine Maurice Spivey's "The Seen" (the intriguing verbal puzzle of a work commissioned by HSDC and first seen this past Fall at the Harris Theater), and "Jardi Tancat, Nacho Duato's exquisite classic that has long been a part of HSDC's repertory.
Visit hubbardstreetsance.com or call (312) 334-7777.
The company will return to the Harris Theater for Music and Dance, from May 12-15, with a program dubbed "Re/Union."
Follow Hedy Weiss on Twitter: @HedyWeissCritic
---