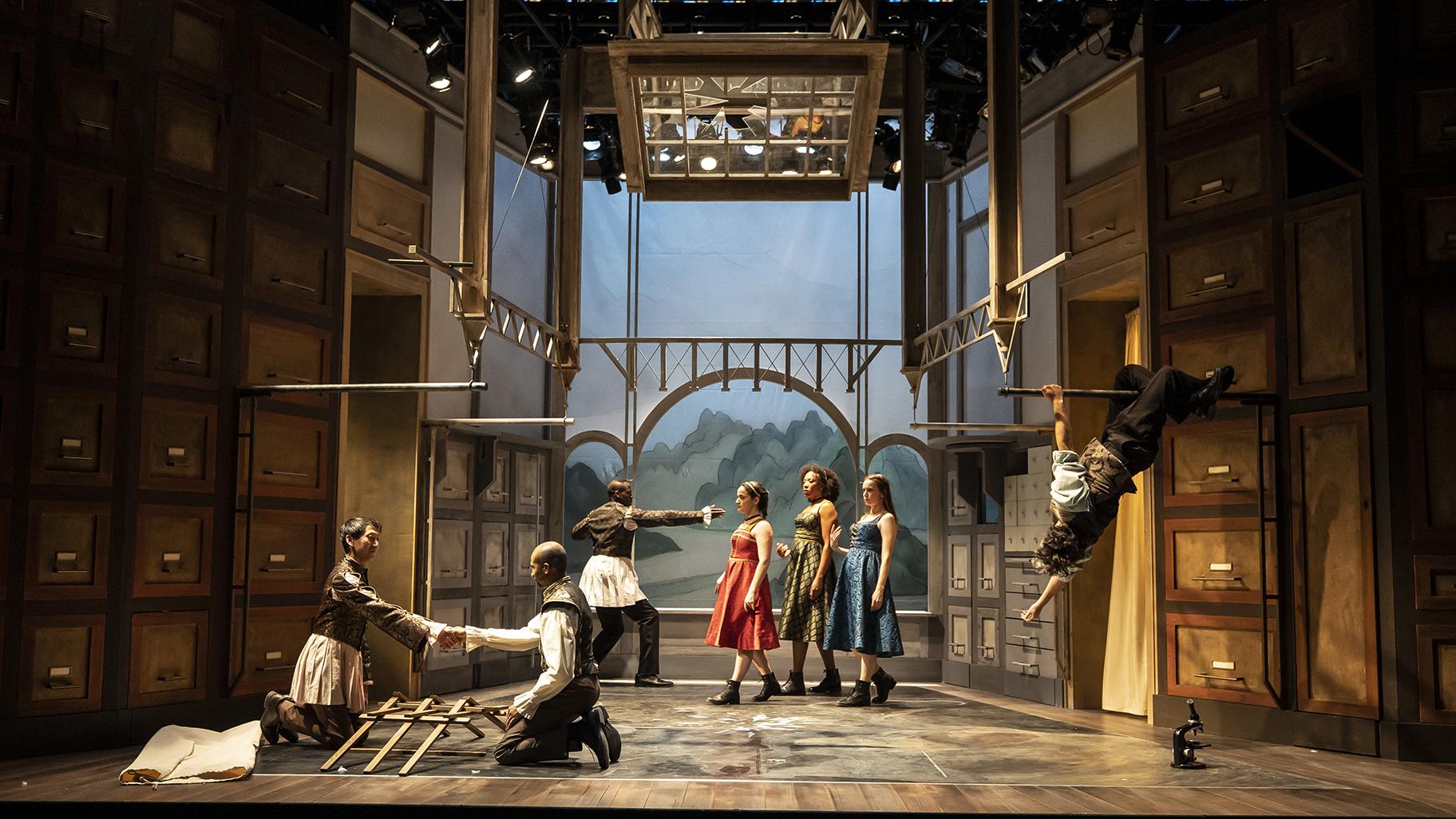 From left to right, Wai Yim, Anthony Irons, Adeoye, Cruz Gonzalez-Cadel, Christiana Clark, KaseyFoster and John Gregorioin perform in Mary Zimmerman's "The Notebooks of Leonardo da Vinci." (Courtesy of Goodman Theatre)
In November 1993, I left the Goodman Theatre (then housed in a building adjacent to the Art Institute of Chicago) in a state of absolute ecstasy.
I had just experienced the world premiere of Mary Zimmerman's groundbreaking work, "The Notebooks of Leonardo da Vinci," and not only did I feel as if I had crawled into the brain of that astonishing genius of the High Renaissance, but I also felt that I had witnessed the arrival of an artist whose multi-faceted, highly imaginative approach to creating theater was an ideal fit with the Italian master.
That production (anchored by Scott Bradley's brilliant set), forever imprinted itself on my memory. And returning to Zimmerman's revival of the show at the Goodman Theatre on Tuesday evening I wondered if it would replicate the original magic. As it turns out, the production, on a somewhat larger scale than the original, remains a testament to Zimmerman's unique imagination, but it also comes with some problems.
On the plus side, the show, largely adapted from Leonardo's copious notebooks and other writings (of which there are said to be thousands of pages), suggests the many obsessions of this remarkable polymath, compulsive observer and unstoppable analyst of the natural phenomena that were key to his work as an artist, inventor, scientist, philosopher and more. And Bradley's set design — vast walls suggesting giant wooden file cabinets whose "drawers" periodically slide open in a variety of ways to reveal countless different things, and can be seen as a three-dimensional version of the notebooks — is back, but seems larger and more complex.
Eight actors, both men and women — a number of them veterans of Zimmerman's work, and all bearing the name "Leonardo" — throw themselves into the acrobatics and singing that are major elements in the show. The cast includes Christopher Donovan, Anthony Irons, Adeoye, Wai Kim, Christiana Clark, Kasey Foster, John Gregorio and Cruz Gonzalez-Cadel.
They enact many of the fascinating observations and discoveries da Vinci chronicled in his notebooks —the nature of perspective, the use of light and color, the nature of weight in male and female bodies, the various implications of movement, the mechanics and physics of flight, the motion of water, the matter of love and attraction and the very nature of human nature (whether in the form of the scampish antics of a young assistant, or, finally, to his own sense of mortality and connection to God).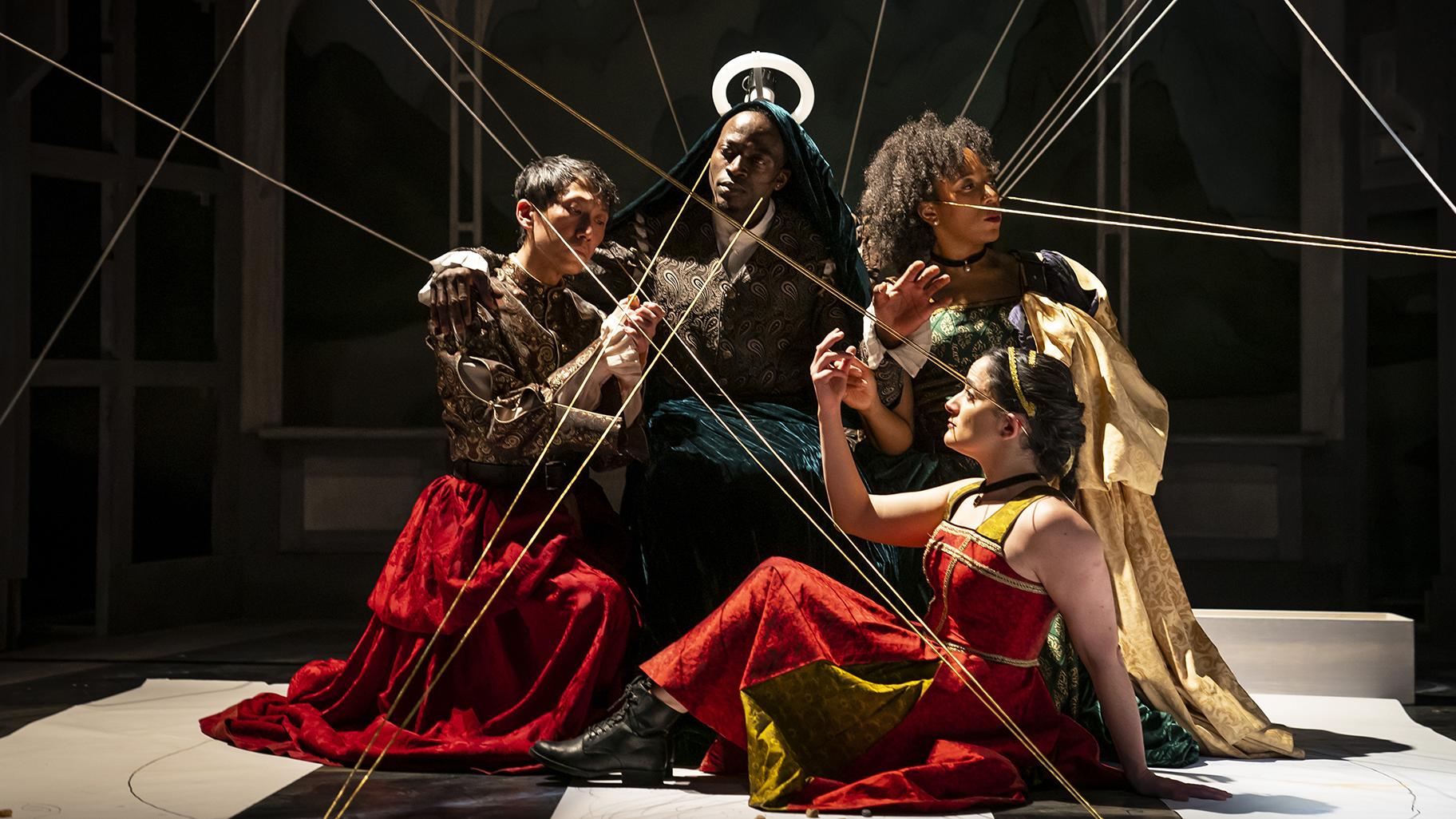 From left to right, Wai Yim, Adeoye, Christiana Clark and Cruz Gonzalez-Cadel in Mary Zimmerman's "The Notebooks of Leonardo da Vinci." (Courtesy of Goodman Theatre)
There is a great deal more in this 95-minute work, including a bit of chiding about Michelangelo that has da Vinci making the case that painting is a superior (and less messy) art form than sculpture.
But here's the rub: Too much of the crucial dialogue was only semi-audible. It was difficult to know whether this was from a lack of vocal projection, a problem with the sound design, or a combination of both. It is a serious problem that needs to be fixed.
"The Notebooks of Leonardo da Vinci" runs through March 20 at the Goodman Theatre, 170 N. Dearborn. For tickets visit GoodmanTheatre.org or call (312) 443-3800.
One final note: It has been announced that Ken Burns is planning to create one of his invariably impressive documentaries about the polymorphous genius of da Vinci. Although few details are available, the one known fact is that it will be "the only Burns work to be filmed entirely outside the United States."
Follow Hedy Weiss on Twitter: @HedyWeissCritic
---