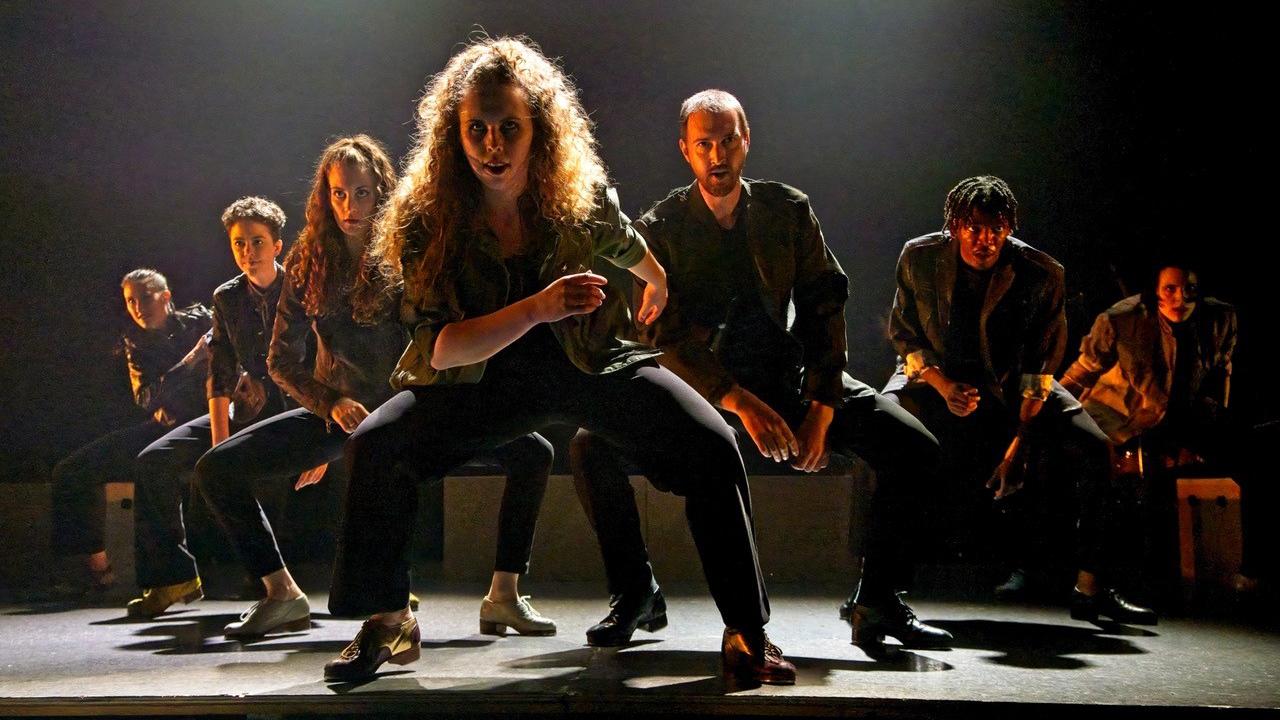 Heather Latakas, Molly Smith, Ali Calamoneri, Sara Anderson, Chris Large, Sterling Harris and Molly Eder of the Chicago Tap Theatre in "Allied, Unstoppable," choreographed by Mark Yonally. (Credit: Paul Crisantii)
The sound of tap dancers beating out rhythms on a live theater stage can never quite be duplicated on virtual media.
Vivid proof of this fact was on display Saturday evening as Chicago Tap Theatre danced onto the stage of the Athenaeum Theatre with 11 pieces by a variety of choreographers, all performed with the sort of percussive energy that suggested the COVID curse had better get out of town.
The show, marking the company's 19th season, and fittingly titled "For the Love of Tap," also was a reminder that tap dancing, with its endless rhythmic variations and accents, is its own special "language," complete with complex counterpoint and polyrhythms and messaging.
The celebration began with a pair of classic, hard-driving, hoofer-style works. In "Just the Two of Us," choreographed by Molly Smith and set to the music of Grover Washington, Jr. and Bill Withers, six dancers (Ali Calamoneri, Heather Latakas, Molly Eder, Molly Smith, Sara Anderson and Sterling Harris) beat out a joyful noise. And then Harris doubled as choreographer and dancer in "Alfonso Muskedunder," set to the music of Norwegian composer Todd Terje, and featuring Chris Large as well as Calamoneri, Latakas, Eder, Smith and Anderson.
It was Harris — a tall, long-legged dancer (who also happens to have a degree in neuroscience from Northwestern University) — who was the instant standout, with his effortless moves and slyly playful smile. He also performed an evocative solo set to "Nature Boy," the haunting song made famous by a 1948 Nat King Cole recording. He was accompanied by music director Ari Burns on trumpet — part of the excellent onstage band that also included Joe Powers (keyboard), Evan Levin (bass) and Chris Sanchez (drums), with Leslie Beukelman as vocalist and program host. As for Sterling, he is "sterling," and great fun to watch, and I hope he creates additional solos for himself.
Next up was "Moonlight," choreographed by Mark Yonally, the founder and artistic director of Chicago Tap Theatre who can still dance up a storm. He was joined by Smith and Anderson in a piece set to a bit of Beethoven and Benny Goodman. It was followed by "Vaguely Americana," a youthful romp choreographed by Rich Ashworth and featuring four women in jeans (Latakas, Eder, Smith and Anderson).
Closing the first half of the program was the premiere of "Tin Tin Deo," a work for eight dancers set to jazzy, Latin-tinged music courtesy of Dizzy Gillespie, and choreographed by Star Dixon, assistant director of M.A.D.D. Rhythms, another Chicago-based tap dance company.
Opening the second act was "Allied, Unstoppable," a work for seven dancers choreographed by Yonally and set to music by the rock band Shiny Toy Guns. In one terrific section of the piece, the dancers jumped atop three large wooden boxes, which gave their tapping a whole new resonance.
Next came "Get Set," something of a return to what has often been the storytelling element in Chicago Tap Theatre's repertory. Yonally paired up with his frequent collaborator Marc Smith (the guru of Chicago's slam poetry scene), with Yonally's tapping filtered through some wonderfully quirky writings including a poem by D.H. Lawrence that was new to me, and one by John Dickson, the late Evanston-based poet.
As these two men demonstrated in years past, blending tap dancing with narrative makes for an interesting pairing. (And just for the record, Lawrence's poem contains these lines: "But the one thing that is bow-legged and can't put its feet together is the rainbow. Because one foot is the heart of a man and the other is the heart of a woman. And these two, as you know, never meet. Save they leap high — oh hearts leap high! — they touch in mid-heaven like an acrobat and make a rainbow."
A brief and breezy duet by Yonally, set to Fats Waller's classic "Ain't Misbehavin'," featured Latakas and Anderson.  And then came "Maiden Voyage," another piece by Harris, performed by him and Calamoneri and Smith.
For the grand scale finale there was choreographer Brenda Bufalino's rip-roaring "Flying Turtle," set to music by Bufalino and Darrell Grant, and featuring an ensemble of 15 dancers, all dressed in black, executing a series of dramatically shifting linear and circular configurations. The cast included guest artists Jorie Goins, Case Prime, Casey Sanders, Isaac Stauffer, Kirsten Uttich and Jennifer Pfaff Yonally, along with Calamaneri, and apprentices Large and Amber Buchanan. And, as throughout the evening, the dramatic lighting was the work of Dustin Derry.
The inclusion of a few more narrative-driven pieces might have added even greater variety to this program. But all in all it marked a strong return to the live stage, and a "true love of tap."
Note: This program will be available in virtual form from March 4-13. For details on this and other activities of the company in the coming months visit chicagotaptheatre.com.
Follow Hedy Weiss on Twitter: @HedyWeissCritic
---