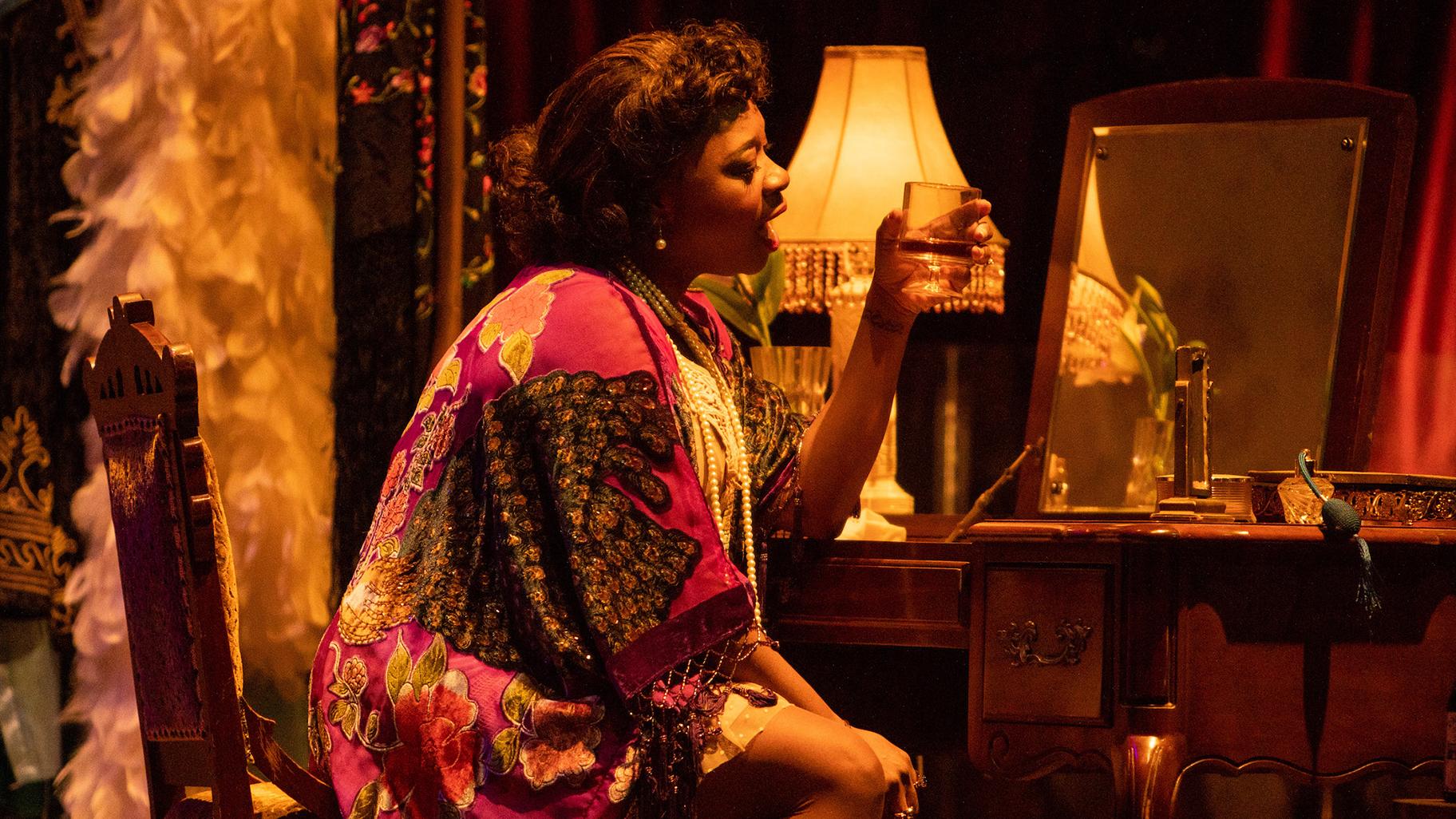 Donica Lynn performs in the Porchlight Music Theatre's "Blues in the Night," which runs Feb. 9 - March 13 at The Ruth Page Center for the Arts. (Credit: Anthony Robert La Penna)
The three women at the center of "Blues in the Night" might be variously depressed, lonely, angry, nostalgic and disillusioned about the course of their lives and love affairs, but I can guarantee you will be flying high by the time you leave Porchlight Music Theatre's talent-filled production of the rarely revived 1980 revue "Blues in the Night."
This is a show that, as counter-intuitive as it might sound, sends the spirit soaring. And it does so by means of its superbly performed classics by the likes of Bessie Smith, Johnny Mercer and Harold Arlen, Vernon Duke, Alberta Hunter and others, plus the stellar work of its three leading women, its sole leading man, a terrific male dancer who magically connects many of the scenes, and a brilliant band of five.
The show was originally devised by Sheldon Epps, the pioneering African American director who led the Pasadena Playhouse for many years and is now senior artistic advisor of Ford's Theatre in Washington, D.C. This Porchlight production is the work of Kenny Ingram, the multi-faceted, Chicago-bred (now New York-based) director, choreographer and performer. And Ingram's boundless energy and humor are ideally matched by his ideal cast, and by the terrific music direction of David Fiorello.
The year is 1938 – the tail end of the Great Depression – and the Great Migration to Chicago is still in progress, rendering the city a major center of blues music. The place is a once posh hotel whose small rooms now serve as "home" to three women. They are referred to only as The Lady from the Road (Felicia P. Fields), who has aged out of the glory days of her career and lives on memories of those years when she was a star on the vaudeville era's Chitlin' Circuit; The Woman of the World (Donica Lynn), who yearns for the man who was once part of her life; and The Girl with a Date (Clare Kennedy), a cash-strapped blonde hoping against hope for a new romance.
Moving in and out of his own romantic escapades and financial pursuits is The Man in the Saloon (the dashing Evan Tyrone Martin), the hotel's resident singer and seducer. And serving as the silent interlocutor is The Dancing Man (Terrell Armstrong), who sets the mood for many scenes with his eloquent, technically superb movement.
It is those three distinctly different, power-voiced women who are front and center for most of the show as they make their way through its two dozen big numbers in both solo and group configurations.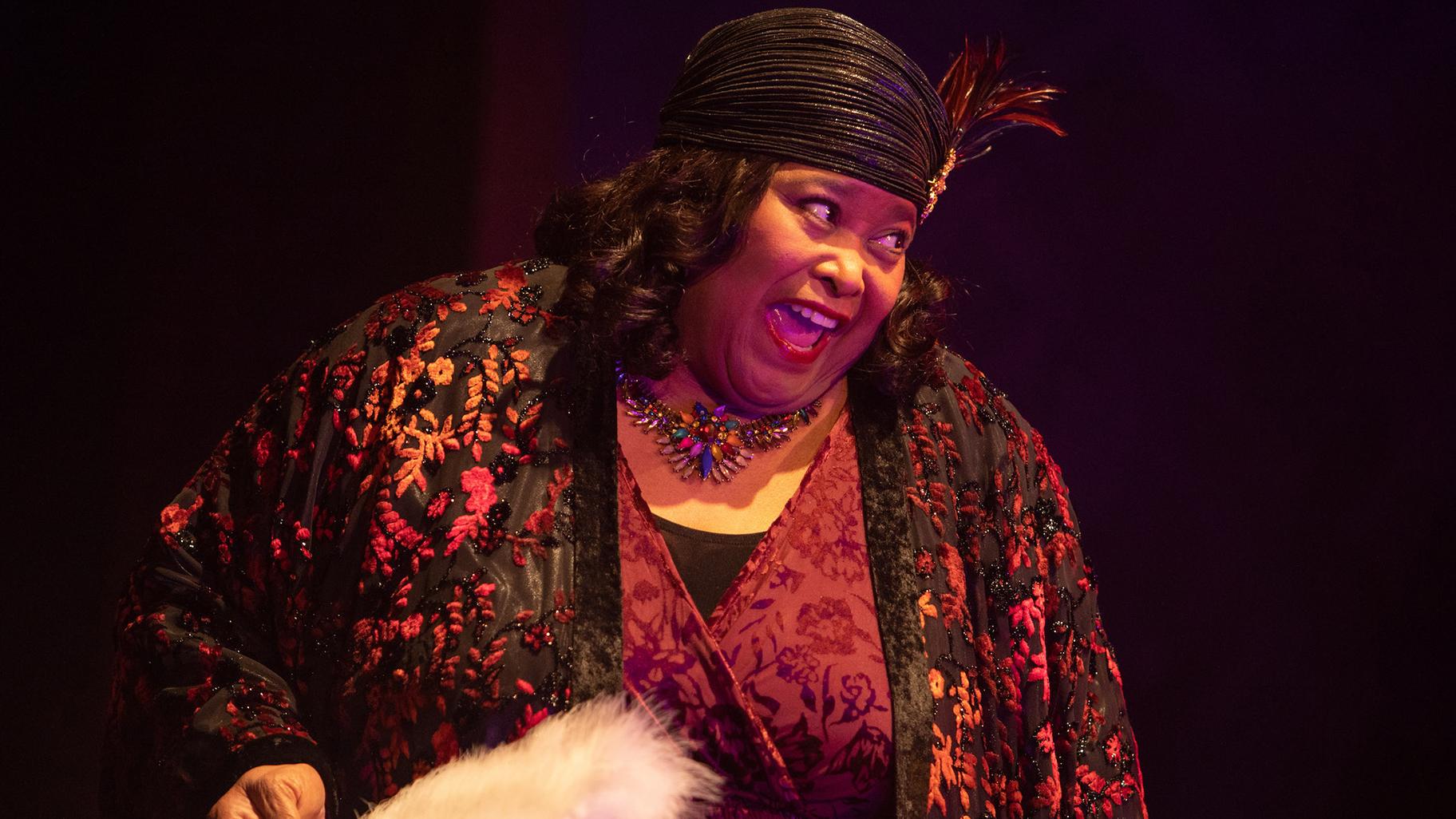 Felicia P. Fields performs in the Porchlight Music Theatre's "Blues in the Night," which runs Feb. 9 - March 13 at The Ruth Page Center for the Arts. (Credit: Anthony Robert La Penna)
The ever remarkable Fields (a Chicago favorite, and a Tony Award nominee for her portrayal of Sofia in the Broadway production of "The Color Purple"), brings the house down with every laughter-inducing number, including "Take Me for a Buggy Ride," but she also captures a real sense of wistfulness in "Wasted Life Blues."
Donica Lynn, a singer with an unmeasurable vocal range, makes you feel her desperation and loneliness in "Four Walls Interlude" and "Lush Life." She also gives a knockout, laughter-inducing rendering of the sex-fueled "Rough and Ready Man." And Clare Kennedy puts a knowing spin on "Taking a Chance on Love," and best of all delivers a heartbreakingly beautiful performance of "Willow Weep for Me."
As for Martin, he deftly embodies "the man about town" attitude, singing "Wild Women Don't Have the Blues," while also claiming "The Blues is Woman."
The sensational band is led by conductor/pianist Maulty Jewell IV (who at several moments even becomes a vibrant participant in the banter), with Rafe Bradford on bass, Ricardo Jimenez on trumpet, Darius Hampton on reeds and Harold Morrison on drums.
Angela Weber Miller's handsomely designed but aptly timeworn multi-dimensional set (which even includes a revolving door to suggest its hotel setting), is enhanced by Caitlin McCarthy's props, lighting by Brandon Wardell, and costumes and wigs by Rueben D. Echoles. The excellent sound design is by Eric Backus.
If the show takes just a bit too long to get fully started, once it does there is no stopping it. Talk about chasing the blues away!
"Blues in the Night" runs through March 13 at the Ruth Page Center for the Arts, 1016 N. Dearborn. For tickets visit PorchlightMusicTheatre.org or call 773-777-9884.
Note: Upcoming at Porchlight is "Spring Awakening" (April 23-May 29), directed by Brenda Didier. The company's annual fundraising event, "Chicago Sings Stephen Sondheim," is set for May 23 at the Museum of Contemporary Art. And the staged reading of a new work, "Clear" (with book, music and lyrics by Paul Oakley Stovall, and direction by Kenny Ingram), is scheduled for May 31, with tickets on a "pay what you can" basis.
Follow Hedy Weiss on Twitter: @HedyWeissCritic
---