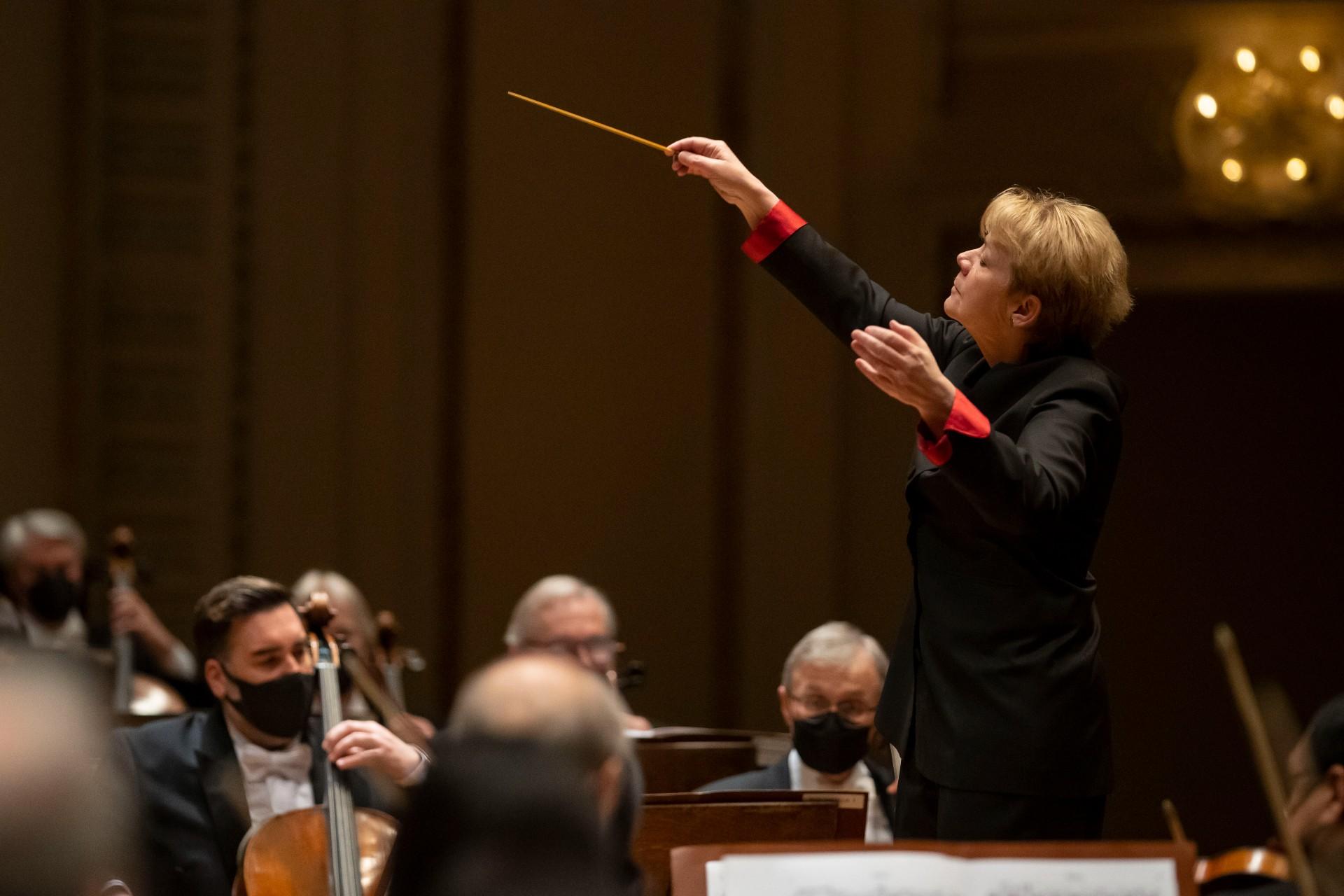 Conductor Marin Alsop leads the Chicago Symphony Orchestra in Barber's Symphony No. 1. (Credit: Todd Rosenberg)
It was quite a moment for conductor Marin Alsop. As she stepped onto the podium Thursday night to conduct the Chicago Symphony Orchestra in a splendid mix of works by Sergei Rachmaninov, Samuel Barber and Edward Elgar, there was the news that the Ravinia Festival, the "summer home" of the CSO, had extended her contract as chief conductor for three years (through the summer of 2025), and that she will continue to curate and lead three weeks of programs with the CSO there.
In addition, Alsop (widely known as "a Leonard Bernstein protege," and clearly marked by his often intensely physical conducting style) also is the subject of a recent documentary, "The Conductor," about her "smashing of the glass ceiling" to become the first woman to serve as musical director of a number of renowned orchestras. (The film is now showing at Highland Park's Renaissance Place Cinema.)
But let's return to the concert at hand (for which there was an impressively large and responsive audience), and the galvanic performance by Czech-born pianist Lukas Vondracek of Rachmaninov's "Piano Concerto No. 2 in C Minor," written in 1901.
A nerve-shatteringly difficult work, composed in the wake of a serious bout of depression suffered by the Russian composer (who also was a master pianist), the concerto is awash in gorgeous melodies and pianistic fireworks, and it contains several easily recognized themes that often have been "borrowed" for non-concert use.
Backed by the full orchestra, which was in its usual sublime form, Vondracek, a solidly built man, rendered the extraordinary work with a superb mix of both titanic power and surprising lyricism. When its rapid-fire passages demanded tremendous weight and breakneck speed he supplied it, but he also finessed a splendid about-face and wholly different touch when the work shifted into its more mournful, pensive mood. The orchestra's strings and winds were ideally behind him at every turn, from the work's stormiest passages to its very interior, dreamy riffs, with a strong sense of both turmoil and romance running throughout.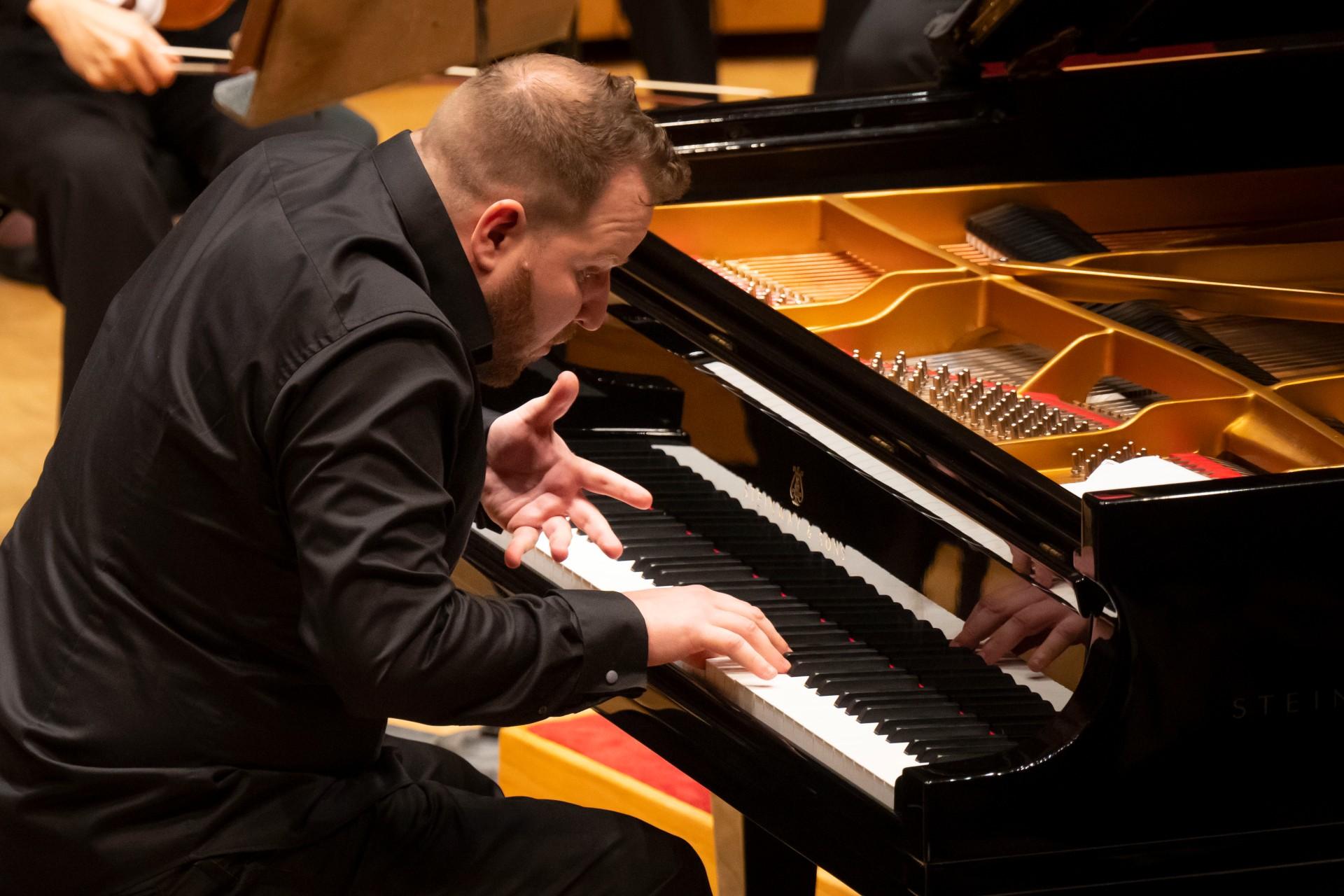 Soloist Lukáš Vondráček performs Rachmaninov's Piano Concerto No. 2. (Credit: Todd Rosenberg)
The work's rapid-fire build to a celebratory grand finale, complete with timpani and percussion, only underscored the concerto's Olympian challenges.
And after thunderous applause, and many bows to both his fellow musicians and the audience, Vondracek returned to the piano for an encore - an exquisitely delicate, almost hypnotic rendering of Schumann's "Kinderszenen, Op. 15: No. 7, 'Traumerei'" ( which translates to "Scenes from Childhood: Dream").
Opening the concert was "Symphony No. 1, Op. 9," a 1936 work by Samuel Barber, the American composer perhaps best known for his poetic orchestral and vocal work, "Knoxville: Summer of 1915."
His symphony begins with a great blast of sound from the horns and a passion that borders on anguish courtesy of the orchestra's low strings. A kind of frenzy is at work, and then there is what seems to suggest a brief move into a gentler atmosphere full of birdsong.
The horns then once again drive the orchestra, and are joined by the winds and strings to create a dense, stormy, theatrical sound with intriguing rhythms that then moves into a calmer, more mellow sound before reverting to the full, deep orchestral heat that only the CSO can create. The storm surges once again as the piece moves towards its finale and what might best be described as a muscular benediction complete with timpani, winds, horns and strings.
Closing the program with another work full of dramatic emotional shifts was Elgar's "Variations on an Original Theme (Enigma), Op. 36."
Alsop introduced the English composer's work with a most engaging explanation of its genesis in which she explained that Elgar was 40 years old and fed up with teaching and his poor salary, and he had a tune in his head that he played, and that his wife found appealing. He then decided that "something might be made of it," and indeed, he created a piece – a kind of musical portrait gallery – in which he briefly but tellingly evoked the distinctive personalities of more than a dozen of his friends. Something of an acting exercise in music – and a delightful one.
This concert will be repeated at 8 p.m. Saturday. For tickets visit cso.org or call (312) 294-3000.
Note: Another remarkable pianist, 26-year-old Canadian Jan Lisiecki, gave a solo performance at Orchestra Hall on Jan. 30 that was beyond beautiful and was comprised entirely of a splendidly intermixed program of 23 of Chopin's Etudes and Nocturnes. Now Deutsche Grammophon (DG) has released Lisiecki's album, "Frederic Chopin - Complete Nocturnes," on vinyl. It is available online.
Follow Hedy Weiss on Twitter: @HedyWeissCritic
---