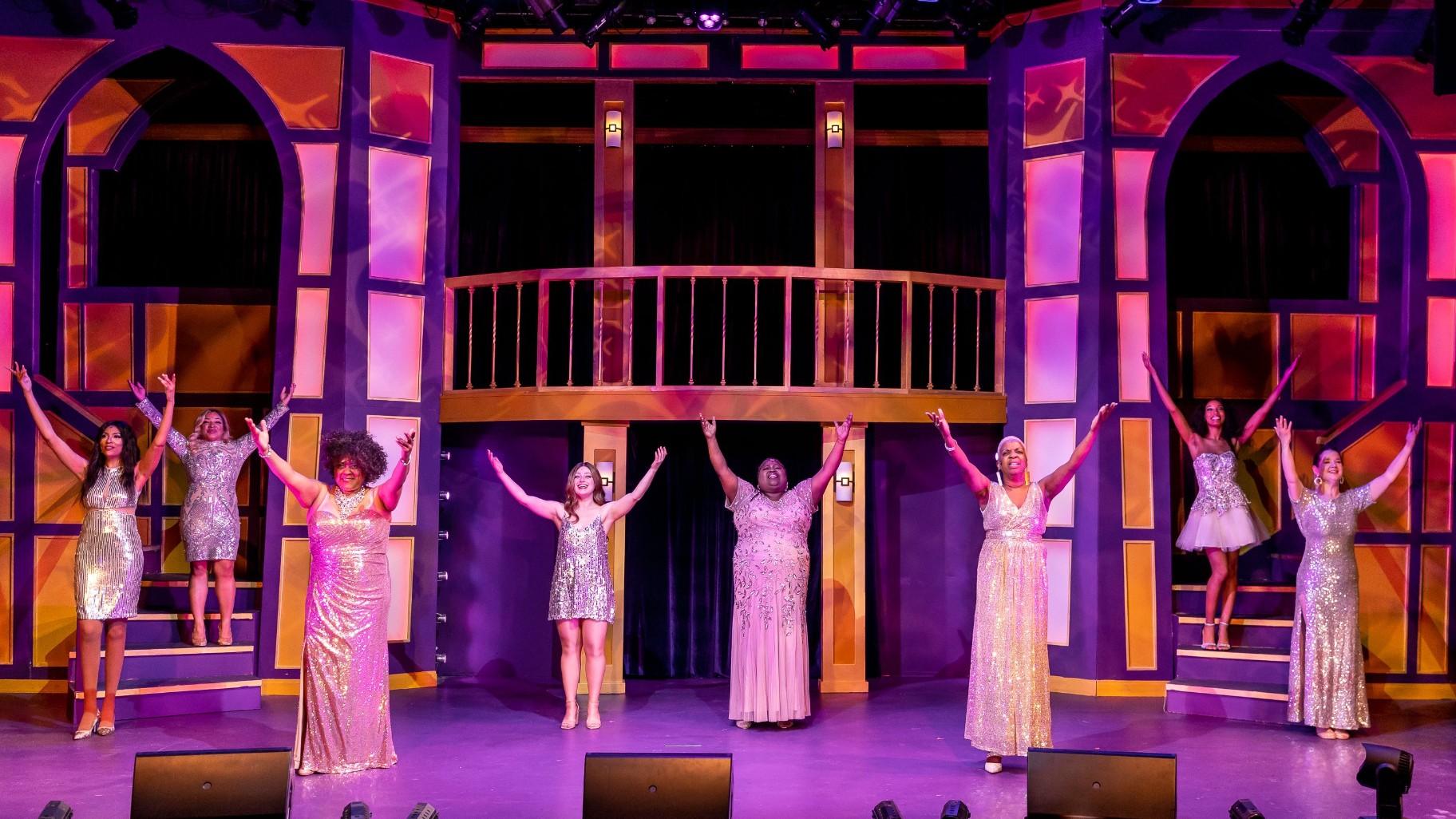 "Women of Soul" runs through March 6 at Mercury Theater Chicago, 3745 N. Southport. (Courtesy of Brett Beiner)
They are marquee names, one and all, forming a list that is long, varied and decades-spanning. 
It's a list that runs the gamut from Mahalia Jackson, Big Mama Thornton, Etta James and Mavis Staples to Diana Ross, Tina Turner, Gladys Knight, Dionne Warwick, Donna Summer, Patti LaBelle, Whitney Houston, Anita Baker, Natalie Cole, Janet Jackson, Janis Joplin, Amy Winehouse, Mariah Carey, Adele and, of course, Aretha Franklin. 
And here is the best news of all: You can find every one of these renowned vocalists being brilliantly "reincarnated" in "Women of Soul," the powerhouse revue now on stage at Mercury Theater Chicago.
Initially written and staged for the Black Ensemble Theater in 2018, the show has now been revised and remounted by its writer-director Daryl D. Brooks. It features a dynamite cast of eight power-voiced women (Cynthia F. Carter, Robin K. DaSilva, Hannah Efsits, Jerica Exum, Colleen Perry, Rhonda Preston, Jessica Brooke Seals and Aeriel Williams), and one lucky man (Dwight Neal), that easily could move straight to Broadway. The production is that good.
And not only do these eight women sing up a storm as they channel the distinctive vocal timbre of each of the artists they portray with phenomenal accuracy, but they also capture their widely varied temperaments. From the God-driven Mahalia Jackson to the raunchy Janis Joplin, the performers embrace elements of their physicality and a suggestion of the era in which they soared. 
On top of everything, a rousing celebration of Aretha Franklin serves as the show's grand finale.
In addition to portraying the fabled stars and singing some of their greatest hits, each actress also alternates as a "narrator," introducing the show's more than two dozen songs by supplying Brooks' concise but revealing "real life" backgrounds and career paths for these famous women. 
We hear about their various struggles with recording studio honchos, their problems with lovers, money, alcohol, drugs, depression and fame, and their fierce determination to be true to themselves at any price. In the process, we not only hear the sounds of traditional soul music, but gospel, pop, hard rock and more. The "soul" suggested by this show's title is embodied by far more than a single musical style.
It would be unfair to single out any particular performance here. Suffice it to say that there are eight stunning star turns in this pantheon of women as they sing many of the many fabled singers' defining hits. The truth is, you might well leave the theater wondering why these actresses are not famous in their own right.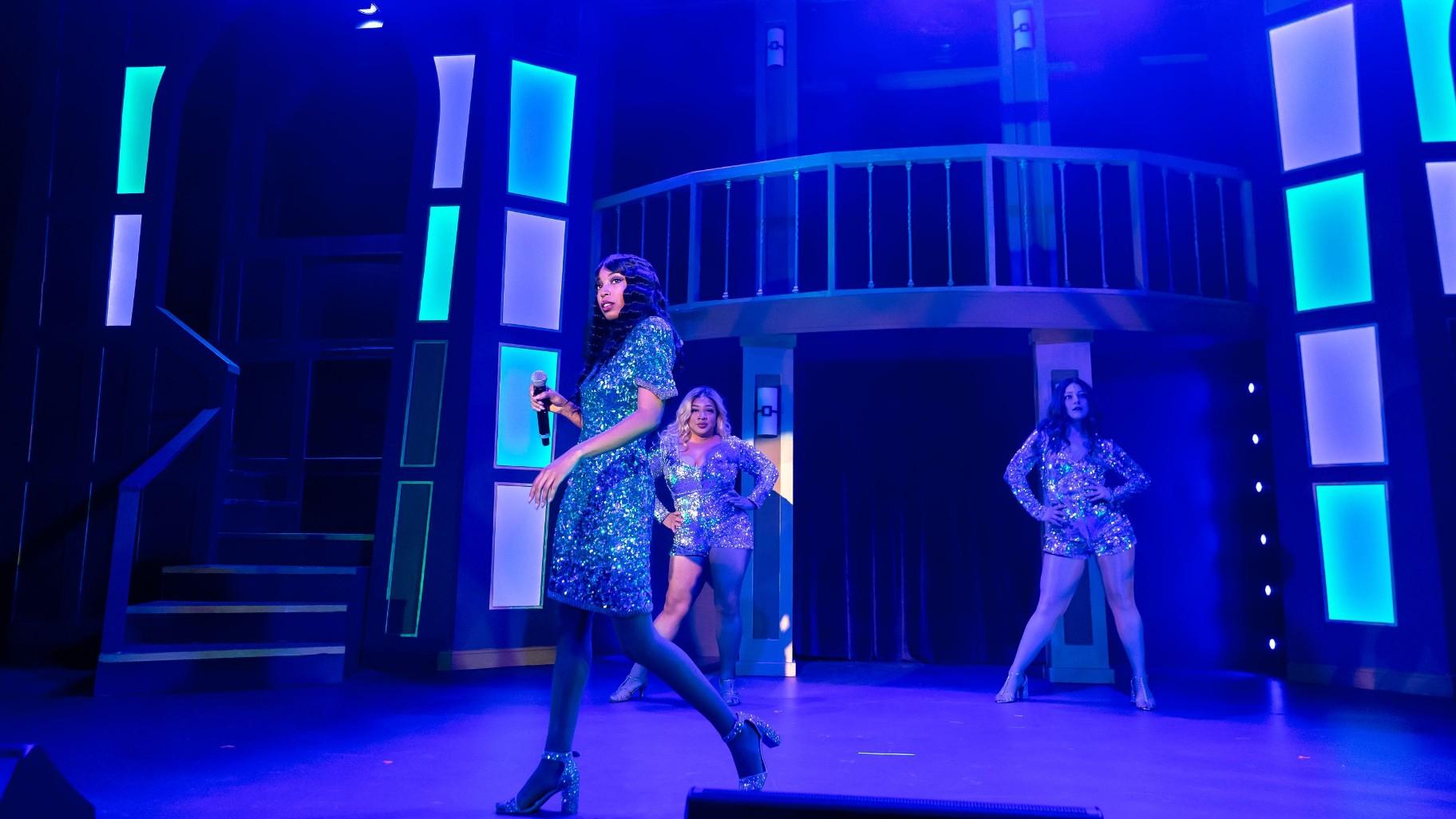 "Women of Soul" runs through March 6 at Mercury Theater Chicago, 3745 N. Southport. (Courtesy of Brett Beiner)
Many others deserve applause here, too. There is the work of choreographer Christopher Chase Carter who has seen to it that each character also moves in character. There is costume designer Ruben Echoles' spectacular array of costumes that clearly corners the market on silvery sparkles, gold glitter and glamorous, richly hued gowns, and even captures a bit of grunge, too. (Echoles also has outfitted the cast with a vast assortment of wigs that define each and every singer's look.) 
In addition, there is Denise Karczewski's lighting, Angela Weber Miller's multi-level set and G. "Max" Maxin IV's video work.
And of course, there is the crucial matter of the music, with the singers ideally accompanied at every turn here by a bravura band of four. As always, master conductor/percussionist Robert Reddrick (long associated with the Black Ensemble Theatre) is in top form, along with Oscar Brown, Jr. on guitar, Mark Miller on bass and Adam D. Sherrod on keyboard.
"Women of Soul," which runs through March 6 at Mercury Theater Chicago, 3745 N. Southport, has arrived on the heels of a terrific production of the musical "Sister Act." And it serves as further proof that Christopher Chase Carter, in his inaugural season as the Mercury's artistic director, is the ideal man for the job.
For tickets visit MercuryTheaterChicago.com.
Note: The next musicals to be staged at the Mercury are "Disney's Winnie the Pooh" (March 15-June 12), and "Priscilla, Queen of the Desert" (July 20-Sept. 11).