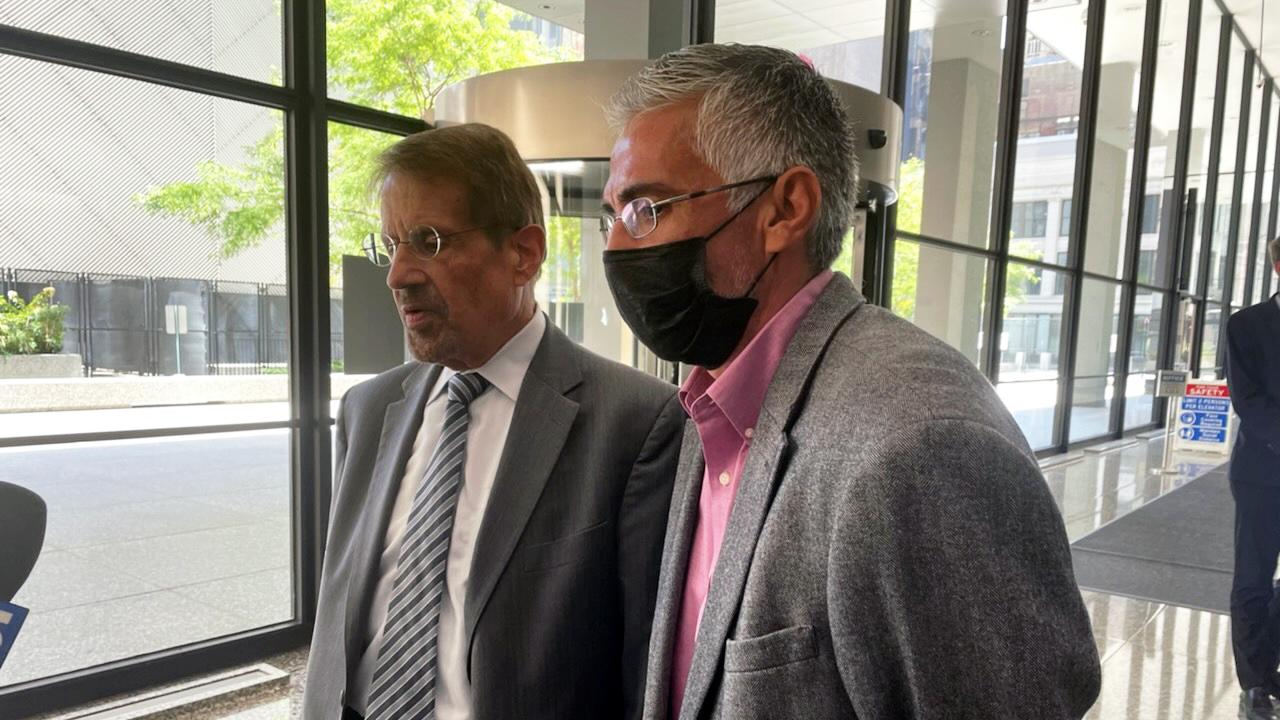 Former Ald. Ricardo Muñoz, right, listens as his attorney Richard Kling addresses the news media on Monday, Sept. 27, 2021. (Heather Cherone / WTTW News)
Federal prosecutors urged a judge on Friday to send former Ald. Ricardo Muñoz (22nd Ward) to prison in order "to send a powerful message" to other politicians who are tempted to break the law and engage in corrupt acts while in office.
Muñoz pleaded guilty to charges that he drained $16,000 from the bank account of the City Council's Progressive Reform Caucus and used those funds to pay for a relative's college tuition. He is due back in court before U.S. District Judge John F. Kness on Feb. 22, after his sentencing was delayed by the surge of COVID-19 cases driven by the omicron variant.
Muñoz, 56, should spend one year and one day in prison after pleading guilty to one charge wire fraud and one charge of money laundering because he "abused his public position and betrayed the public trust," Assistant U.S. Attorneys Morris Pasqual and Jared Hasten told Kness.
"When public officials commit crimes — whatever they may be — it denigrates the public's confidence in their leaders," Pasqual and Hasten wrote.
But Muñoz asked Kness to sentence him to probation because of his decades of public service and the fact that the former Little Village alderperson "didn't try to bribe government officials to get lucrative contracts, or try to buy a Senate seat or shake down hospitals in order to get campaign contributions."
That was a clear reference to the crimes that sent former Gov. Rod Blagojevich to prison. 
But Pascal and Hasten urged Kness to strike a blow against the deep-rooted culture of corruption in Chicago and Illinois by sending Muñoz to prison.
That would "send the proper message to defendant, the public, and all elected officials in this district that the costs of corruption are severe and will outweigh any perceived benefit derived from abusing a position of power and breaking the law for personal gain," the prosecutors wrote.
There can be no doubt that Muñoz knew what he was doing was wrong, Pascal and Hasten told Kness, citing a text message they said Muñoz sent to an acquaintance.
"A wise man once told after I became alderman at the ripe old age of 27. Young Man U seem smart but be careful in this business they will throw money at u they will throw trips and cars at u and they will throw very pretty young (p----) at you ....... don't take any of it.... pick ur 10 friends and make them millionaires and they will take care of u legally . . . Funny thing though.... That wise man was indicted 15 years later for tax evasion . . . He didn't take illegal money he just failed to pay taxes on campaign cash used for gambling . . ." according to the filing.
"(Muñoz's) tacit admission in this text conversation is noteworthy: He knew better than to spend money entrusted to him by virtue of his position as an elected official," according to the filing.
The filing also dismisses arguments made by other elected officials convicted of corruption that sending them to jail would not deter others from committing crimes.
"Public corruption cases continue to abound in this district and this court's sentence can send a powerful message," Pascal and Hasten told Kness. "If lighter sentences in the past have not proved a strong enough deterrent for elected officials, then stiffer sentences should be imposed. Elected officials pay attention to these cases. Public officials who break the law need to know that they will face a meaningful punishment if convicted of crimes based on the abuse of their official positions."
Former State Rep. Luis Arroyo made a similar argument earlier this month as he awaits sentencing after pleading guilty to bribing a state lawmaker to support a bill legalizing sweepstakes gambling machines.
Three members of the Chicago City Council are under indictment.
Muñoz's acknowledgment that he stole funds from his closest allies on the Chicago City Council capped a political career spanning a quarter century that began when former Mayor Richard M. Daley appointed him to the Chicago City Council in 1993.
Muñoz announced in July 2018 he would not run for reelection, saying he wanted "to make some real money."
Muñoz was removed from the Progressive Caucus — formed to oppose former Mayor Rahm Emanuel — in January 2019 after being charged with misdemeanor domestic battery. He entered treatment for alcoholism soon after.
Police said Muñoz hit his wife during an argument, but he was acquitted by a judge.
Ald. Scott Waguespack (32nd Ward), then chair of the Progressive Reform Caucus, announced the questionable spending by Muñoz and notified authorities in April 2019.
It is against the law for politicians to use campaign funds for personal expenses.
Muñoz was replaced on the City Council by his one-time ally, Ald. Mike Rodriguez (22nd Ward).
The indictment alleged Muñoz used funds contributed to the caucus to support progressive initiatives to cover a variety of expenses, including $4,000 for jewelry and skydiving trips. The indictment also alleges Muñoz used the caucus' campaign funds to spend $161 at a suburban Lover's Lane.
The fraud began in 2016 and ended in 2019, according to the indictment.
Muñoz withdrew cash from the caucus' bank account and used the fund's debit card more than a dozen times, according to the indictment. In other instances, Muñoz withdrew funds from the caucus' bank account and then transferred it to his personal campaign account, Citizens for Muñoz, and then to his personal checking account, according to the indictment.
Had Muñoz been convicted of both of the charges he pleaded guilty to, he could have faced a maximum of 30 years in prison and a $500,000 fine, even as sentencing guidelines called for a lesser penalty.
Contact Heather Cherone: @HeatherCherone | (773) 569-1863 | [email protected]