Video: Illinois State Climatologist Trent Ford joins "Chicago Tonight" with more on what to expect from this winter storm. (Produced by Blair Paddock)
---
Just like the National Weather Service predicted, people in the Chicago region woke up Wednesday morning to heavy snowfall hitting just in time to snarl the morning commute. And there's more to come.
Accumulation totals are all over the map: Some areas are reporting in excess of half a foot, and others barely a dusting, with the greater amounts to the south of the metropolitan region.
Flakes continued to fall well into the morning before tapering off in the afternoon. A second round of snow, which forecasters found more difficult to track, is expected to "graze" the Chicago area, with most of accumulation to occur south of the metro area. But a lake effect band is expected to dump 2 to 5 inches, developing overnight into Thursday evening, the weather service said.
Accumulation from the storm's first round varied widely, with 5.6 inches reported at O'Hare Airport, 11 inches at Midway Airport, 10 inches in Romeoville and a scant .1 inches in Rockford, according to the weather service as of 5 p.m. Wednesday. 
Road crews had a tough time keeping highways clear, and the Illinois Department of Transportation encouraged people to stay home if possible. Chicago's Department of Streets and Sanitation had nearly 300 salt spreaders out, with a focus on main arterial streets and DuSable Lake Shore Drive. The department's fleet of plows can be tracked online.
All Cook County Criminal Court employees who could work from home were encouraged to do so Wednesday as the snowfall led to a postponement of many court operations.
Unless otherwise ordered by the judge presiding, cases involving defendants in custody will be delayed to next Monday, excluding some bail and juvenile detention hearings. Zoom hearings planned for Wednesday and Thursday will be held as scheduled.
In civil cases, jury trials currently in progress or scheduled to begin Wednesday or Thursday will be pushed back to Friday.
Illinois Gov. J.B. Pritzker issued a disaster declaration in advance of the storm, activating a statewide response, including the deployment of National Guard troops to assist where needed.
Here's the latest forecast from the National Weather Service: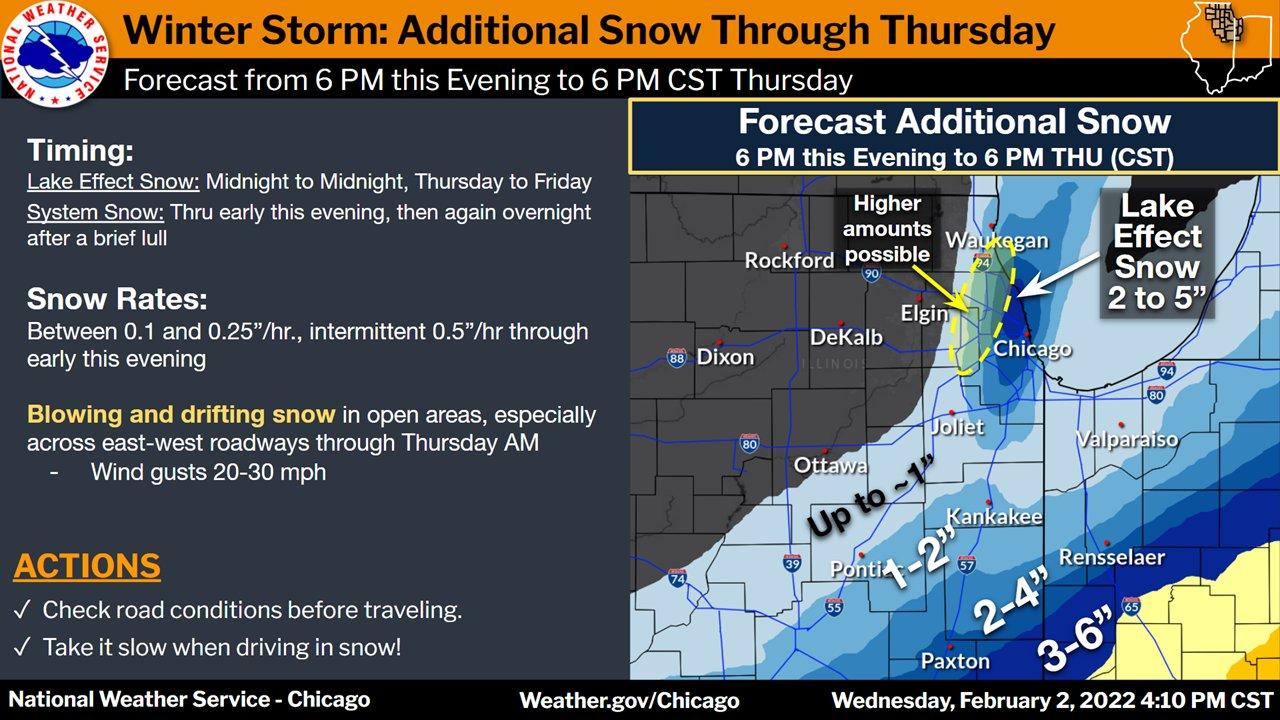 (National Weather Service Chicago)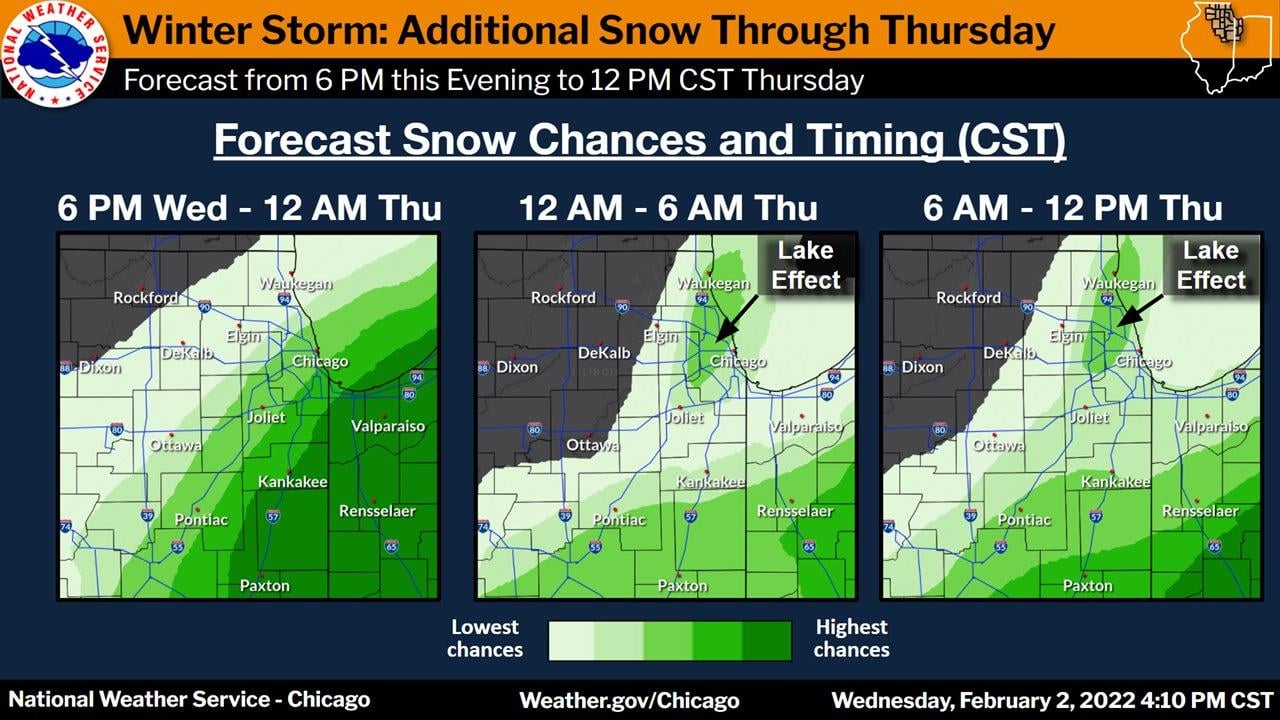 (National Weather Service Chicago)
(National Weather Service Chicago)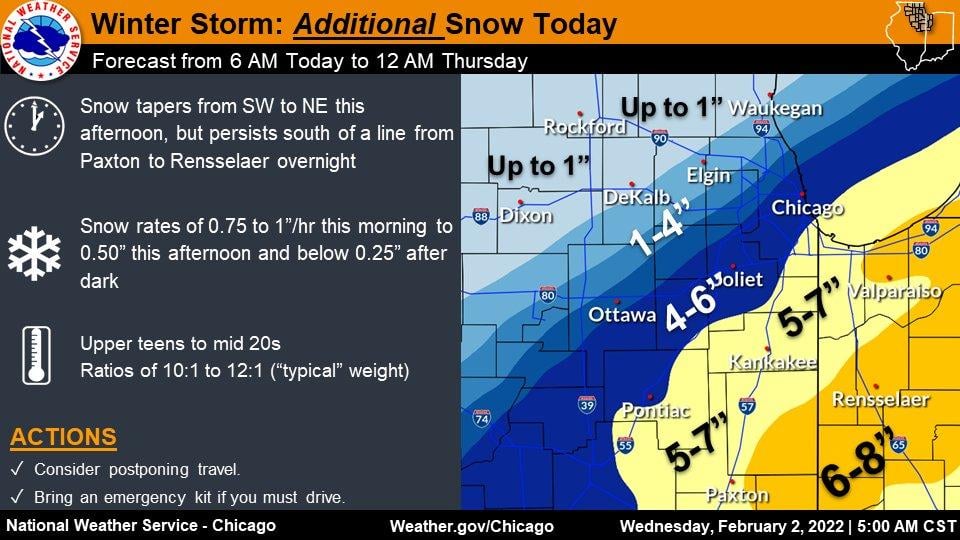 (National Weather Service Chicago)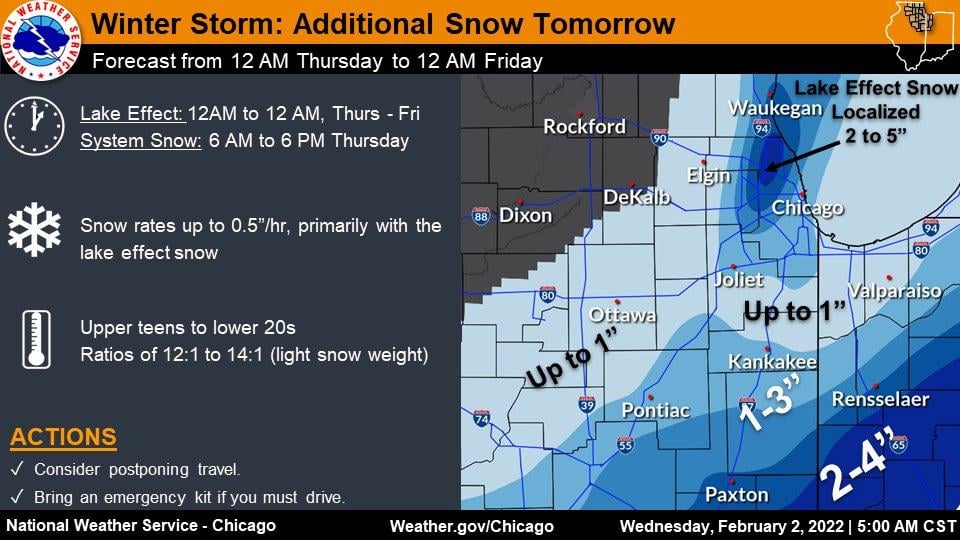 (National Weather Service Chicago)
---
Heavy snow occurring across northeast IL and northwest IN this AM, w/1"+ per hour causing treated and plowed roads to become snow covered and hazardous. Consider staying off the roads this morning if at all possible. https://t.co/lDuh6LXfXM https://t.co/VpDsNKzuhO pic.twitter.com/JeYpmEGpAx

— NWS Chicago (@NWSChicago) February 2, 2022
---
Conditions in southwestern counties are now beginning to deteriorate with a mix of snow and freezing rain there. Also pictured is I-74/474 near East Peoria.

Again, please stay home if you can. Road onditions as of 7:15 am via https://t.co/3vgPqL82JK. pic.twitter.com/ThlAxzUoT3

— IDOT_Illinois (@IDOT_Illinois) February 2, 2022
WTTW News reporter Matt Masterson contributed. 
Contact Patty Wetli: @pattywetli | (773) 509-5623 |  [email protected]
---