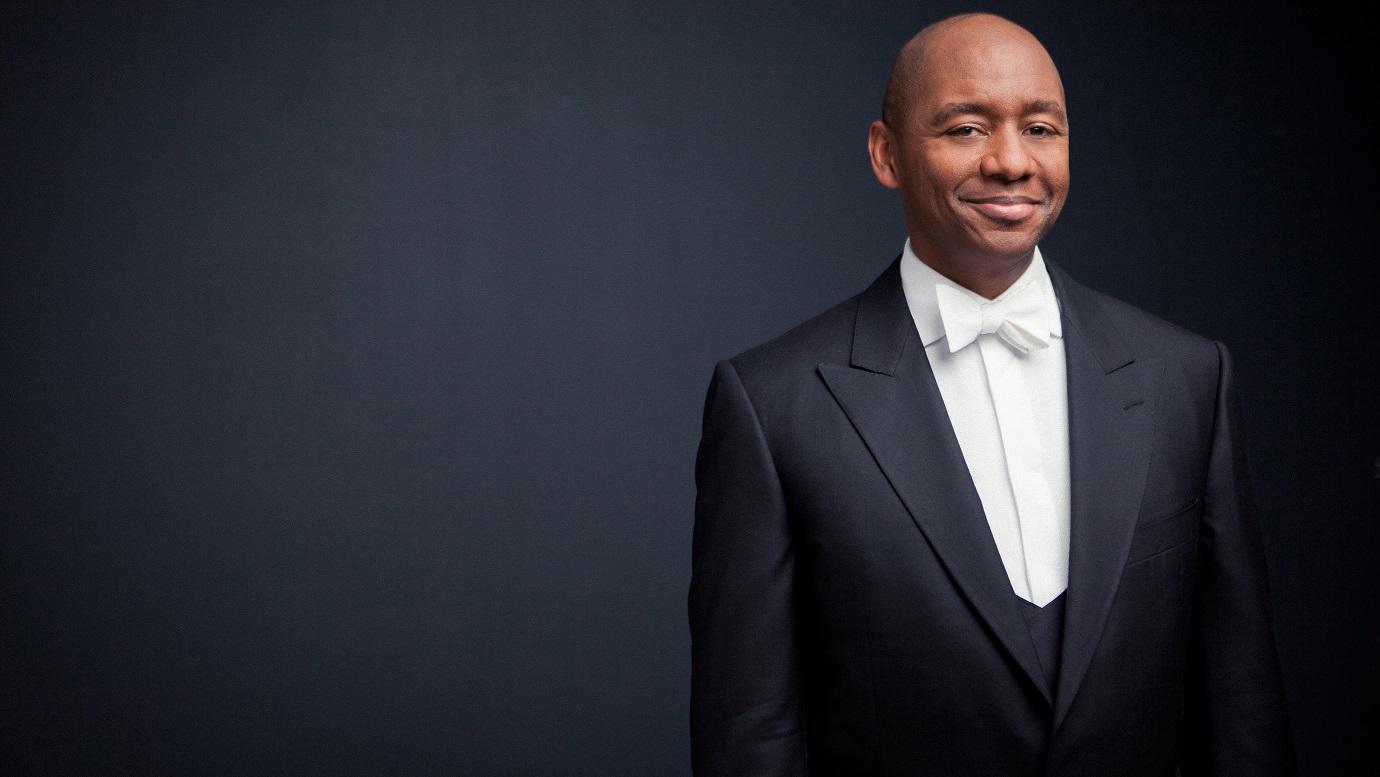 Branford Marsalis performed at Orchestra Hall with the Orpheus Chamber Orchestra. (Courtesy of Eric Ryan Anderson)
The goal behind Friday evening's concert at Orchestra Hall, which featured the notably "conductorless" New York-based Orpheus Chamber Orchestra along with saxophone master Branford Marsalis as guest artist, was to explore the intriguing early intersection of classical and jazz music as it evolved in Europe during the 1920s and '30s, along with a suggestion of how it plays out today.
For an exuberant, off-to-the races sort of warmup there was a performance of the overture to Rossini's ever-popular opera "The Barber of Seville," dating from a full century before the advent of any jazz influence. Feverish, high-speed energy was of the essence here as the 20-person Orpheus ensemble (13 string players, along with a flute, oboe, clarinet, bassoon, horn, trumpet and timpani) raced to the finish line.
There also was a brief welcome by oboist James Austin Smith, who explained the democratic aspect of Orpheus. "Having no conductor means everyone tells everyone else what to do here, creating a collaborative joy and a democratic environment," said Smith.
In fact, the string players even rotated positions from piece to piece throughout the evening. Smith also noted that the saxophone only came into being in Belgium in the 1840s (the invention of Adolphe Sax), and was initially used in military music before it came to the U.S. and became part of jazz.
Then, working somewhat in reverse, Marsalis and the orchestra performed composer Courtney Bryan's "Carmen Jazz Suite on Themes by Bizet," a contemporary riff on the 1875 classic opera. Bryan's piece, which was composed in 2021, and debuted in California earlier this month, uses the saxophone to capture Carmen's "voice" in four movements that suggest her "Freedom," "Loves," "Omen of Death" and "Defeat of Death."
Plucked strings, percussion, syncopated rhythms and jazzy variations on Bizet's themes draw on everything from the habanera (a Cuban rhythm), to Afro, Haitian and New Orleans' Congo Square influences, with the familiar "Toreador" aria part of the mix. Gina Cuffari, the orchestra's superb bassoonist, played one of Bryan's best variations on a Bizet theme, with the mix of classical and jazz at its strongest. Marsalis' ultra-modern riff on the sax, along with moaning strings, brought it all to a close.
Then it was on to Spain and "La oracion del torero, Op. 34," a wonderfully sensual work for strings by Joaquin Turina dating from 1925.  With its haunting opening, rhythmically plucked strings, and gorgeous melody it was at once romantic and subtly jazzy, with an exquisite mix of high energy and a dreamy, fade-out finale.
The second half of the program began with Claude Debussy's "Rhapsody for Alto Saxophone and Orchestra." Written in 1908, first performed in 1919, and orchestrated by Jean Roger-Ducasse, the piece was created for an American woman at a time when the French composer was still unfamiliar with the instrument. Its slow, lyrical opening for French horn and strings found Marsalis seated in the wind section and performing sensual solo riffs on the saxophone, with an aura of Impressionism swirling throughout and drama created by the full ensemble (with an assortment of percussion instruments at the ready), gorgeous melodies and an overall sense of excitement.
And then came French composer Jacques Ibert's "Concertino da camera for Alto Saxophone and Orchestra" dating from 1938. It was perhaps the most seductive and richly jazz-imbued piece on the program, with Marsalis in peak form as the lead voice on his golden alto saxophone. At moments mournful (almost bluesy), and urbane, the work's lush themes were seductive and exciting — a true showpiece, thrillingly layered from start to finish.
And then came the encore, a rollicking rendition of "The Girl from Ipanema" that enduring mega-hit by Brazilian composer Antonio Carlos Jobim that is a seamless blend of bossa nova and jazz. Not surprisingly, it had the audience joyfully humming along and dancing out of the theater.
One final note: It would be great if when comments are addressed to the audience from the stage they could be clearly heard. The sound for hand-held mics used by Maestro Muti, and in the case of the Orpheus concert by oboist James Austin Smith, and by many others, is rarely clearly audible beyond a small area of seats. These people have valuable and entertaining things to say.
For tickets to upcoming events at Orchestra Hall, visit cso.org or call (312) 294-3000.
Follow Hedy Weiss on Twitter: @HedyWeissCritic
---