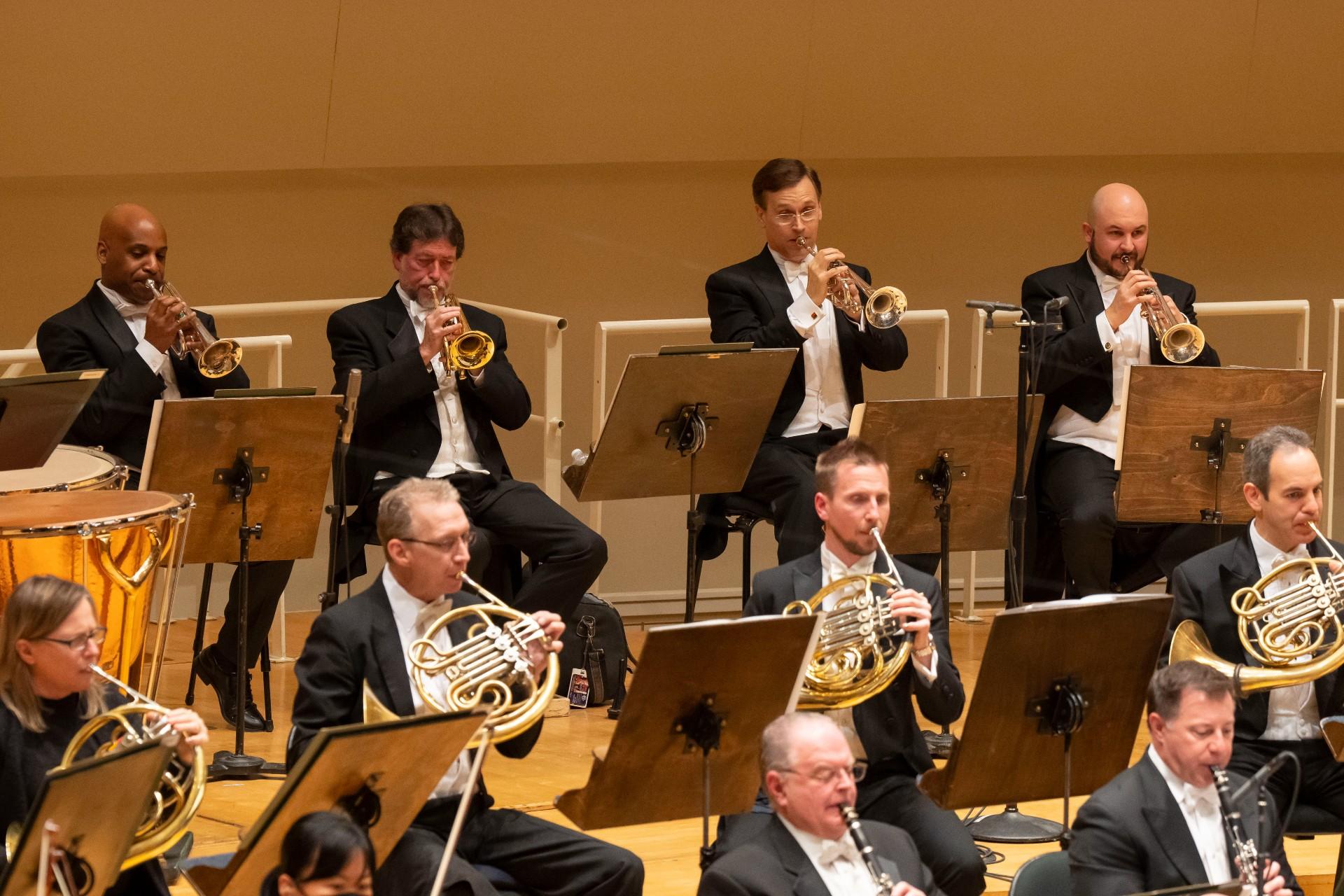 Members of the Chicago Symphony Orchestra perform a program featuring Tchaikovsky's Suite from "Swan Lake" on Jan. 20, 2022. (Credit: Todd Rosenberg Photography)
In something of an unconventional move Thursday evening at Orchestra Hall, Maestro Riccardo Muti arrived on stage, turned to the audience, and explained why the program was largely devoted to Suites from two of Tchaikovsky's most famous and widely recognized ballets: "The Sleeping Beauty" and "Swan Lake, as well as to Johann Strauss, Jr.'s lush "Emperor Waltz."
It was not, as Muti said, an exercise in "laziness," noting that none of these pieces were "easy" to perform. Rather, he saw them "as the works of Russian and Viennese composers that are full of beautiful melodies and were now being played by the CSO's American musicians as led by an Italian conductor." Muti said he wished politicians would take note of this cultural mix, noting optimistically that "when they do, the world will become a better place."
Wishful thinking perhaps. But what this glorious, superbly performed concert did prove was that listening to these works without the element of dance that ordinarily is a crucial partner of the music (and this is by no means to question the absolute beauty of the ballets that are usually attached to these scores), you begin to hear them in a wonderfully fresh and exciting way. And watching the musicians at work you see something of a "ballet" all its own.
The evening opened with the "Overture to Donna Diana" (1894), a four-minute, lushly romantic piece by the Viennese composer Emil von Reznicek that was popular in the CSO's repertoire in the 1920s and '30s. (The full opera was even conducted by von Reznicek's far more renowned contemporary, Gustav Mahler. But the Overture alone, with its speed, exuberance and big orchestral sound, suggests why it had such wide appeal.)
And then it was on to a Suite from Tchaikovsky's 1890 masterwork, "The Sleeping Beauty," a ballet about which I should confess I cannot be objective. (As an 8-year-old student at the old Metropolitan Opera House's ballet school in New York, I was chosen to be a page to the Queen, and was able to watch Margot Fonteyn and other stars of Britain's Royal Ballet close up as they performed the work during their fabled early visit to the city. Unforgettable.)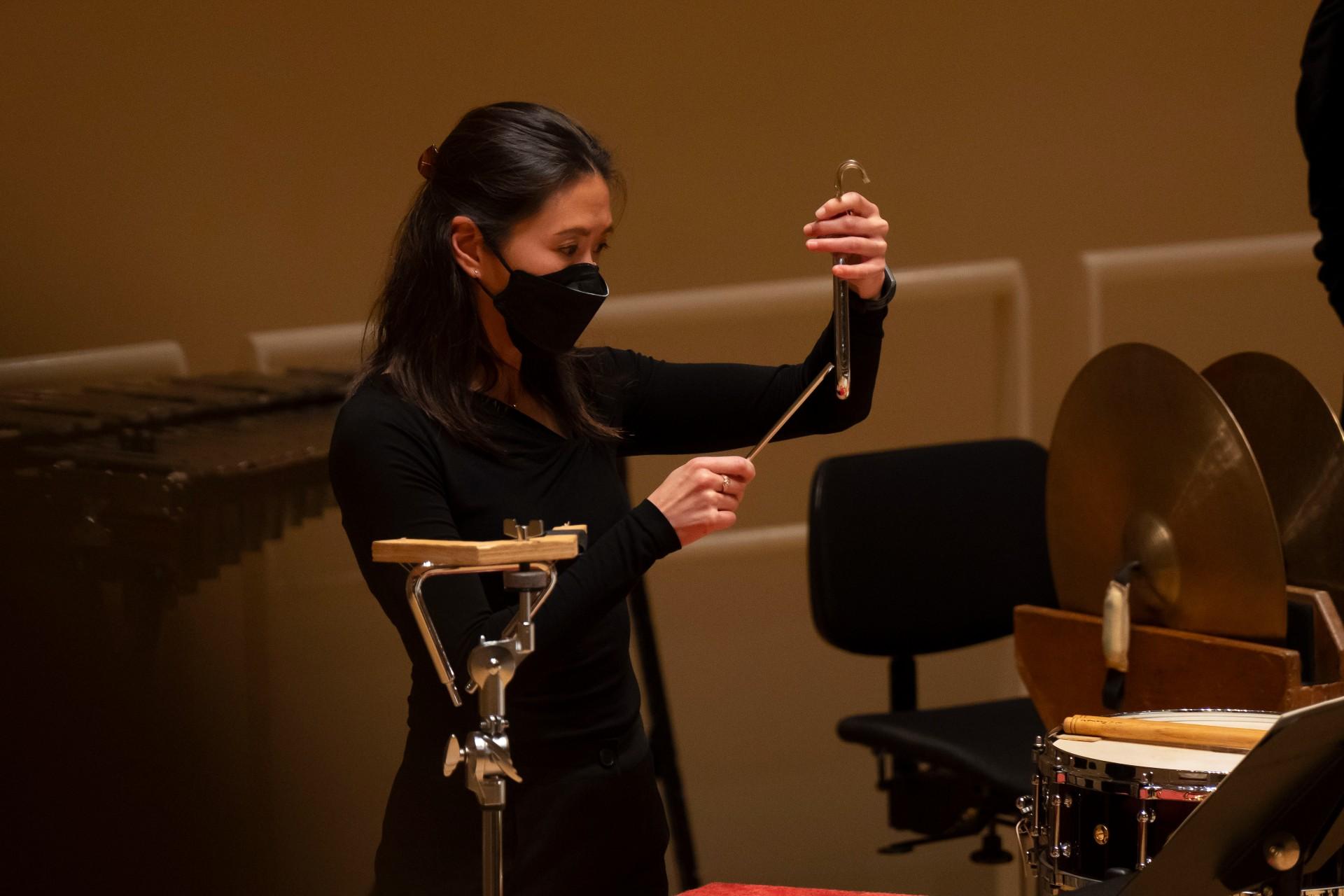 Chicago Symphony Orchestra Principal Percussionist Cynthia Yeh performs a program featuring Tchaikovsky's Suite from "Swan Lake" on Jan. 20, 2022. (Credit: Todd Rosenberg Photography)
As demonstrated in the excerpts in this Suite, Tchaikovsky was a master of musical storytelling, capturing both characters and moods with passion as well as playfulness. The introduction here suggests a warning of the curse cast over the Princess Aurora by Carabosse, the evil fairy in this tale, and also suggests the spell of 100 years of sleep that the elegant Lilac Fairy will conjure to save Aurora until she is awakened by a prince.
The adagio that follows features a long, dream-inducing harp solo exquisitely played by this week's guest artist, Katherine Siochi, principal harp of the Kansas City Symphony. And then comes the immensely challenging "Rose Adagio" for Aurora that is a supreme test of any ballerina's balance and control as she plucks a rose out of the hands of each of her four suitors and pirouettes with precision.
From there it is on to a whimsical, teasingly flirty pas de deux for Puss in Boots and the White Cat, with the clarinet suggesting the cats' playful meows. Next comes a "Panorama" sequence of veiled beauty that brings back a dreamy sound from the harp and strings. And finally, there is a grand, full-force waltz signifying the ballet's happy ending.
The concert's second half begins with a Suite from Tchaikovsky's 1877 ballet, "Swan Lake," with the composer's full sense of theater already of the essence as he spins the story of a young prince who falls in love with Odette, a princess who has been transformed into a swan by Rothbart, an evil sorcerer.
Here, too, a sense of warning is issued with a haunting opening that suggests both danger and romance, as well as the floating grace and beauty of the swans. A gorgeous melody driven by plucked strings, percussion and winds drives the thrilling "Waltz." And the instantly recognizable "Dance of the Swans" suggests the quartet of precision-tooled pointe-work the music inspired.
Next comes a scene with a long, dreamy harp solo and the superb playing of concertmaster Robert Chen, followed by a Hungarian "Czarda" that begins with a seductive slow theme played by the strings and winds, and then erupts into a thrillingly wild, swirling folk dance. It is followed by a rousing "Spanish" dance enhanced by wonderful work from the percussion section, by a spinning "Neapolitan" dance with terrific trumpet work, and then culminates with a grand finale in the form of an explosive "Mazurka," the Polish folk dance that drives the orchestra into a great frenzy.
Finally, it's back to Vienna for the closing work on the program, with more dance in three-quarter time courtesy of Johann Strauss, Jr.'s dynamic 1889 "Emperor Waltz." Cynthia Yeh's percussion magic and Muti's teasing phrasing help capture both the lyrical and the volcanic in this waltz. And as the concert draws to a close it begs the question: Shall we dance?
Follow Hedy Weiss on Twitter: @HedyWeissCritic
---