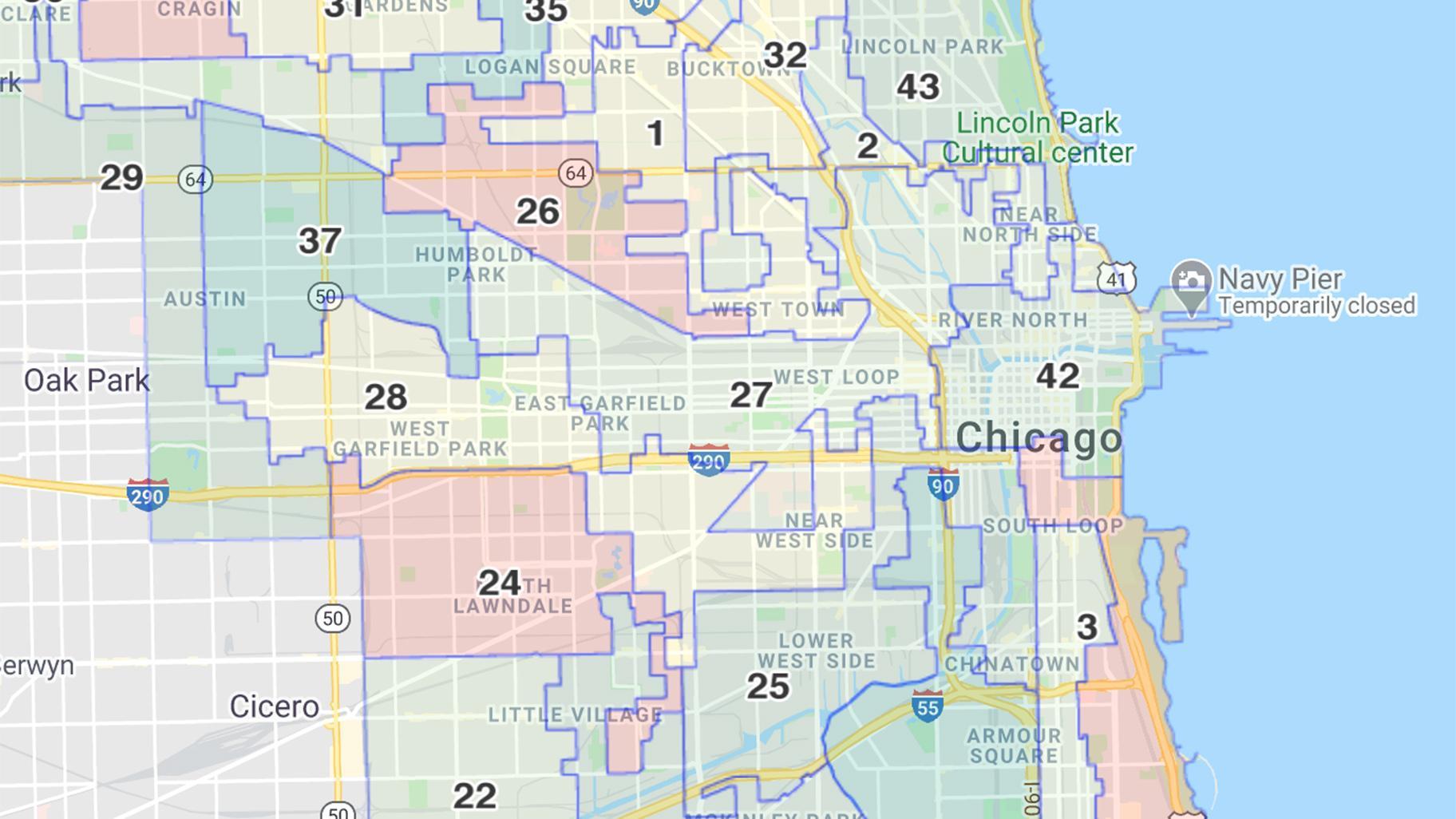 A new Chicago ward map is set to take effect in time for the 2023 municipal elections. (WTTW News via Google Maps)
Any hope that a holiday break could reset the raging dispute over the map that will shape Chicago politics for the next decade and determine the balance of power between Black, Latino and Asian Chicagoans was extinguished Friday as members of the City Council clashed during the first of four public hearings scheduled this month.
After hearing from a handful of Chicagoans objecting to the map supported by the City Council's Black Caucus because they said it improperly divided up their neighborhoods, Ald. Silvana Tabares (23rd Ward) asked Rules Committee Chair Ald. Michelle Harris (8th Ward) to include two letters they exchanged in recent weeks in the official record of the committee's proceedings.
Tabares' unusual request, which would have no practical effect on the past-due effort to craft a new ward map using data gathered by the 2020 census, centered on a letter she sent Harris, a member of the Black Caucus, on Dec. 17 that sought to reset the way ward boundaries have been negotiated.
Read Tabares' letter to Harris.
The Latino Caucus urged the Black Caucus to agree "to be flexible and to be willing to move boundaries in the interest of compromise." 
Harris, who is overseeing the city's official map-crafting process as chair of the Rules Committee, has refused to consider maps that move ward boundaries without the consent of all of the alderpeople affected, urging all 50 City Council members to collaborate and compromise.
That has allowed individual members of the City Council to craft ward boundaries that exclude opponents and likely rivals in the 2023 election, a practice that Harris and Mayor Lori Lightfoot have declined to condemn. 
In addition, leaders of the Latino Caucus have repeatedly said that makes it impossible to craft a map that fairly represents the city's changing racial makeup. While Chicago's Black population dropped 10%, its Latino population jumped 5% and its Asian American population surged 30%, according to the 2020 census.
In her response, Harris did not respond to Tabares' detailed requests.
Harris initially resisted accepting both letters into the record, even though both were already part of the committee's public record at that point in the meeting, and refused to discuss the substance of Tabares' requests, saying that subject had not been properly included on the committee's agenda for discussion and violated the state's Open Meetings Act.
Harris agreed to meet privately with Tabares to discuss the issues, but would not agree that alderpeople should be "fair and flexible" in their map discussions as Tabares insisted.
As Tabares pressed the point, Ald. Walter Burnett (27th Ward) jumped into the back and forth to tell his colleague that it sounded like she was "trying to build a case," prompting several alderpeople to declare him out of order.
Attempting to move on, Harris said the committee would hear a presentation from Rules Committee attorney Mike Kasper on the decision by a federal court to uphold the new statewide legislative district maps in the face of legal challenges by the Illinois Republican Party and groups representing Black and Latino Illinois residents.
However, Ald. Gilbert Villegas (36th Ward), the chair of the Latino Caucus, objected, noting that Kasper's presentation was not included on the meeting's agenda and therefore could not go forward under the interpretation of the rules Harris used to prevent Tabares from discussing her plan to craft new ward boundaries. That prompted Harris to abruptly adjourn the meeting. 
City Council committees frequently vote on proposals not shared with members of the public before the vote, or on measures that have changed significantly during closed-door negotiations — but powerful committee chairs frequently weaponize the rules to prevent consideration or votes on measures they or the mayor oppose.
Unless 41 alderpeople can agree on a map no later than May 19, the June 28 primary election ballot will ask voters to decide what the ward map should look like for the first time in 30 years.
Harris urged her colleagues to avoid a referendum, saying it would cost $40 million. However, Harris' spokesperson did not respond to a request from WTTW News to document the referendum's cost. 
A spokesperson for the Chicago Board of Election Commissioners said it was unclear how much a map referendum would cost the election agency but it was "possible there could be no extra costs."
The map backed by the Black Caucus crafts 14 wards with a majority of Latino voters and 16 wards with a majority of Black voters. However, the Latino Caucus has drawn a map with 15 wards with a majority of Latino voters, and its members have said  they will not accept a map with any fewer.
The map supported by the Black Caucus has 34 co-sponsors, seven short of what it needs to become law. The Latino Caucus' map is supported by 15 alderpeople.
A proposed Chicago Ward Map from the Chicago City Council's Latino Caucus. [Provided]
State law requires Chicago wards to be "nearly equal as practicable" while being as "contiguous" and "compact" as possible while complying with the Voting Rights Act, which is designed to protect the voting rights of Black, Latino and Asian residents.
Since Chicago's population in 2020 was 2,746,388 residents, each ward should have 54,928 residents, according to data presented to the Chicago City Council.
Maps from both groups would redraw the 11th Ward to create a ward centered around Chinatown with a majority of Asian American voters, carving up the heart of the political empire that elected former Mayors Richard J. Daley and Richard M. Daley and ruled the city for decades.
That proposal comes over the vehement objections of the mayors' grandson and nephew Ald. Patrick Daley Thompson (11th Ward), who is scheduled to stand trial in February on charges that he submitted false tax returns and lied to FBI agents.
In a letter to 11th Ward residents, Daley Thompson said he opposed efforts to create a ward with a majority of Asian voters because it would split up Canaryville and McKinley Park to make that possible.
"Dividing areas or neighborhoods based on race is indeed racism," Daley Thompson wrote.
The Black Caucus' map would move the 34th Ward — now on the Far South Side, which saw a steep drop in population during the past decade — to the booming area south and west of the Loop.
Ald. Carrie Austin (34th Ward) plans to retire after her term ends in 2023.
Austin is awaiting trial on charges she took bribes and lied to FBI agents. Austin has pleaded not guilty.
The Black Caucus' map also shifts the massive Lincoln Yards development from Ald. Brian Hopkins' 2nd Ward to Ald. Scott Waguespack's 32nd Ward. While Hopkins shepherded the proposal through a highly contentious approval process in 2019, Waguespack opposed the proposal.
However, the Latino Caucus map keeps Lincoln Yards in Hopkins' ward, as he wants. Hopkins told reporters he did not sign on to the Latino Caucus map because of Lincoln Yards.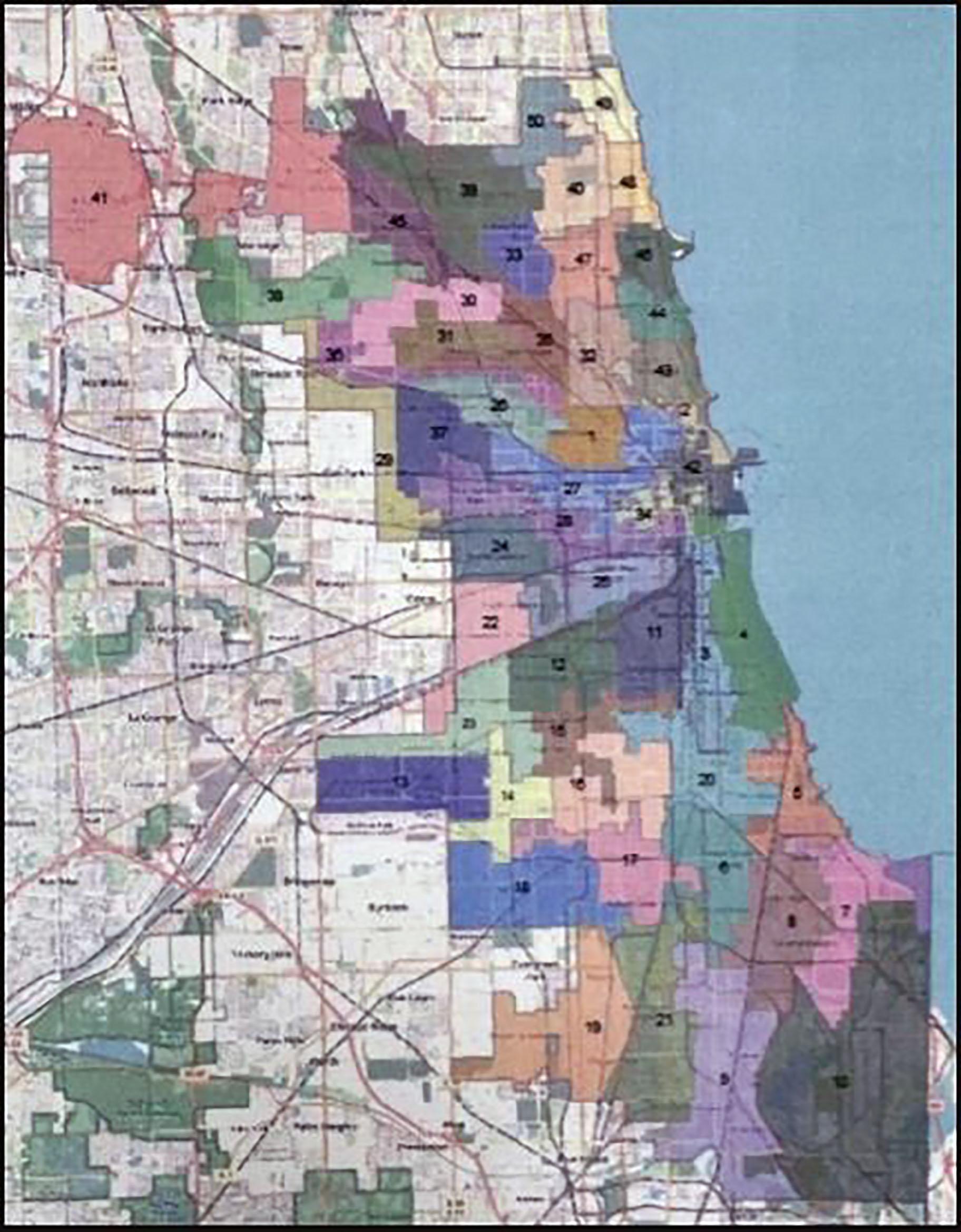 A proposed Chicago Ward Map from the Chicago City Council's Black Caucus. [Provided]
Contact Heather Cherone: @HeatherCherone | (773) 569-1863 | [email protected]
---