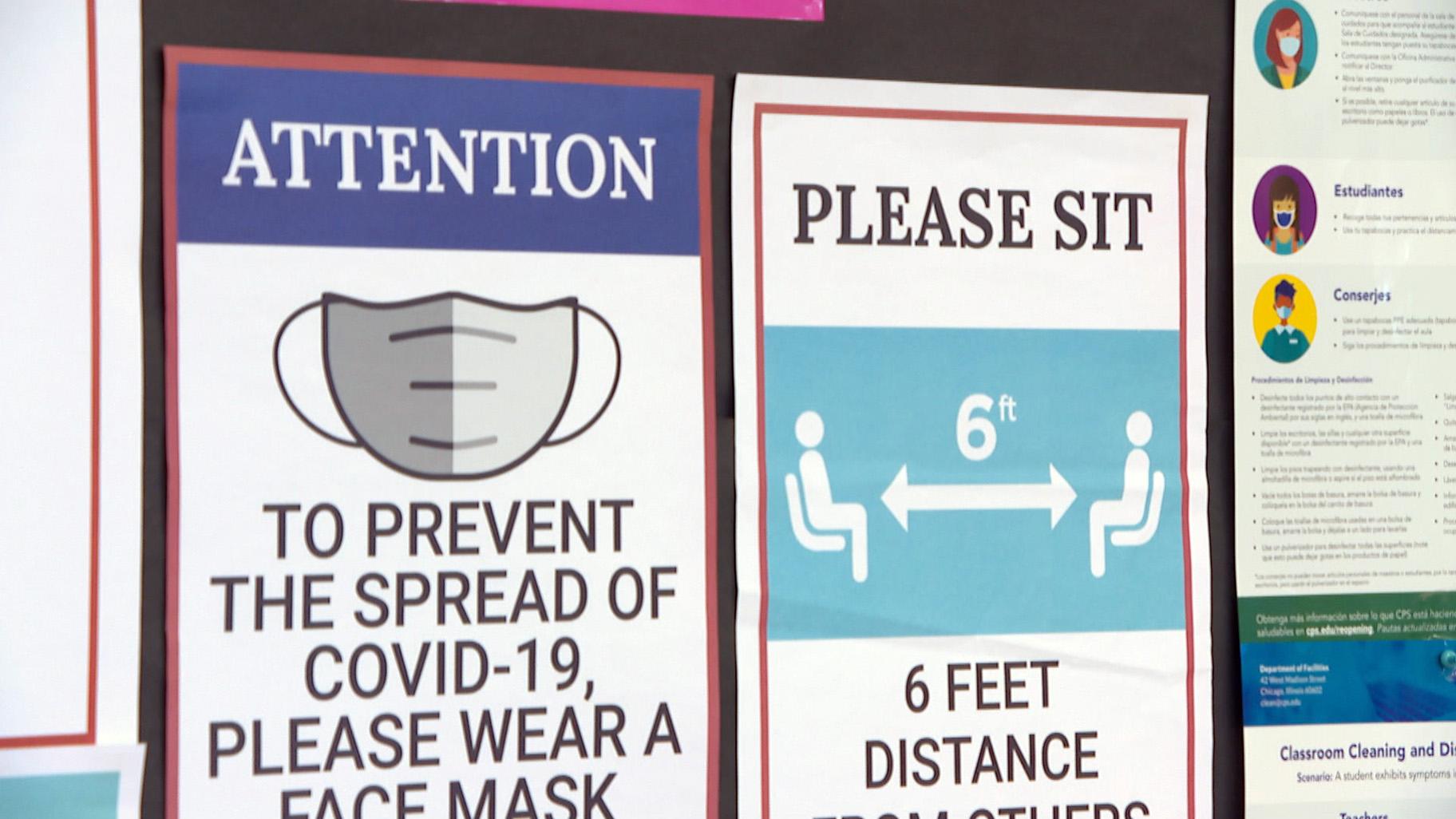 (WTTW News)
The Chicago Teachers Union would back off its push for citywide opt-out COVID-19 testing in schools and return to classrooms after a week of remote learning under its latest bargaining proposal to the city.
The CTU on Saturday sent a new proposal to the city hoping to resolve its ongoing labor action in which its members have refused to work in schools in-person during a spike in COVID-19 cases. Because of that action, Chicago Public Schools has canceled classes for three-straight days.
"That comprehensive proposal addresses all outstanding issues between the CTU and the mayor, would end Lightfoot's lock-out, and land hard safety protections for students and staff for the rest of the school year," the union said in a statement Saturday.
In its proposal, the CTU would commit to returning to schools Monday, but only to distribute remote learning materials and sign students up for COVID-19 testing. Citywide remote learning would then begin next Wednesday and last until Jan. 18, when students and staff would resume in-person learning, "unless CDPH or the State of Illinois determine that public health conditions are not safe for in-person school at that time."
And the union is willing to provide assurances to the city that this period of remote learning would remain brief, as it corresponds with the height of Chicago's surge in COVID-19 cases. City leaders have repeatedly expressed concerns about any extended remote learning, citing the negative impact on students' learning and mental health.
The union is also dropping its universal testing demand and is instead pushing for screening testing. Under that plan, about 10% of students would be randomly selected for testing each week to get a sense of the spread of COVID-19 within schools. Students would be allowed to opt out of that testing.
Union officials are still pushing for metrics to determine when individual schools or the entire district would flip from in-person to remote learning. In its proposal, the CTU wants all of CPS to go remote if the city's test positivity rate increases substantially for seven straight days. 
For individual schools, remote learning would occur if 25% of teachers, or a similar percentage of students, were isolated or in quarantine due to COVID-19.
This offer was approved by the CTU's elected delegates Saturday morning before it was sent to the city.
Negotiations between the sides are ongoing, but a deal has not yet been struck. Instead, both the union and city filed complaints against each other with the Illinois Educational Labor Relations Board, alleging unfair labor practices.
The district canceled classes three days in a row this past week, but Monday's classes have not yet been shut down as the sides continue negotiating through the weekend.
Union officials were resistant to calling this latest proposal their last, best offer. They said they've made some concessions to the city and are hopeful this situation gets resolved quickly.
Shortly after the proposal was made public, Mayor Lori Lightfoot and CPS CEO Pedro Martinez issued a statement saying CTU leadership is "not listening."
"The best, safest place for kids to be is in school. Students need to be back in person as soon as possible," they said. "That's what parents want. That's what the science supports. We will not relent."
Contact Matt Masterson: @ByMattMasterson | [email protected] | (773) 509-5431
---