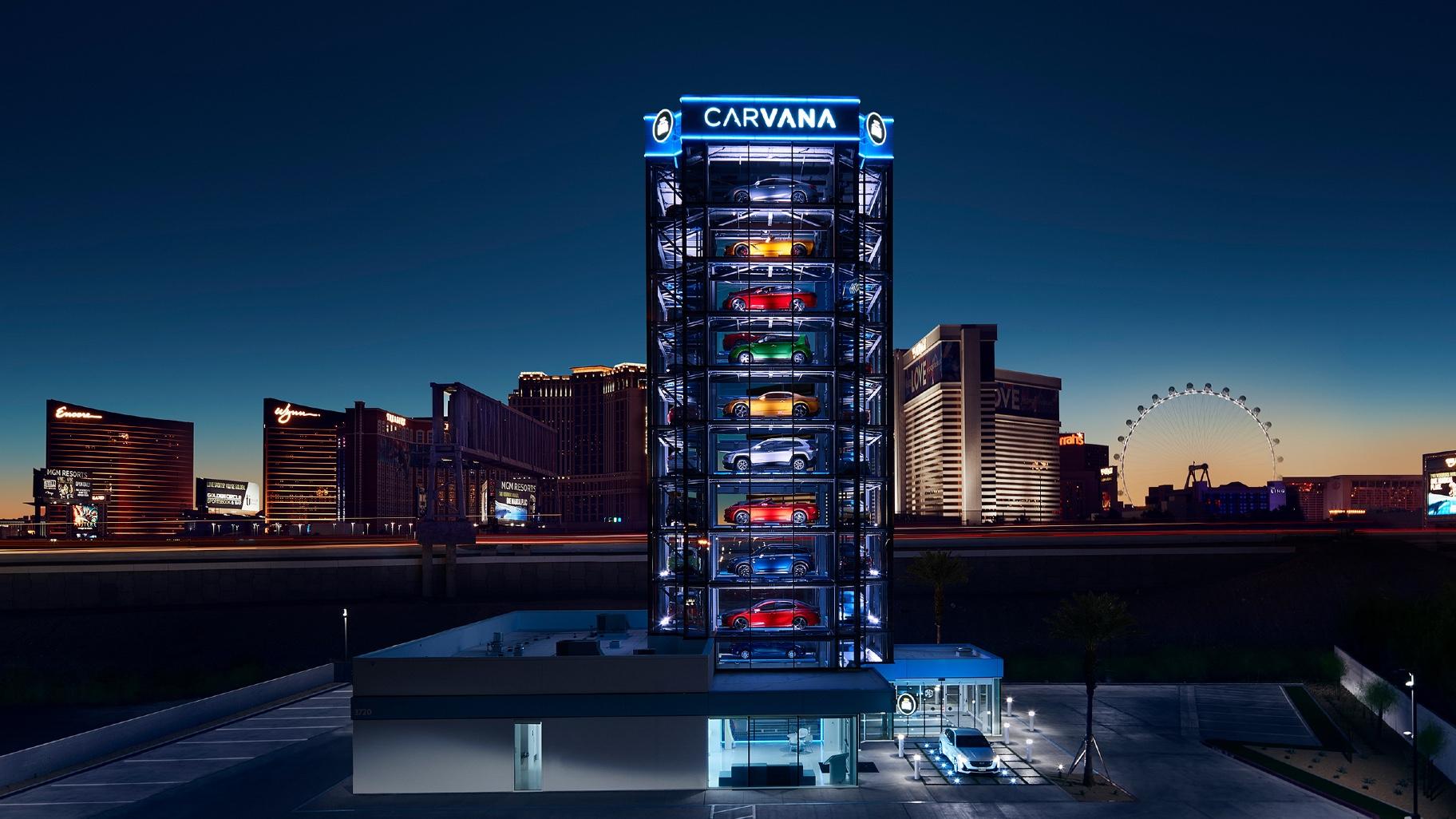 One of Carvana's auto vending machines. (Courtesy of Carvana)
A controversial proposal to build a 140-foot-tall transparent glass "auto vending machine" across from Harms Woods in Skokie received a key committee approval Thursday night, over the ongoing objections of conservationists and residents of a neighboring condo complex.
The Skokie Plan Commission voted 5-1 in favor of Carvana's modified site plan for the tower, which will next come before the Village Board of Trustees for final approval, likely in mid-January.
The commission had OK'd Carvana's proposal in November, but trustees kicked the matter back to the commission in December to address four issues: building and sign lighting, truck routes, delivery hours and bird strike prevention.
On Thursday, Carvana, which has already built 30 such towers in 18 states, including one in Oak Brook, presented its revisions. Among the most significant changes:
— Lighting will be dimmed between 11 p.m. and 6 a.m. to 50% of what's allowed under Skokie ordinance. The tower's east facade, facing the Eden's Expressway, is excluded from the dimming.
— The 140-foot-tall building will be wrapped in a bird-friendly pattern to a height of 54 feet and 10 inches to reduce the potential for bird collisions.
The tower's threat to birds, particularly migratory flocks, had been a primary point of contention at previous hearings. The building's see-through glass, 24/7 illumination and location along a greenway would create a perfect storm of hazards for birds, according to advocates, including Annette Prince, director of Chicago Bird Collision Monitors. 
On Prince's advice, Carvana consulted on bird-friendly modifications with Feather Friendly, a Canadian-based company that specializes in building solutions aimed at deterring bird strikes.
"We've not dealt with this before and began to educate ourselves," said Bret Sassenberg, Carvana's senior director of real estate and development, at Thursday's meeting. "We would like to argue this is going to be the safest building along Harms Woods."
Critics begged to differ.
Prince called the proposed mitigations "woefully inadequate." The Carvana tower's combination of threats makes it more dangerous than larger, taller buildings, calling for the highest level of protection, not the minimum, she said.
"If Carvana is going to do something to be proud of, they should do a full effort," Prince said.
That full effort would include wrapping the entire building in a pattern, turning lights out during spring and fall migration, and allowing collision monitoring, she said.
Prince's arguments were echoed by Bryan Lenz, a specialist in glass collisions with the American Bird Conservancy, and Claire Halpin, who worked on a number of bird-friendly buildings when previously employed as a design director with Jeanne Gang's Studio Gang firm. 
Sassenberg countered that Carvana was being held to a standard no other building along Harms Woods, or in Skokie period, had been required to meet.
"There is no Skokie code for bird mitigation," he said. "We would be the only building with mitigation. We don't think we can get to a perfect solution, but it does far exceed requirements."
Ultimately, the Plan Commission concurred. Though commission member Jeff Burman put forward a motion to incorporate Prince's recommendations into the site plan, he couldn't muster the votes. The Carvana proposal was, instead, approved with the company's revisions: the partial wrap pattern and light dimming, along with limits on delivery hours and truck routes. Burman cast the lone nay vote.
The meeting concluded after a marathon three-and-a-half-hour session, during which time several residents' comments were cut short for deviating from the four issues specifically under consideration. Subjects that were deemed irrelevant ranged from questions about Carvana's long-term financial viability to complaints about the likelihood of increased pollution created by the influx of truck traffic.
The next board of trustees meeting is scheduled for Jan. 18.
Contact Patty Wetli: @pattywetli | (773) 509-5623 |  [email protected]
---