Our city's towering skyline gets all the press, but for the husband-and-wife artist duo behind Wonder City Studio, it's the vernacular styles that make Chicago a place worth calling home.
"We're transplants to Chicago," said ceramics artist Katie Lauffenburger. "But when we met we would just walk the neighborhoods and look at all the homes and buildings that we just felt like we were in awe of the architecture here."
"With Chicago, it's like the whole city, border to border, is just beautiful," said illustrator Phil Thompson. "I think for me, greystone's kind of my favorite home type. You've got the bungalow, you've got the worker's cottage. Those particular, especially ones that are kind of unique to Chicago, styles, really make the city sing."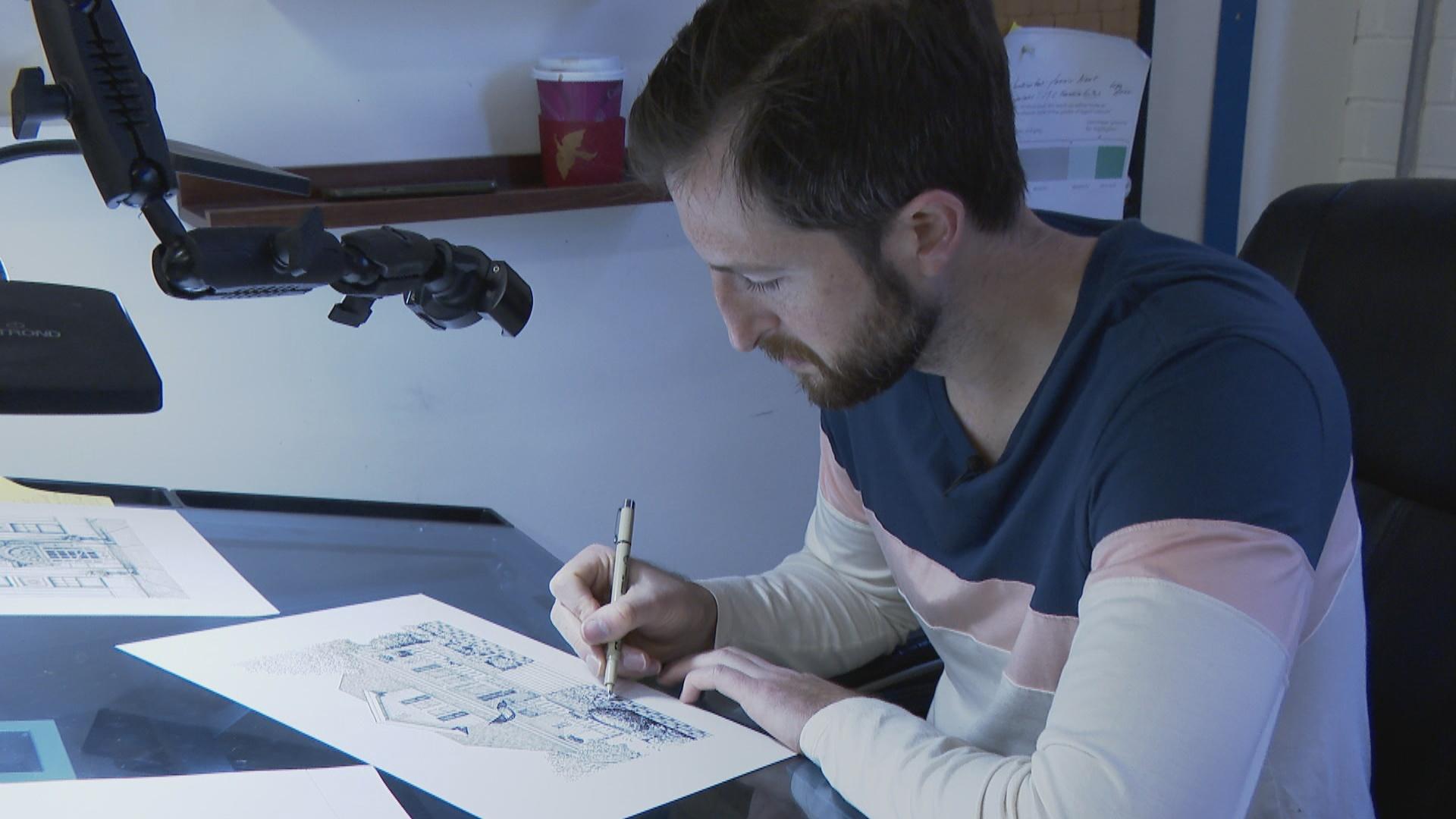 Phil Thompson works on an illustration (WTTW News)
Many have been charmed by the bungalows, three-flats, and cottages that line Chicago's neighborhoods, but Thompson and Lauffenburger have made immortalizing that charm their business. And they say Chicagoans' particular admiration for the history and architecture of the city make Wonder City Studio a business that could only make its home here.
"I feel like the reaction that we get to our work here is just so special that you can just tell it really resonates with people," Lauffenburger said.
The couple, who originally hail from "opposite corners" of Pennsylvania, met in 2006, when both were in graduate school. Lauffenburger was pursuing a fine arts degree and Thompson was studying international relations. Thompson credits Lauffenburger with inspiring him to take the leap into making art his business.
"Drawing was always something that I loved to do ever since I was a kid, it just never seemed like that was a good career path," Thompson said. "So I think meeting Katie opened my eyes to like some possibilities. We'd get gallery [shows] together and art shows, things like that. And so she kind of got me back on the art track."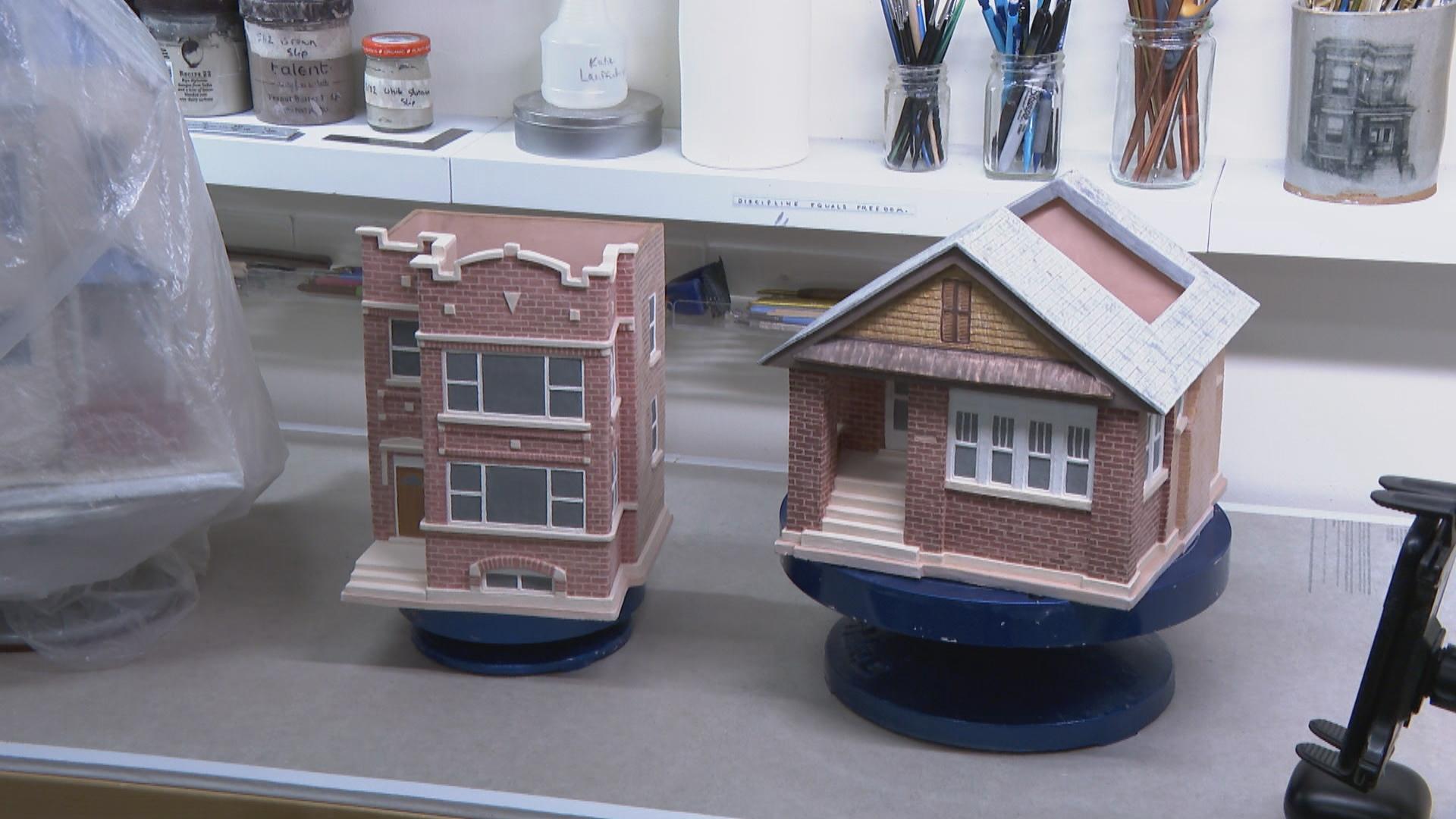 Ceramics created by Katie Lauffenburger. (WTTW News)
Thompson began making commissioned illustrations under the name Cape Horn Illustration. This year, Lauffenberger took the leap herself. She left a job in digital media and returned to art full time, creating custom ceramic planters of Chicago homes.
"It just really seemed like a natural thread that I could start doing ceramics of architecture as well since we both love it so much," she said. "And I just find that people really love functional pieces that are beautiful and that they identify with but also serves some use around the house so they can enjoy."
"I think she has a much harder job than I do, like, figuring it out, because like I don't have to worry about the back of the home," added Thompson.
They graced the combined enterprise with one of Chicago's many nicknames.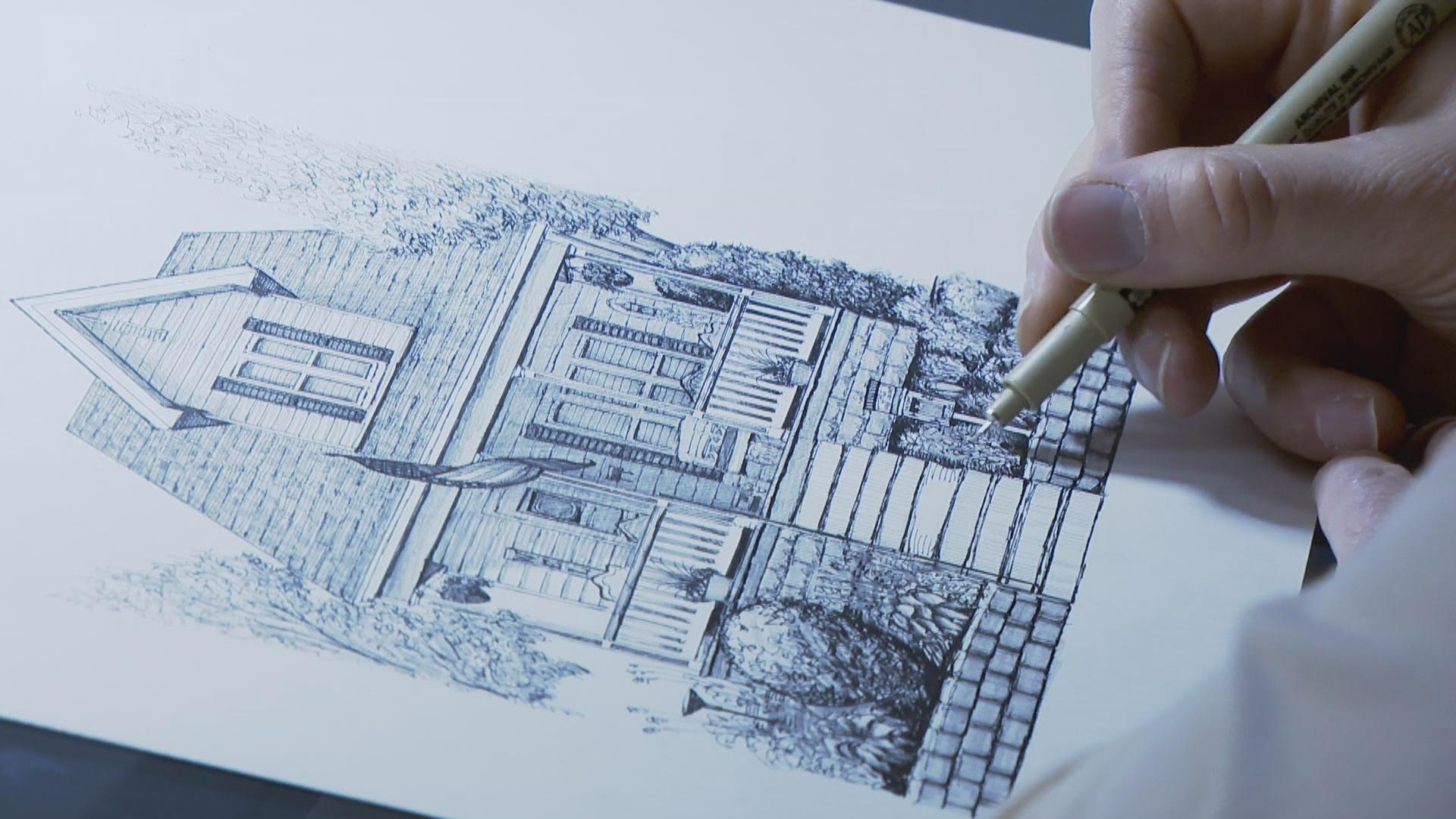 Phil Thompson works on an illustration (WTTW News)
"I think it's one of Chicago's lesser-known nicknames, but that sense of wonder is how we felt like we engage with the city and so it just really resonated with us," said Lauffenburger.
As Wonder City Studio, Thompson and Lauffenberger – with some help from their dog Vincent –offer prints that capture not only the city's home styles, but Chicago landmarks and neighborhoods, and even a few selects from other, lesser cities. But their primary line of business comes from commissions for home portraits and planters.
"It could be for a family home, it could be for a young couple that's moving into their first home," Thompson said.  "It's very touching to kind of know that you're helping commemorate somebody's memories and that they're going to have this piece in their family potentially for years to come."
"What you almost always have is they tell you a story, like this was my grandmother's home, and it was in the family for generations," Lauffenburger said. "Sometimes it's just overwhelming when you feel like you get to connect with somebody like that and that's really what art is, right? It's just really special."
---