Jorge and Lupe Perez have been serving doughnuts, pizza and sandwiches from the Chico's Oven walk-up window at 83rd and Houston for just a few months now – on one of the first Wednesdays they've been open, a steady stream of customers ordered peanut overload doughnuts, pizza slices fresh out of the oven, and sandwiches with toppings piled onto still-steaming pan bolillo.
But their pan bolillo is more than the foundation of a turkey sandwich. It's the foundation of a comeback story nearly three decades in the making.
From 1977 to 1994, Jorge Perez Jr. – better known as Chico – learned the ins and outs of running family's neighborhood grocery store and bakery in this same building.
"Learning how to weigh flour and cut eggs, doing all the things we needed to do to get the dough going in the morning. Putting up merchandise, tearing up boxes, throwing out garbage. That was our lives," recalls Perez. "From the standpoint of growing up in this type of environment, it was wonderful because we got to know everybody in the neighborhood. We made a lot of friends."
Perez's mother Francisca ran the store. His father, Jorge Sr., split his time between baking Mexican bread and pastries and working swing shifts at U.S. Steel.
"My dad was a steelworker, he worked at U.S. Steel just a few blocks from here. But his trade of being a baker is what he learned in Mexico. And when he came here, we came here from Mexico, he taught me how to bake. And so it became part of our supplemental income for our family because during the late '70s there was quite a bit of layoffs."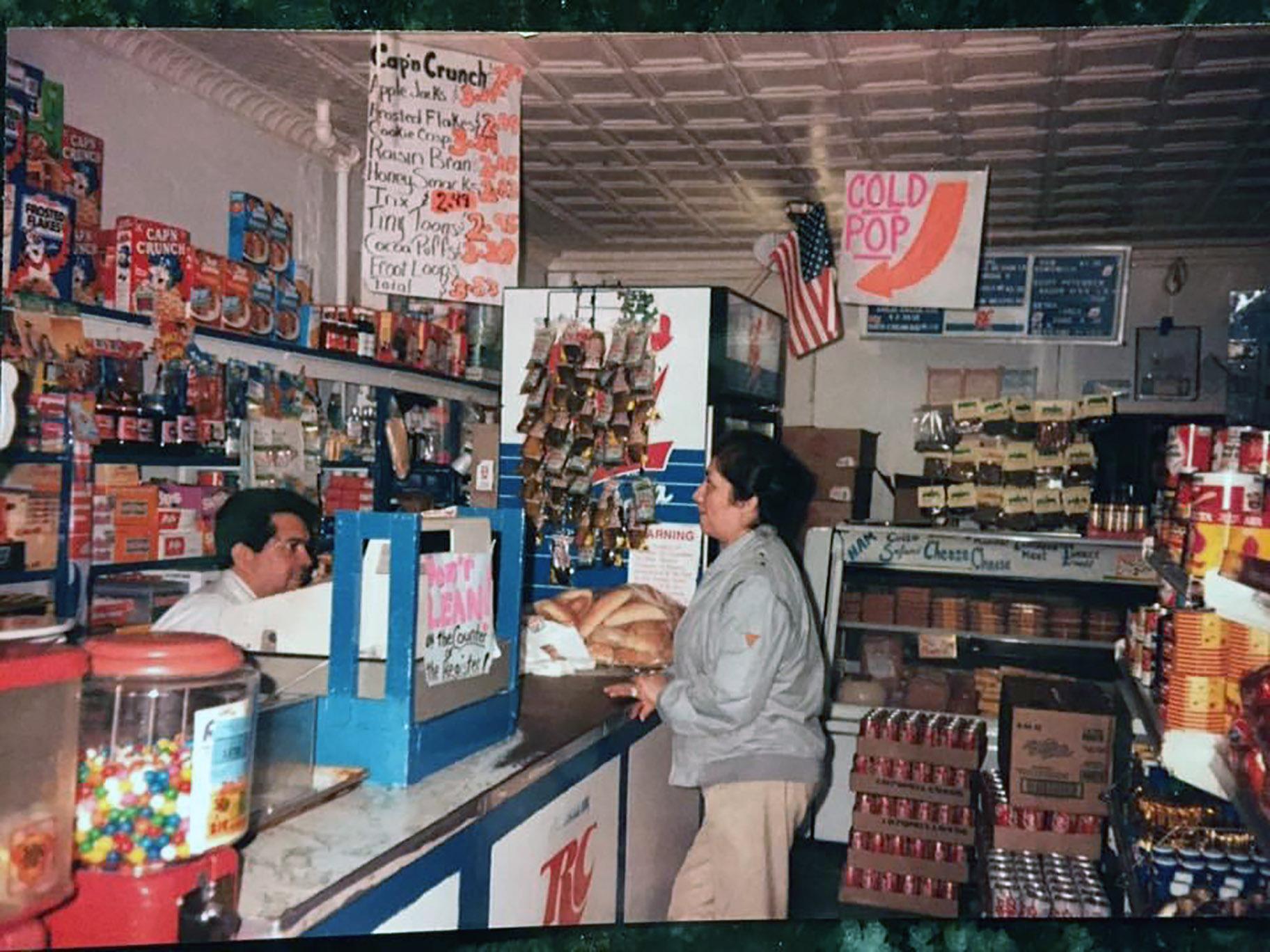 From 1977 to 1994, Jorge Perez Jr. – better known as Chico – learned the ins and outs of running family's neighborhood grocery store and bakery. (Courtesy Jorge Perez Jr.)
Those layoffs took a visible toll on the South Chicago community, Perez recalls.
"Growing up, we actually saw the changes happening as the steel mill shut down. You saw families fall apart. You saw folks leave the city or leave this part of the neighborhood entirely. And then you had an increase in gang violence," he said. "A lot of it is because the economic base of the neighborhood went away."
Perez bought the building from his father in 1996 and started a family there with his wife, Lupe. As he built a career in economic development, his belief that small businesses are crucial ingredients in the recipe of healthy communities grew stronger. And now, what he sees in South Chicago is opportunity on the rise.
"This is the original port of entry for Mexican Americans from 100 years ago. It was the beginning of sort of this new era," Perez said. "We're still growing as a population. And so there's still these needs for homeownership or for homes and additional types of amenities. I think we're at the beginning of that, hopefully for the next 100 years."
In July 2021, the family bakery was reborn as Chico's Oven. With their now-teenage sons pitching in on the weekends and limited hours during the week, the Perez family offers freshly fried, yeast-raised doughnuts, handmade pizzas, and sandwiches made on pan bolillo baked with the same recipe and in the same oven Jorge Sr. used so many years ago.
"One of things that I definitely wanted to do as part of the bakery is instill a new era, a sense of new retail, but also to be able to further this notion of creating a market where there is no market," he said. "How do you put that into a community development model? And I want this business to be the beginnings of that."
Perez points to history to demonstrate why he has faith in South Chicago's revival.
"This business was always in a very key strategic location Metra station a block away and a now high school, across the street, park field house right next to us. The reason why the industrialists came here, right, is because of the location of this community and for a good 89 years that worked out pretty well. I still believe that because of the location of this community, it still bodes very well.
As a development professional, Perez says ready to put his dough where his mouth is.
"For the past 27 years I've been telling everybody that I have this goal to reopen my family's business once again. Folks pontificate on entrepreneurship, small business, folks have talked about this. I don't necessarily do that; I want to show them how to do it. I'm betting my house on this. I want to show folks that it is possible."
---