Hubbard Street Dancers Kevin J. Shannon, Alyssa Allen, Alysia Johnson, and Andrew Murdock performing "Jardi Tancat" by Nacho Duato. (Photo by Michelle Reid) "Sweet are the uses of adversity." (Thank you, William Shakespeare.) And should you need proof of that maxim I suggest catching Hubbard Street Dance Chicago (HSDC).
The adversity facing the 44-year-old began even before the pandemic made live performance impossible. Not only had it begun to face general financial difficulties, but it lost its spacious home in the West Loop where multiple studios were used for rehearsals as well as for classes open to the public. It also saw the departures of a longtime artistic director, a highly productive resident choreographer, and a good number of its veteran dancers who either retired or moved elsewhere.
But now, under the already notable changes that have come with the recent appointment of Linda-Denise Fisher-Harrell as Artistic Director, the company is clearly flourishing.
The company was founded by Lou Conte, a powerhouse of contemporary dance troupe much admired by Chicago audiences, as well as by dance-lovers in many other cities in the world. Conte invited Fisher-Harell to join the company when she was 19. She subsequently went on to become a principal dancer with the Alvin Ailey American Dance Theater, where she enjoyed a stellar 13-year tenure.
Hubbard Street's phoenix-like rebirth was fully on display Friday evening in an aptly titled program, "RE/TURN," that featured three fascinating, superbly performed pieces:
"Jardi Tancat," a masterwork by Spanish choreographer Nacho Duato that has been a favorite part of the company's repertoire for many years;
The world premiere of "The Seen," a work by Jermaine Maurice Spivey, a member of the Kidd Pivot project, whose wonderfully adventurous choreographer, Crystal Pite, has worked with HSDC in the past;
And the company debut of "BUSK," an astonishing piece by Aszure Barton, who also has a history with Hubbard Street. And although these pieces are a mix of the vintage and the new, and have very different musical roots, all three seemed to capture a certain aspect of the emotional fabric of the past 19 months.
Happily, a number of the company's most distinguished, long-serving dancers Jacqueline Burnett, David Schultz, Andrew Murdock, Kevin J. Shannon and Elliot Hammans, were back in peak form, along with more recent additions including Alyssa Allen, Alexandria Best, Craig D. Black Jr., Michele Dooley, Michael Garcia, Alysia Johnson, Adam McGaw, Abdiel Figueroa Reyes and Simone Stevens.
The program opened with the hauntingly beautiful "Jardi Tancat" (Spanish for "Enclosed Garden"). It begins in silence as three couples in simple, autumnal-colored clothes, fall to their knees and engage in what is clearly a prayer for rain. They are peasant farmers, framed by a circle of simple, leafless white tree trunks of Duato's modernist design.
And as the instantly seductive music of Catalonian singer Maria del Mar Bonet comes into play, the couples swirl around the stage in various pairings and patterns that are at once wonderfully organic and mystical.
There is an irresistible magic in the fluidity and rhythms of the dance and the dancing in Duato's piece, with the dancers' suggesting a deep attachment to the earth and to each other, and with the strong, rhythmic chirping sounds of unseen birds adding to the mood at times. The six dancers - Burnett, Black, Allen, Shannon, Johnson and Murdock - were superb.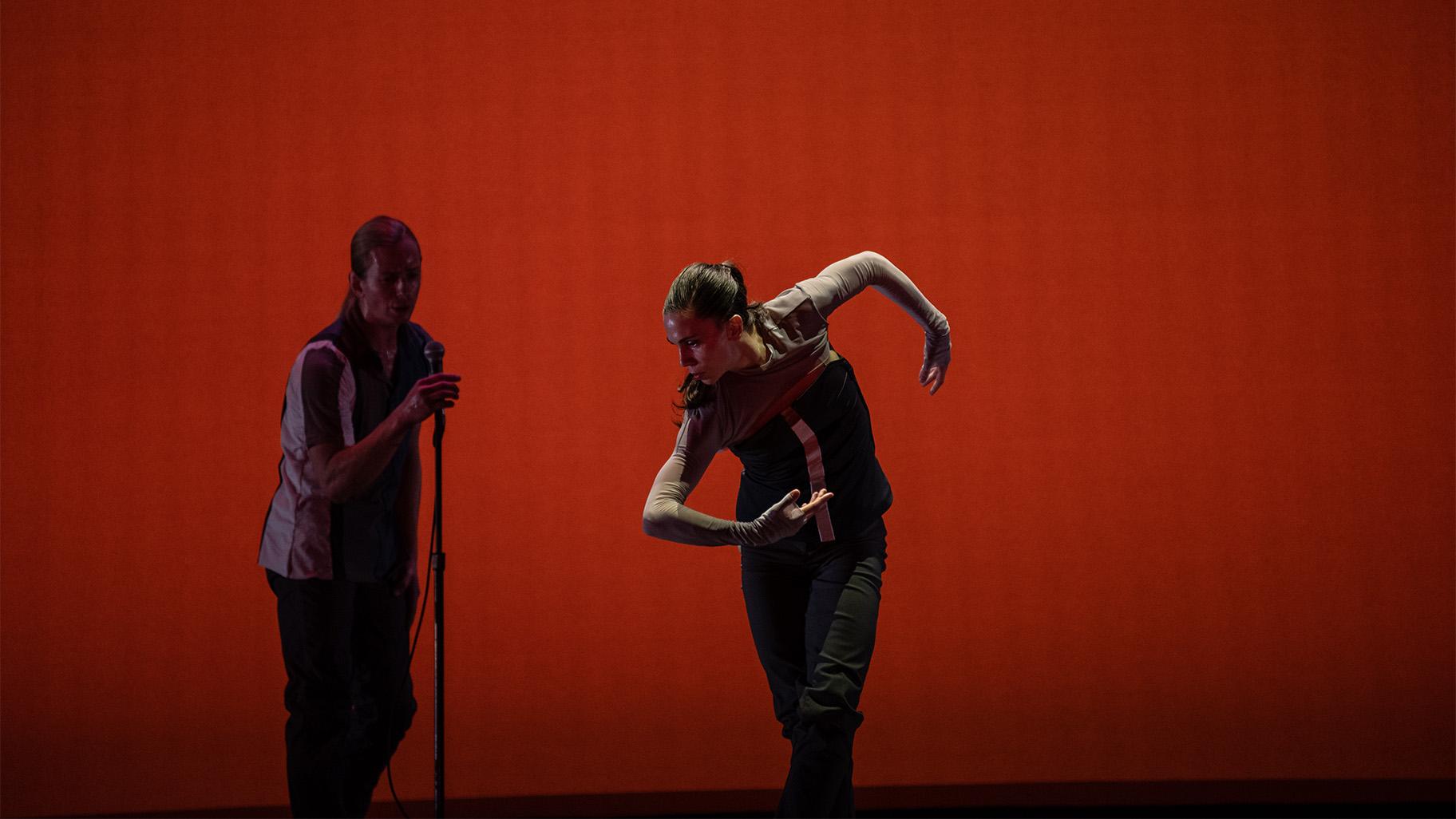 Hubbard Street Dancers David Schultz and Jacqueline Burnett performing in "The Seen" by Jermaine Maurice Spivey. (Photo by Michelle Reid)
If "Jardi Tancat" is all about flow, Spivey's "The Seen" (created in collaboration with the company's 14 dancers), is driven by an endless, often provocative, at times even robotic stream of staccato human speech.
The text and "music" is by Spivey, and this speech suggests clashing sensibilities, with several of the dancers stepping up to strategically placed microphones as they rhythmically count out simple number combinations, and bicker about their perceptions of relationships, events and related misunderstandings.
The truth of any given notion is hotly debated, and certainty and uncertainty are constantly at play in this piece that could easily be subtitled "Points of View." It's an intriguing experiment, to be sure, and one that must rattle the dancers' brains, even if they are used to the complex counting involved in learning new choreography.
"Busk," the full-company piece by Barton, and impeccably staged here by Jonathan E. Alsberry, closed the program and was nothing short of phenomenal. Not surprisingly, it brought the audience to its feet.
Set to a wide range of music - from Moondog, to Saint-Saens, to the Russian composer known as Ljova, among others - it opens in near darkness from which a man, initially slumped on a small bank of steps, and cloaked in dark gray jersey pants and a hoodie that fully erases his identity, emerges. There is a certain bravura acrobatic strangeness and alienation about the way he, and all who follow in various scenes, move. And the overall effect — with a chorale of voices, and traffic sounds, and other scoring all part of the mix — shifts from sensuality to insanity, with alternating moods that demand bravura technique and dramatic intensity.
Three of the male dancers - Murdock, Hammans and Reyes - were particularly outstanding in this work that I not only hope to see again, as it will be part of the Summer Series, but one I think should be renamed, "Mad Monks."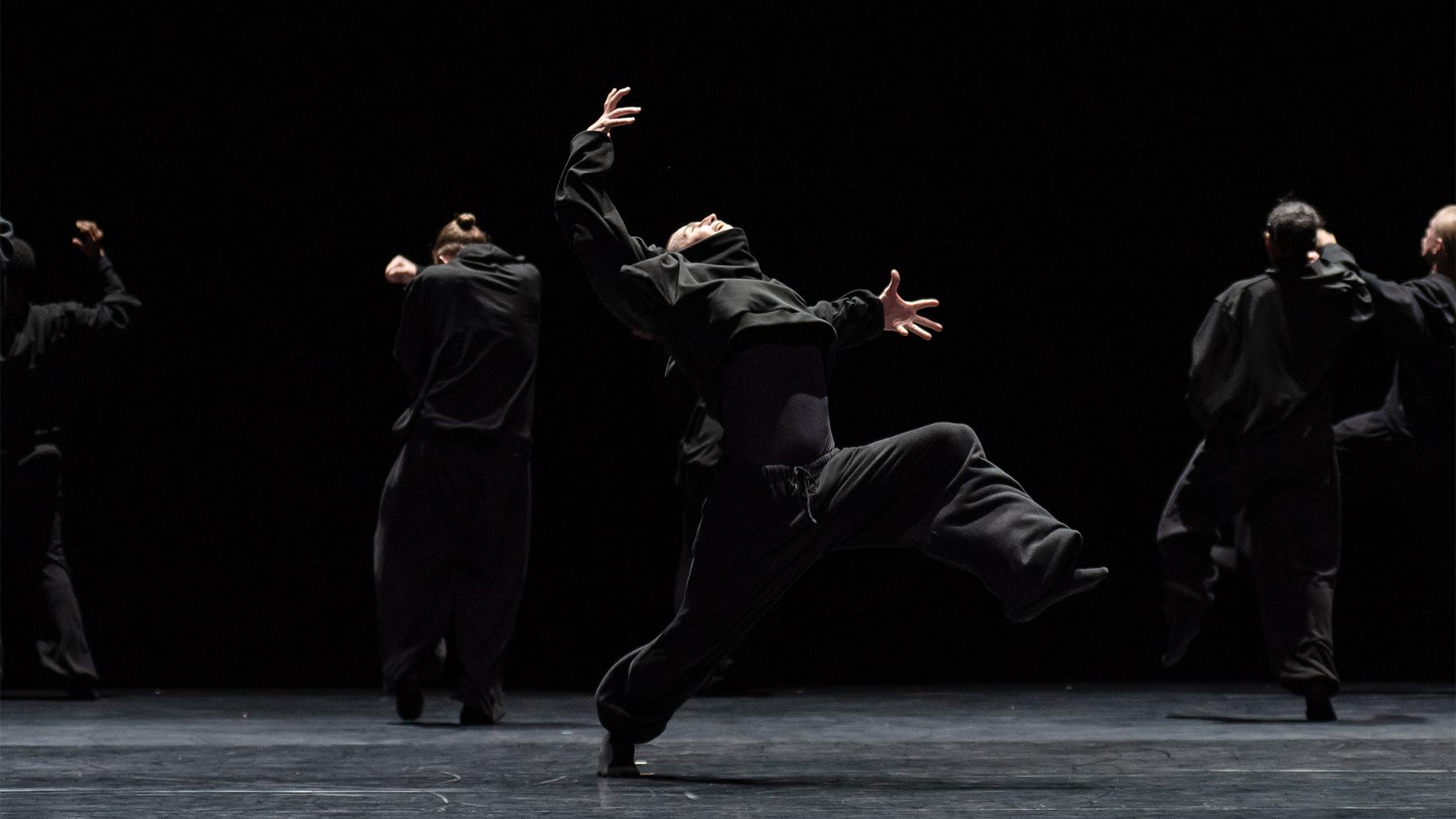 Hubbard Street Dancer Andrew Murdock and company performing "Busk" by Aszure Barton. (Photo by Michelle Reid)
More on this story
Upcoming programs for the company's 44th season are the Spring Series, "RE/CONNECT" at the Museum of Contemporary Art, March 2-13, 2022
And a Summer Series, "RE/UNION" May 12-15 at the Harris Theater.
Follow Hedy Weiss on Twitter: @HedyWeissCritic
---